Fresh From Florida May Produce
What Fresh From Florida May Produce is in season now? With the weather really starting to heat up here in Florida we are beginning to see some of the wonderful fresh produce Florida is known for coming into season.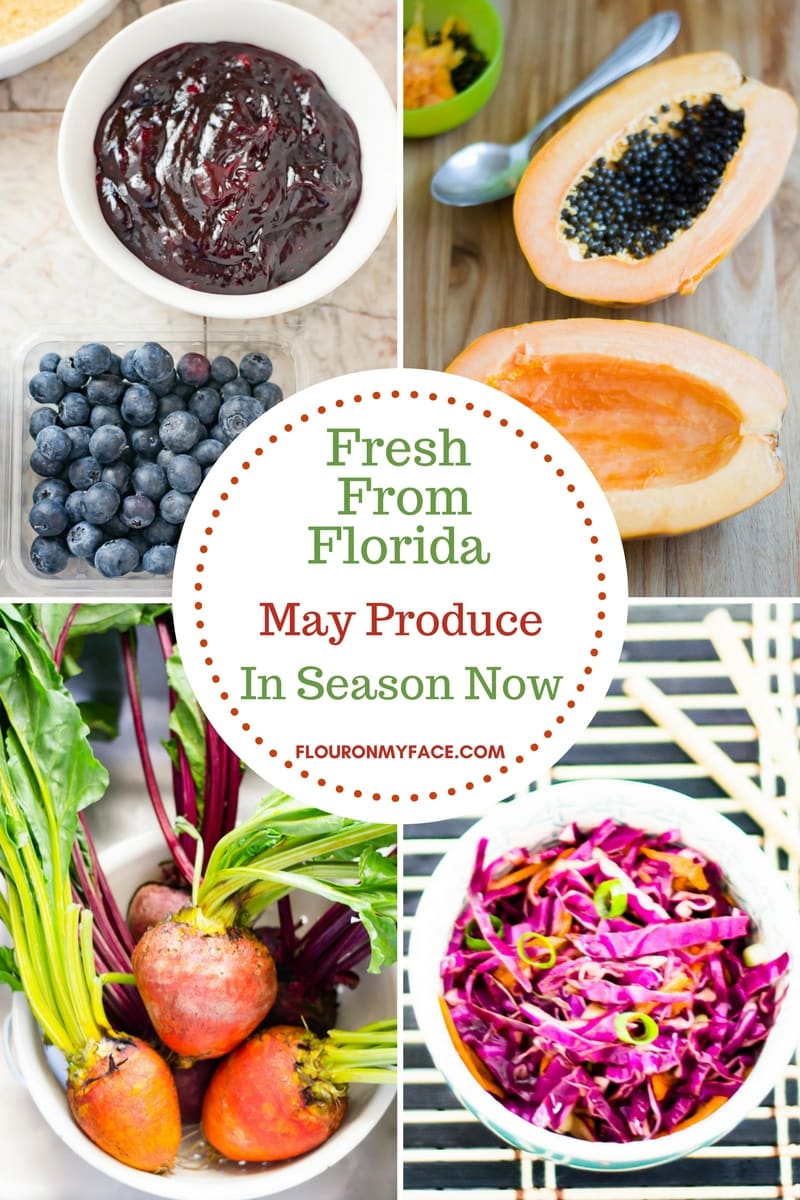 I can't believe here it is the beginning of May. Seems like we were freezing our booties off just a week or so ago.
Now that the weather is starting to improve (Who am I kidding? We are in the 90's here already!!) in your part of the country it's time to start enjoying the Fresh from Florida May produce in season now.
Things start to pick up around May first and I am happy to say the produce section is starting to show signs of the beautiful and scorching Spring weather here in Florida.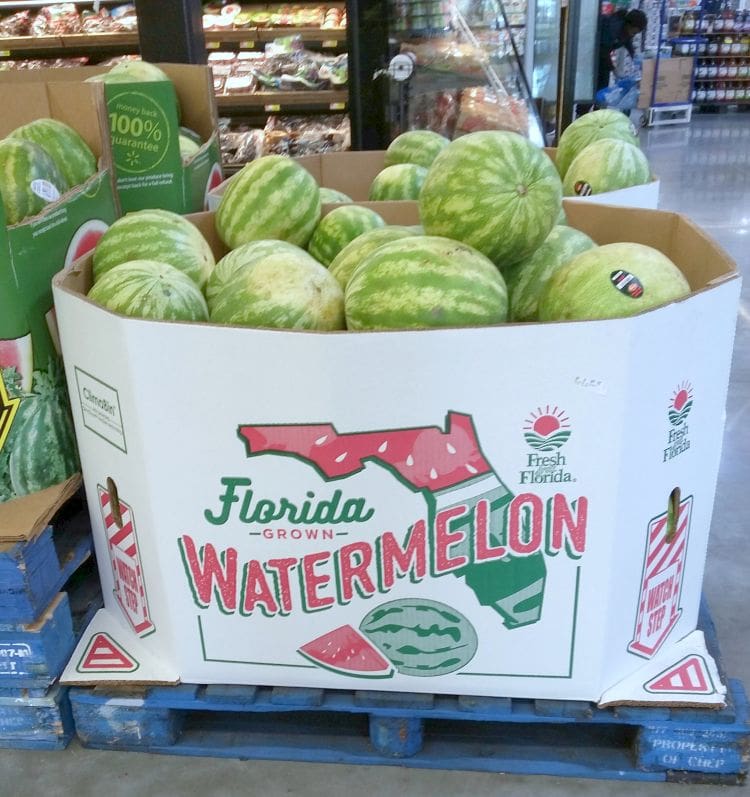 When is Florida Watermelon Season?
Florida watermelon season starts in April and ends in July. You'll start to find the sweetest Florida watermelon in June at the height of the Florida watermelon season.
When is Florida corn season?
One of my favorite fresh from Florida produce is Florida sweet corn. Florida sweet corn has a long growing season and can be found from January to June with a short break during the hottest months of the year ( July, August, and September) then will available again in October, November, and December when the weather cools off.
When Florida sweet corn starts showing up you'll usually find three types of sweet corn at your grocers.
Florida yellow sweet corn, Florida white sweet corn, and Florida bi-color sweet corn. I'm not picky as long as it is Florida sweet corn I will eat it.
To me, the Florida white sweet corn is the sweetest but it is really up to you which variety of Florida sweet corn you think is the sweetest.
Whenever I see Florida sweet corn I know it is getting close to Memorial Day.
One of my favorite ways to cook Florida sweet corn is to grill it on a fiery hot charcoal grill. I love the smokey flavor and how the sugars in the sweet corn get sweeter.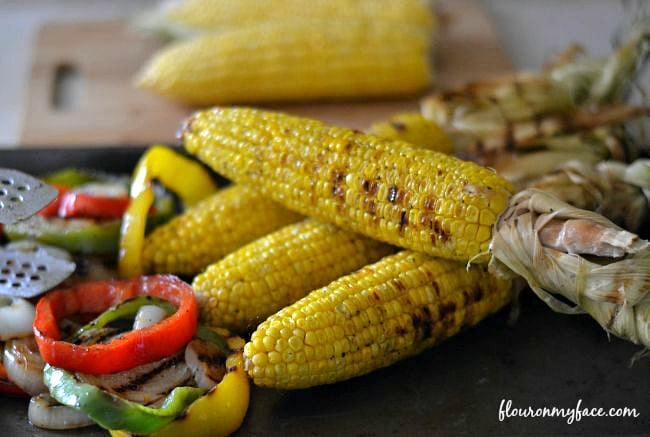 When is Florida Blueberry Season?
Florida blueberries are only in season during the months of April and May in Florida.
What Fresh From Florida May Produce In Season Now?
Bell Peppers: When Bell Peppers are in season I love to slice or dice them up and freeze them. Check out how I freeze sweet bell peppers to use them in stir-fry or fajitas.
Blueberries: I made this easy and delicious No-Bake Blueberry Cheesecake Pie with fresh from Florida blueberries that are plump and delicious.
Cabbage: One of my favorite ways to enjoy fresh Florida cabbage is by making my favorite Sweet Coleslaw recipe a KFC copycat recipe I have been making forever when we have a family barbecue. Check out the video. It is so easy to make.
Cantaloupe: Cantaloupe or Honey Dew Melon make a refreshing Aqua Fresca that will cool you off while your working in the garden this spring.
Carrots: Carrots go with so many things and I use them in my soups and stews. But I love to serve carrots and potatoes alongside a Pot Roast for Sunday dinner. 
Cucumbers: are perfect in a salad but how about in a smoothie? This Kiwi Cucumber Smoothie is refreshing and a great morning pick me up.
Eggplant: Grilled vegetable sandwiches are a great way to serve a meatless Monday meal.
Grapefruit: Fresh Fruit Salad is so good when you use fresh from Florida grapefruit. If you're lucky enough to live in Florida you might just be able to pick some from your own grapefruit tree.
Guava
Mango: I love eating fresh mango simply by slicing it and eating it but there are also many great ways to use fresh mango when they are at their peak and the prices are low. One of my favorite ways is to make a fresh Mango Iced Tea and serve it at our barbecues. It's a refreshing way to quench your thirst.
Mushrooms: This Cauliflower, Leek and Mushroom Casserole is packed full of fresh ingredients.
Oranges: I love homemade lemon curd but did you know you can make homemade Orange Curd?
Papaya: When it is Papaya season I love to Freeze Fresh Payapa and add it to a morning smoothie.
Peanuts
Potatoes: If you love making homemade potato salad but hate cooking the potatoes check out my Instant Pot Red Potatoes.
Radishes: Quick Sweet Pickled Radishes taste amazing on a sandwich.
Snap Beans or Green Beans: Are you loving your Instant Pot? These Quick and Easy Instant Pot Greens Beans are so easy to make when you are craving fresh beans.
Squash: I also pack my freezer full of fresh squash when it is in season. This is How To Freeze Squash to use in soups and stews.
Sweet Corn: Grilled Corn Casserole is perfect for your upcoming barbecues.
Tangerines
Tomatoes: Fresh Tomato Rosemary Bacon Tart makes a wonderful spring lunch or make these crunchy tangy Quick Pickled Green Tomatoes with a few of your early tomatoes from the garden.
Watermelon: Watermelon Aqua Freshca is a refreshing Mexican drink that is perfect served on a warm Spring day. Or Watermelon Lemonade is perfect served at a barbecue.
Fresh From Florida Produce 12 Months of the Year
Fresh From Florida January Produce
Fresh From Florida February Produce
Fresh From Florida March Produce
Fresh From Florida April Produce
Fresh From Florida May Produce: You're here now
Fresh From Florida June Produce
Fresh From Florida July Produce
Fresh From Florida August Produce
Fresh From Florida September Produce
Fresh From Florida October Produce
Fresh From Florida November Produce