The Key Lime Pie is Florida's official pie. If you have ever visited Key West you know you can find Key Lime Pie on the menu everywhere in the Florida Keys.
The lip-puckering sweetened key lime filling is so easy to make there is no reason not to enjoy this famous pie recipe any time you please.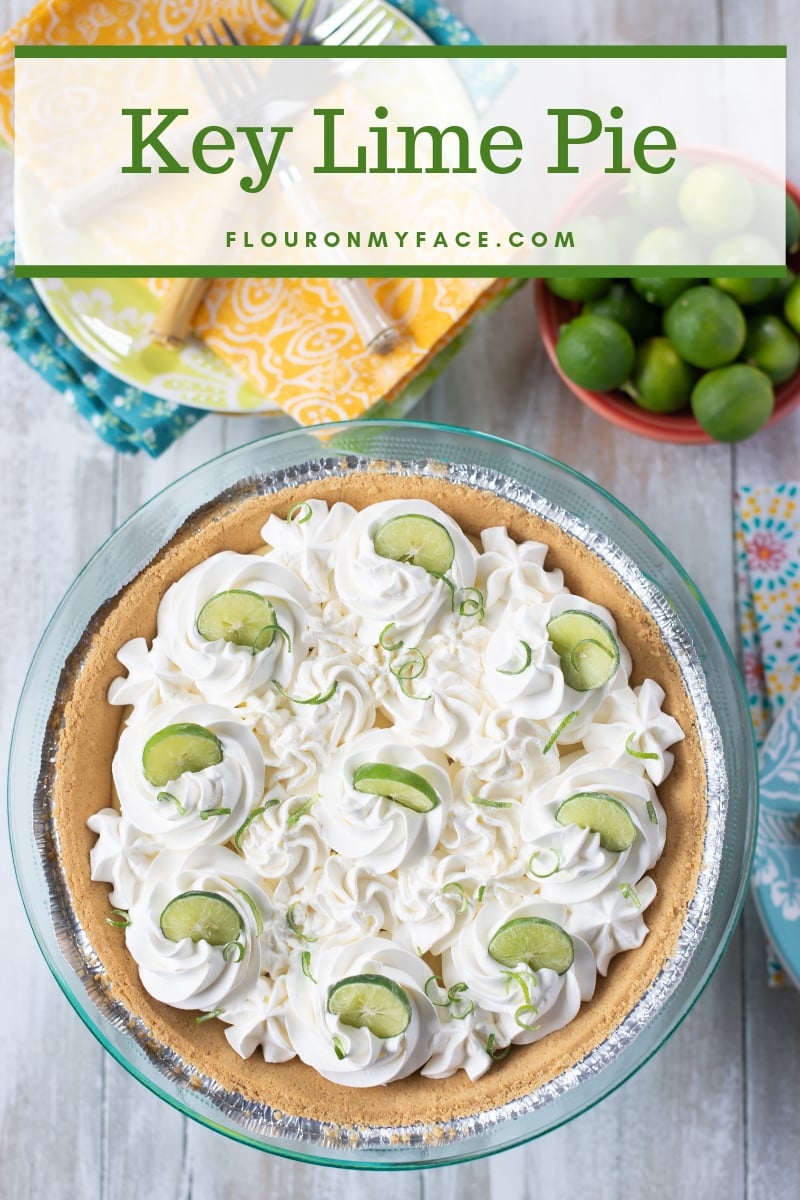 If a vacation to the Florida Keys just isn't in the cards this year you can still enjoy the iconic and authentic flavor of a Key West Key Lime Pie at home.
The Key Lime Pie has been designated the official pie of Florida.
Key Lime Juice
If you happen to be lucky enough to have a Key lime tree growing in your backyard you probably make Key Lime Pie all the time.
You can squeeze fresh Key limes for the Key lime juice in this pie recipe.
Key limes are very small and a little difficult to squeeze. You can buy bottled Key Lime Juice at most grocery stores.
You will probably find my favorite bottled Key lime juice brand.
(affiliate link) Nellie and Joes Key West lime juice can be found in most large retail stores and grocery stores.
How To Make Key Lime Pie
The sweet and tangy pie recipe is made with only a few ingredients.
Key lime juice, sweetened condensed milk, and egg yolks are all you need to make this sweet and tangy lime pie filling recipe.
I used a store-bought graham cracker crust but if you want you can make a homemade graham cracker crust which is very easy to make.
I just happened to have a store-bought graham cracker crust in my pantry so that is what I used today.
Because the authentic Key Lime Pie recipe has raw egg yolk in it we will be baking the pie filling for a short time to cook the raw egg yolk.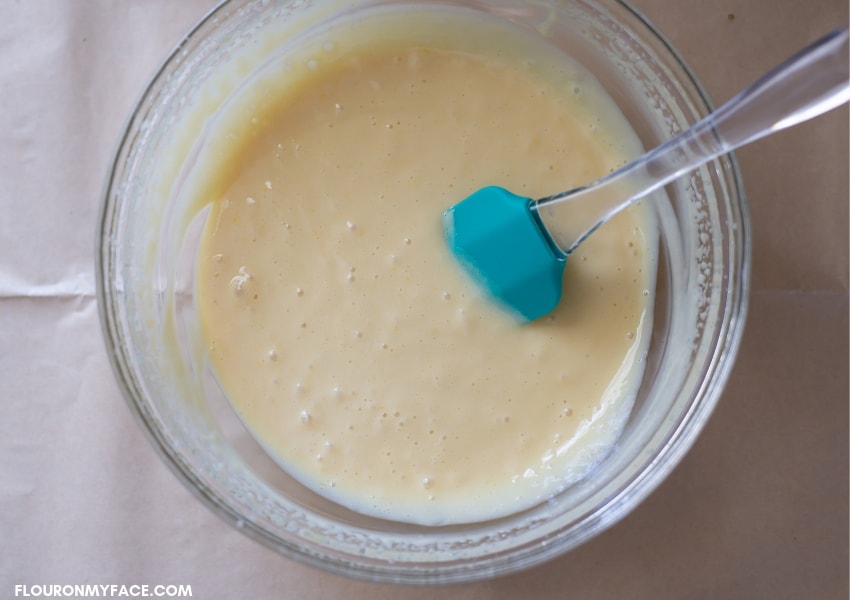 Meringue or Whipped Cream?
Do you like meringue or whipped cream on your Key Lime Pie?
I am partial to topping a tangy Key Lime Pie with whipped cream.
The sweet flavor of the whipped cream compliments the sweet and tart flavor of the Key Lime Pie filling.
If you prefer meringue on top of your Key Lime Pie you can make a homemade meringue using the egg whited leftover from the filling recipe.
Spread the meringue over the top of the pie before baking.
If you want a mile high meringue on the pie you will need to double the number of egg whites leftover from this recipe.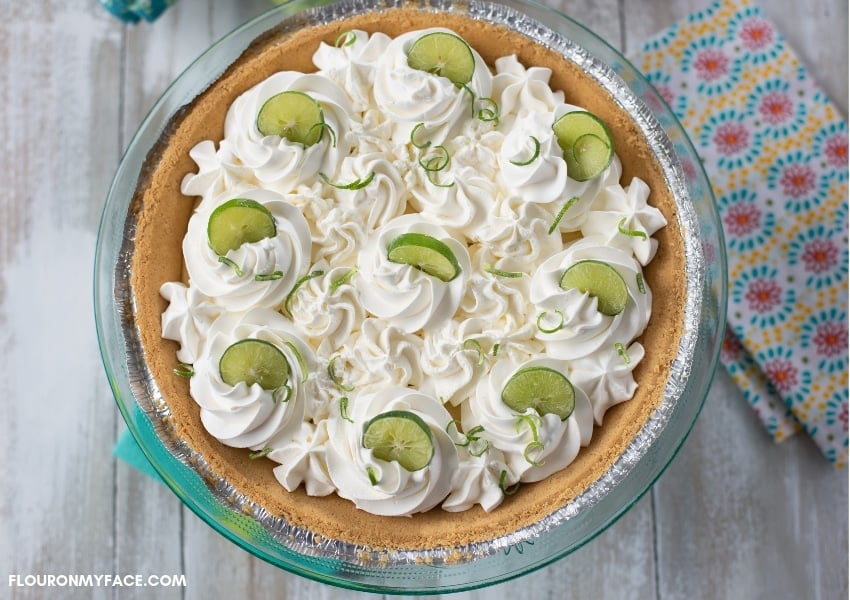 Can you freeze Key Lime Pie with whipped cream?
Key Lime Pie that has been topped with whipped cream is very easy to freeze when you are using a store-bought graham cracker crust that came with a plastic lid.
Place the plastic lid on top of the pie and fold the aluminum edge of the pie plate over the edge of the plastic pie lid tightly.
Frozen Key Lime Pie is a refreshing summer frozen pie that is perfect served after dinner on a hot summer evening.
Remove the frozen pie from the freezer 20 minutes before serving to allow it to thaw slightly so it can be sliced easily.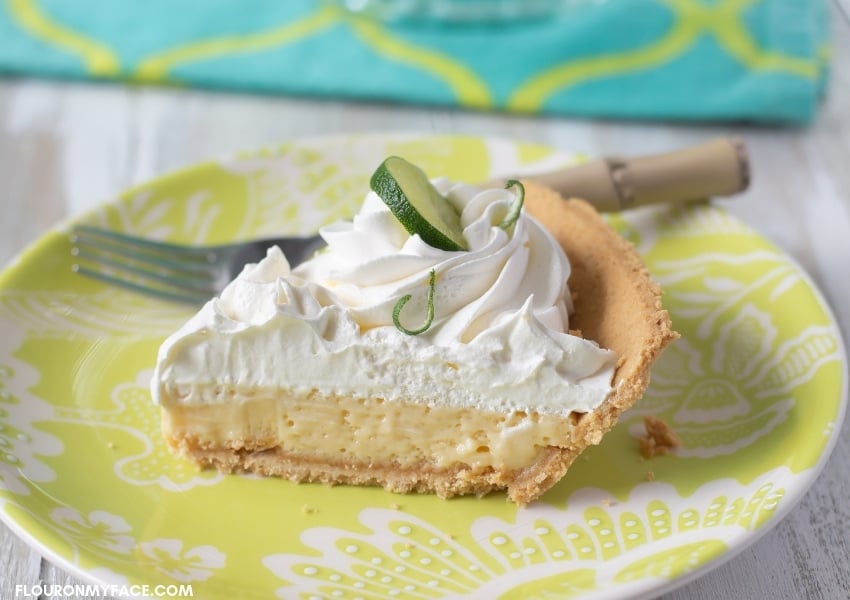 Favorite Pie Recipe
Do you have a favorite pie recipe? I've never met a pie I didn't like!
Here are a few of my favorite pie recipes I have shared over the years.
This Old Fashioned Million Dollar Pie has been around forever and tastes so good you'll think it is really worth a million bucks.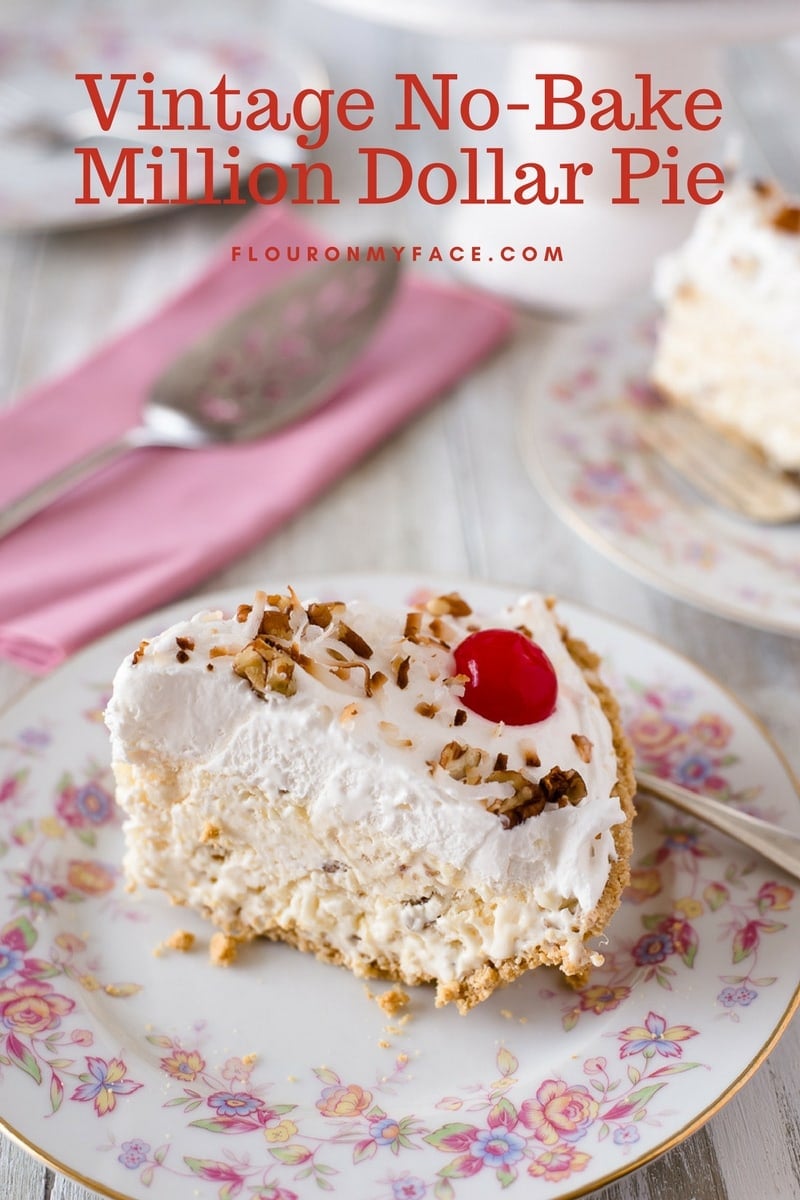 Does your family go crazy for a banana split?
This Banana Split Pie will be a hit. It is also a great pie recipe to make for friends or family when you host an ice cream party.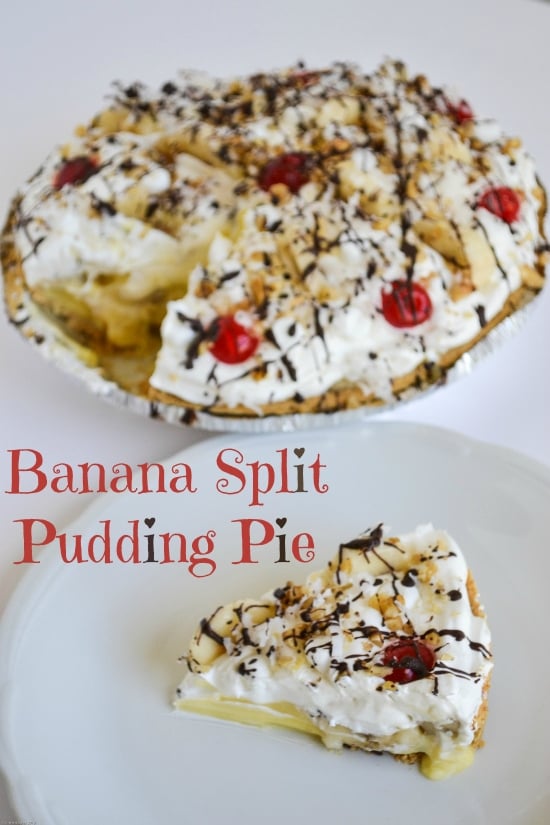 Slab Pies are the easiest pies to make. This Cherry Slab Pie is perfect during the summer for all your picnic and parties.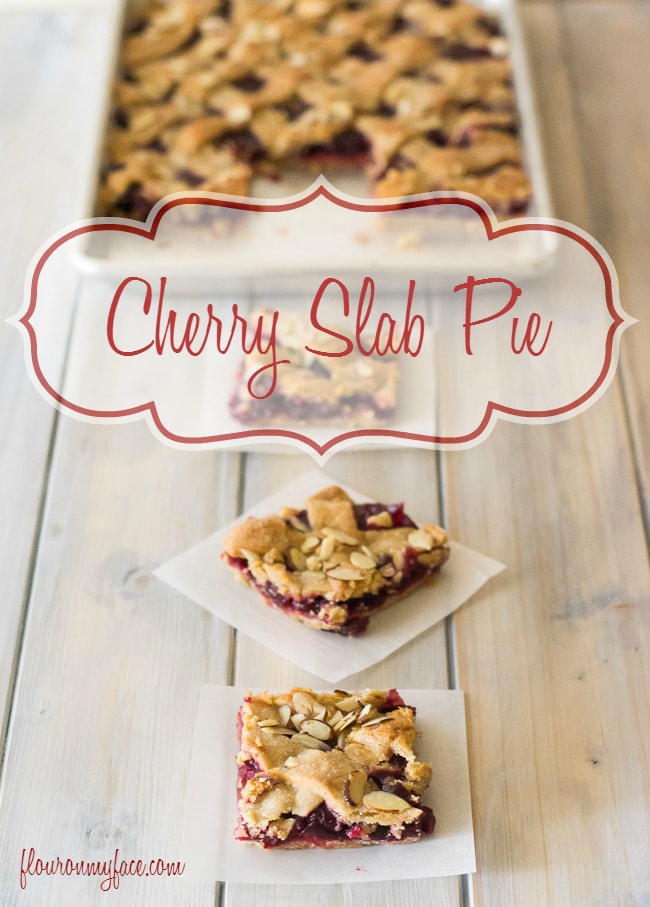 Beautiful layers are easy to make when you make this Strawberry Pudding Pie.
It is easy to make and is beautiful when served.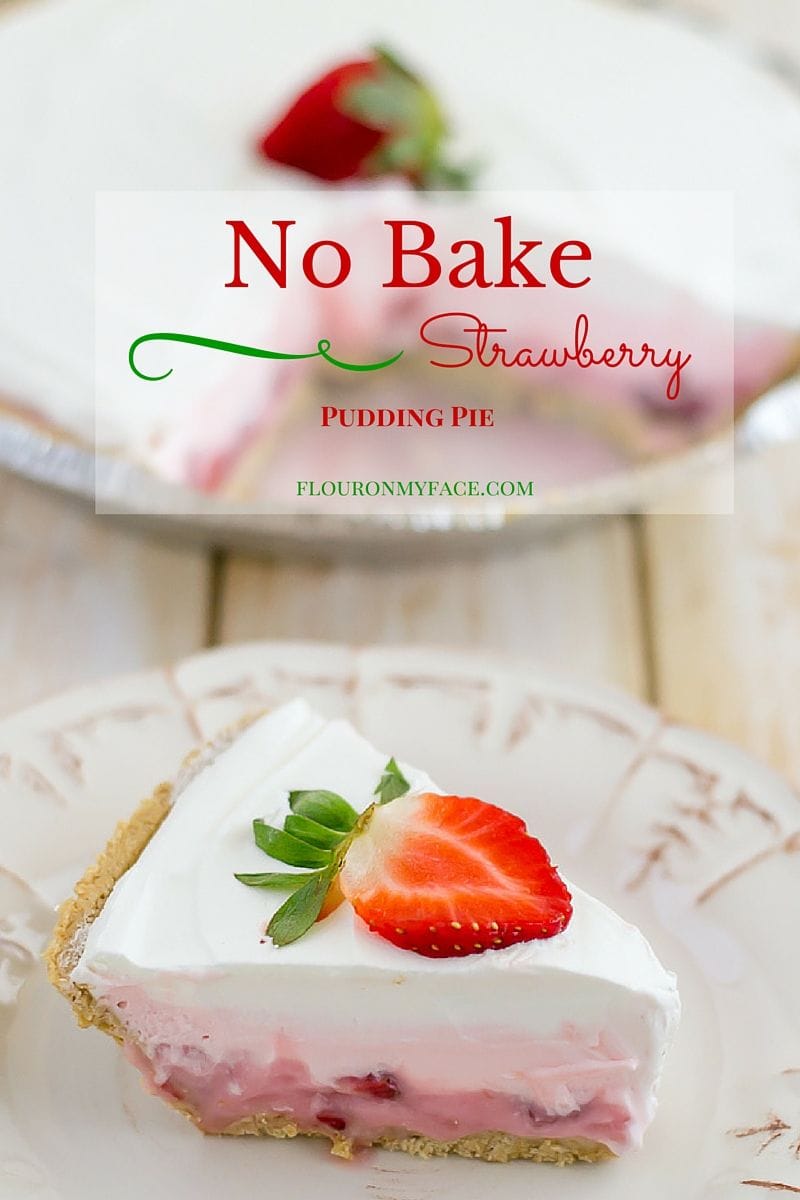 Peanut Butter Caramel Cheesecake Pie
This Peanut Butter Caramel Cheesecake Pie is one of the best pies I have ever made.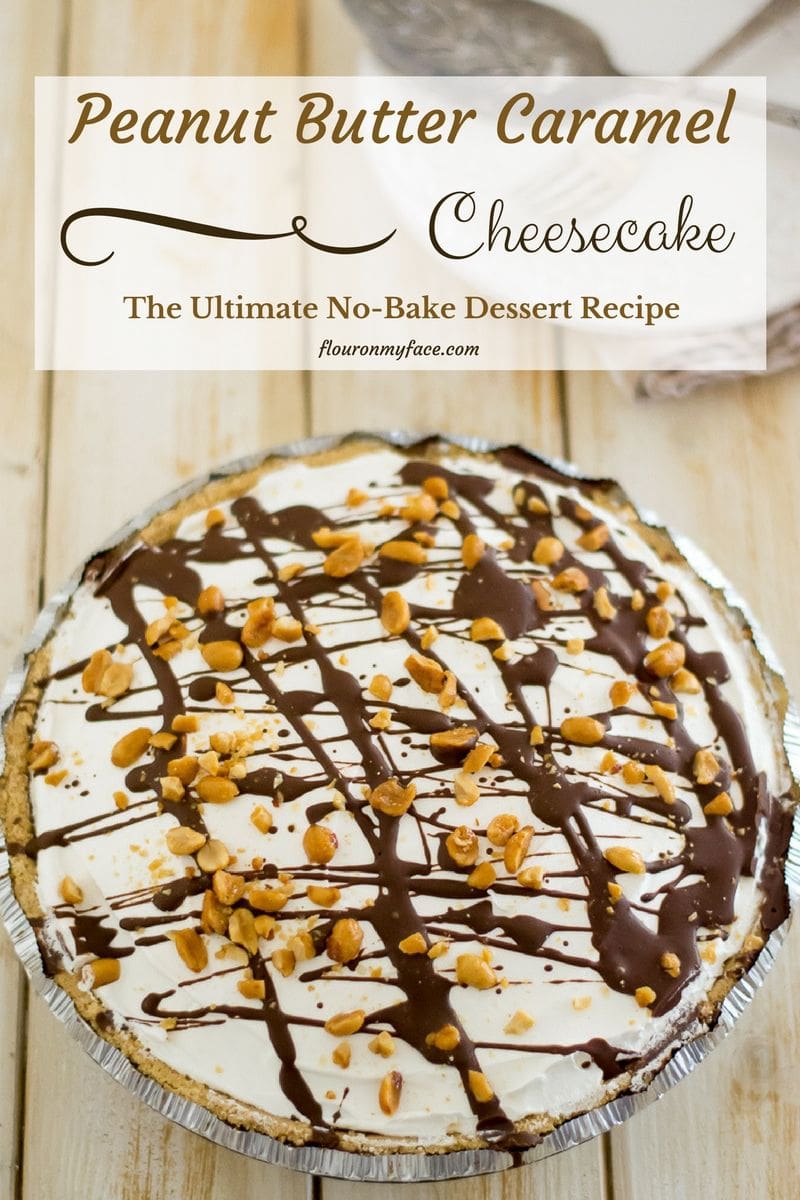 Print the homemade Key Lime Pie Recipe below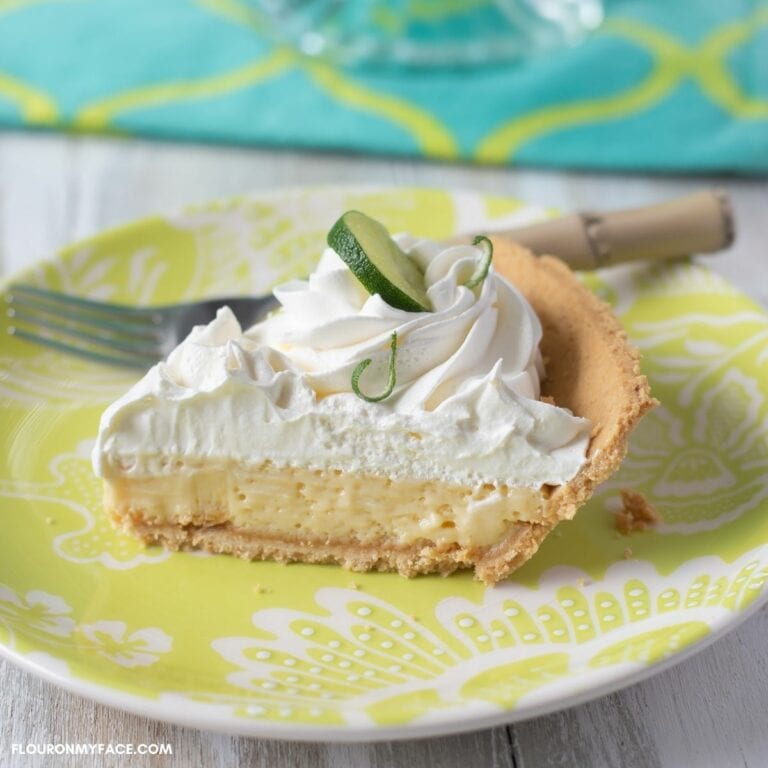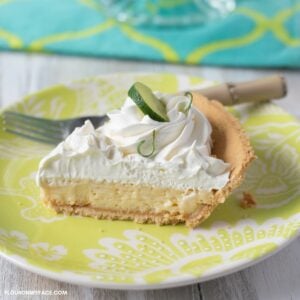 Key Lime Pie
Authentic Key Lime Pie is made with simple ingredients. Key lime juice, sweetened condensed milk, and raw egg yolks are beaten together until thick and creamy.  The pie is baked for a short time and then refrigerated to thicken up. Top with whipped cream and garnish with slices of Key limes before serving this sweet and tangy lime pie recipe. This is the official Florida state pie.
Rate this Recipe
Ingredients
9

inch

graham cracker crust

14

oz

can sweetened condensed milk

3

large

egg yolks

(discard the egg whites or make meringue to top the pie)

½

cup

key lime juice

8

oz

Cool Whip Topping
Follow Flour On My Face on Pinterest
Instructions
Preheat oven to 350 F. degrees. Place the unbaked graham cracker crust on a cookie sheet or baking sheet.

In a medium bowl beat the sweetened condensed milk, ½ cup key lime juice, and the three egg yolks. Beat for 3 to 5 minutes until thickened.

Pour the Key Lime Pie filling into the graham cracker crust, scraping the bowl.

Place the tray with the pie into the oven and bake for 10 minutes.

Remove the pie from the oven and allow to cool for 10 minutes. After 10 minutes place to baked key lime pie onto a cooling rack and allow to cool to room temperature.

After the key lime pie has cooled completely cover with plastic wrap or place the plastic lid that came with the pie crust on to the pie pan and secure it into place.

Refrigerate the pie at least 4 hours, overnight is best.

Before serving the pie spread the cool whip topping over the top of the pie. Garnish with slices of Key limes and Key lime zest if desired before serving.

Makes 8 to 10 servings.
Nutrition
Serving:
1
Slice
Calories:
803
kcal
Carbohydrates:
105
g
Protein:
10
g
Fat:
38
g
Saturated Fat:
11
g
Cholesterol:
58
mg
Sodium:
658
mg
Potassium:
302
mg
Fiber:
2
g
Sugar:
46
g
Vitamin A:
170
IU
Vitamin C:
4
mg
Calcium:
151
mg
Iron:
4
mg
Tried this recipe?
Share a picture on Instagram and tag @flouronmyface2
More Key Lime Recipes
Where to get the Best Key Lime Pie in Miami
Key Lime Mustard Sauce for Shrimp