I have been eating this Old Fashioned Potato Salad all my life. It is the potato salad recipe my mom made when I was growing up. She learned the recipe from my german grandmother. Now I make the same potato salad recipe for my family.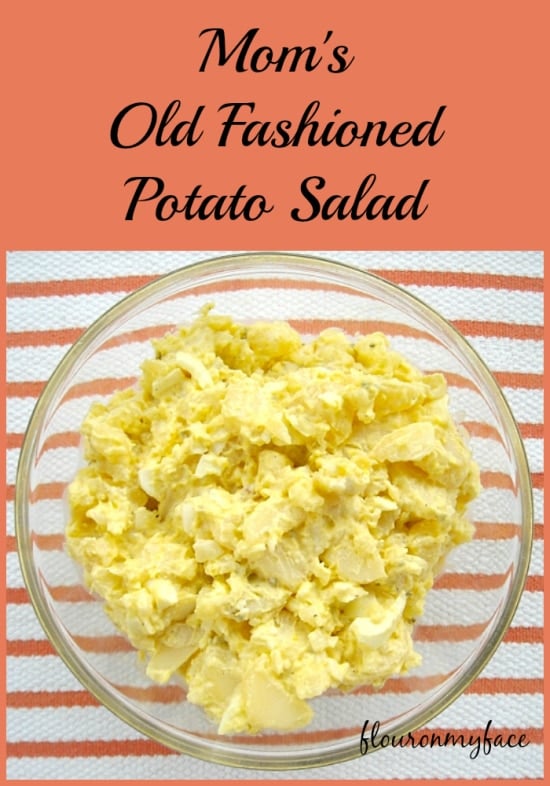 If you've been reading my blog for a while now you know I like to complain about how I don't have any "family" recipes from my mother or grandmother that my family will eat. I think I have mentioned a time or two the neck bones and sauerkraut my grandmother made...
As I was making this potato salad I came to a realization. I do have some family recipes. My mother made this potato salad as far back as I can remember. This potato salad recipe is really good and I should be happy that I realized I do have a recipe or two from my mother to pass on to my kids.
I had another realization! I must have pastry recipe envy. Could it be that I have blocked out the family recipes that there are because they are not the type of recipes I want them to be? I much more prefer to bake sweets then to cook. Most of the recipes on my blog are for sweets.
My mother never baked much from scratch. She made zucchini bread after we moved to Florida and worked in one of the packing houses for a bit. At that time the workers could bring home some of the vegetables or fruit that fell of the conveyor belt. So there was an abundance of zucchini one year and someone must have given her a recipe. I do have it written in the back of one of my cookbooks.
Maybe this summer I will make it.
Her career at the packing house ended prematurely after she was working with some mangos and had an allergic reaction. Maybe if she didn't have to quit the packing house at the height of the Florida fruit season that year I would have some more dessert recipes from my mother and I wouldn't have pastry recipe envy
Wash and scrub the potatoes to remove any surface dirt. Put them into a pot with skins on. Yes you read that right I said leave the skin on them. There is something about cooking the potatoes with the skins on that adds a deep rich flavor to the potato salad.
As the potatoes are cooking move the potatoes around in the pot. Move the potatoes that are on the top of the pile onto the bottom so all the potatoes cook evenly
Cook them until they are fork tender. Drain the cook potatoes in a large colander and run some cold water over them to help them cool quicker. Place the colander full of potatoes on top of the pot you cooked them in so they can drain completely.
When the potatoes are cool enough to handle use a small paring knife to peel the skins from the potatoes. The skin is actually easier to peel from the cooked potatoes.
As you peel each potato cut it into thick slices into a large bowl. The bigger your bowl is the easier it will be to mix all the ingredients together. You can transfer it into a smaller bowl when you're done.
Peel your hard boiled eggs if you haven't done so already. Slice the cooked eggs into the bowl with the potatoes.
Peel and dice your onion. Some people like small pieces of onion and others like larger diced pieces of onion. Dice the onion the way you and your family prefer.
Add the relish, 1 cup of mayo and mustard to the bowl. Mix well. Determine if your potato salad needs the other ½ cup of mayo. Does it look a bit dry to you? If so add some more mayo.
Transfer the potato salad to a smaller bowl if you took my advice on mixing in a bigger bowl. Cover with plastic wrap and chill for at least 2 hours before serving.
The potato salad will taste even better if you can chill it over night to give the flavors time to come together.
I now make this Old Fashioned Potato Salad recipe with my Instant Pot Red Potatoes
Print Mom's Old Fashioned Potato Salad recipe below
Thanks for stopping by! Need a few other BBQ recipes? How about some sweet and refreshing barbecue and summer drink recipes?