This post contains affiliate links. As an Amazon Associate, I earn from qualifying purchases.
Fresh From Florida October Produce In Season Now
What Fresh From Florida October Produce is in season now? I am so excited that October is finally here!
October is when the Farmer's Markets start opening up in Fort Myers, Florida! It is an exciting time of the year.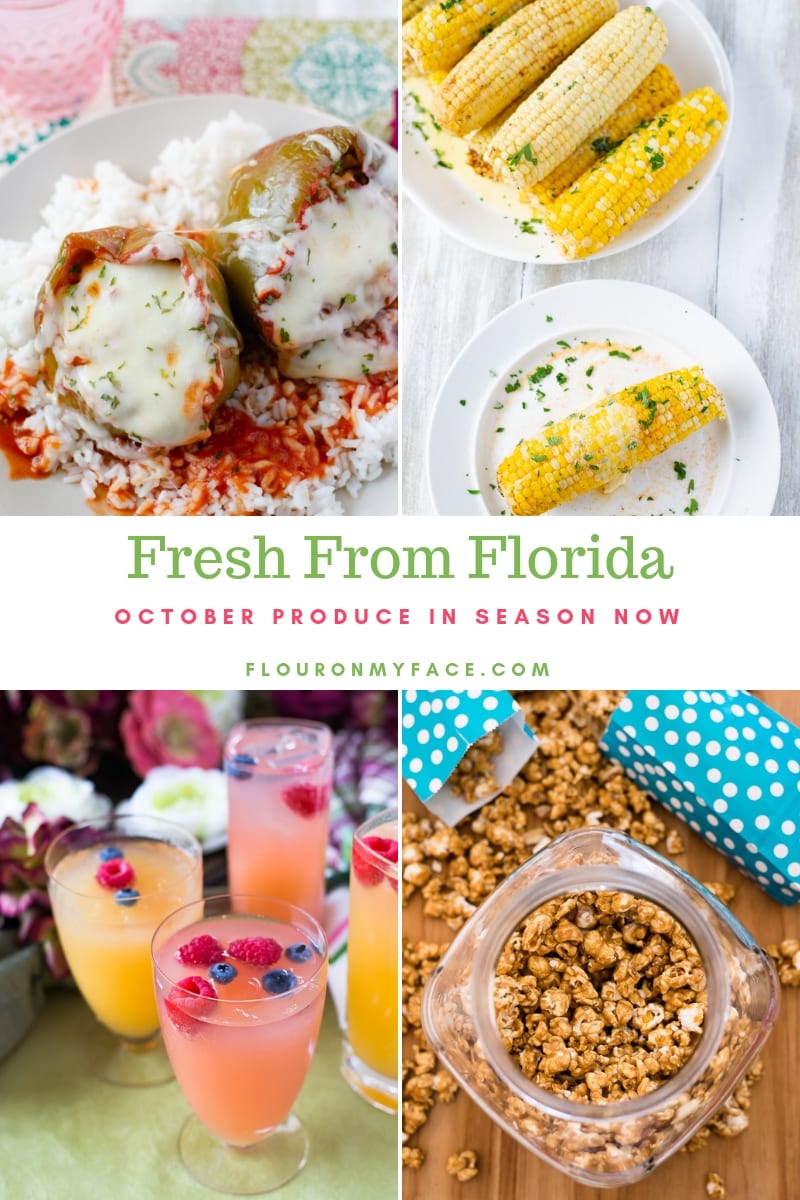 I just found out my favorite Thursday Farmers Market is open and I can't wait to go visit some of my favorite Fresh from Florida produce vendors this week.
If you are in the Fort Myers area I have a list of all the Southwest Florida Farmers Markets.
I am updating the Farmers Markets list as I learn of openings.
Fresh From Florida October Produce Recipes
Avocados: One of my favorite ways to eat fresh avocados is to slice one and drizzle my homemade Buttermilk Ranch Dressing over one. Or slice it and add it to a sub or sandwich. Here are 42 Avocado recipes that will blow your mind. Check out that Avocado Coconut Pound Cake!
Florida Bell Peppers: I use Florida Bell Peppers to season many of my recipes. Or I like to make Crock Pot Stuffed Bells Peppers with them.
Florida Carambola: New Carambola recipe coming soon or check out my Strawberry Carambola Jam recipe.
Florida Cucumbers: Start the morning right with a Kiwi Cucumber Smoothie using fresh Florida cucumbers.
Florida Grapefruit: Squeeze a few fresh Florida Pink Grapefruits and make a Pink Rose Mimosa.
Florida Guava: still need a guava recipe!
Florida Mushrooms: Instant Pot Chicken Wild Rice & Mushroom Soup recipe with fresh Florida mushrooms. Coming soon.
Florida Oranges: My Best Cranberry Bread recipe uses fresh Florida orange juice and orange zest.
Florida Peanuts: Make this Old Fashioned Caramel Corn recipe for Halloween.
Florida Yellow Squash: Make this Simple Sauteed Vegetables recipe using fresh Florida squash.
Florida Sweet Corn: Florida Sweet Corn is still available in October so grab a dozen or so ears and make Instant Pot Corn On The Cob.
Florida Tangerines: Winter is Florida citrus season. You can make a citrus curd out of any in-season citrus fruit like fresh Florida Tangerines.
Florida Tomatoes: Now that it is finally getting cooler here in Florida fresh vine-ripened Florida tomatoes are available. Try this refreshing Tuscan Tomato Mozzarella Salad recipe with fresh Florida Heirloom tomatoes.