How to dehydrate mushrooms in a dehydrator so you can have mushrooms on hand for all your favorite recipes. Dehydrating mushrooms is an easy way to preserve mushrooms for long term storage.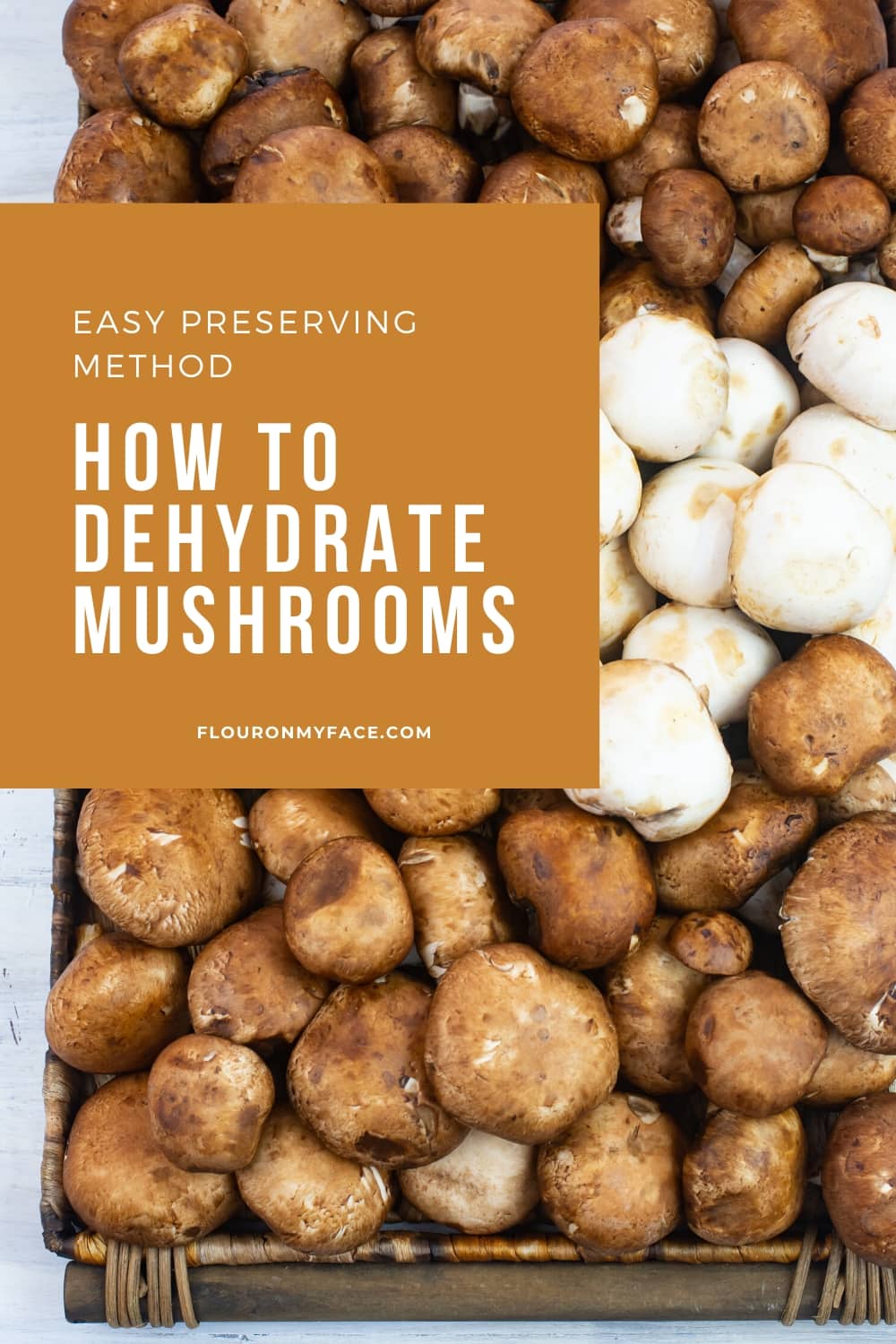 Can you dehydrate mushrooms
Mushrooms can be dried in a food dehydrator, air fryer or even in a home oven. Dehydrating is an easy way to preserve food for long time storage.
If you love using fresh mushrooms when you cook but find yourself frequently wasting some of those pricey fresh mushrooms you just bought. Or maybe they start to go bad before you use them all.
Or maybe you bought more mushrooms than you needed for a recipe. Preserving them by drying is a great way to always have mushrooms on hand for your favorite dishes.
Dehydrating fresh fruits and vegetables is a cheap and easy way to preserve your favorite fruits and vegetables. By dehydrating food that you eat and cook with all the time is also a great way to stock your pantry.
If you love easy & amazing recipes join the Flour On My Face Newsletter and get each of my new recipes delivered right to your inbox.
What Kind of Mushrooms
I picked up two huge containers of fresh white mushrooms and fresh baby Bella mushrooms at Costco recently.
In case you didn't know baby Bella mushrooms are small portabella mushrooms. You might know them as criminis. Crimini mushrooms are just another name for portabella mushrooms.
Any edible mushroom can be preserved by dehydrating.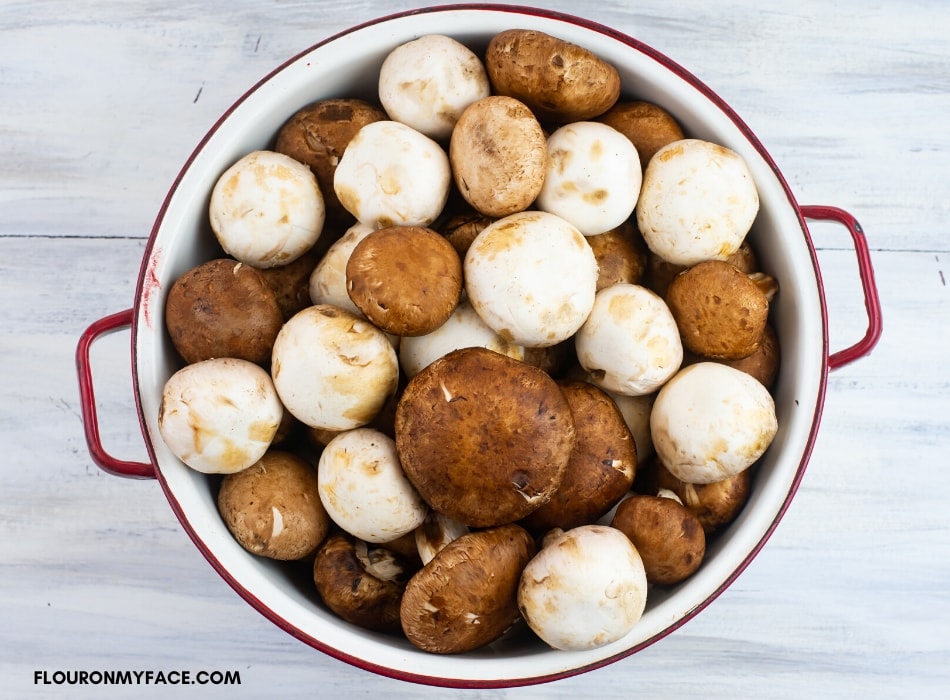 Prepping fresh mushrooms before drying
How to prepare fresh mushrooms for drying is easy enough. Simply rinse the whole mushrooms well under cold running water. Gently rub away any dirt that might be on any of the mushrooms. Allow the mushrooms to drain well.
Pull the stems off of the mushrooms. Discard them, dry them or throw them in the compost pile. I tried slicing the stems of the mushrooms and they fell apart. It wasn't worth the time for me. You could also boil the stem of the mushrooms and make a vegetable broth.
Once the fresh mushrooms have drained and dried slice the whole mushrooms into ¼ inch thick slices.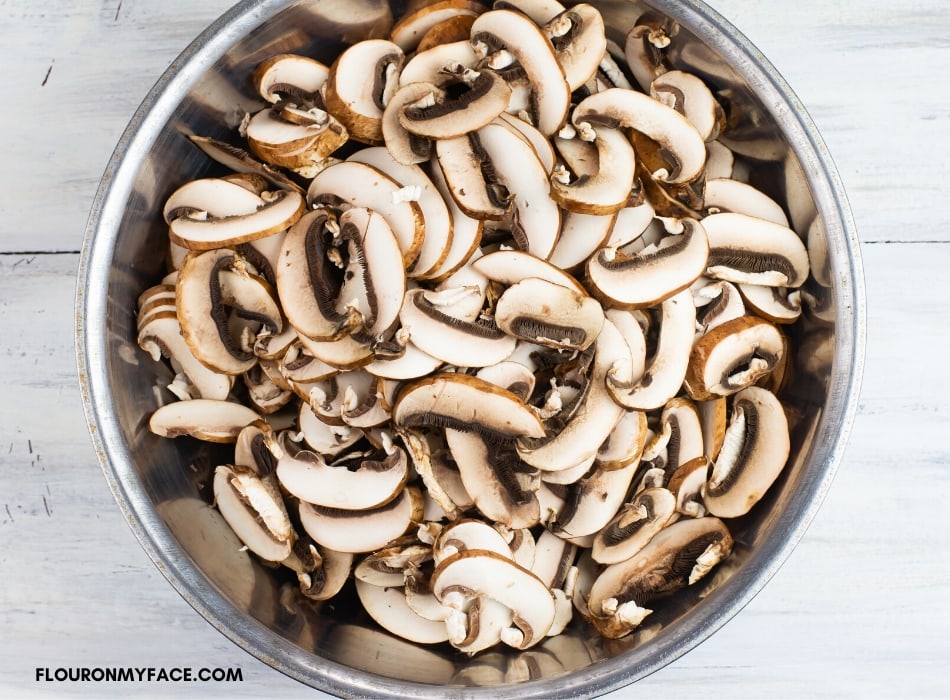 You will need
4 to 5 lbs fresh mushrooms
How to dry mushrooms
One of the easiest ways to dry mushrooms is in a food dehydrator. A dehydrator with its stacking trays allows for proper airflow which helps the sliced fresh mushrooms dry evenly and quickly.
You can use the dehydrating setting on an air fryer to dry mushrooms the same way you can use a food dehydrator. Follow the manufacturer's directions for the air fryer you own.
Mushrooms can also be dried on a cookie sheet in the oven. Oven drying is more time consuming and requires you to pay more attention.
You will need to check the mushrooms more often and to turn them over more frequently to make sure they are drying evenly.
It will also take way longer to dry them in the oven versus drying mushrooms in a dehydrator because there isn't airflow.
Some ovens now come with a dehydrating option. Follow the manufacturer's directions to dehydrate in your new oven.
How long to dry fresh mushrooms in a dehydrator?
The time it takes to dry mushrooms in a dehydrator will depend on the thickness of the sliced mushrooms and the temperature of the food dehydrator you are using.
The environment of your home will also make a difference. If you live in an area with high humidity it may take longer to completely dry the mushrooms.
Thicker slices of mushrooms will take longer to dry in the dehydrator.
Slice the fresh mushrooms in ¼ to ½ inch slices.
How do you know when the mushrooms are done?
Dried mushrooms should be completely brittle and snap into pieces when bent in half. Rubbery mushrooms are not dried. Continue to dry them until they are brittle.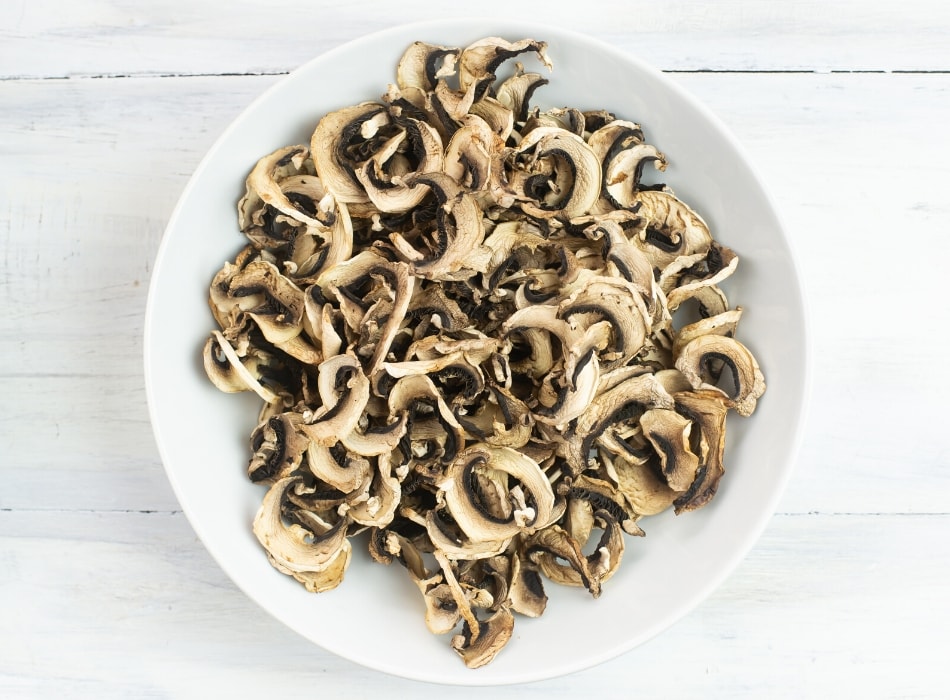 How to store dried mushrooms
Before storing dehydrated mushrooms it is important to make sure all of the pieces are dried properly. If there is one piece of dried mushroom that has any moisture left it will ruin the entire container and cause mold to grow. If any mold has formed you will have to discard the entire jar of dried mushrooms.
Once you are done dehydrating fresh mushrooms proper storage is important.
The National Center for Home Food Preservation suggests "conditioning" home dried fruits and vegetables.
To condition your home dehydrated fruits after they have been removed from the food dehydrator and cooled to room temperature store them loosely in a glass jar.
Cover the jar with a tight-fitting lid. Let the jar or jars stand for 7 to 10 days. During that time shake the jar and check for any moisture that may have formed on the inside of the glass.
If no moisture has formed you can store the dried mushrooms in the jar in a dark cabinet out of direct light.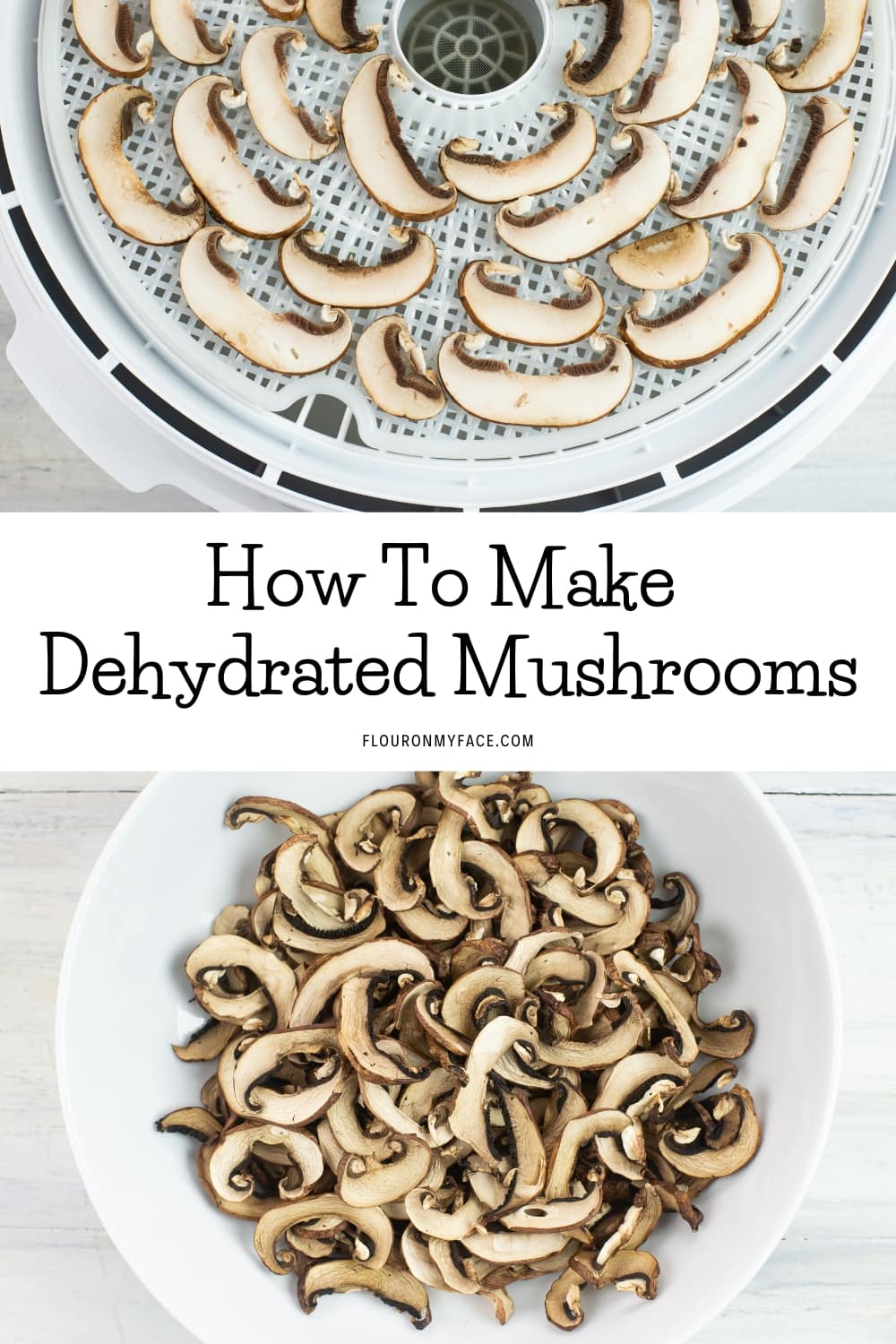 How to cook with dehydrated mushrooms
Rehydrating dried mushrooms is as easy as pouring some warm water over the dehydrated mushrooms in a bowl. The dehydrated mushrooms will absorb the water and return to the same texture as when they were fresh. Save the water and use it to flavor other recipes.
If making a soup recipe you can add the dried sliced mushrooms directly to the soup. They will absorb some of the soup liquid and plump back up.
Keep in mind that the dry mushrooms have shrunk to half their original size. If you need one cup of mushrooms for your recipe you will need to rehydrate ½ a cup of dehydrated mushroom slices.
How long do dehydrated mushrooms last?
Properly dehydrated and stored dried mushrooms will last 6 months to a year. If vacuum sealed they can last many years.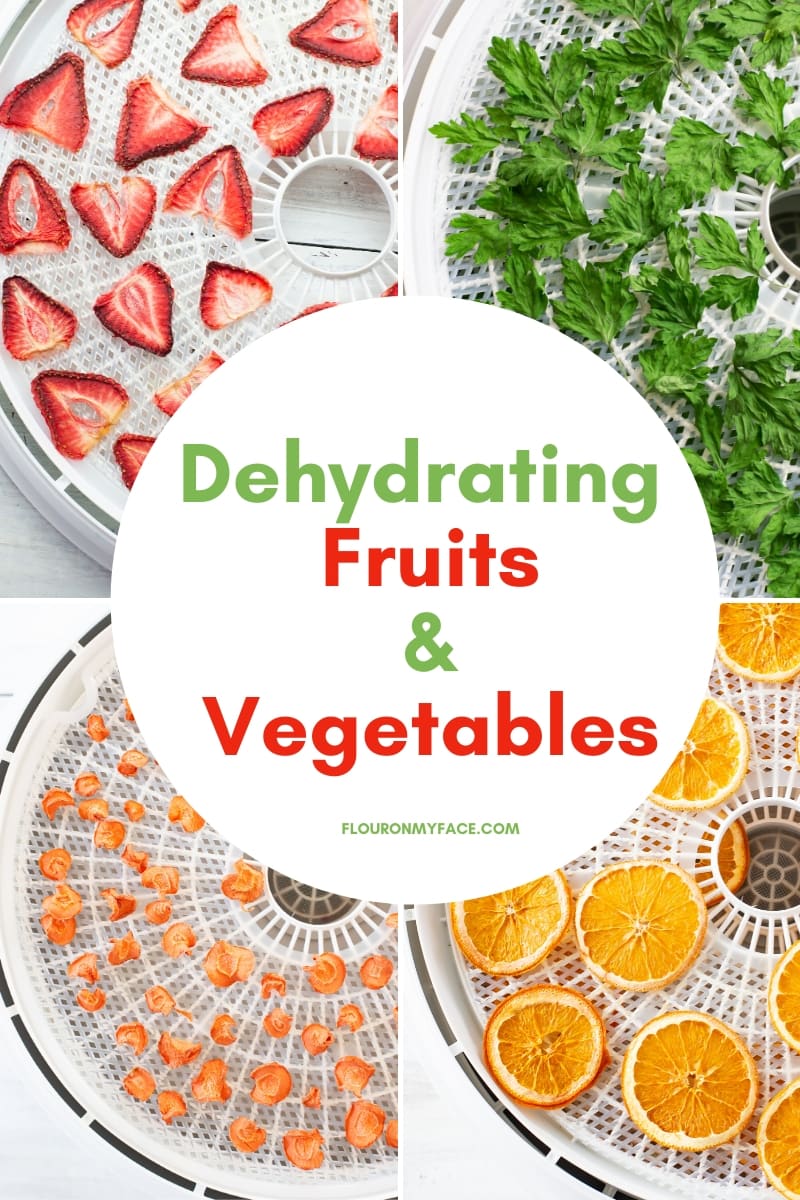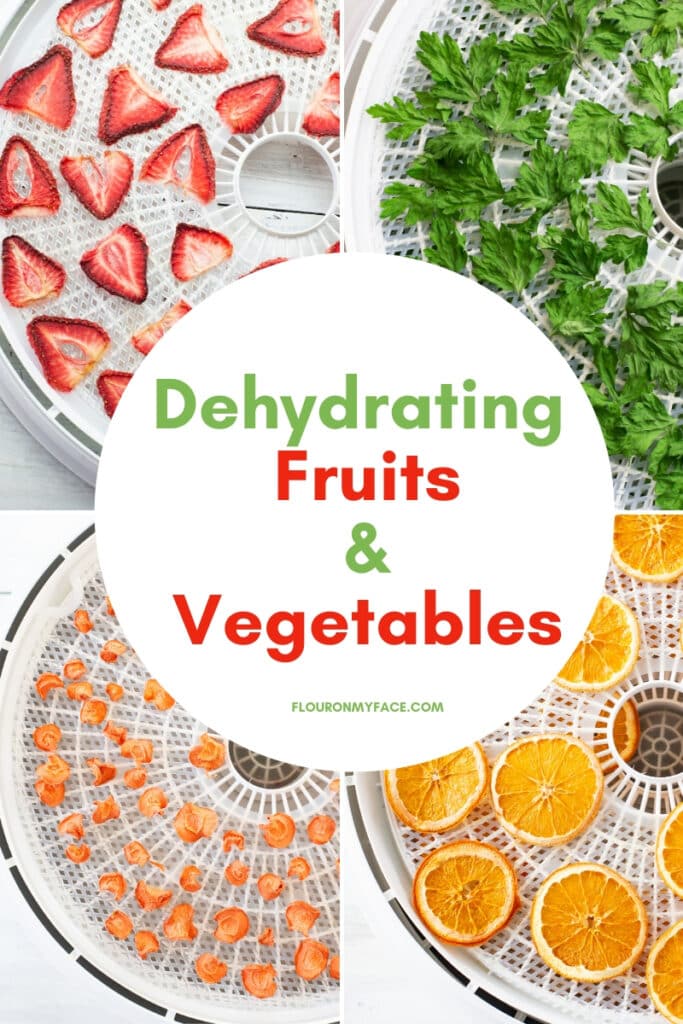 More Dehydrating Recipes
Check out my Food Dehydrating Recipes page to find directions to dehydrate other fruits and vegetables.
Print, share or save the recipe
Email questions or recipe requests to flouronmyface@gmail.com. Follow me on Pinterest, YouTube, Instagram and Facebook.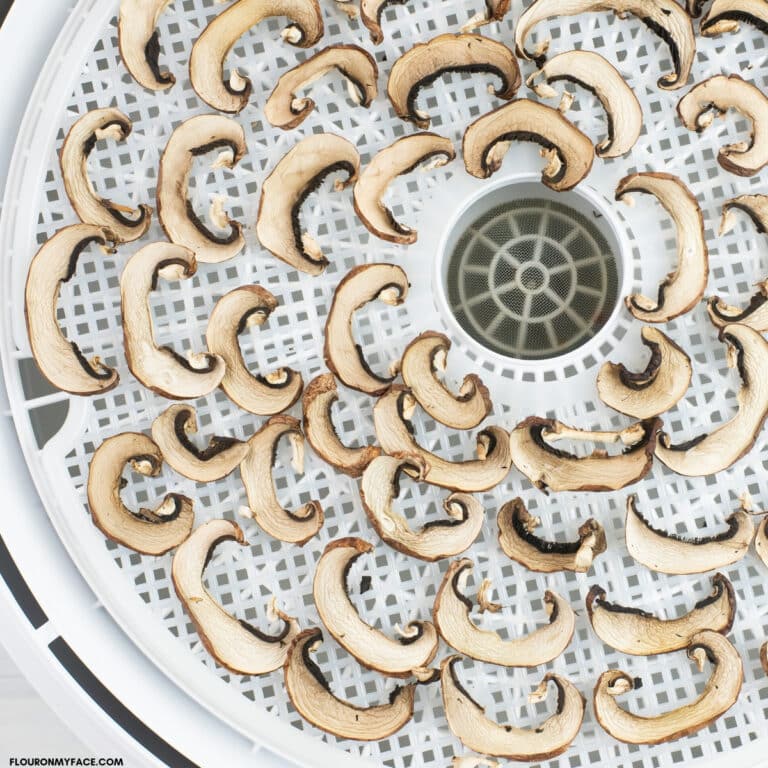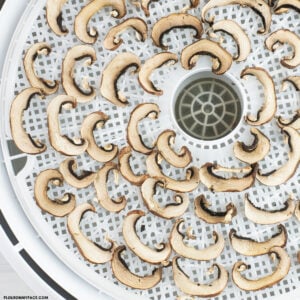 How To Dehydrate Mushrooms
How to dehydrate fresh mushrooms for long term storage is an easy way to preserve mushroom so you can enjoy fresh mushroom recipes anytime you want. Dehydrated mushrooms will last a year or longer when stored in an airtight container.
Rate this Recipe
Ingredients
4

lbs

fresh mushrooms

(washed, rinsed and drained well.)

water
Follow Flour On My Face on Pinterest
Instructions
Rinse whole mushrooms well under cold running water. Gently scrub any visible dirt away with out damaging the mushroom. Pat dry with paper towels if needed.

Break the stem off of each mushroom and slice into ¼ to ½ inch thick slices with a sharp knife.

Place the sliced mushrooms on a dehydrator tray that has been lined with a plastic mesh liner for your dehydrator.

Continue slicing and filling the dehydrator trays until you run out of trays or mushrooms.

Stack the trays on the dehydrator base and place the lid on.

The amount of time it will take will depend on the temp of the dehydrator and the thickness of the slices.

Check the mushrooms after and hour and flip them over for even drying. Check the mushroom slices every hour.

If using a dehydrator like the model I am using it will take about 4 to 4 ½ hours to dehydrate ¼ inch thick slices. Dehydrating at a lower temp will mean it will take longer.

As the mushroom slices dry remove them from the dehydrator and allow to cool on the tray or a paper towel.

Store dried mushroom slices in an airtight glass container.
Recipe Expert Tips
A sharp knife is recommended to slice the fresh mushrooms. I tried using a mandolin but because mushrooms are so fragile I couldn't get a clean slice.
4 to 5 lbs. of fresh mushrooms will fit in 2 to 3 quart size canning jars.
Serving size is ¼ cup of dried mushroom slices.
Love mushroom jerky? You can use the dehydrator to make amazing mushroom jerky packed full of umami flavor. 
Nutrition
Serving:
1
Serving
Calories:
12
kcal
Carbohydrates:
2
g
Protein:
2
g
Fat:
1
g
Saturated Fat:
1
g
Sodium:
3
mg
Potassium:
180
mg
Fiber:
1
g
Sugar:
1
g
Vitamin C:
1
mg
Calcium:
2
mg
Iron:
1
mg
Tried this recipe?
Share a picture on Instagram and tag @flouronmyface2