Disclaimer: : I am part of the Mom It Forward blogger network. Mom It Forward and Gallo Family Vineyards partnered in support of this campaign. Gallo Family Vineyards compensated me for participation in this campaign. However, all thoughts and opinions are my own. 
I am in love with this White Moscato Sangria Recipe!
I am a relative newbie when it comes to the world of wine. It's only been in the last couple of years that I have started sampling some of the many types of wines available. So I was very excited to have the opportunity to review the Gallo Moscato line.
It has also given me the chance to experiment with Sangria recipes. So far my favorite sangria recipe has been this Gallo White Moscato Sangria.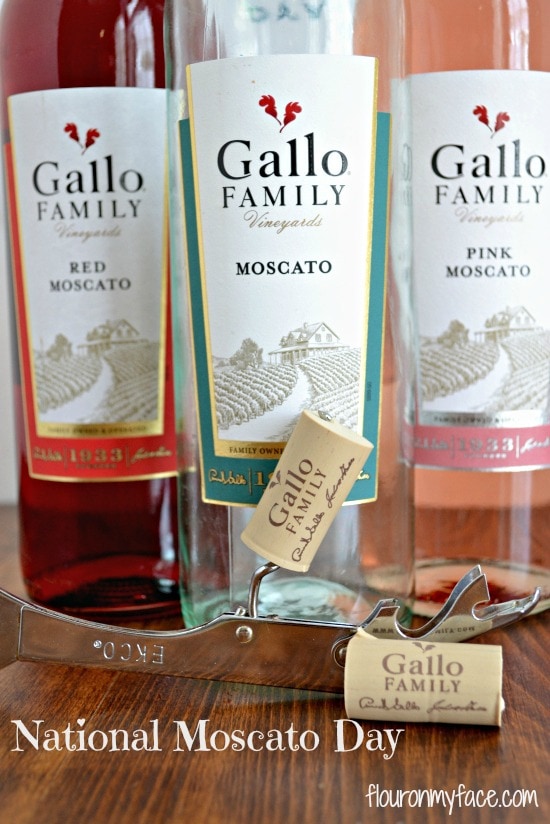 The Gallo Family Vineyards have been making wine since 1933. They are committed to and pride themselves on bringing great tasting and affordable wines to everyone.
For the third year in a row Moscato has remained the fastest growing  wine varietal in the United States.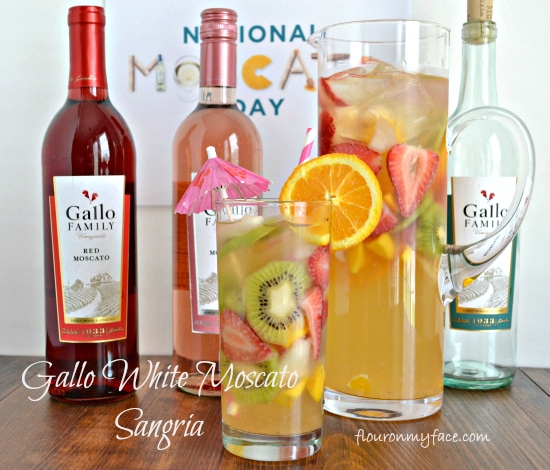 I have never been one of those people who can drink any type of beverage, alcoholic or non-alcoholic alike that if I did not like the flavor of it at my first sip.
I think that is why I never was much of a wine drinker. My first experience drinking a glass of wine was in an Italian restaurant with a meal. It, of course, was a glass of red wine. I can't say what type of wine it was because it was so long ago but what I remember was that I did not like it.
That experience turned me off of red wine until I tried the Gallo Red Moscato I was sent to sample. Of the three wines I sampled it was the boldest in flavor but the fruity berry notes came through without the sharp acidic flavor I remember from my first glass of red wine so long ago.
I have tried other white and pink wines in the past. They have a delicate fruity flavor. I knew I would like the Gallo White and Pink Moscato. I was pleasantly surprised to find out that I also like the Gallo Red Moscato.
All three wines have a wonderful sweet fruity flavor and I enjoyed all three. Of the three I will have to say the white moscato was my favorite.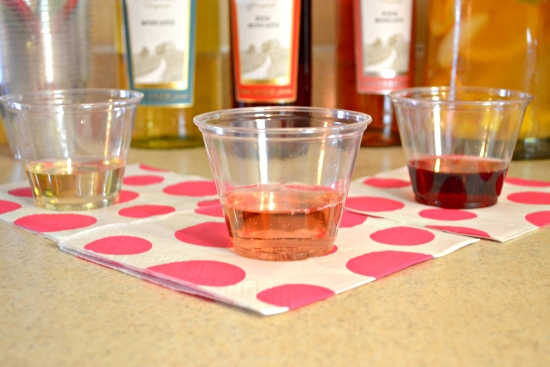 My daughter was having a get together with some of her friends over the weekend so I had the perfect opportunity to get some more experienced wine drinkers opinions on the Gallo Moscato wines.
I took the Gallo wine over to her house along with a big pitcher of a White Sangria I made using the Gallo White Moscato wine.
Sangria is also a new drink for me. I couldn't pass up this chance to make a White Wine Sangria with the Gallo White Moscato.
I have to tell you the Sangria turned out so good. The Gallo White Moscato was a great choice for the sangria recipe.
One of my daughters guests was raving about how my sangria recipe was better than one she drinks all the time when she goes out to one of the local restaurants here.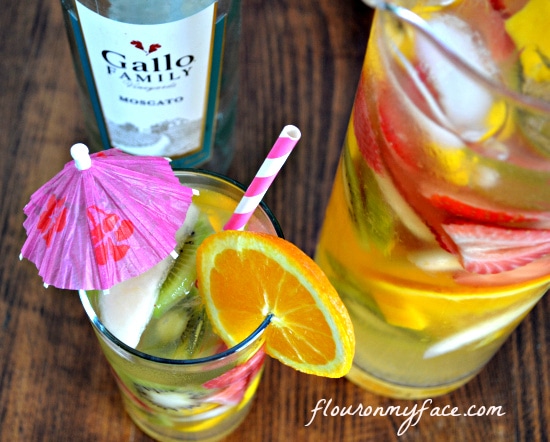 Gallo White Moscato Sangria Recipe
Everyone including myself loved all three of the Gallo Moscato Wines. A few of the guests including my daughter couldn't wait to try the Gallo Red Moscato because they also had never tried a red Moscato wine before.
They agree with me that the Gallo Red Moscato tasted great compared to any other red wine they had tasted.
The Gallo White Moscato Sangria was a huge hit.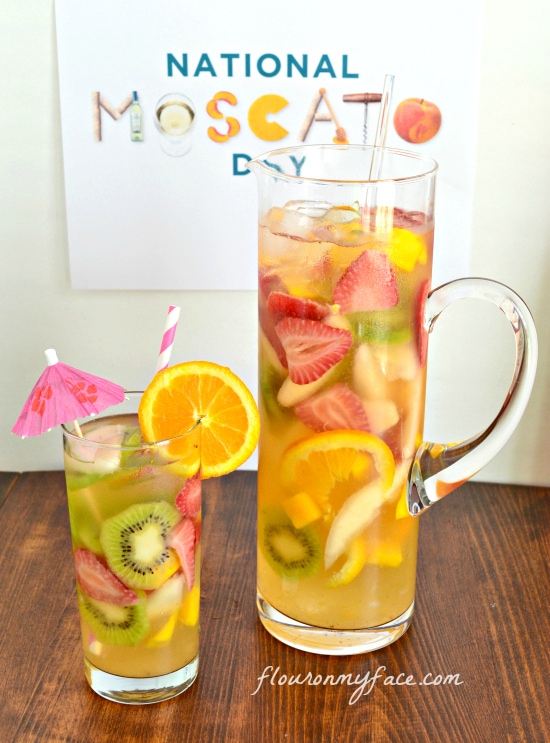 To celebrate Gallo would love for you pour a glass of a Gallo Moscato wine and celebrate National Moscato day or any day for that matter.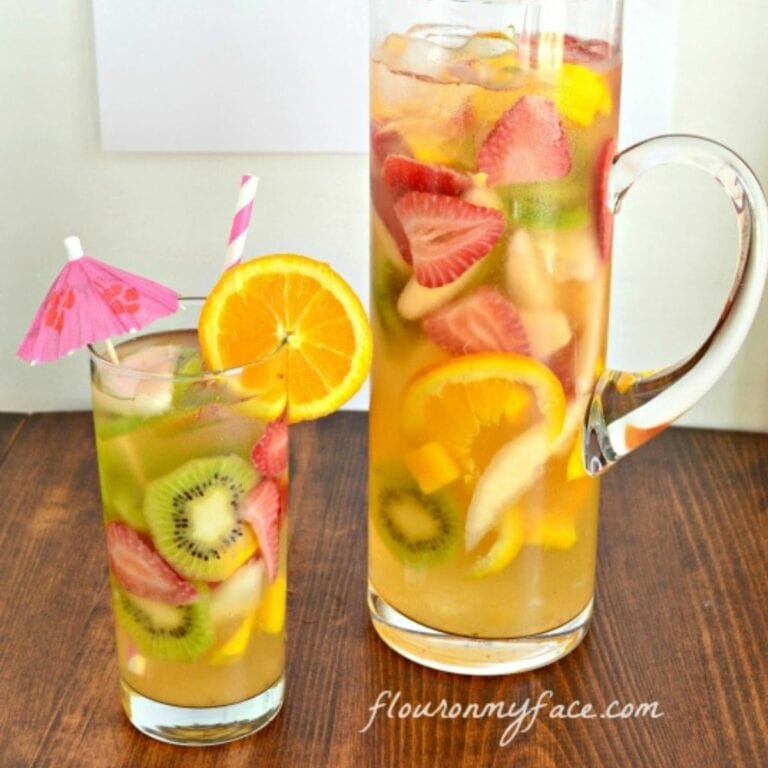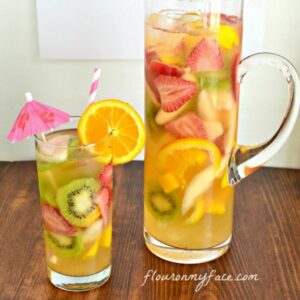 White Mascato Sangria
White Mascato Sangria is made with sweet white Moscato wine, pears, oranges, kiwi, mango and strawberries. It is perfectly sweet and refreshing. A white wine Sangria recipe that can be enjoyed any time.
Rate this Recipe
Ingredients
1.5

liter

White Moscato Wine

1

whole

bartlett pear

(peeled and sliced thinly)

1

whole

orange

(wash well and thinly sliced)

2

whole

kiwi

(peeled and sliced thinly)

1

medium

golden mango

(peeled and cubed)

5

large

strawberries

(sliced thinly)

3

tablespoons

sugar
Follow Flour On My Face on Pinterest
Instructions
Slice all the fruit into a tall pitcher.

Pour wine over the fruit.

Add sugar and stir..

Chill the fruit and wine overnight.
How to Serve Sangria
Right before serving add a cup of ice to the pitcher and stir.

Serve in a tall glass with a orange slice or strawberry as garnish.
Nutrition
Serving:
1
Serving
Calories:
257
kcal
Carbohydrates:
26
g
Protein:
1
g
Fat:
1
g
Saturated Fat:
1
g
Sodium:
1
mg
Potassium:
94
mg
Fiber:
1
g
Sugar:
12
g
Vitamin A:
377
IU
Vitamin C:
26
mg
Calcium:
8
mg
Iron:
1
mg
Tried this recipe?
Share a picture on Instagram and tag @flouronmyface2
Disclosure: Product links included are affiliate links. If you should make a purchase based on my recommendation I will earn a small commission at no added cost to you.