How To Dehydrate Orange Slices
How to dehydrate oranges slices in a food dehydrator to use as holiday decorations. You can make cute hang tags for your holiday gifts in a jar.
Or attach the dried orange slices to a grape vine wreath for a pretty door decoration.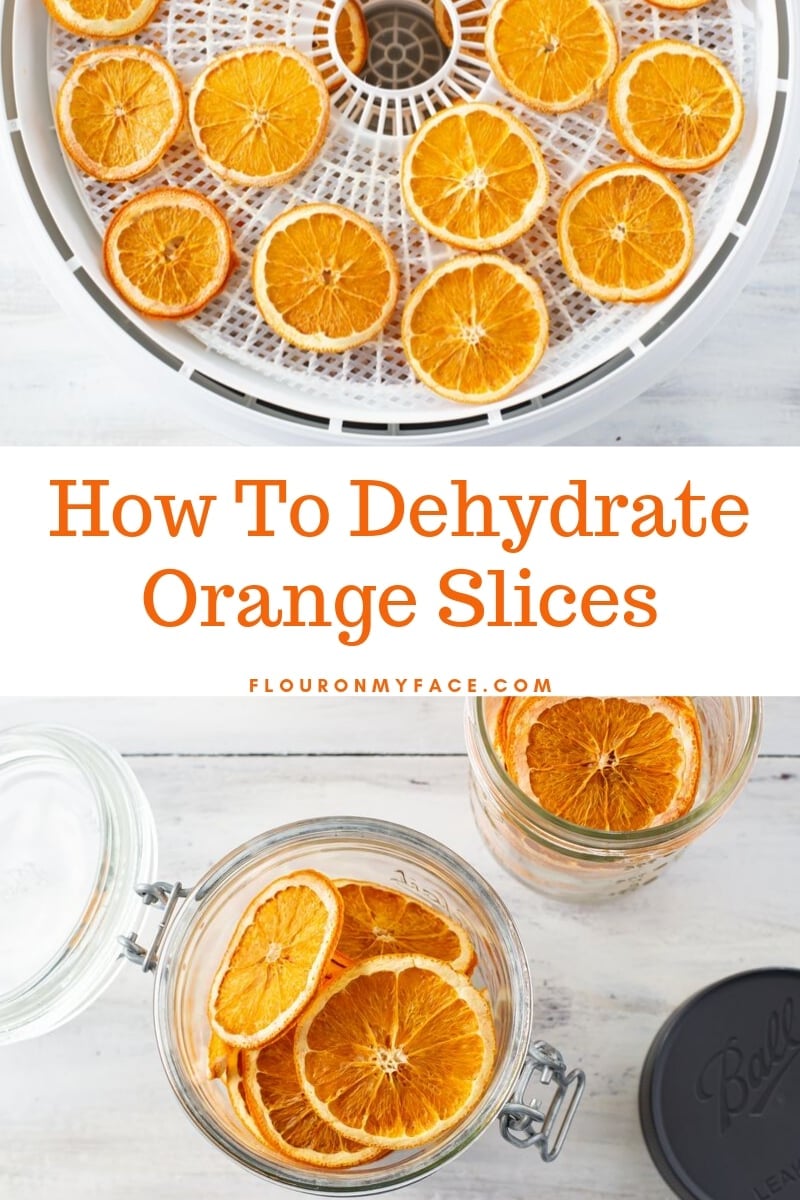 With the holiday season fast approaching I thought you might like to learn How to Dehydrate Orange Slices so you can use them in your holiday decorations.
What can you use dehydrated oranges slices for?
Dehydrated orange slices can be used as garnishes and decorations. I honestly can't imagine chewing and eating a dried orange slice but I can see adding a handful of dried orange slices to a pitcher of iced tea or water to add a citrus flavor.
Or you can slip a dried orange slice over the edge of a cocktail glass for a garnish.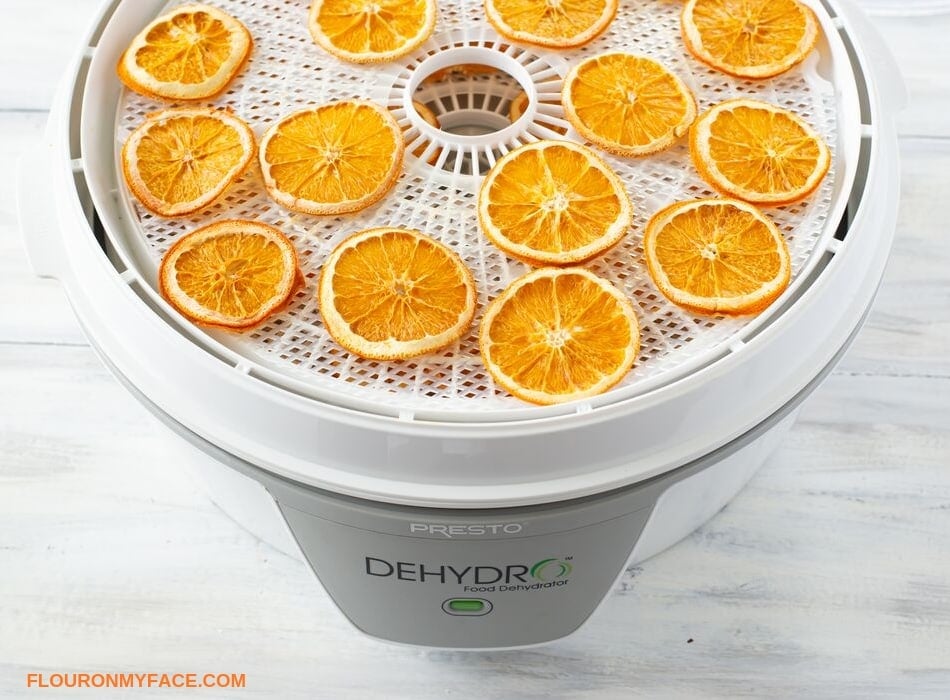 During the upcoming holiday season you can use your dehydrated orange slices for all kinds of fall inspired decorations.
If you are a crafty gal or guy you could use them on a wreath for the front door, you could use dried oranges slices in homemade potpourri or to decorate candles for a pretty center piece.
I made these dried orange slices to decorate holiday gift bags filled with my Homemade Christmas Granola recipe.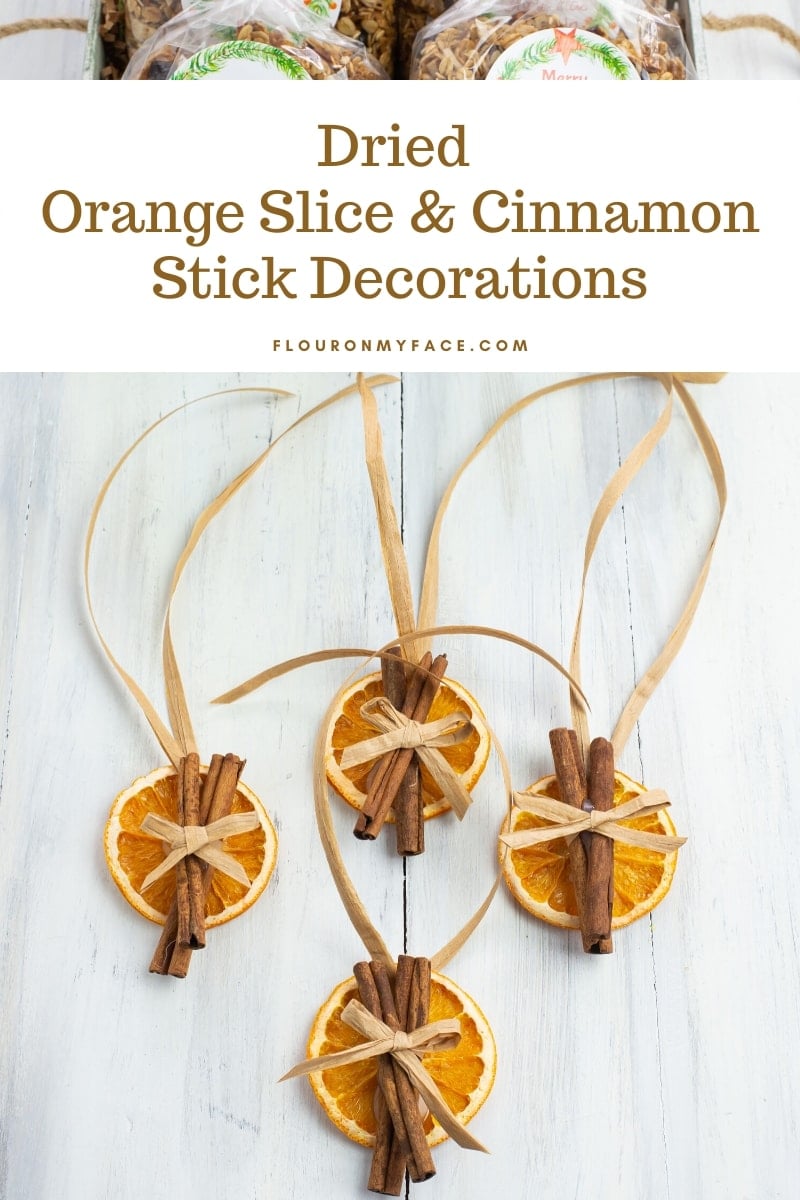 I haven't had a chance to update my very old Christmas Granola post with new pictures I've taken. If you want to get a jump start on your homemade holiday food gifts you can check out my Christmas Granola recipe at the link above.
How To Make Dried Orange Slices in a Food Dehydrator
To make dried orange slices in a food dehydrator you only need a couple of things. The main thing you will need is a food dehydrator. I have been using the Presto Food Dehydrator for a few years now and I am very happy with it. It is very affordable.
Food Dehydrator Supplies
How Long To Dehydrate Orange Slices?
How long it takes to dehydrate orange slices in a food dehydrator will depend on a few things.
The temperature your dehydrator runs at and the thickness of the orange slices you will be dehydrating will determine how long it takes to dehydrate orange slices completely.
It could take anywhere from 5 hours to 18 hours to completely dry the orange slices until they are dry and brittle.
How to Store Dried Orange Slices?
Once you learn how to dehydrate orange slices you are going to want to make them every chance you get.
You will need to store the dried orange slices properly so they stay nice and fresh without losing their firmness and the lovely natural orange scent they have.
As long as you have properly dehydrated the orange slices and have removed all the moisture from the sliced citrus fruit you should store the dried orange slices in an air tight container.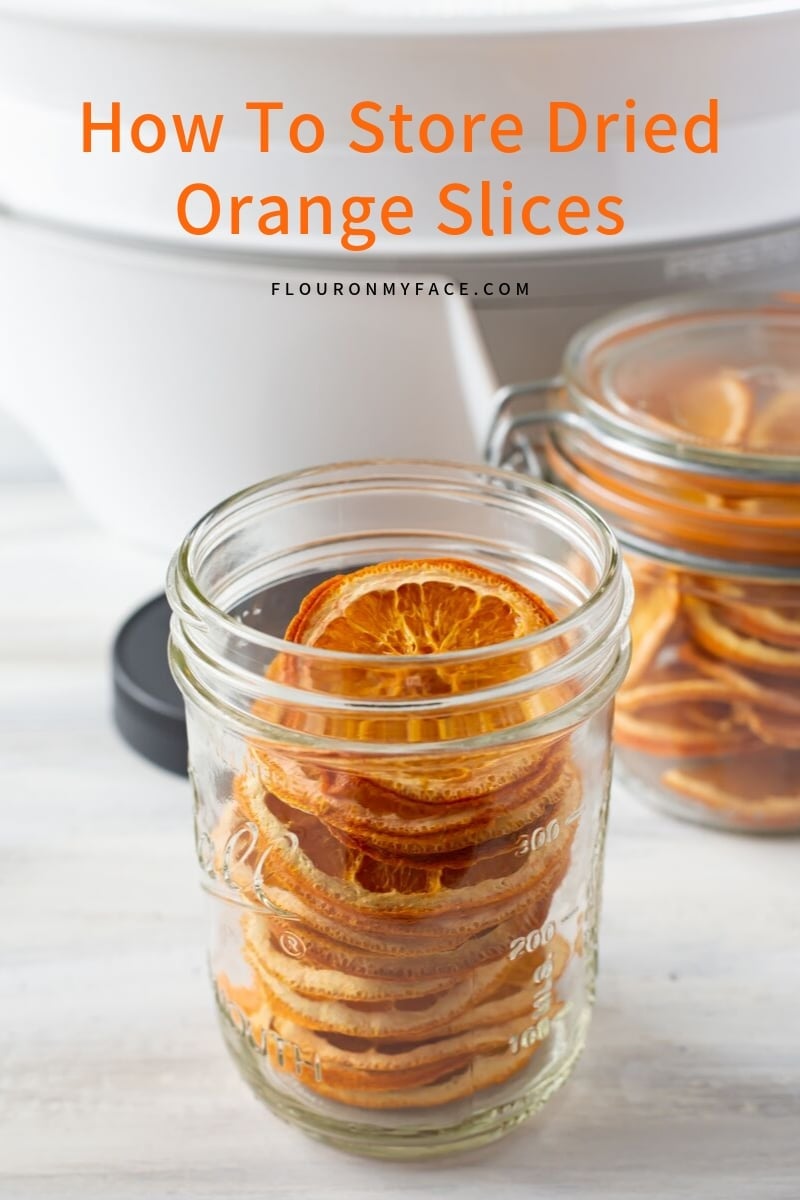 I like to store the dried fruits and vegetables I have dehydrated in mason jars. It gives me a great feeling of satisfaction when I look at the clear mason jars filled with dehydrated fruits and vegetables in my pantry.
Make sure the dehydrated orange slices have cooled down and come to room temperature before transferring them to containers for storing. Store the jars or containers of dried orange slices in a cabinet or pantry out of direct sunlight.
Occasionally check the dehydrated oranges slices for mold for the first couple of weeks after storing. If you dehydrate the oranges slices correctly and all of the moisture will be removed and you will not have a problem with spoilage.
More dehydrator recipes
Check out these other fruit dehydrator recipes.
Email questions or recipe requests to flouronmyface@gmail.com. Follow me on Pinterest, YouTube, Instagram and Facebook.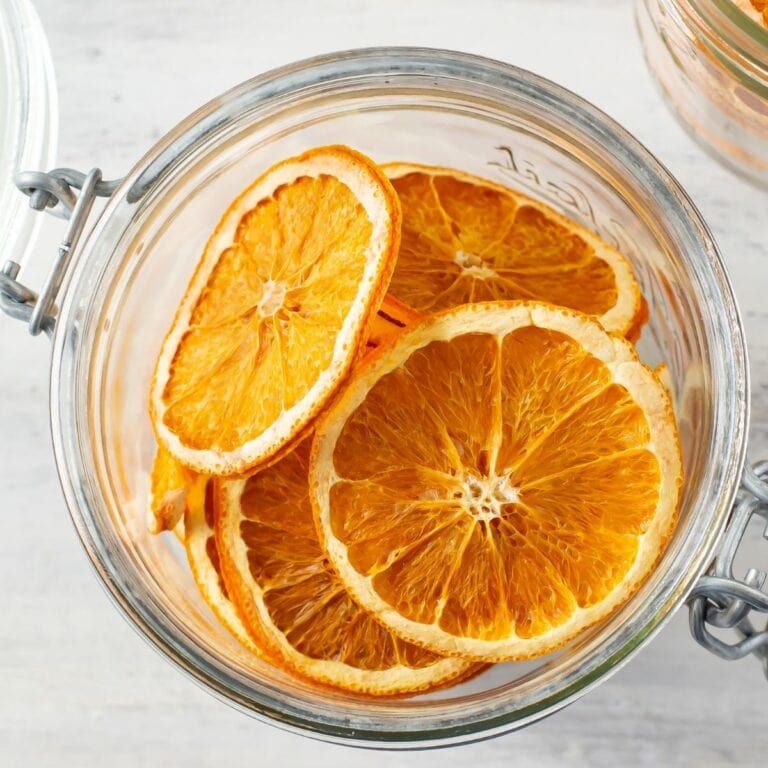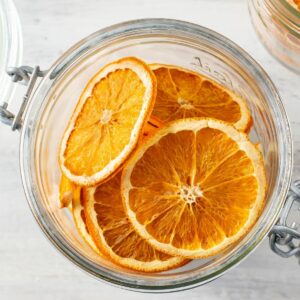 How To Dehydrate Orange Slices
How To Dehydrate Orange Slices in a food dehydrator to use as decorations or garnishes. I made dried orange and cinnamon stick decorations to hang off holiday bags and jars filled with Christmas Granola. Or to garnish cocktails.
Rate this Recipe
Ingredients
5

Large

Navel Oranges

(sliced ¼ inch thick)

water
Follow Flour On My Face on Pinterest
Instructions
Carefully use a sharp knife or a mandoline slicer to cut the navel oranges in ¼ inch thick slices.

Arrange the orange slices on the trays of your food dehydrator. You can butt the orange slices up against each other to get as many orange slices as possible on each tray. Fill all of the trays and stack them on the dehydrate base.

Place the lid on the dehydrator and turn it on. My model runs at one temperature. If the model you are using is different and you have the option to set the temperature follow the manufacturers instructions.

Allow the dehydrator to run for approximately 12 to 18 hours or until the orange slices are completely dry and brittle.

Every 4 hours switch the trays by moving the trays at the top of the stack to the bottom which is closer to the hot air. Check the orange slices and flip them over if you see some of the thinner slices getting dryer than the thicker slices.

Once all of the orange slices are dry and brittle turn off the dehydrator and allow to cool before storing in air tight containers.
Recipe Expert Tips
Dehydrating Tip: If some of the thinner slices are dry and brittle before the thicker orange slices dry you can remove them from the dehydrator to a cooling rack while the thicker oranges continue to dry.
Nutrition
Serving:
1
Serving
Calories:
34
kcal
Carbohydrates:
9
g
Protein:
1
g
Fat:
1
g
Saturated Fat:
1
g
Sodium:
1
mg
Potassium:
116
mg
Fiber:
2
g
Sugar:
6
g
Vitamin A:
173
IU
Vitamin C:
41
mg
Calcium:
30
mg
Iron:
1
mg
Tried this recipe?
Share a picture on Instagram and tag @flouronmyface2