Easy Mixed Fruit Salad with Sweetened Creme Fraiche 
I love making simple but delicious fruit salads. They are so easy to make and depending on the types of fruits that are in season and available you can completely change the taste and flavor  a fruit salad. You can make a simple berry fruit salad made with only three types of fruit, as I am sharing today or in the winter when citrus is in season a citrus salad.  
When I make a citrus salad I like to sprinkle just a tiny bit of sugar over the citrus fruit and let a light syrup develope while the fruit chills. But when berries are in season I really love to top a bowl of mixed berries and banana slices with a dollop of homemade creme fraiche that I have sweetened.
What is Creme Fraiche?
Creme fraiche is a fancy shmancy sour cream like dairy product that is apparently very expensive and not widely available in the US but can be found in some stores where the imported dairy and cheese products are located.
Making Creme Fraiche, Yogurt and other cultured products at home
A few years ago when I started experimenting making homemade yogurt without a yogurt maker and with a yogurt maker, sourdough starter, homemade buttermilk  and culturing keifer as a way to make things at home that even though I could easily purchase at the grocery store I loved making myself for a couple of reasons.
Because I wanted to see if I could do it

Because I love homemade better than store bought

Because it can be cheaper as in the case of Creme Fraiche 

Because I really love doing things the way my grandmother and great grandmother did it.

Because once I tasted the homemade creme fraiche I fell in love with it.
Because even though I still buy store bought yogurt I love making homemade yogurt and eating it with my homemade jams, making yogurt ice pops for my granddaughters and now that I own a yogurt maker it is so easy to make.
Because I love making my sourdough focaccia with my own sourdough starter that I have had going for about 6 years now.
And in case you were wondering I have never bought a starter culture. All of the cultured items I make are easy to do by starting out with a store bought buttermilk, heavy cream,  yogurt, and in the case of my sourdough starter just plain flour and water.
 Now to make homemade creme fraiche to top a bowl of fresh fruit salad you will have to start about 48 hours ahead of time. The creme fraiche is made in the first 24 hours and then it really needs to be chilled for at least 12 to 24 hours to thicken. Once you make the first batch of creme fraiche you will then use about 1/2 cup of the mother batch to make the next batch. You can keep doing this for months. Each batch of homemade creme fraiche lasts 2-3 weeks and can be used sweetened to top a fruit salad or can be used in place of sour cream in any recipe that calls for sour cream. 
Print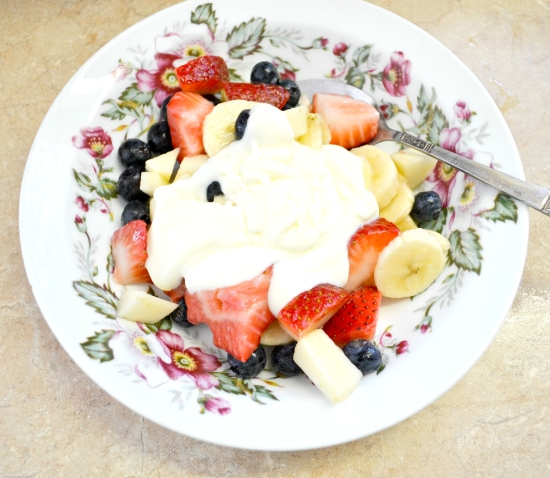 Easy Fruit Salad with Sweetened Creme Fraiche
---
Description
The creme fraiches takes 24 hour to culture. You will then chill for an additional 12-24 hours before using so the creme fraiche has a chance to chill and thicken.
---
Scale
Ingredients
Fruit
1 cup

strawberries, washed, hulled and sliced

1 cup

blueberries, rinsed

1

–

2

bananas, sliced
Creme Fraiche
2 cups

heavy whipping cream

1/4 cup

lowfat buttermilk with live cultures

3 tablespoons

sugar
---
Instructions
Begin in the morning 48 hours before serving the fruit salad.
Add the heavy whipping cream to a quart size jar
Add the buttermilk cover with a tight fitting lid and shake well.
Remove the lid and loosely cover the jar with a coffee filter or a piece of cheesecloth so air can circulate and set the jar in a warm area of the kitchen free of cold drafts.
Every 4 hours replace the lid and shake.
Remove lid and replace coffee filter or cheesecloth.
Repeat the shaking during the day.
Leave the jar out overnight with the coffee filter or cheesecloth in place.
Check the creme fraiche in the morning. It may have thickened enough. It should be thick like sour cream.
If it is still thin continue shaking during the next day.
Continue to check during the day.
Once it has thickened replace the tight fitting lid and put in the refrigerator to chill overnight.
To Sweeten a portion of the homemade creme fraiche
Remove 1 cup of the creme fraiche and put it into a small airtight container.
Add 3 tablespoons of sugar.
Stir well.
Store the remaining creme fraiche in the quart jar in the refrigerator for another use.
Once chilled it can be as thick as sour cream or in some cases almost as thick as room temperature butter.
To Serve
Fill a small bowl with about a cup of the mixed fruit.
Stir the sweetened creme fraiche well and spoon some over the fruit.
Serve immediately.
---
---
Nutrition
Serving Size:

1 cup

Calories:

258
Recipe Card powered by
 Homemade Creme Fraiche can be used to make other things besides a fruit salad topping.
Other recipes using Creme Fraiche you might enjoy.
Creme Fraiche Orange Curd Whipped Topping Recipe
Happy Ice Cream Day: Homemade Creme Fraiche Cheesecake Ice Cream
Happy Pie Day: Creme Fraiche Lemon Pie
Creme Fraiche Cream Cheese Frosting
No Bake Orange Curd Creme Pie Recipe