39 + Labor Day Recipes
39 + Labor Day recipes to make saying good-by to the summer a little easier.
We are celebrating my youngest grandsons 4th birthday this weekend with a backyard family barbecue.
Be sure to scroll to the bottom for my special bonus recipe. You don't want to miss it!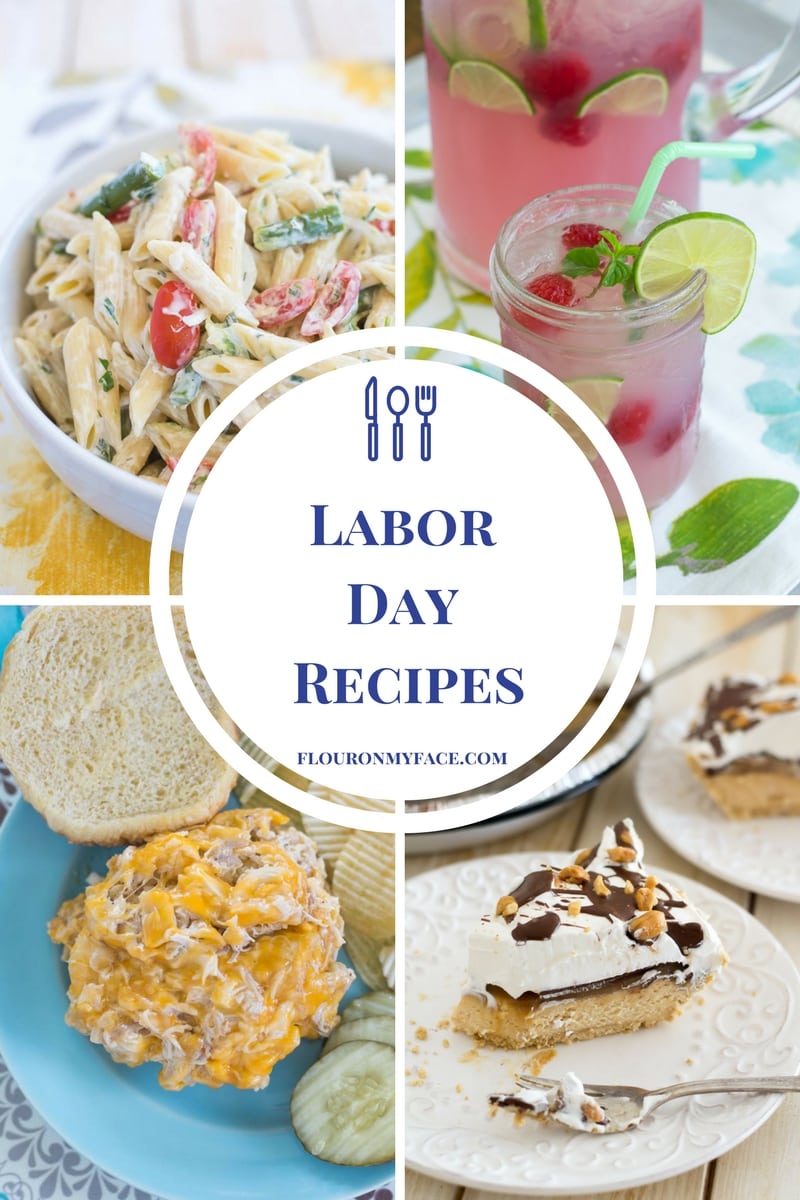 Big News besides the Labor Day recipes
Besides celebrating the Labor Day weekend holiday and my grandsons birthday I think Labor Day is the perfect opportunity to share some news with you. I have taken on a new endeavor.
One I honestly never saw myself doing.
I was recently introduced to (affiliate links) Norwex cleaning products. Norwex is an awesome company who really cares about the environment and about helping people clean without exposing themselves to the harmful chemicals that cleaning products have in them.
I have joined the Norwex family and signed on as a Norwex Independent Sales Consultant. I've done this very crazy thing for two reasons.
One I am absolutely in love with the Norwex products and the Norwex mission to help as many people as possible to create safe havens for themselves and loved ones.
This is a radical way to clean. Not really but some people may not believe it is possible but it is.
I have been using Norwex products for a little over a year now and I am blown away by how I can actually clean my entire home and get it sparkling clean with only a Norwex microfiber cloth and water.
Yes, I will be sharing more information with all of you. If you'd like to learn more about Norwex products you can check out my Norwex Store here.
You'll be able to read about the type of chemical free products that are available and why they actually work.
You will also be able to learn just how easy it is to clean your home (get rid of germs!) and save hundreds of dollars a year with Norwex cleaning products.
If you fall in love with Norwex products as much as I did and would like to make a purchase I would appreciate it if you placed an order through my Norwex shop.
I have some goal to meet and I will earn my consultant kit for free! If your interested in becoming a Norwex Independent Sale Consultant yourself email me (cleangreenwitharlene at gmail.com) and I will help you get on your way to not only earning some extra money (the holidays are coming!) but to tell you just what an awesome company Norwex is to work for and how generous they are with their consultants.
If you've ever dreamed of starting your own business but thought you could never do it Norwex is a company that will help you earn some money on your own schedule and helps you get rid of those harmful chemicals in your home creating a safe haven for your family.
Sorry for running on but I am so excited about these Norwex products. Ask my family. I have done nothing but talk their ears off (sometimes I have to follow them around the house LOL) for the past two weeks about how much I love my Norwex Envirocloth and my new Norwex EnviroSponge.
No more stinky sponges for me and I won't have to buy another sponge for at least a year!
On to the Labor Day recipes!
Labor Day Crock Pot Recipes
Crock Pot Macaroni and Cheese Recipe - Crock Pot Mac and cheese is one of my favorite holiday side dish recipes. This easy slow cooker mac and cheese recipe is the cheesiest and easiest homemade macaroni and cheese recipe you will ever make. It reminds me of Bob Evan's thick and cheesy macaroni and cheese.
Easy Crock Pot Pulled Pork Sandwich recipe - This recipe Crock Pot Pulled Pork recipe has been pinned on Pinterest over 1 million times! It is the easiest and best tasting slow cooker pulled pork recipe you will ever make!
Crock Pot Pulled Chicken Sandwich recipe - My second favorite pulled sandwich is Crock Pot Pulled Chicken. It is just as good as my Easy Crock Pot Pulled Pork recipe but made with boneless chicken breasts.
Crock Pot Garlic Mashed Potatoes recipe - If you are going to serve mashed potatoes during your Labor Day celebration you might as well bump up the flavor of boring plain mashed potatoes and make garlic mashed potatoes instead.
Crock Pot Spaghetti Squash recipe - Expecting low carbing or vegetarian guests for your end of summer celebration? Make a spaghetti squash in the slow cooker. When it's done scoop the tender spaghetti squash from the peel in a bowl. Top the cooked spaghetti squash with a sprinkle of cinnamon and brown sugar. Yum!
Crock Pot Baked Ziti recipe - If you're tired of the traditional Labor Day BBQ serve your family and guests this easy to make slow cooker Baked Ziti recipe.
Crock Pot Hot Cheesy Chicken Sandwich recipe - Cheesy Chicken Sandwiches are easy to serve straight from the slow cooker.
You can find all of my crock pot recipes on my crock pot recipe page. There are over 200+ crock pot slow cooker recipes for you too choose from.
Labor Day Instant Pot recipes
Instant Pot Red Potatoes make the best potato salad
Instant Pot Mac and Cheese recipe
Labor Day Beverages
Sweet Cherry Iced Tea recipe -
Watermelon Lemonade recipe - Kids and adults alike will love this Watermelon Lemonade recipe. Its a combination of my two favorite summer flavors.
Southern Sweet Iced Tea recipe - I've been making my sweet iced tea the same way for over 30 years. Follow my direction for the clearest iced tea you have ever made. No more cloudy glasses of ice tea ever again!
Sweet Fresh Strawberry Lemonade recipe - Another favorite summer beverage recipes for the adults and kids is Strawberry Lemonade. A sweet and tart combination of summers best flavors.
Easy Fruity Pink Lemonade recipe - This easy fruity pink lemonade starts with a can of pink lemonade concentrate. Then to make is special fill the picther with some of your favorite fresh or frozen berries.
Need a couple of adult cocktail recipes for your Labor Day celebration? Check out my cocktail category.
Labor Day Side Dish recipes
Asparagus Tomato Pasta Salad recipe - I think this was my favorite summer side dish recipe of the year!
Broccoli & Tomato Pasta recipe - I love pasta side dish recipes that combine the flavors of fresh vegetables.
Italian Garden Pasta Salad recipe - Its zesty! This easy pasta salad recipe is dressed with Kraft Zesty Italian salad dressing.
My Best Baked Beans recipe - Another popular Pinterest recipe is served at all of of family bbq's.
Garlic Rosemary Smashed Potatoes recipe - I love these crispy little potato nuggets. They are packed full of fresh flavor made with fresh rosemary and extra virgin olive oil.
Butternut Squash Mac and Cheese recipe - Squash recipes aren't just for the chilly fall. This butternut squash macaroni and cheese recipe is a perfect Labor Day side dish recipe to serve as we are celebrating the end of summer.
Tuscan Tomato Mozzarella Salad recipe - Fresh heirloom tomatoes are the star of this delicious and healthy side dish recipe. Marinated with fresh summer herbs it is delicious and deserves a place on your Labor Day menu.
Grilled Corn Casserole recipe - If you have the time to grill some corn this grilled corn casserole recipe is delicious. No time to start the grill before the guests arrive? Save that leftover grilled corn and make this grilled corn casserole the next day with the leftover corn.
Garlic Potatoes recipe - Another of my families favorite barbecue side dish recipes. If you asked them they'd tell you I just don't make this favorite garlci potatoes recipe as much as they would like.
Labor Day Dessert recipes
Peach Slab Pie recipe - If your not a big cherry fan you can make this peach slab pie recipe instead.
Crock Pot Pineapple Upside Down Cake recipe - Impress your guests when you serve this beautiful pineapple upside down cake recipe for dessert. It makes a beautiful presentation.
No Bake Peanut Butter Caramel Cheesecake Pie recipe - My mouth is watering just thinking about this easy to make no bake cheesecake pie recipe. I used homemade caramel sauce but you can use the thick caramel sauce you can buy with the ice cream toppings. Peanut Butter lovers will rejoice at the first bite of this pie.
Banana Bread Cheesecake Bars recipe - This dessert bar recipe is the best of both worlds - banana bread recipe with a hint of cheesecake filling. It is divine.
Cherry Cake Bars recipe - This cherry dessert bar recipe can be filled with cherry marmalade, cherry jam, cherry pie filling or cherry cobbler filling. If you have homemade cherry preserves on hand this is the perfect holiday dessert bar recipe. If not take a look down the baking aisle and I am sure you will find the perfect cherry cake bar filling. These cake bars are a delight.
Salted Caramel Smores recipe -
Apricot Struesel Crumb Cake recipe - This homemade struesel cake recipe is filled with fresh apricot slices. You could use apple or peach slices instead.
Labor Day Dip & Appetizer Recipes
Easy Ranch Dip recipe - This delicious Ranch Dip Recipe is easy to make and can be served on a veggies tray.
Easy Cheesy Chili Dip recipe - This easy chili cheese dip recipe can be made in the microwave or warmed and served from a little dipper crock pot slow cooker. I love making it in the slow cooker. It really makes setting up and serving appetizers so much easier when you have a house full of hungry guests.
Roasted Golden Beet Mozzarella Crostini recipe - Start this Labor Day appetizer recipe early in the morning so the marinated mozzarella cheese has a chance to marinate for a few hours before serving.
Shrimp Dipping Sauce recipes - If your serving boiled shrimp, fried shrimp or even crab legs check out these 4 shrimp dipping sauce recipes that need to be on your dip table.
Crock Pot Hot Artichoke Spinach Dip Recipe - A classic artichoke dip recipe that will please a crowd.
Crock Pot Buffalo Chicken Dip recipe - This spicy chicken dip recipe is always a huge hit when I make it.
Want to check out all of my appetizer recipes? You can find them in my appetizer category or in my dip category.
BONUS recipe! You need this Tangy Deviled Eggs recipe. It is the best Deviled Eggs recipe you will ever make.
I'll be making about 2 dozen hard boiled eggs this morning so I will have at least 48 deviled egg appetizers for out Labor Day / birthday party celebration.
Honestly I don't know if 48 will be enough! My family will devour these deviled eggs in no time!