I'm not too snobby about many things but when it comes to a glass of sweet iced tea I've set my standards high and I have learned over the years how to make sweet iced tea perfectly.
What is a perfect pitcher of sweet iced tea
1. It's got to be freshly brewed.
2. It's got to be crystal clear. No cloudy iced tea for me!
3. It's got to be sweet but not too sweet.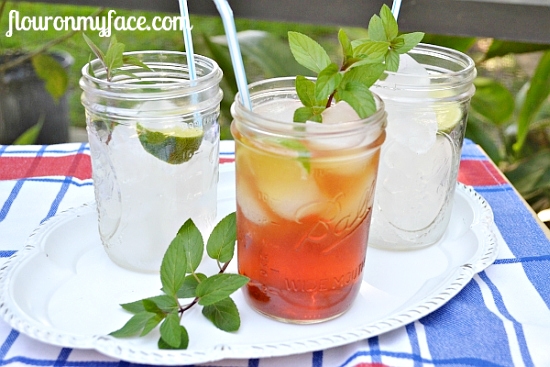 I've learned over the years that if a glass of iced tea is cloudy it is not fresh. There are a couple of ways this can happen.
You brewed the tea and let it sit too long before making your pitcher of iced tea.

It's been in the refrigerator a few days.

You brewed it, made it and then let it sit out and get warm. Keep your tea chilled!
There once was a time when sweet iced tea was only a southern thing. Now you can get it almost anywhere food is served.
I've been making sweet iced tea for a long time. At one time I made one gallon of sweet iced tea a day, every day before my husband came home from work.
It's hot here in Florida and when he came home from work all he wanted to drink was a big glass of fresh sweet iced tea. He'd guzzle one or two glasses the minute he walked into the door.
How hard can making sweet iced tea be? You only have three ingredients; water, tea and sugar.
Making Sweet Iced Tea may seem pretty simple but the technique is what makes a crystal clear glass of sweet iced tea. Follow my instructions and I promise you a perfect pitcher of sweet iced tea each time.
This recipe makes a half a gallon of iced tea. You can double it and make an entire gallon. You probably should just go ahead and make a gallon. Nothing tastes better than a fresh glass of sweet iced tea on a hot summer afternoon.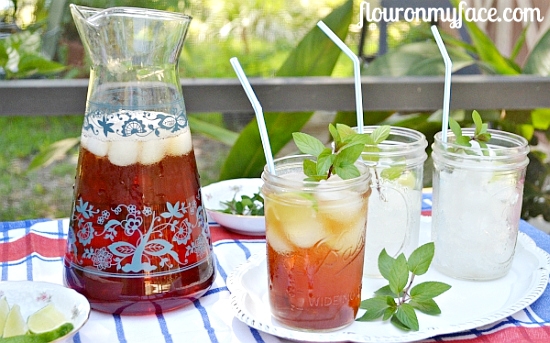 Preparing your tea while the tea is still hot is what gives you a crystal clear pitcher of iced tea. If you wait until the tea has cooled you will end up with a bitter and cloudy pitcher of tea.

It also allows the sugar granules to dissolve.

I hate it when the sugar doesn't dissolve and sits on the bottom of my glass.

Chill completely before serving over ice so the warm tea does not melt the ice in the glass.

Do not add ice to the pitcher of sweet iced tea. It will water it down and lose much of the flavor

Garnish with a wedge of lemon, lime or a slice of orange.

Garnish with fresh mint or lemon verbena.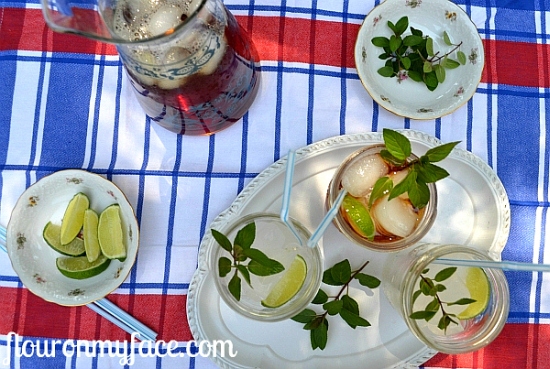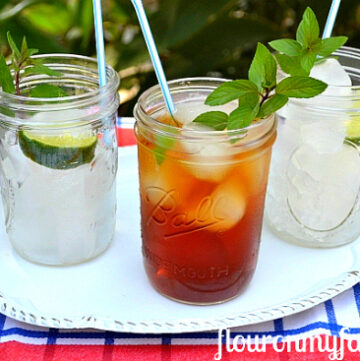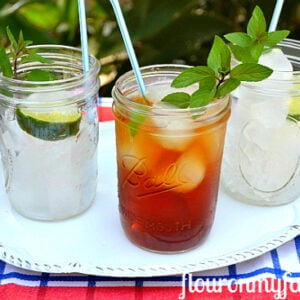 How to make Sweet Iced Tea
How to make Southern sweet iced tea perfectly. Serve a glass of the best, brightest, clear, not cloudy iced tea you have ever tasted. Garnish with a wedge of lemon or lime and a sprig or two of fresh mint.
Rate this Recipe
Ingredients
8

cups

water divided

6

tea bags

Lipton Black Pekoe Tea

¾

cup

sugar

1

whole

lemon

(lime and mint for garnish)

ice
Follow Flour On My Face on Pinterest
Instructions
Add 4 cups of water to a medium size saucepan and bring to a roiling boil. Boil the tea bags for about 2-3 minutes. Remove the pot from the hot burner.

Steep tea for 10 minutes.

Measure sugar and add to pitcher

Pour the still hot tea over the sugar. Stir until the sugar is dissolved.

Add the remaining four cups of water and pour it into the pot with the tea bags. Swirl the pot around a little bit to allow the tea bags to release that last bit of tea goodness from the tea bags. Pour the tea water into the pitcher.

Chill completely before serving and serve over ice.
Recipe Expert Tips
Chill a big pitcher of this sweet iced tea recipe before serving with a wedge of lemon and a sprig of fresh mint.
Nutrition
Serving:
1
Glass
Calories:
97
kcal
Carbohydrates:
25
g
Protein:
1
g
Sodium:
1
mg
Potassium:
1
mg
Fiber:
1
g
Sugar:
25
g
Vitamin A:
1
IU
Vitamin C:
1
mg
Calcium:
1
mg
Iron:
1
mg
Tried this recipe?
Share a picture on Instagram and tag @flouronmyface2