Guess what time of the year it is?
Christmas Cookie Exchange & Holiday Baking time of course.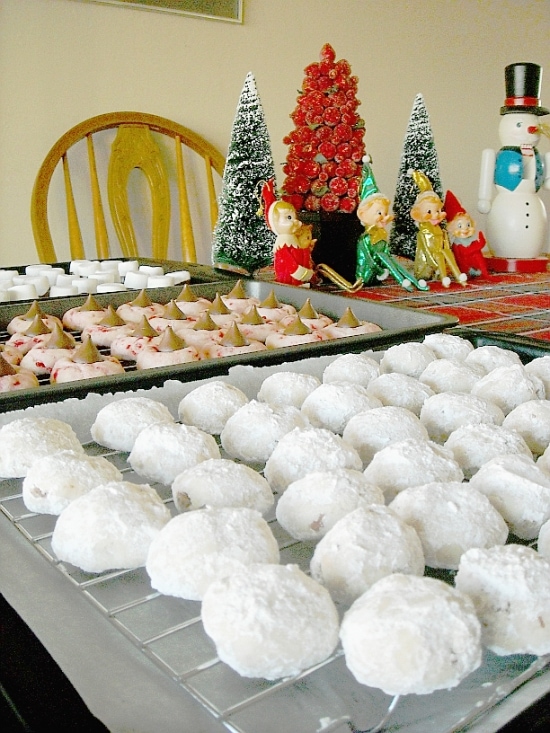 It is my favorite time of the year.
I love either hosting or going to cookie exchanges. I try to host one myself each holiday season. Sometime it's hard to get people to come because everyone is so busy this time of the year.
It is so much fun so if you get invited to one make the time to go.
You won't be disappointed.
Or host one of your own.
I've hosted or been a guest to a cookie exchange for the past 5 years or so but even if I didn't host an exchange or get invited to one I would still bake dozens and dozens of holiday cookies.
It is a tradition in my family. It just wouldn't be Christmas if I didn't bake cookies.
I have a couple of favorite recipes I make each year. But I always find a couple of new recipes to try each holiday season.
I also like to make fudge once in awhile but it is guaranteed I will be baking cookies. Fudge I can skip a year or two but never the cookies.
One of my husbands favorite cookies is the Mexican Wedding Cookie. They are these sweet little crunchy balls of pecan heaven rolled up in a powdery blanket of confectioners sugar.
The sugar melts on your tongue as you bite into each crunchy cookie.
Yummy they are so good!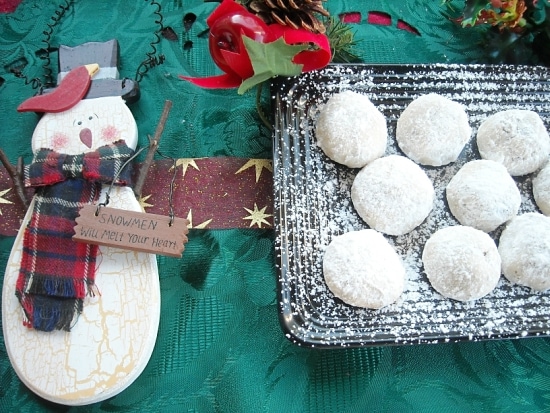 It took me a couple of tries until I found the perfect recipe. Now they are on the list of must have Christmas Cookies each year.
I will be hosting a cookie exchange this coming weekend so I need to get busy baking at the end of this week.
If you are looking for a great cookie recipe to add to your holiday baking recipe list this is one you should add. They are so easy to make and taste so good.
I'd like to wish you and your family a very Happy Holiday season.
Leave me a comment below to view a special Holiday greeting card I made for you from the Cardstore along with an awesome special discount for my readers so you can design your own holiday greeting cards too this holiday.
Nestled inside my Holiday Greeting is the recipe for my Mexican Wedding Cookies.
Feel free to share my Mexican Wedding Cookie recipe inside your own card with your friends and family!
Have a safe and happy Holiday Season!
Happy Baking!
Whether it's a personalized card or cookies right out of the oven, I love sharing the warmth of the holiday season with my family, friends and, of course, my readers! Comment below and I'll mail you a card featuring my favorite cookie recipe, and Cardstore will share a coupon code for 75% off holiday cards so you can whip up a special batch of cards for the people you love. Just follow these simple steps:
Step 1: Leave a comment below sharing your recipe for a happy holiday
Step 2: When the registration box appears, complete the form
Step 3: That's it! My recipe and a coupon code from Cardstore will be sent to you by mail
This is a sponsored conversation written by me on behalf of Cardstore. The opinions and text are all mine.