How To Host A Christmas Cookie Exchange
I can't even tell you how many cookie exchanges I have hosted or been invited to. To make this fun holiday get-together as easy and as stress free as possible I'm sharing some tips on How to Host A Christmas Cookie Exchange.
Its never too early to start planning your Holiday Cookie Exchange. Especially if this will be the first time you are hosting a cookie exchange for family and friends.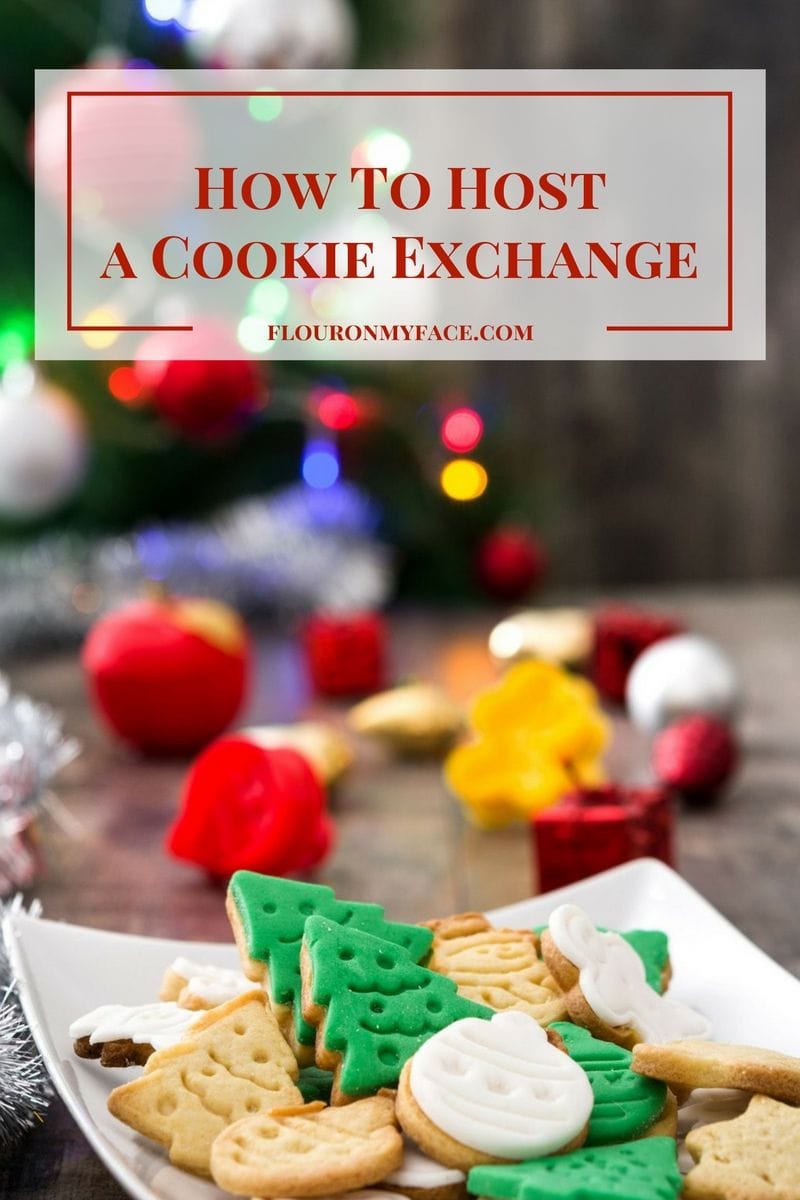 What to do in the month before your Christmas Cookie Exchange
A  month or more before your cookie exchange decide how many people you will invite. 10-20 guests is a good number. That may seem like a lot but remember that about half the people you invite will not come.
There are always last minute cancellations because of sick kids and other family holiday obligations that always seem to pop up at the last minute.
Pick a date that is not too close to Christmas Eve or Christmas Day because we all love spending the holidays with our families and have Christmas parties and other holiday events to attend.
Gather any addresses you may need and invite your guests the old fashioned way with a real Christmas Cookie Exchange invitation (free printable) or set up a Facebook event.
Although we use Facebook events to invite family and friends to some of our family functions I find that a regular invitation sent in the mail can add excitement for the event and is usually hung on the refrigerator and is a much better reminder in real life than a Facebook or other online event invitation can be.
Decide what cookies you will be making.
Ask your guests to let you know asap the name of the cookie recipes they will be making.
Try to avoid similar cookie recipes so there will be a good amount of cookie choices for your guests to take home.
Notify guest immediately if they have picked a cookie recipe that has already been submitted. Ask them nicely to pick another cookie recipe.
Decide on the Christmas Cookie Exchange Rules
Decide how many cookies each person should bring. 1/2 to 1 dozen cookies per confirmed guest is a good number of cookies for the guests to be able to pick and choose from when it is time to go.
Not everyone will like the same kinds of cookies and not everyone will take the same amount of cookies home with them.
 If it should happen that everyone wants to take some of the same cookie recipe home with them then there will need to be enough of each recipe for all of your guest to take some home with them.
There will be sampling during the cookie exchange also so a large number of cookies will be needed from each guest.
Homemade Christmas Cookies only or other cookie exchange recipe options?
All homemade cookies or a combination of homemade cookies, no bake cookies or homemade holiday candies?
Since your hosting this Christmas Cookie Exchange the rules are up to you. If you have lots of friends and family who love to bake from scratch you might require your guests to only bring homemade Christmas cookies to your cookie exchange.
But what if some of your friends and family are not Susie homemakers or they work and just don't have time to bake from scratch during the hectic holiday season and you still want to invite them? No-bake cookie recipes and other holiday treats are an option if you don't mind that. Its up to you the hostess to set the rules for your cookie exchange.
Christmas Cookie Exchange Recipes
There are many Christmas treats that are perfect for a Christmas cookie exchange other than cookies that do not take hours to make. No-bake cookie recipes are perfect.
Christmas Muddie Buddie recipes, Chex Mix recipes, Candy Bark, homemade fudge, peppermint bark, homemade Christmas Candy, pretzel logs dipped in chocolate and decorated with fun festive sprinkles, No-Bake OREO Snowball Cookies, OREO cookies dipped in white chocolate then dipped in crushed candy canes are just a few no-bake cookie exchange recipe ideas.
My (affiliate link) Homemade Holidays: 25 Christmas Sweets & Treats eBook is packed full of Christmas recipes that are perfect for a Christmas Cookie Exchange. Its available on Amazon.
Cookie Exchange Decorations
Pick a theme for your cookie exchange.
Start looking for decorations in the dollar spot area of Target or at the dollar stores.  Or think about Christmas decorations you may already have that can be used for your Christmas Cookie Exchange.
 The Flour On My Face custom designed Christmas Cookie Exchange Printable Pack is available for download!
You'll be able to download and print the FREE Christmas Cookie Exchange Printable Pack that includes almost everything you will need for to decorate and host your Christmas Cookie Exchange,  except the cookies of course!
This wonderful Free Christmas Cookie Exchange Printable pack was designed exclusively for the readers of Flour On My Face.
I'll be posting more on each section of the Christmas Cookie Exchange printable soon.
Sneak Peek of what is included in the  FREE Christmas Cookie Exchange Printable Pack
Plan your Menu
Plan to serve other non cookie food items your guest will enjoy.
Beverages – Crock Pot Peppermint Hot Cocoa, Crock Pot Pumpkin Spice Latte, coffee, iced tea
 Appetizers, dips and chips, fruit and fruit dips.
 Two weeks before your Cookie Exchange
Confirm with your guests if they are coming and confirm the name of the cookie recipes or treats they are bringing.
Shop for cookie ingredients. Plan a day to bake or mix up the cookie dough so you can freeze it..
Make cookie dough and freeze until a few days before the special date when you plan to bake them.
Or bake the plain cookies and freeze until a few days before the cookie exchange when you can decorate them.
Start buying the Cookie Exchange supplies asap
One Week before the Cookie Exchange
Two or Three Days before the Christmas Cookie Exchange
Bake and decorate your cookies if you haven't already.
Set up tables and decorate as much as you can. Its better to start decorating and setting up early then to wait until right before the guests are due to arrive and you have to rush.
Shop for any non perishable foods like dip ingredients and drinks.
The Night before and Day of Christmas Cookie Exchange
Prep any food items and beverages that can be done early, such as dips or food trays that can be made up and refrigerated.
Put finishing decorations on any cookies that need it. Frosting and melted chocolate really needs at least 24 hours to set up and harden completely.
Set up any decorations that you didn't do earlier.
Place out your paper plates and cups.
If making any crock pot recipes assemble whatever ingredients you can and put them into the crock pot crock and refrigerate so all you have to do it start the cooking in the morning.
Get as much done as possible the night before so the day of your cookie swap you can add the finishing touches and enjoy your Christmas celebration when the guests arrive.
Day of the Christmas Cookie Exchange
Finish any of the above first thing in the morning. If you finished everything except setting out your cookies and the Cookie Exchange food congratulations! Pour yourself a mug of peppermint hot cocoa and relax for a minute before the fun begins!