Chocolate Dipped Christmas Oreo Cookie Pops
Chocolate dipped Christmas Oreo Cookie Pops are all the rage these days.
Want a relativity fast and easy Christmas food gift that will put a smile on everyone's face? Dipped Oreo cookies are easy to make and the kids love them.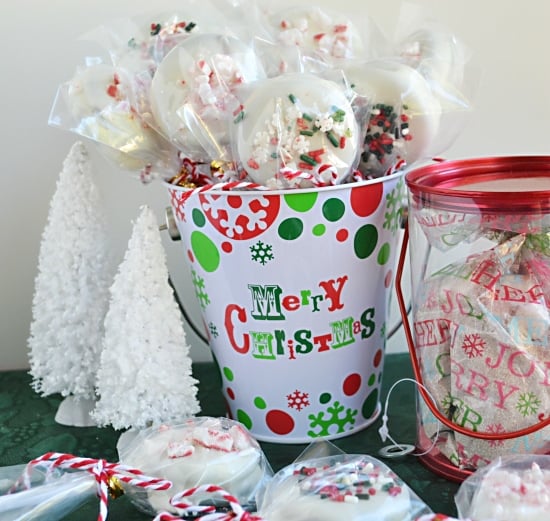 Easy Holiday Cookies for Cookie Exchange
You can make beautiful holiday Oreo cookie pops for an easy cookie exchange.
Or you can make dipped Oreo cookies for any holiday by simply changing the color of candy melts you dip them in and adding sprinkles, chopped up candy canes, chocolate or decorative sugar crystals to match the holiday theme.
You can make them for any birthday party theme you are throwing by changing the colors of the embellishments to match your parties theme.
Cookie Exchange Party Favors
Every Christmas I like to make homemade food gifts to give as a hostess gift or to close friends and relatives. Dipped Oreo cookies make a perfect party favor for your Christmas cookie exchange.
Chocolate Dipped Marshmallows
A few years ago I made chocolate dipped marshmallows for a Christmas Cookie Exchange and everyone loved them. Kids love the giant marshmallows dipped in chocolate and covered in sprinkles.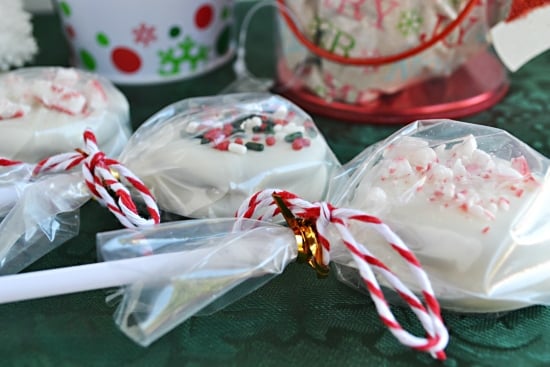 Print the Chocolate Dipped Oreo Cookie Pops recipe below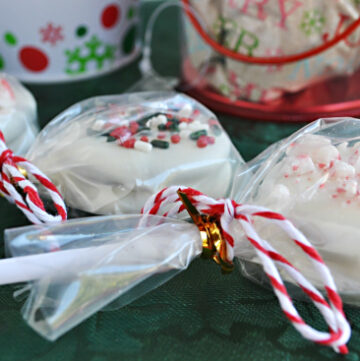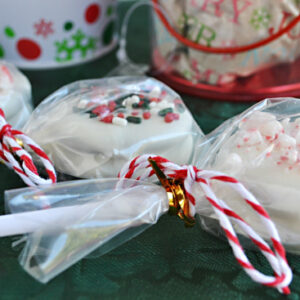 Chocolate Dipped Oreo Cookie Pops
Chocolate Dipped OREO Cook Pops are a great homemade holidays gift, stocking stuffer or fun Christmas treat for the kids. These Christmas Oreo cookie pops are fun for the kids.
Rate this Recipe
Ingredients
10

ounce

white chocolate chips

1-3

tablespoons

butter

(Crisco shortening)

1

package

double stuff Oreos

1

package 4-inch lollipop sticks

sprinkles or crushed candy canes for decorations

1

disposable plastic pastry bag

(optional)
Follow Flour On My Face on Pinterest
Instructions
Twist the cookies apart and set aside the side without the cream filling.

Cut out a sliver of the cream filling that goes to the middle of the cookie filling and the same width as the lollipop stick. Discard the sliver of filling.

Pour about ½ cup of the white chocolate chips into a pastry bag or tall and narrow plastic cup.

Slowly melt the chocolate in the microwave for 20-second intervals, stirring each time or kneading the pastry bag when the microwave stops until the chocolate is melted and smooth.

Cut a small hole in the tip of the pastry bag. Run a thin line of melted chocolate down the center of the cookie filling where you previously removed the cream filling. Immediately push the lollipop stick into the melted chocolate. Continue with all of the cookies. Remelting and refilling the pastry bag as needed. If you are not using a pastry bag just use a small spoon.

After all the sticks are set into the cream center put a dime size dot of melted chocolate in the center over the lollipop stick. Immediately place one of the reserved cookies on top and push down on top of the cookie evenly over the bottom cookie. Set aside. Continue until all the cookies are back together.

Allow the chocolate to set, about 20 minutes.

Melt the remaining chocolate chips in a tall and narrow plastic cup using some butter, oil or Crisco to thin the melted chocolate to a nice dippable consistency.

Begin dipping each Oreo Cookie Pop in the melted chocolate laying them down on a piece of parchment paper or wax paper. Immediately add some sprinkles, crushed candy cane or nonperils to the top of the cookie.

Let chocolate harden at least 30 minutes or longer depending on the temperature in your kitchen. You can speed things up a bit by placing them in the refrigerator for 5 or 10 minutes. Be aware though that moisture can form on the chocolate. This will not ruin your cookie pops but they make for a better presentation without the moisture.

Slip each cookie into a lollipop bag, tie a bit of ribbon or string around the stick for a pretty presentation.
Recipe Expert Tips
Use Wilton Candy Melts to make different colored Christmas Oreo Cookie Pops
Nutrition
Calories:
156
kcal
Carbohydrates:
20
g
Protein:
2
g
Fat:
8
g
Saturated Fat:
4
g
Polyunsaturated Fat:
1
g
Monounsaturated Fat:
3
g
Trans Fat:
1
g
Cholesterol:
4
mg
Sodium:
102
mg
Potassium:
75
mg
Fiber:
1
g
Sugar:
15
g
Vitamin A:
18
IU
Vitamin C:
1
mg
Calcium:
28
mg
Iron:
2
mg
Tried this recipe?
Share a picture on Instagram and tag @flouronmyface2