Here is a list of 25 Holiday Gifts from the Kitchen for your homemade holiday gift giving.
One of my favorite things to do for the holiday gift-giving season is to make homemade gifts from the kitchen for my close friends and family.
Each year I pick one of my tried and true recipes like this Homemade Peppermint Hot Cocoa Mix or my Homemade Vanilla Extract.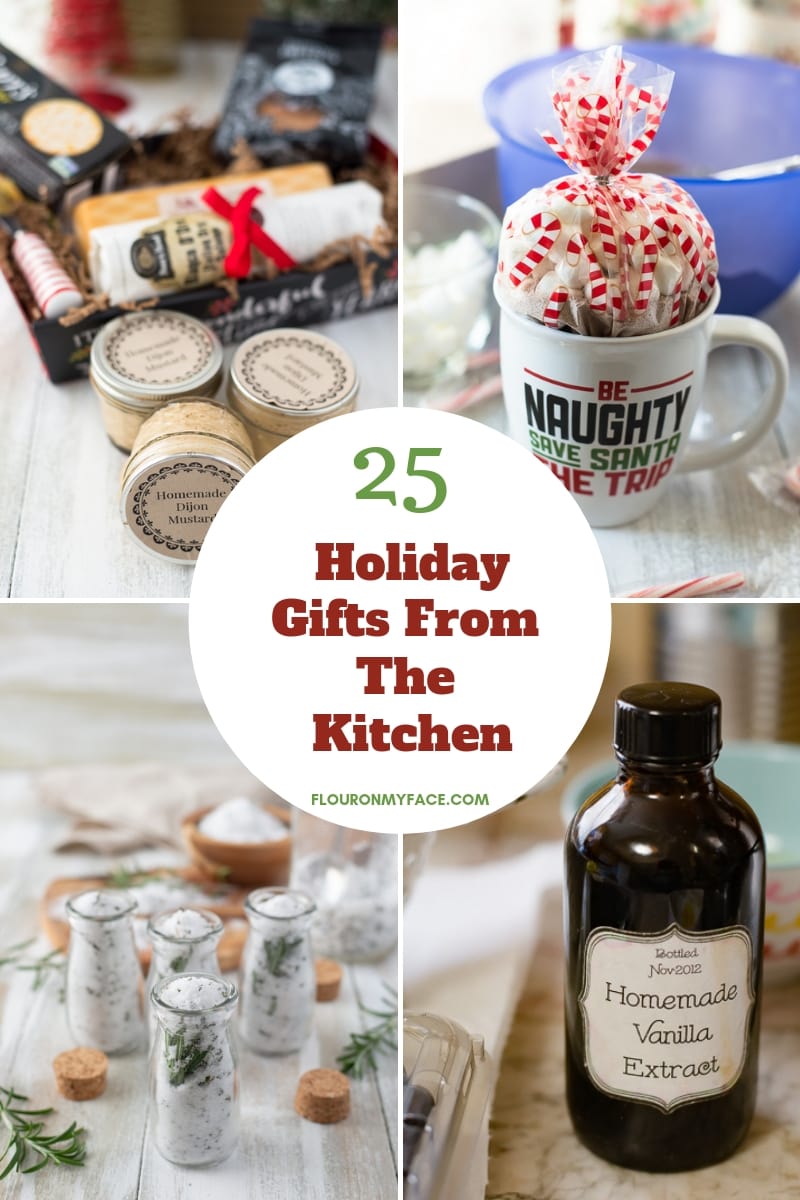 Hot Chocolate Mix in a Mug
The homemade Peppermint Hot Cocoa Mix I make about every other year.
It is perfect for gift baskets, teacher Christmas Gifts, and Hostess gifts.
I have been making this recipe for more than 15 years.
Over the years I have adjusted the recipe until I have come up with a perfect balance of all the ingredients for a hot chocolate mix that is rich and creamy.
It is always my most requested homemade Christmas Gift.
How To Wrap Food Gifts
One of the best parts of making food gifts for the holidays is all about how to wrap the food gifts. The presentation is everything.
Mason jars are easy enough to use to wrap food gifts. You can decorate the jars with paint, labels, and ribbons.
You can buy cellophane holiday bags to tuck into a holiday gift basket.
Or depending on the gift you could use a container that the recipient can use in their kitchen once the holiday food gift is gone.
25 Holiday Gifts from the Kitchen
1.Flour On My Face: Peppermint Hot Cocoa Mix
2. Hezzi-D's Books & Cooks: Hot Chocolate on a Stick
3. The Kitchen is My Playground: Traditional Nutella Yuppy or Puppy Chow
4. Flour On My Face: Homemade Kahlua
5. Karen's Kitchen Stories: Homemade Limoncello and Tangelocello
6. Wonky Wonderful: Chewy Eggnog Caramels
7. Rachel Cooks: Homemade Taco Seasoning
8. The Lemon Bowl: Dark Chocolate Bark
9. Noble Pig: Potato Soup Mix in a Jar
10. Savvy Eats: Popcorn Seasonings Gift Box
11. Flour On My Face: Homemade Vanilla Extract
12. Hezzi D's Books & Cooks: Cherry Amaretto Jam
13. The Kitchen is my Playground: Chai Tea Latte Mix in a Jar
14. Noble Pig: Mulled Cider Sachets
15. Flour On My Face: Homemade Dijon Mustard
16. Chocolate Moosey: Baked Cheesecake in a Jar
17. Celebrate Creativity: Grand Granola
18. Civilized Caveman: Banana Bread Mix in a Jar
19. The Daily Muse: DIY Christmas Bark in a Jar
20. Oh My Veggies: Whole Wheat Chocolate Chip Pancake Mix in a Jar
21. All Parenting: Homemade Cookie Mixes
22. Veggie Belly: Indian Fry Mix in a Jar
23. The Yummy Life: Dulce de Leche in a Jar
24. Flour On My Face: Rosemary Salt
25. Sarah's Cucina Bella: Chocolate Peppermint Cake in a Jar
I hope you enjoyed this great roundup of 25 Holiday Gifts from the Kitchen so you can get an early start on planning your Homemade Holiday Gifts.
Lots of Gift in a Jar Recipes that are easy to make and are sure to put a smile on the face of everyone who is lucky enough to receive a homemade gift from your kitchen this holiday gift-giving season.
Gift Basket Ideas
I also love making gift baskets for Christmas. Below are a few of the gif baskets I made last year.