Chocolate Raspberry Jellies Candy Recipe
Homemade Holidays
Disclosure: This is a sponsored post on behalf of Gooseberry Patch. All opinions are my own. Some links are affiliate links.
This old fashioned homemade Chocolate Raspberry Jellies Candy Recipe brings back childhood memories of one of my favorite candy treats I enjoyed as a child.
I am so excited to have the opportunity to review and giveaway a copy of the new (affiliate link) Gooseberry Patch Hometown Christmas cookbook. I have been a Gooseberry Patch fan for years. My MIL Bonnie also loves all things Gooseberry Patch we often gift each other Gooseberry Patch calendars, desk calendars and cookbooks at Christmas.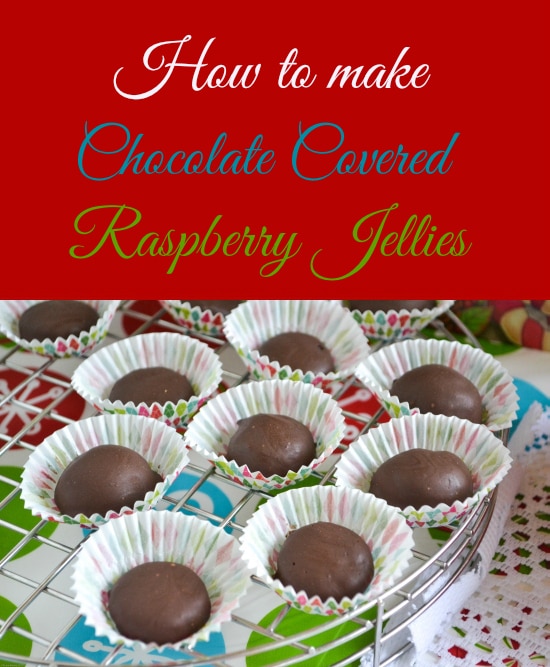 Gooseberry Patch Hometown Christmas
As soon as I got my review copy of the Gooseberry Patch Hometown Christmas (affiliate link) I started paging through the recipes. I couldn't wait to try a few but as soon as I came across the Chocolate Raspberry Jellies Candy recipe in the Tree Trimming Treats chapter I knew I had to make that recipe first. I'll tell you why in a moment.
What I love about the Hometown Christmas cookbook
Everything! what is not to love. If you've been a reader for long you know I love old vintage recipes or family recipes that have been passed down. I have a nice collection of my husbands grandmothers and great grandmothers cookbooks. What I love about those old family cookbooks is the history that comes with the recipes. In the Gooseberry Patch Hometown Christmas cookbook I get the same feeling of nostalgia as I read through the recipes.  
Hometown Christmas is packed full of reader submitted Christmas recipes. Each recipe has a little story about the recipe. I love reading about the history of a recipe. Old family recipes excite me and I love making them.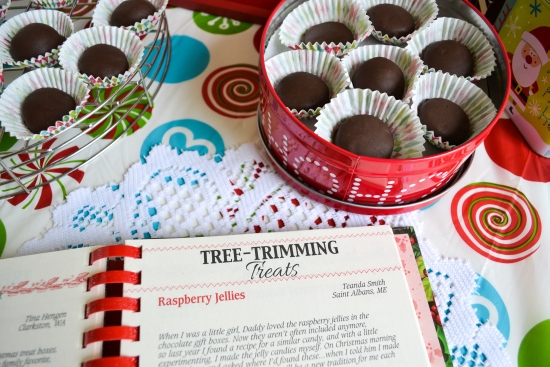 Old Fashioned Chocolate Raspberry Jellies Candy Recipe
As soon as I saw this Chocolate Raspberry Jellies Candy  recipe and read the story from Teanda Smith from Saint Albans, ME about how her Dad loved the Raspberry Jellies candy that used to come in chocolate gift boxes. Her story  reminded me of how I had also loved these candies as a child and how my grandmother would always let me eat the raspberry jellies out of the gift boxes she received during the holidays.
I made a couple of slight changes to the recipe. I made my Chocolate Raspberry Jellies Candy  in Wilton candy molds (affiliate link). I also used LORANN raspberry candy flavoring instead of Raspberry extract. And I used Wilton Candy Melts instead of the chocolate chips. Dipping anything in chocolate can be tricky sometimes. I have used chocolate chips in the past but Wilton Candy melts are so much easier to use. They don't seize as easily. You can use whatever works for you. Some people have no problem using chocolate chips. 
Print the Chocolate Raspberry Jellies Candy recipe below
Print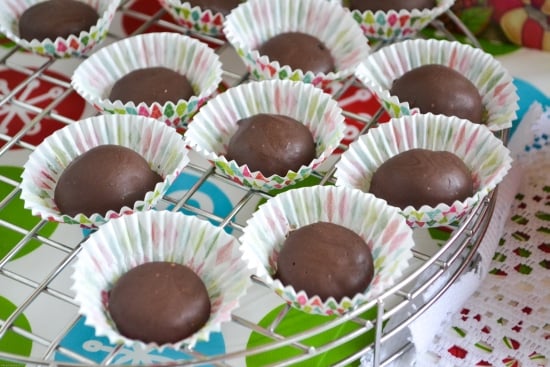 Chocolate Covered Raspberry Jellies Candy
Author:

Prep Time:

24 hours plus 25 Minutes

Cook Time:

10 Minutes

Total Time:

-25398453.183333 minute

Yield:

20-30 pieces

Category:

Homemade Holidays

Method:

Molding

Cuisine:

American
---
Description
Surprise your friends and family with these old fashioned homemade Chocolate Raspberry Jellies Candy for a homemade holiday.
---
Ingredients
1-3/4 oz. package powdered fruit pectin
3/4 cup water
1/2 teaspoon baking soda
1 cup sugar
1 cup light corn syrup
1 dram bottle LORANN Raspberry Flavoring or 2 1/8 teaspoon Raspberry Extract
1 bag Wilton Dark Chocolate Candy Melts
1-2 tablespoons Crisco Shortening
---
Instructions
In a 2-quart saucepan, mix pectin, water and baking soda; stir until foamy.
In a separate 2-quart saucepan, mix sugar and corn syrup.
Place both pans over high heat at the same time.
Cook both mixtures. stirring constantly, about 4 minutes, until foam in pectin mixture has thinned and sugar mixture is boiling rapidly.
Stirring constantly, pour pectin mixture in a slow steady stream into the boiling sugar mixture. Continue boiling one minute longer.
Remove from heat, stir in flavoring or extract.
Immediately pour into a greased 9×5 loaf pan or greased candy molds as I have used.
Let stand at room temperature overnight until firm.
Turn candy out onto wax paper sprinkled with sugar. Cut candy into 3/4 inch squares with a knife dipped into warm water if you used a loaf pan.
If you used candy molds turn the candy out and roll in sugar.
Allow candy to air dry over night before dipping in chocolate.
Dip squares or molded jellies into melted chocolate. Return to wax paper until hardened.
---
Nutrition
Serving Size:

1 Candy

Calories:

149
For more easy homemade Christmas Gift Ideas Check out my Homemade Holidays Ebook.