Homemade Vanilla Extract
Easy homemade Christmas gifts from the kitchen. Homemade vanilla extract is so easy to make. I've included a printable Homemade Vanilla labels at the end of this post.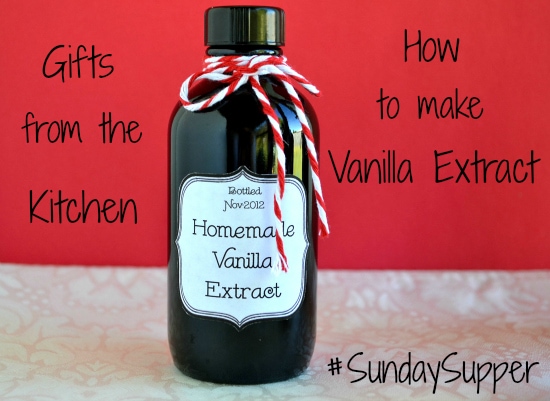 This weekends #SundaySupper is all about Gifts From the Kitchen.
Our host for the holiday festivities is Susan from The Wimpy Vegetarian.
Stop by and visit her if you get a chance and thank her for picking such a fun holiday theme and for hosting this weekend's event.
Keep reading to find the other great Gifts from the Kitchen posts from this weekends Sunday Supper below.
I'm sure you will be able to find a recipe or two for your Homemade Holiday Gifts this gift giving season.
It's a little late to be making a homemade vanilla extract for Christmas gifts but it is still doable if you include a "use after" date on the bottle. Or start your homemade vanilla extract made in October so it will be ready to use by Christmas.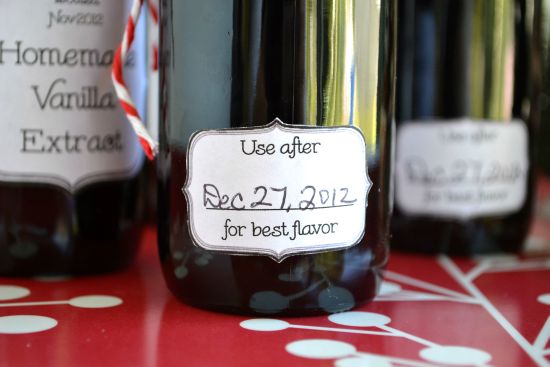 Last month when I saw the call out for a Sunday Supper Gifts from the Kitchen theme I happened to be on Facebook when it posted to the Sunday Supper Group on Facebook.
I immediately joined up to make homemade vanilla extract. I made it once before, about 10 months ago. Not to give away as gifts at the holidays but just to make it for my own use.
And because I love making stuff like that.
I'm a mixture of cook, baker and mad scientist when it comes to stuff like this.
I still have about a 1/2 a quart from my first batch and I will probably bottle some of that up as Christmas gifts for a few close friends. Now that I have started another batch I don't have to hoard my stash.
I've kept vanilla beans in that jar and it is a dark golden brown and adds a little bit of magic when you add it to a recipe.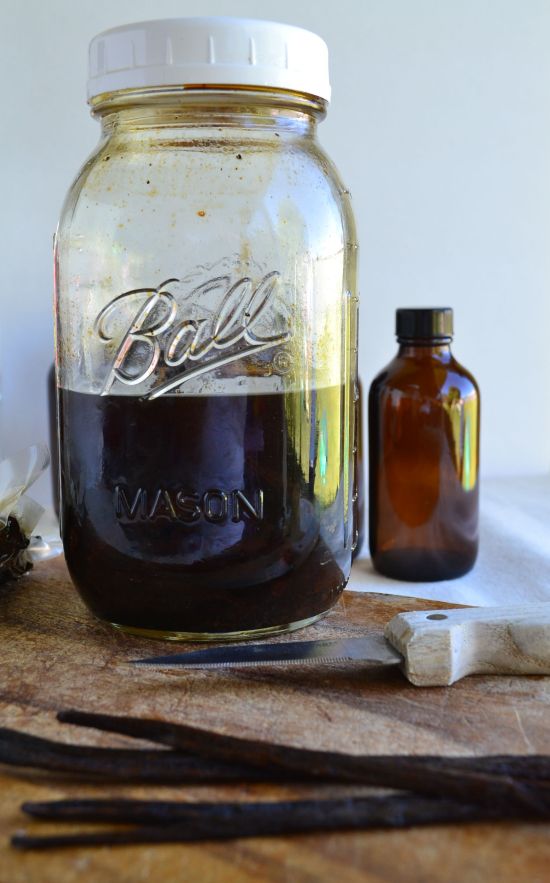 When I made the vanilla extract the last time I made the extract in mason jars and individual bottles.
This time I am making the extract in 2 large bottles then I will fill individual 4 oz Boston Round bottles that I will give as gifts.
You can do it either way.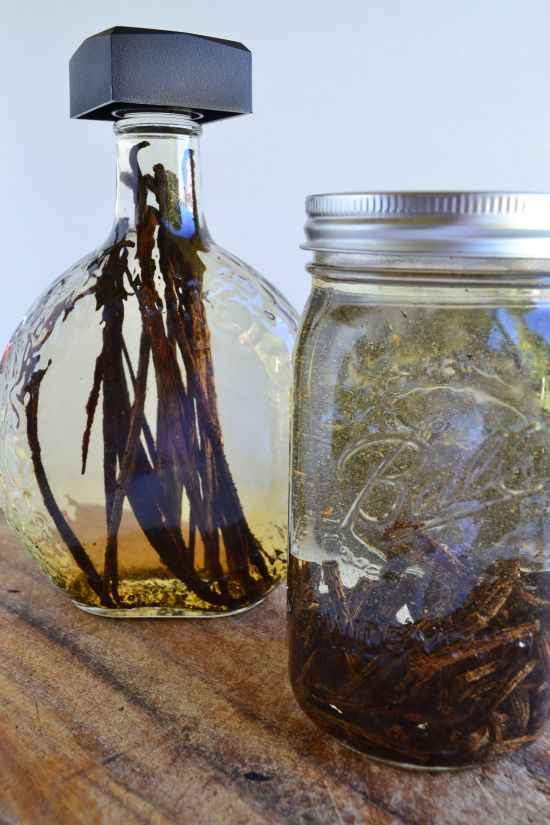 Honestly, I think using the vodka bottle itself or some other large jars works out better and is easier to handle. This way you only have one or two bottles to shake as the extract is curing.
If you fill the small individual bottles then you will need to shake each bottle every day or so. That is a lot more work and make storing a little more difficult.
You only need four things to make Vanilla Extract; Vodka, Vanilla Beans, a  container and patience.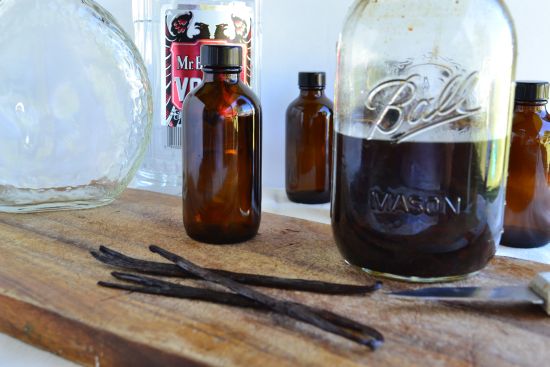 There are many sources for Vanilla Beans. Buying them in bulk is a much better option than buying them at the grocery store.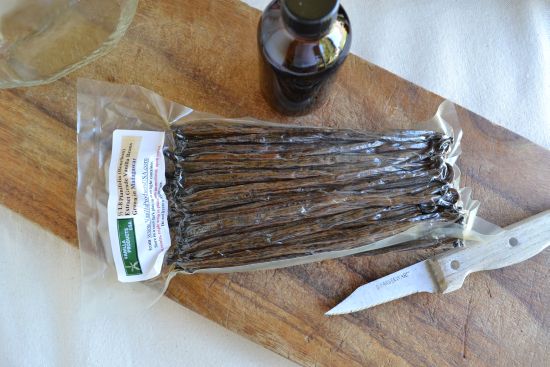 If you plan on using the vodka bottle you will need to pour some vodka out of the bottle before adding the vanilla beans. You will also have to measure the vodka so you know how many vanilla beans per cup of Vodka you will need to use.
The last time I made Vanilla Extract I followed directions I found online on a number of different blogs. I couldn't find one set of instructions that said use X number of vanilla beans per  X amount of vodka.
This time I did a bit more recipe testing and discovered that 5 vanilla beans per one cup of Vodka is the best ratio when making homemade vanilla extract.
I also found a great website that gives very detailed information on commercial Vanilla Extract production along with detailed information about Vanilla Beans.
I didn't realize that most commercial vanilla extract has water added to it until I read that article.
To make the vanilla extract simply measure the vodka and add 5 beans per cup of vodka to your container.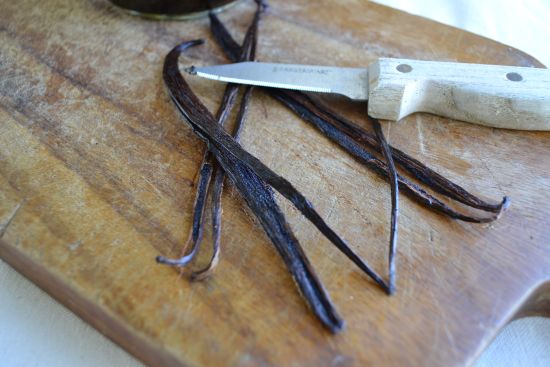 You can split the beans and leave them whole or you can cut them up in small pieces and add them to the jar.  Either way will work.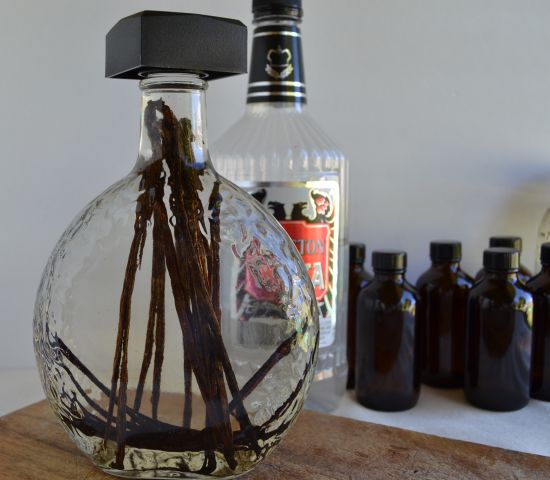 (affiliate link)  Vanilla beans are very delicate and very expensive. If they are not stored properly they will get hard and brittle.
The vanilla beans started to get hard after I opened and wrapped them triple in plastic wrap and ziplock bags as suggested.
If you will not be using many vanilla beans for baking I suggest you buy only the amount of vanilla beans that you will need to make the amount of vanilla extract you need.
Usually, you will find the information about how many beans are in a 1/4 or 1/2 pound of beans somewhere in with the information on the type of vanilla beans you are buying.
After a day I could see that the extract was a darker color in the mason jar with the cut up pieces of vanilla bean.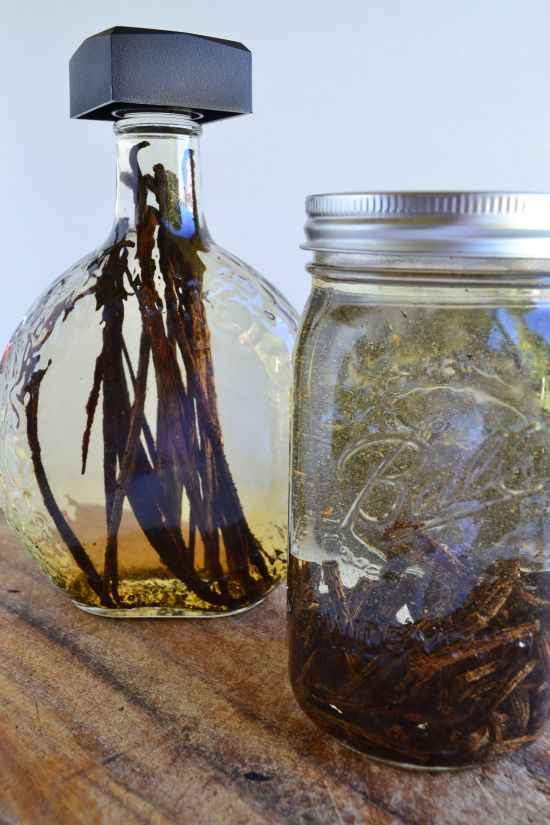 If you use small jars or bottles you will have to do the math and figure out how many beans per ounces you're jar or bottle will need. It is so much easier to use the bigger jars and count the number of cups of Vodka per jar. The recycled Amaretto jar I used held 3 1/2 cups of vodka.
Once you're beans and vodka are in jars store them in a dark cool cabinet. Occasionally shake them. Most instructions say you can  use the extract after about 6 weeks but I have found the extract to be much better after at least three months of curing. The longer the better.

Check out the difference just 24 hours can make.
Bottle up you're homemade Vanilla Extract and share the love at Christmas.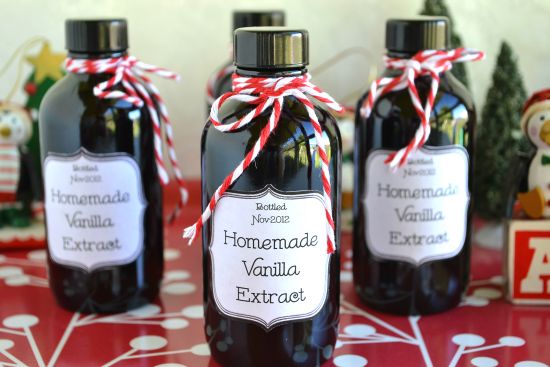 Happy Holiday's!
Scroll down to see the rest of the #SundaySupper Gifts From the Kitchen links.
Print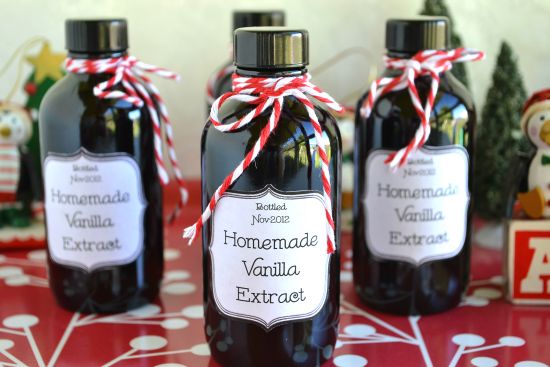 How To Make Homemade Vanilla Extract
---
Description
How To Make Homemade Vanilla Extract
Homemade Vanilla Extract is easy to make and is a one of a kind gift from the kitchen that is perfect for homemakers, bakers, and family who seem to have everything.
I've included free printable homemade vanilla labels with this homemade vanilla recipe.
---
Scale
Ingredients
Vodka (best you can afford) (4 cups per quart jar)
5 whole Vanilla Beans  per cup of Vodka=20 vanilla beans per quart jar

1

– quart size mason jar or other decorative jar
---
Instructions
Measure Vodka into jars. You'll need 4 cups of Vodka per quart jar.
Add 5 split Vanilla Beans per cup of Vodka. (20 Split Vanilla Beans per quart jar makes the best vanilla extract. You could use less but the vanilla will be weaker.)
Steep or cure for at least 6 weeks before using.
For gift giving you can add 1 vanilla bean to each 4 oz Boston Round Bottle
---
Notes
1 quart jar of Vodka and vanilla beans will yield 32 ounces of homemade vanilla extract. 32 ounces of vanilla extract will yield eight 4 oz bottles for gifting.
Don't waste the beans after curing. Rinse off well and add to a jar of sugar to make homemade vanilla sugar.
You can also grind dried out vanilla beans into a powder and add to sugar.
Category:

Homemade

Method:

Steeping

Cuisine:

American
Nutrition
Serving Size:

4 oz Bottle

Calories:

32
Keywords: homemade vanilla recipe, vanilla labels, gifts from the kitchen
Recipe Card powered by
SundaySupper Gifts From the Kitchen
Breads / Breakfast
Condiments / Ingredients
Soup and Snacks
Sweets
Drinks
Please join on us on Twitter throughout the day during #SundaySupper on November 11.  In the evening we will meet at 7pm EST for our weekly #SundaySupper live chat.
All you have to do is follow the #SundaySupper hashtag or you can follow us through TweetChat.
We'd also love to feature your own posts for Gifts From the Kitchen on our #SundaySupper Pinterest board to share them with all of our followers, too.