Cheese and Sausage Gift Basket
We are down to the final shopping days before Christmas and I am still working on my Christmas gift list.
One of the easiest gift baskets to make is a Cheese and Sausage Gift Basket.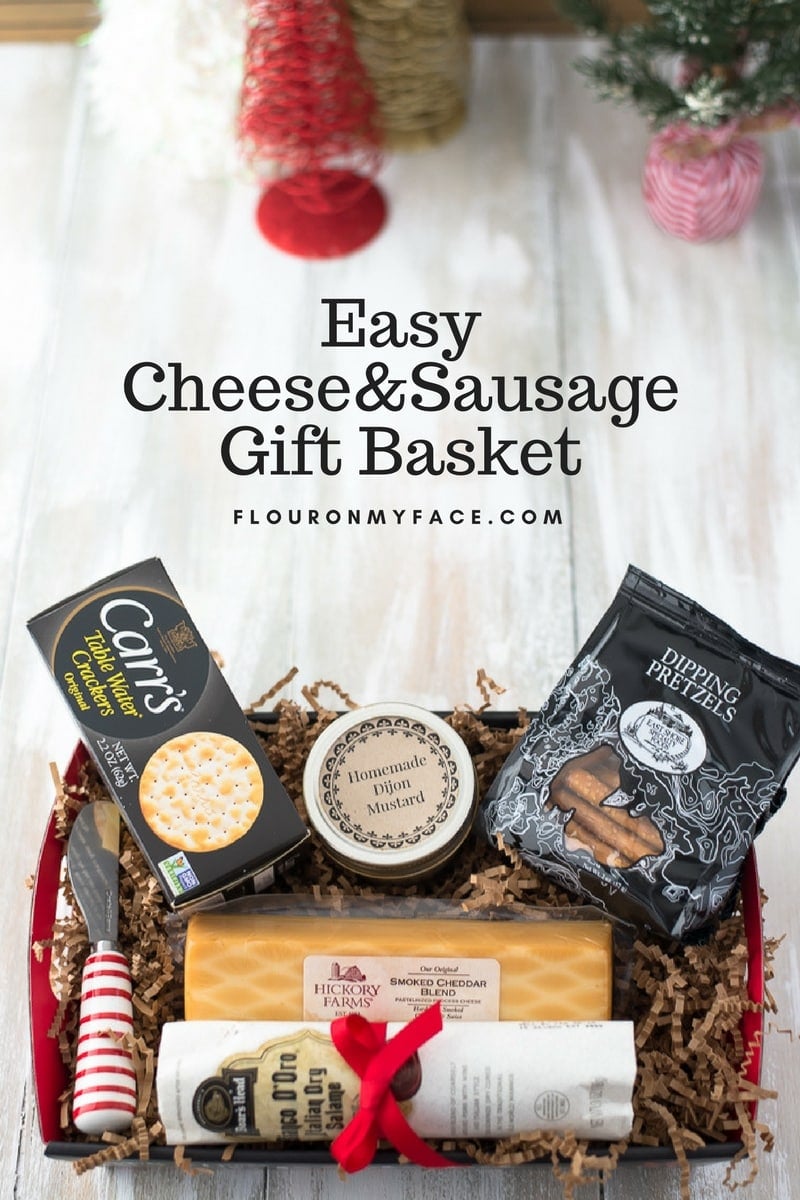 Cheese and Sausage Gift Basket Ideas
Cheese and Sausage Gift Baskets can be a pretty economical Christmas gift especially when you are running out of time.
You can make a pretty awesome gift basket for about $20.
You only need a few items like a block of cheese and a sausage roll. Fill out the gift basket with a box of crackers, spicy mustard and dipping pretzels.
A nice little addition is a holiday condiment knife to spread the spicy mustard and cut the cheese and sausage into slices.
I used my homemade Dijon Mustard in this Cheese and Sausage Gift Basket but since time is short you could use a store bought bottle of spicy mustard to finish off this fun gift basket.
Disclosure: Some links in this post are affiliate links.
Why you should start canning
By the way, if you love to gift friends and family with homemade food items I want to encourage you to start home preserving.
Canning is one of the best ways to make and gift homemade food gifts like homemade Dijon Mustard.
Because canned food items have a shelf life of one to one and half years you could have started making your homemade food gifts months ago to get a jump on your holiday gift giving.
Canning is also a good way to pack the pantry with specialty food items like homemade pepper jelly that can be served when entertaining during the holiday's.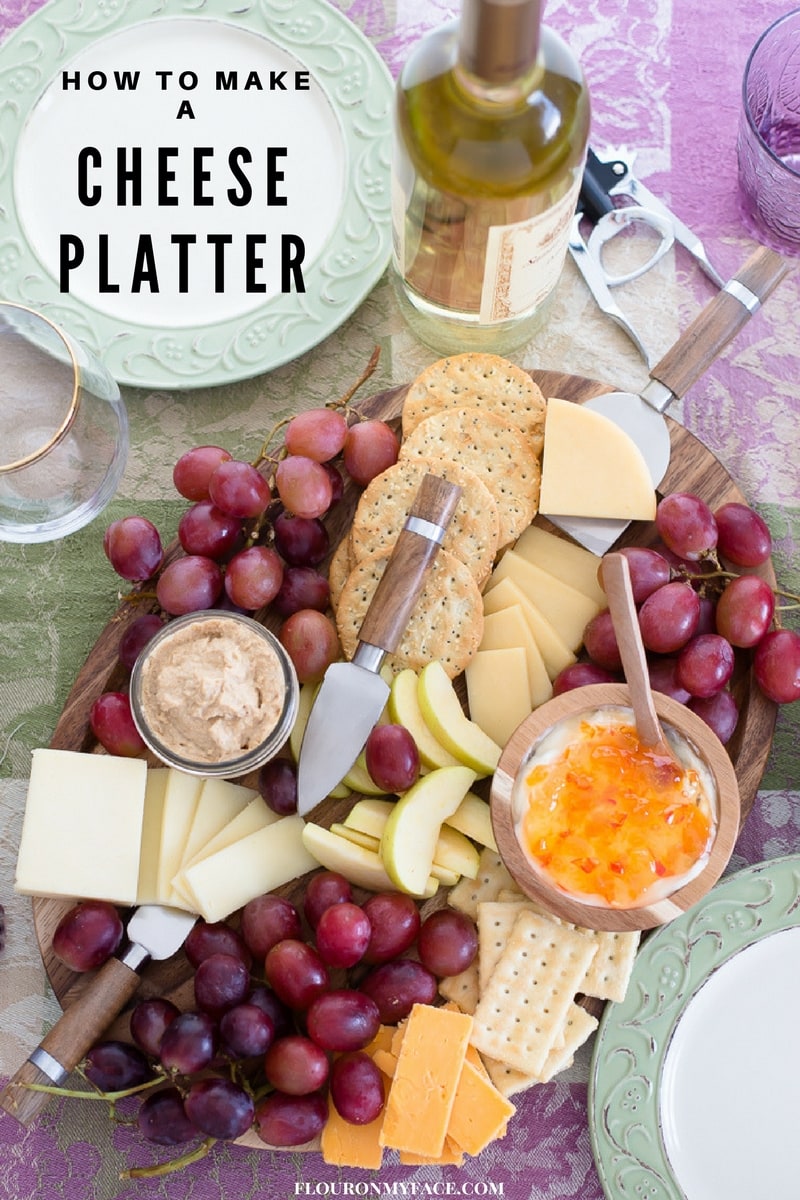 Did you see my How To Make a Cheese Platter post?
Serving a cheese platter as a holiday appetizer can go from boring to awesome when you serve homemade Dijon Mustard and homemade Habanero Apricot Jelly to your guests while entertaining.
Imagine the oohs and ahhs you would get from friends and family if you served them a spread like that on your appetizer table.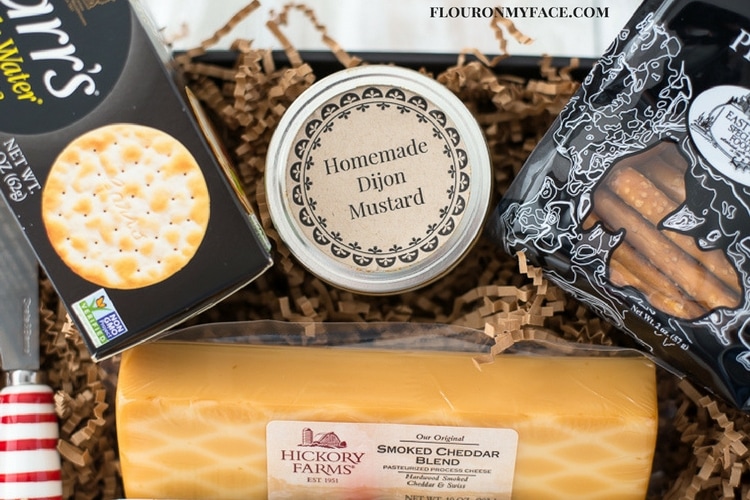 How To Make an Easy Cheese and Sausage Gift Basket
Supplies & Ingredients
Directions
Fill the bottom of the gift basket with crinkle cut paper. If you need to add some height you can crumple up some tissue paper and pack the bottom of the gift basket or gift box then cover it with the crinkle basket filler.
Arrange the items in the gift basket based on their height and size. Make sure the gift basket items looks nice and neat filling in the basket. If you need to adjust the items move them around until they look nice.
Wrap the gift basket in cellophane and tie on a ribbon. (optional)
Print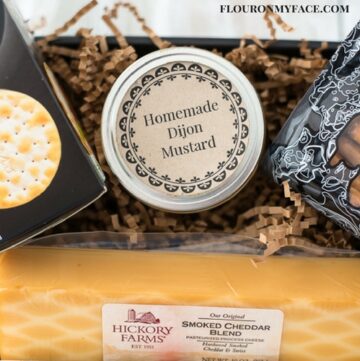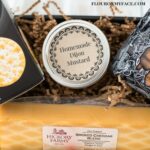 Easy Cheese and Sausage Gift Basket
---
Description
Celebrate the holidays by making a Cheese and Sausage Gift Basket for friends and family. Homemade holiday gifts are easy and cheap to make.
---
---
Instructions
Fill the bottom of the gift basket with crinkle cut paper. If you need to add some height you can crumple up some tissue paper and pack the bottom of the gift basket or gift box then cover it with the crinkle basket filler.
Arrange the items in the gift basket based on their height and size. Make sure the gift basket items looks nice and neat filling in the basket. If you need to adjust the items move them around until they look nice.
Wrap the gift basket in cellophane and tie on a ribbon. (optional)
---
---
Recipe Card powered by
More Gift Basket Ideas can be found below
Dinner and a Movie Gift Basket
Flour On My Face Gift Guides