Copycat Mounds Candy Bites
It never fails but it seems like after all the holiday baking is over I always have a half a bag or more of sweetened coconut flakes left over. So each year I try to find a way to use it up in a new recipe or two. Sometimes I just get a craving for something coconut and dream up a recipe like this Toasted Coconut Ice Cream I made last summer. Or like today I made these Copycat Mounds Candy Bites.
This year when I made the mounds bites I got all fancy by using a candy mold instead of just dipping the balls of coconut filling in chocolate. I seem to collect fun kitchen toys but never get around to using them. I like to pick up a candy mold or two when they are on sale but never seem to make candy. I need to stop that and start using some of the toys I buy.
How to make  Copycat Mounds Candy Bites
First make the coconut filling by mixing all of the filling ingredients in a bowl.
Here is an easy way to fill your Wilton Candy molds with melted chocolate. It is less messy and easier to get an even fill then using a spoon or pouring from a measuring cup. 
Once you have the bottom layer of chocolate in the mold and it starts to set up you need to decide whether you want the chocolate to completely cover the filling. If your filling is pretty solid like this coconut filling you don't need to worry about completely covering the sides of the candy mold. I have read that an easy way to do the sides of the mold is to use a clean paint brush and paint the chocolate on the sides.
I didn't happen to have an unused paint brush handy so I attempted to just use the back of a spoon. It was way too much messy work for me.
I tried it with a few of the cups and decided I could live without it. Next time I will make sure I have a dedicated paint brush for my candy making.
Once you have the bottoms and sides coated in melted chocolate ( if you decide to coat the sides ) put a scant ½ teaspoon of coconut filling in the center of each mold. Tamp it down a bit with the back of the spoon.
Check the consistency of your melted chocolate. It may have started hardening by now. Or you may be running low depending on how many molds you have filled.
If you think you have enough chocolate but it has started to harden a bit pop it back in the microwave for 10 to 20 seconds and massage the bag again until it is warm and melted.
If your about out of chocolate you can add some more melts to the bag and very carefully and by that I mean slowly heat the chocolate 10 to 20 seconds at at time and massage it. Being sure you mix the already melted chocolate with the hard chocolate melts. You have to be careful that the first batch of left over chocolate doesn't seize. If it does seize you with have hard burnt pieces of chocolate mixed in with the new chocolate.
If you have another bag you could always add the new un-melted chocolate to that and start fresh. I don't like to waste those bags and if you are careful you can get the two chocolates melted together with no problem.
Tap the candy mold gently on the counter to even the chocolate out on the top of the filling. The chocolate topping on the candies in the back of the picture was starting to harden a bit in my decorator bag by the time I got to them. I used the back of a spoon to smooth the chocolate out a bit.
Put the filled candy molds in the refrigerator for about 15 minutes to harden.
Turn the mold over on a cookie sheet or parchment paper and the candy should pop right out.
Store in an airtight container in a cool area or the refrigerator.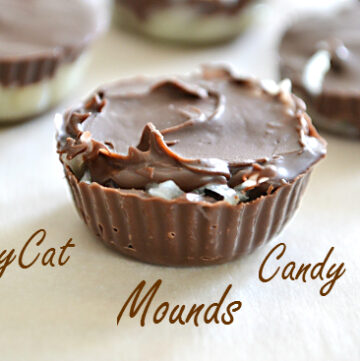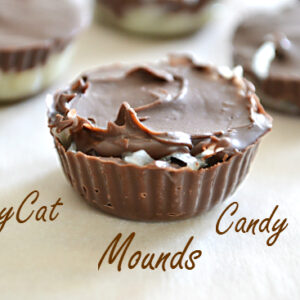 Copycat Mounds Candy Bites
Copycat Mounds Candy Bites are easy to make at home. Taste just like the real deal.
Rate this Recipe
Ingredients
2 ½

cups

sweetened coconut

½

cup

plus 1 tablespoon sweetened condensed milk

2

tablespoons

light corn syrup

½ to 1

teaspoon

vanilla extract

1-2

cups

Wilton Dark Cocoa Candy Melts or Chocolate Chips

1-2

teaspoons

Crisco shortening
Follow Flour On My Face on Pinterest
Instructions
Coarsely chop the coconut flakes.

In a bowl mix the sweetened coconut flakes, condensed milk, corn syrup and vanilla extract. Set aside.

In a disposable decorator bag melt a ½ cup of candy melts or chocolate chips with 1 teaspoon Crisco.

Fill the bottom of the candy molds with a layer of melted chocolate. Tap the candy mold on the counter to level out the chocolate.

Fill the center of the mold with about ½ teaspoon of coconut filling. Remelt the chocolate if it has begun to harden.

Fill the top of each candy mold cavity with chocolate making sure not to overfill the mold.

Chill in the refrigerator until chocolate has hardened, about 15 minutes.

Turn mold over on a piece of parchment paper or foil. Repeat with remaining ingredients.

Store candy in an air tight container.
Nutrition
Serving:
1
g
|
Calories:
44
kcal
|
Carbohydrates:
6
g
|
Protein:
1
g
|
Fat:
2
g
|
Saturated Fat:
2
g
|
Polyunsaturated Fat:
1
g
|
Monounsaturated Fat:
1
g
|
Trans Fat:
1
g
|
Cholesterol:
1
mg
|
Sodium:
19
mg
|
Potassium:
28
mg
|
Fiber:
1
g
|
Sugar:
5
g
|
Vitamin A:
9
IU
|
Vitamin C:
1
mg
|
Calcium:
10
mg
|
Iron:
1
mg
Tried this recipe?
Share a picture on Instagram and tag @flouronmyface2