Southwest Florida Farmers Markets
This Southwest Florida Farmers Markets Guide has been updated for the 2017 – 2018 local farmers market schedule.
My favorite part of Fall in Southwest Florida is that our local farmer's markets start to open up. I've gathered all the information you will need to find the Southwest Florida Farmers Markets schedules for 2017 – 2018.
I've listed the information for most farmers markets in the Fort Myers, Cape Coral, Bonita Springs, Naples and Sanibel Island area for 2018-2019 season.
As I find new locations I will update this post. Be sure to Pin or bookmark this post so you can stay up to date with all the Southwest Florida Farmers Markets.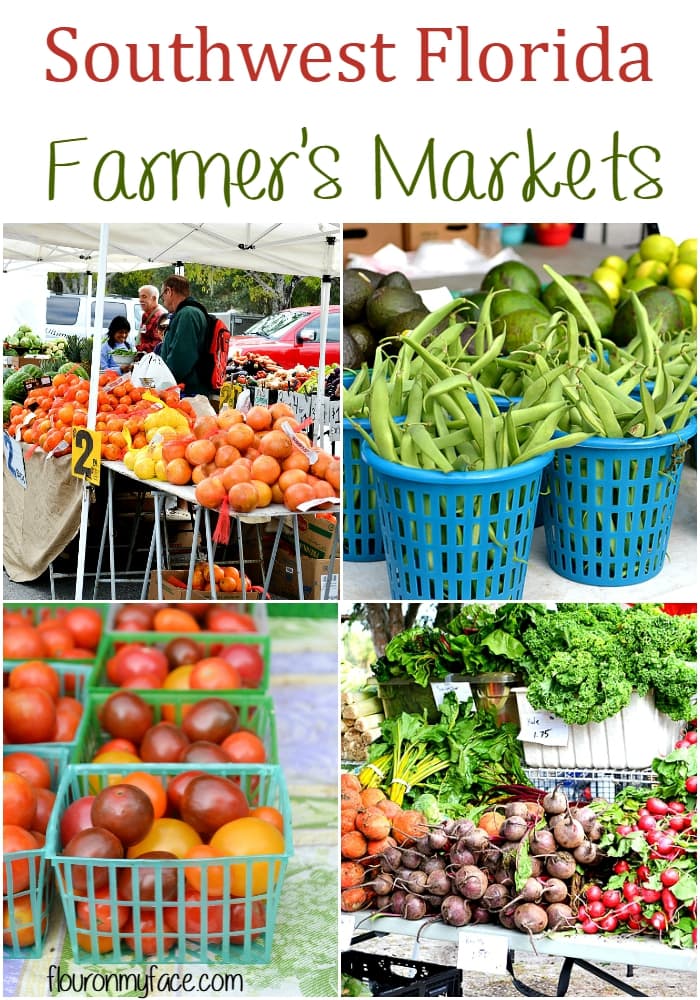 Dates and times updated for the 2018-2019 Farmers Market season
Here in Southwest Florida Fall is the beginning our of farmer's market season unlike most other areas of the country. During the hot summer months when most of the country is enjoying shopping for fresh local produce I have to sit back and contend myself with the produce available at the grocery store.
Mind you there are a few local farmer's markets that are open in the Fort Myers and Southwest, Florida area year round but it is just too darn hot to go out and walk in the open air markets during the summer.
Fresh Florida produce is available all year long but during the winter growing season, those same fruits and vegetables are at their best during the warm winter growing season here in Florida.
Strawberries, pole beans, and tomatoes are just a few of the winter crops we enjoy fresh from the vine.
Fresh From Florida Produce What is in Season Now?
For a monthly list of Florida crops that are in season, you can check out the Florida Department of Agriculture & Consumer Resources.
Or you can check out my month Fresh From Florida Produce articles where I share the list of fresh Florida produce each month along with recipes using the Fresh From Florida Produce for each month.
When I plan a trip to the farmers market I like to take a look at what is in season that month so I can plan recipes around Fresh from Florida produce.
Sunday Farmer's Markets in Southwest Florida
*Estero Koreshan's Farmers Market  3800 Corkscrew Road open Sundays, 8 am – 1 pm
year-round.
Featuring local and organic produce, fresh seafood and dips. You'll find unique crafts, local honey and native plants for sale.  There is a $1.00 parking fee
*Naples Collier Farmer's Market  Open Saturday year round at At 11725 Collier Blvd. (Next to Sunshine Ace Hardware), Naples, Fl. and open Sunday year round at 11725 Collier Blvd, Naples FL
The Friday Market opened on August 4, 2018, from 2PM-7PM at 4701 Golden Gate Parkway (Golden Gate Community Center)
The Saturday Community Market is open all year @ 4701 Golden Gate Parkway, Naples, Fl. 34116 (Golden Gate Community Center)
Our Sunday Farmers market is also open all year from 9 – 2 PM
*Sanibel Island Farmers Market:  Opening October 7, 2018 – May 26, 2019, will be open Easter Sunday Hours are Sundays, 8am – 1pm
Parking is located in the lots at Sanibel City Hall, Sanibel Library, BIG Arts, Schoolhouse Theater. Bicycles can be parked at the designated area at City Hall. Handicap parking is located at City Hall.
Monday Farmer's Markets in Southwest Florida
*New: Fenway South Farm & Flea Market at Jet Blue Park You'll find local farmers, chefs, top artists, crafters, and various unique vendors for a fun filled Monday, January 7 – March 25.
Starting, January 8nd, 2019 the market at Jetblue Park will be open on Mondays, 9 am – 1 pm.
45 local vendors selling freshly picked produce, meats, local seafood, cheeses, baked bread & pastries, cut flowers, organics, locally made crafts, soaps, candles, meals to go, ready to eat lunches, and much more.
The Flea Market vendors will be selling personal treasures, antiques, sports memorabilia, books, and used or new items.
Come shop, eat lunch, hunt for treasures, listen to live music and enjoy the beautiful park. Parking is always free for shoppers!
Tuesday Farmer's Markets in Southwest Florida
*Cape Coral Surfside Sunset Market The Shops at Surfside Year-round 1 pm to 6 pm
Parking is limited, we highly suggest walking, boating, biking or trolley to most conveniently access this market.
Wednesday Farmer's Markets in Southwest Florida
*Fort Myers Lakes Park Farmers Market Lakes Regional Park Farmers Market is opened.  October 10, 2018 – April 2019 Wednesdays, 9 am – 1 pm
Parking is free during market hours at the park. Overflow parking is located in designated areas in the park as well as the field at the entrance to park.
All handicap parking is designated by signs.
You'll find fresh fruits and vegetables, baked goods, fresh guacamole, seafood, cheese and much more. Plants.
Beach Baptist is the longest running farmers market on Fort Myers Beach offering award-winning BBQ, local seafood, tons of fresh produce, local artisan foods, crafts, fabulous jewelry, artists, best coffee in the world and more. Adding new vendors every week
Thursday Farmer's Markets in Southwest Florida
*Estero Coconut Point Green Market open October 5, 2018 – April 2019  Thursdays, 9 am – 1 pm
Parking is plentiful and FREE anywhere in the Coconut Point Mall.
Parking is available under the bridge and along the street in Downtown Fort Myers.
Friday Farmer's Markets in Southwest Florida
Saturday Farmer's Markets in Southwest Florida
Farm Fresh Breakfast served at Buckingham Farms every Saturday
Fort Myers Alliance for the Arts GreenMarket year round Saturdays 9 am – 1 pm read about one of my visits to the Green Market here.
Sunday Farmer's Markets in Southwest Florida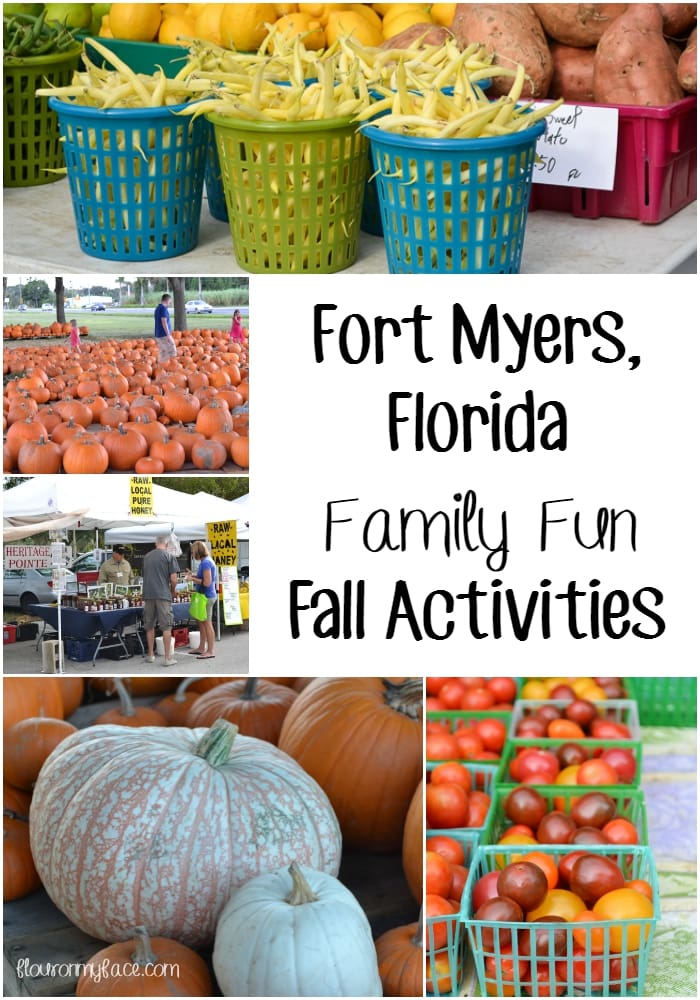 Be sure to check out my Fresh from Florida tab for delicious recipes using fresh from Florida produce.
Farmer Mike's uPick located in Bonita Springs with local vegetables and fruit available at many local Southwest Florida Farmer's Markets