I've got your one stop shop for all the Cinco de Mayo recipes you will ever need to celebrate Cinco de Mayo in style. Or you can make them any time you are craving Mexican food.
Good food and celebrations abound on May 5th whether you're a native of Mexico or you just need an excuse to cook some delicious Mexican food and enjoy a refreshing cocktail.
I love Mexican food and eat some form of it at least once a week.
Chicken tacos are a favorite dinner in my family and I love topping them with my homemade Pico de Galo recipe.
Or I eat some type of Quesadilla. Quesadillas are so easy to make. The kids love plain cheese quesadillas.
I love a roasted pepper quesadilla.
I also love making a chicken quesadilla with whatever chicken I have on hand.
Quesadillas are a great way to use up leftover chicken.
I've got to have some sour cream, avocado and salsa verde on mine.
What is your favorite Mexican food?
57 Cinco de Mayo Recipes
Sit back and relax as you browse through this list of the best 57+ Cinco de Mayo recipes you can make while celebrating Cinco de Mayo or anytime you are craving Mexican food.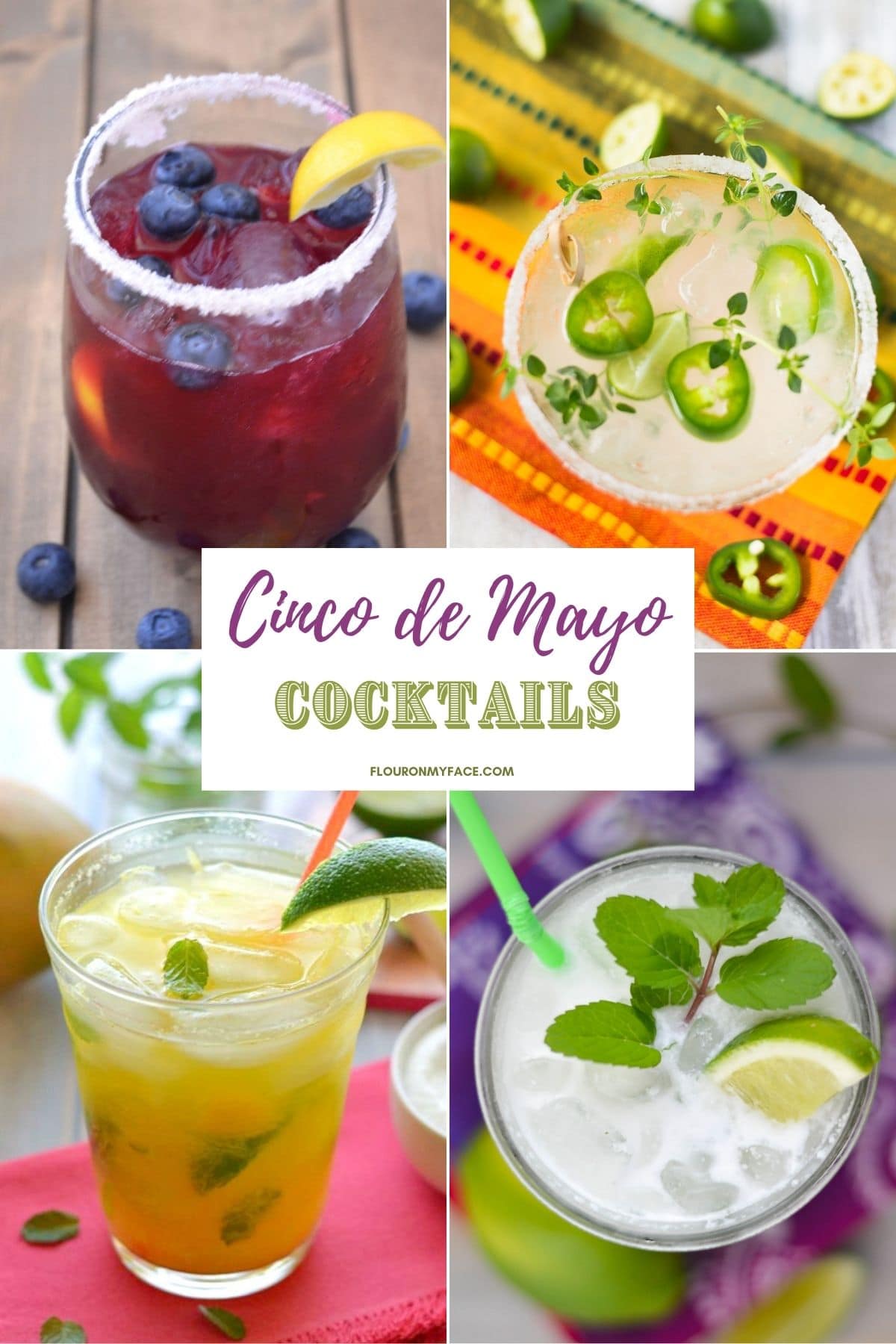 Cinco de Mayo Cocktails
You can't get the party started without a cool and refresh cocktail.
Take your pick of the perfect Mojitos, Margaritas and Sangria recipes you can sip for the holiday.
Mojito recipes
The Mojito is one of the most popular cocktails out there.
You can go old school and make an authentic Mojito with lime, rum, cane sugar and mint.
Or you can get wild and make one of these fruit flavored Mojitos instead.
Fruity Sangria Recipes
Making Sangria is so much fun.
You can make so many different fruit and wine combinations to come up with you very own Sangria.
Keep in mind the best Sangria has a chance to steep before you can sip on a fruity glass.
Start the recipes the day before and you will be amazed at how delicious it will taste.
Margaritas
Tequila lovers will enjoy the list of interesting Margarita recipes to sip on below.
Kid Friendly Cinco de Mayo Drinks
While the adults are sipping on their cocktails the kids can sip on these fruit drinks.
Cinco de Mayo Appetizers
You can't have a party without the appetizers.
Here you will find plenty of delicious Cinco de Mayo appetizers to serve.
Cinco de Mayo Main Course
After all of the delicious appetizers you are going to need something to feed the family.
Below you will find so many amazing Cinco de Mayo recipes you are going to have a hard time picking which one you will serve for lunch or dinner.
Cinco de Mayo Side Dish recipes
Serve the perfect side dish that goes with Mexican food.
Have a safe and happy Cinco de Mayo celebrations!