Easy Summer Pink Moscato Sangria Recipe
I have been trying to make this Gallo Pink Moscato Sangria recipe for about a month now. I had planned to share the recipe in time for National Moscato Day, which is May 9th. I had a hard time finding a bottle of Gallo Pink Moscato. 
Memorial Day Weekend is almost here and that means back yard grilling season is on it's way. When it's hot and your just hanging around the pool or the grill it's the perfect time to enjoy a glass of sangria. 
Last year I shared a White Moscato Sangria recipe for National Moscato Day. So this year I wanted to follow up with a Pink Moscato Sangria recipe. Maybe next year I will share a Red Moscato Sangria recipe.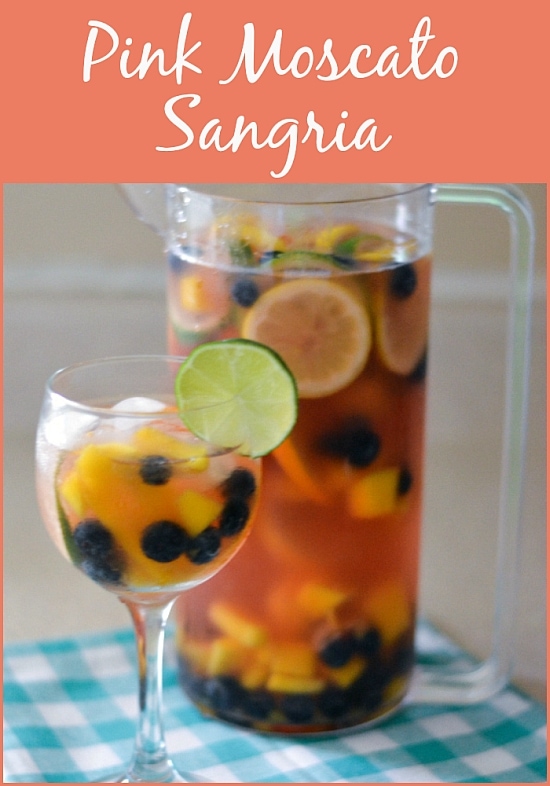 I am a late bloomer when it comes to wine drinking. I was well into my 40's before I drank more than a sip here or there. I thought I didn't like wine. What I found out was that I just hadn't sampled enough different types of wine to find one that I really liked. 
Moscato wine is my favorite so far. Of the brands that I have tasted Gallo so far is my favorite. Gallo has three Moscatos. A white, a pink and a red. I've tried all three and love them all. What I like about the Gallo Moscato is the delicate fruity flavors. I was very surprised that I even liked the Gallo Red Moscato because of the one thing I have found out is that red wine is my least favorite. The Red Moscato from Gallo does not have that biting bitter flavor that most red wines have. 
Moscato makes a fine Sangria. As I mentioned last year I made a White Moscato Sangria recipe. I am still getting request from friends who drank the White Moscato Sangria recipe to make it again whenever we have a get together.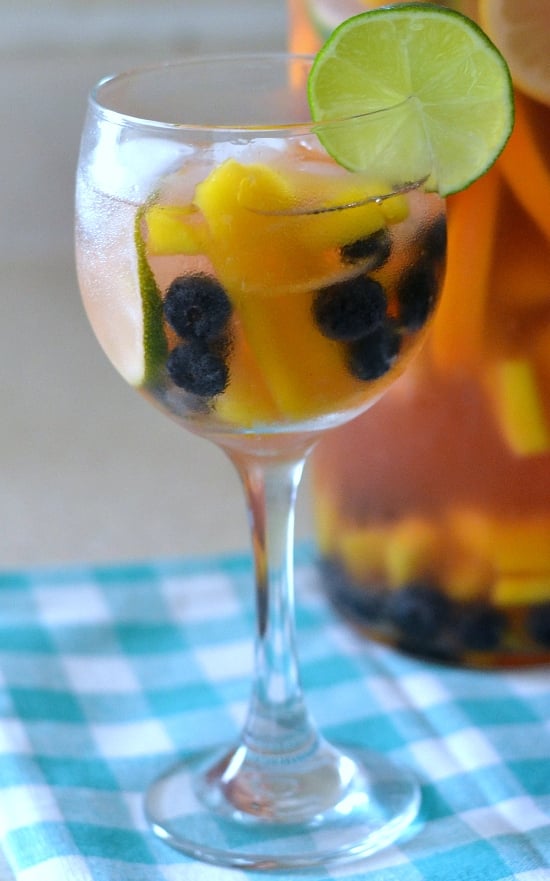 How to make Pink Moscato Sangria recipe
There are only four main ingredients needed when making sangria.
wine

citrus fruit

other fruits

sugar

lime soda optional  ( if you like a sparkling sangria)
A traditional Sangria is made with red wine and citrus fruit. As you have read red wine is my least favorite of the wines but I have and will occasionally drink a glass. I've always loved the thought of a Sangria with all those lovely pieces of fruit floating around.
Sangria can be made with any wine you like and any fruit you like. As long as there are slices of lemon, lime or oranges included you can add any other fruit you like. You can use a combination of citrus fruits as I have with my White Moscato Sangria or you could use just one type of citrus and add other fruits like berries, kiwi, apple slices and raspberries. 
You can even make it easy on yourself and just use whatever fruit you have on hand. One caution though if using soft berries like raspberries and blackberries. I will add these soft berries in the morning before I plan to serve the sangria so they are not mushy. Strawberries and blueberries can be added when mixing up the sangria because they do not get mushy.
What kind of fruit to use for Sangria
peaches

apple

pears

kiwi

strawberries

blueberries

raspberries

blackberries

plums

watermelon chunks

honey dew melon
The list is really endless. Any fruit that will hold it's shape can be added to sangria. Experiment keeping notes of the fruits and amounts you have added so you can recreate your sangria recipe later on.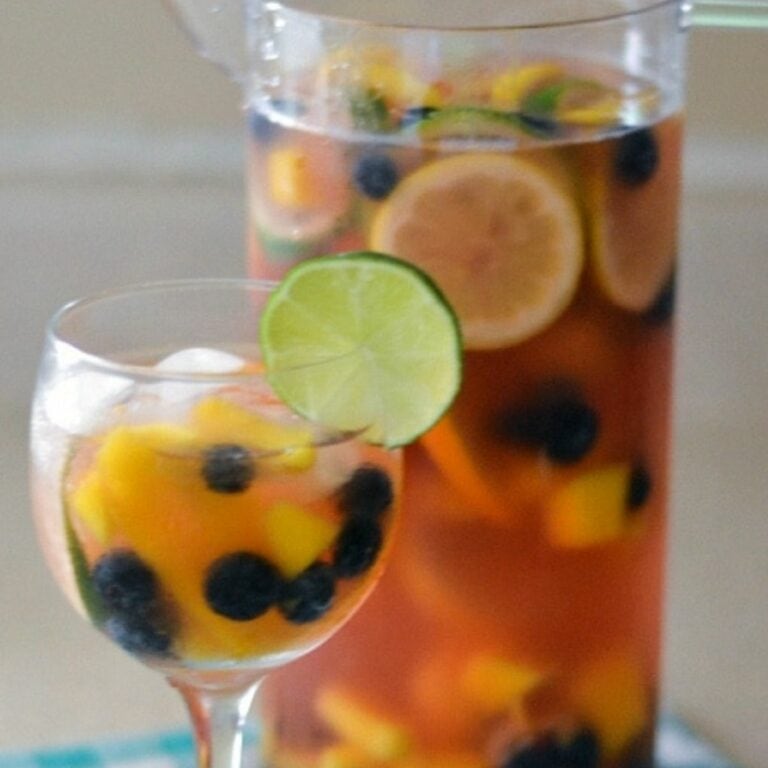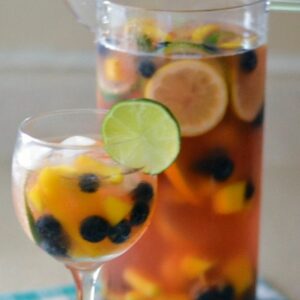 Pink Moscato Sangria
Pink Moscato Sangria is delicious. Make a pitcher with your favorite Pink Moscato wine, sliced citrus fruit, blueberries and mango.
Rate this Recipe
Ingredients
750

ml

bottle Gallo Pink Moscato

1

large

Orange

1

medium

Lemon

1

large

Lime

1

medium

Mango

½

cup

Blueberries

3

tablespoons

sugar
Follow Flour On My Face on Pinterest
Instructions
Thinly slice all the citrus and put into a large pitcher.

Slice the skin of the fruit from the mango and cut the fruit from around the pit. Cube and place in the pitcher.

Add blueberries and sugar.

Pour the Pink Moscato wine over the fruit and stir.

Chill overnight.

Stir before serving over ice.
Nutrition
Serving:
1
glass
Calories:
132
kcal
Carbohydrates:
19
g
Protein:
1
g
Fat:
1
g
Saturated Fat:
1
g
Sodium:
1
mg
Potassium:
119
mg
Fiber:
2
g
Sugar:
12
g
Vitamin A:
344
IU
Vitamin C:
32
mg
Calcium:
19
mg
Iron:
1
mg
Tried this recipe?
Share a picture on Instagram and tag @flouronmyface2