Peach season is here and I have rounded up 53 Sweet Summer Peach Recipes for you. If you have an over abundance of ripe peaches and need a few more peach recipes here are a few to add to your recipe box.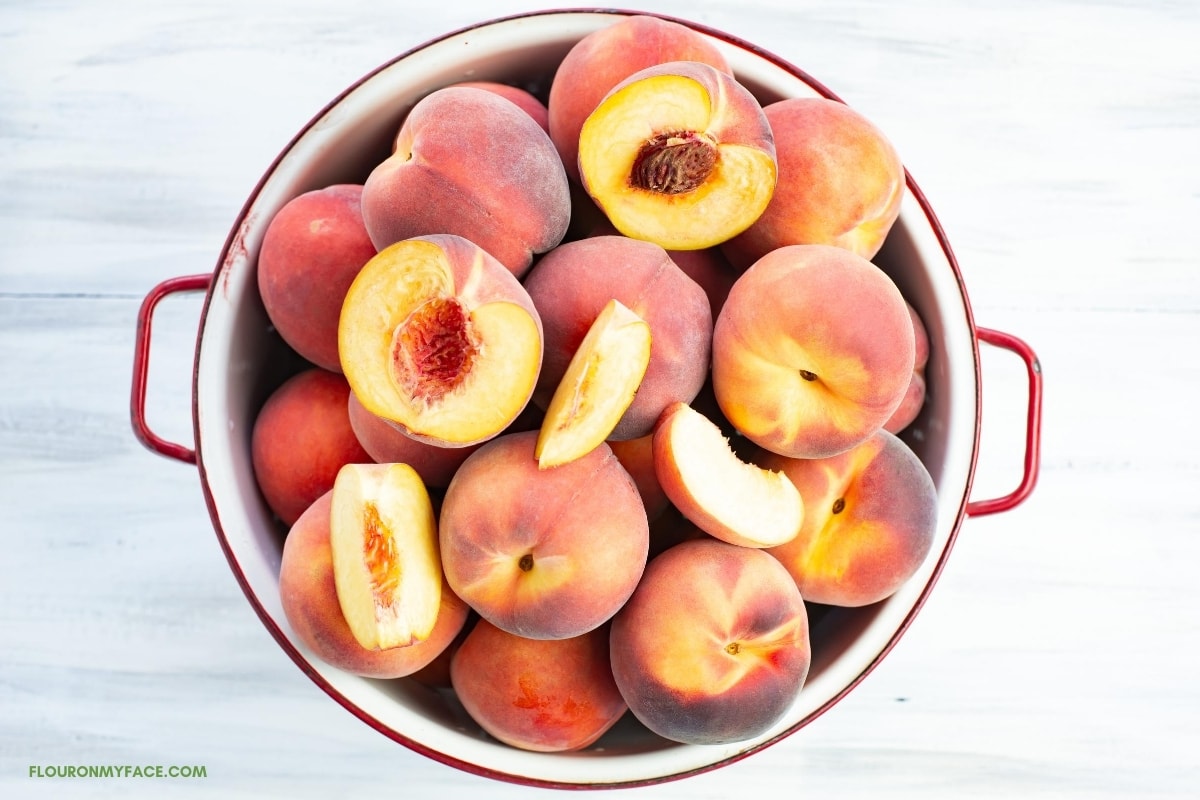 After you've made the old standby peach cobbler and peach pie recipe try some of my favorite foodie blogger recipes using fresh peaches.
If you love easy & amazing recipes join the Flour On My Face Newsletter and get each of my new recipes delivered right to your inbox.
Fresh Peaches
I love biting into a sweet fresh peach. It's a little messy but when that sweet peach juice is running down your chin you know you have tasted a little bite of heaven.
One of the things I miss most about living in Georgia is eating fresh picked peaches during the summer months.
One of my favorite ways to savor fresh peaches long after peach season has past is by making peach jam recipes. When you make peach jam you can enjoy fresh peaches all winter long.
I've included some of my best peach jam recipes. One is a new faovrite peach jam that I love – Peach Vanilla Jam.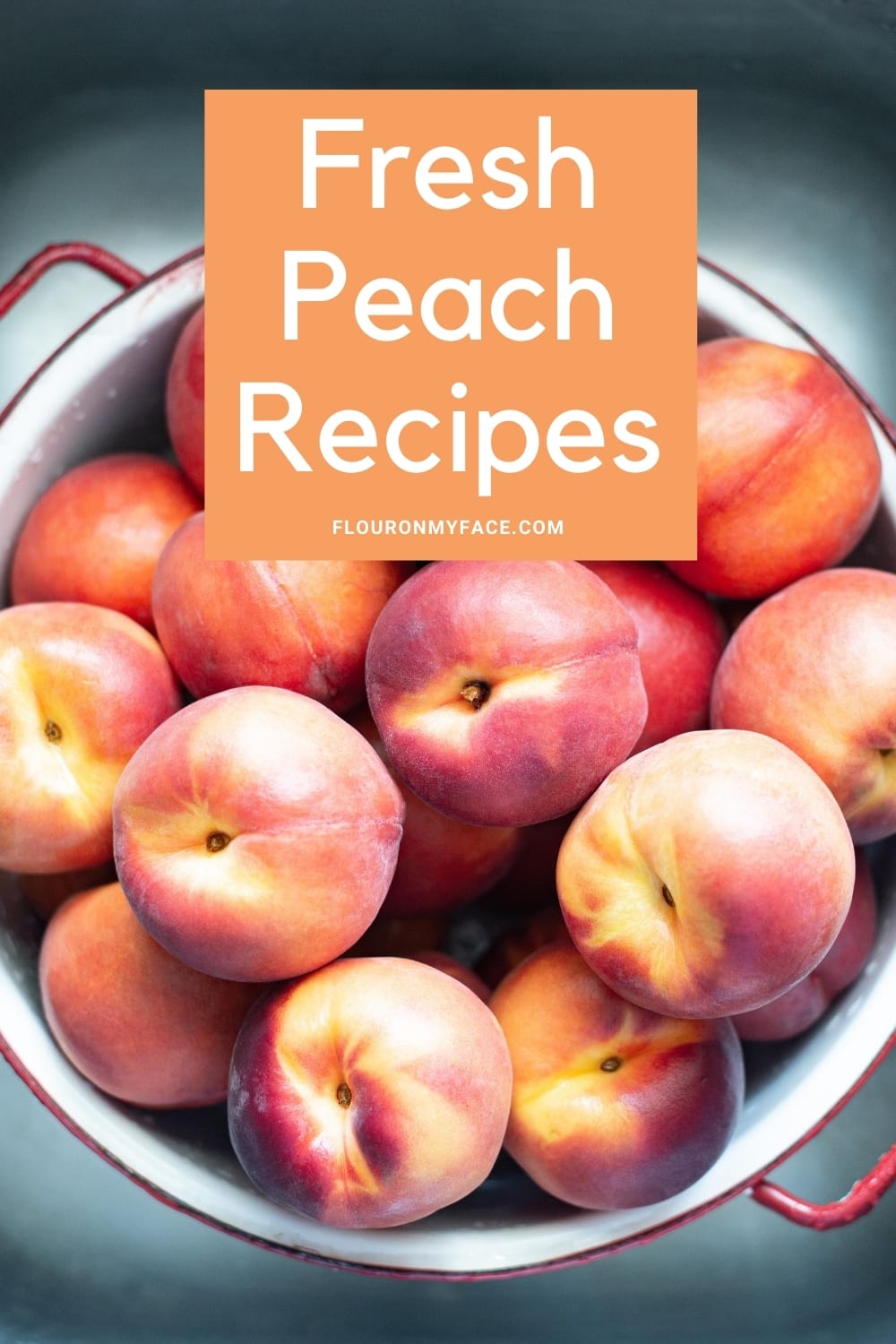 Mango Peach Salsa
I love making fruit salsa and my Mango Peach Salsa is one of my favorite summer peach recipes to make. This is a fresh fruit salsa recipe that is not canned. You make up a fresh batch and eat it the same day.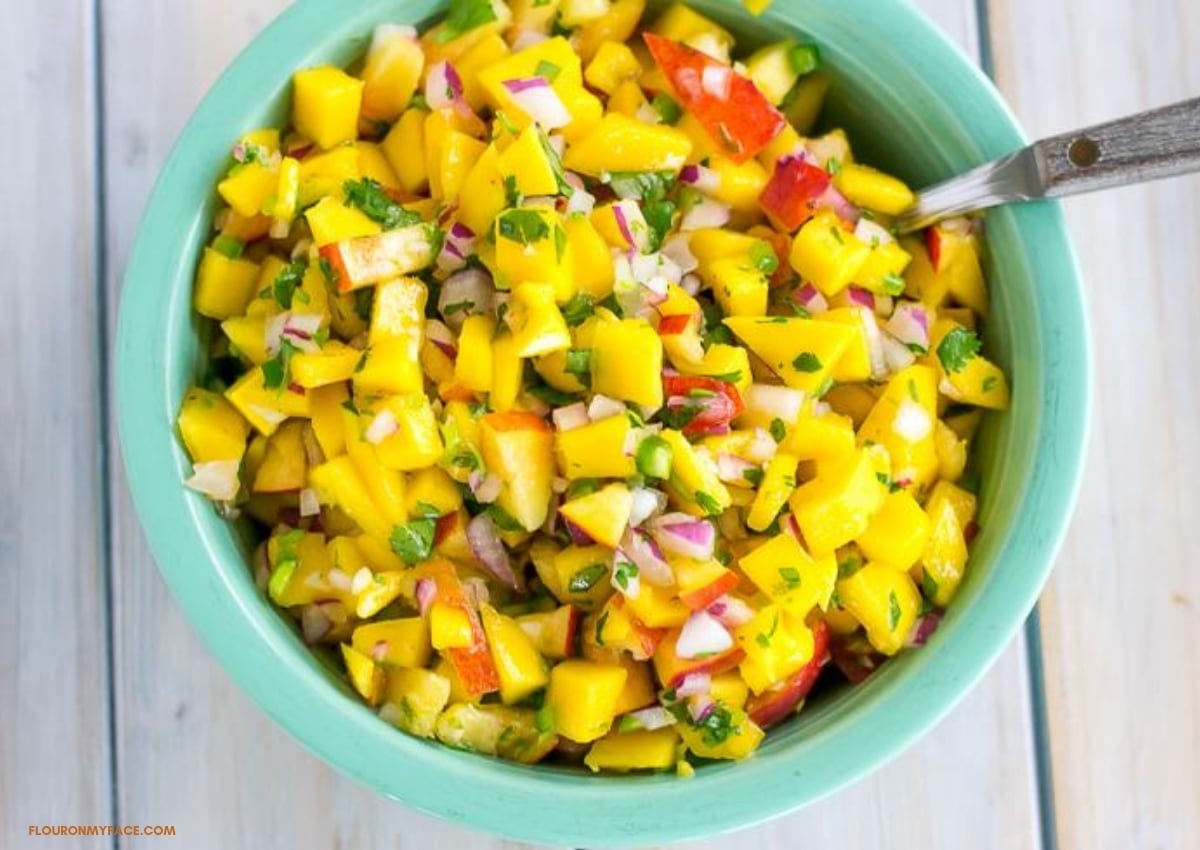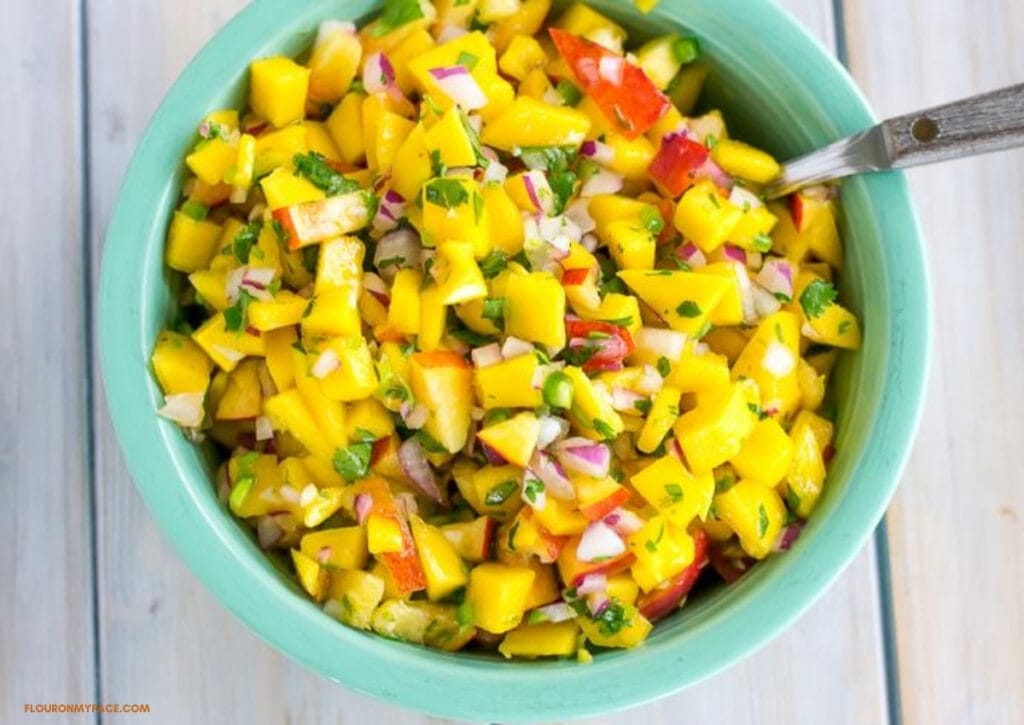 53 Fresh Peach Recipes
Mango Peach Salsa by Flour On My Face
Pineapple Peach Turkey Meatballs by Created by Diane
Simple Peach Syrup by The Grant Life
Easy Peach Cobblerby SheSaved
Peach Strawberry Smoothie by Flour On My Face
Peach Margarita by Ann's Entitled Life
Sweet & Spicy Peach, Chicken, Hatch Chile and Spinach Pizza by Farm Fresh Feasts
Mango Peach Smoothie by Mamabzz
Simple Peach Cobbler by Little House Living
Peach Smoothie by Flour On My Face
Peach Kefir Smoothie Ice Pops by Architecture of A Mom
Brown Sugar Baked Granola by The Kitchen is my Playground
Grilled Peach Salad w/ Grapefruit Vinaigrette by 3 Boys and a Dog
Peach Hand Pies by Confessions of an Overworked Mom
Easy Peach Cobbler by Mama Bzz
Peach Vanilla Jam by Flour On My Face
Just Peachy Peach Cupcake by The Clever Pink Pirate
Peach Cobbler Muffins by Little House Living
Raspberry Peach Cobbler by Ann's Entitled Life
Peach Italian Cream Soda by The Grant Life
Homemade Peach Preserves by Stockpiling Moms
Peach Slab Pie by Flour On My Face
Peach Cheesecake Cobbler by Little House Living
Grilled Peaches by Two Little Cavaliers
Baked Granola Peaches by Grace and Gravy
Peach Fruit Rolls Ups by Flour On My Face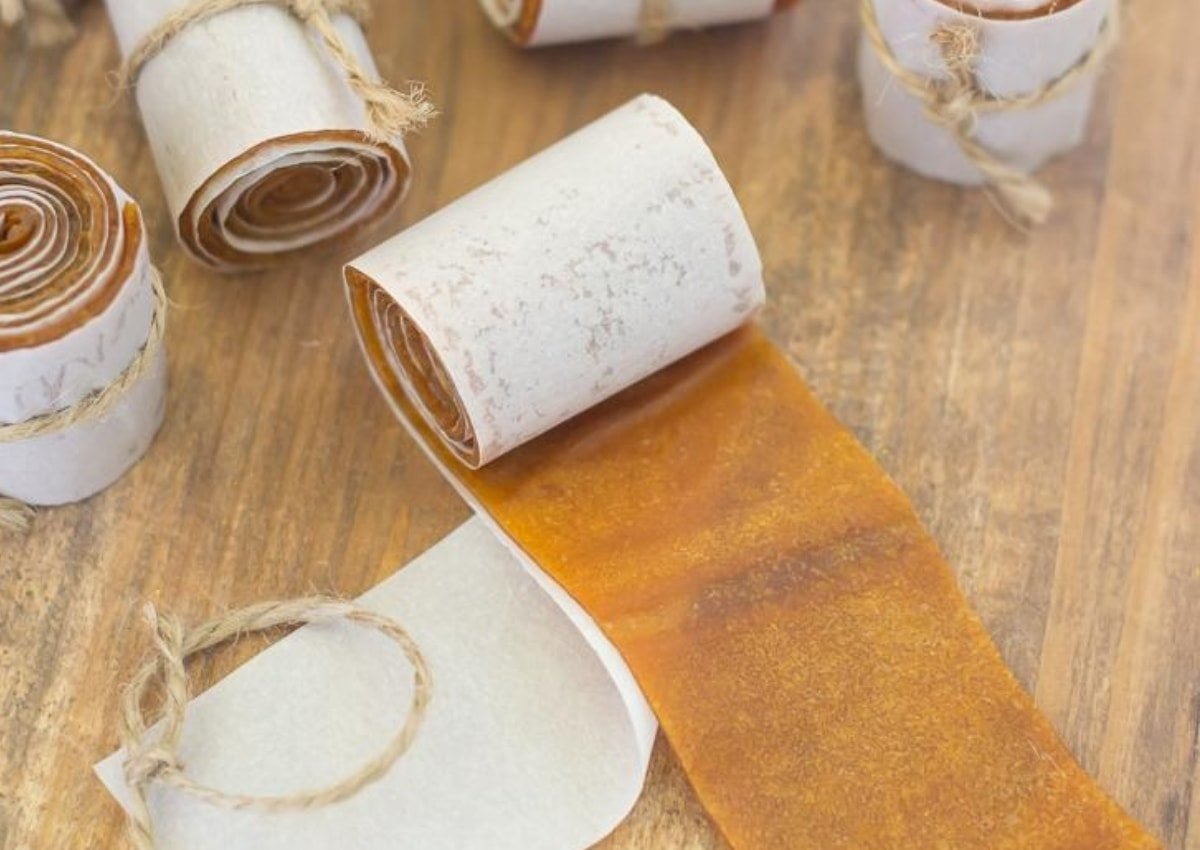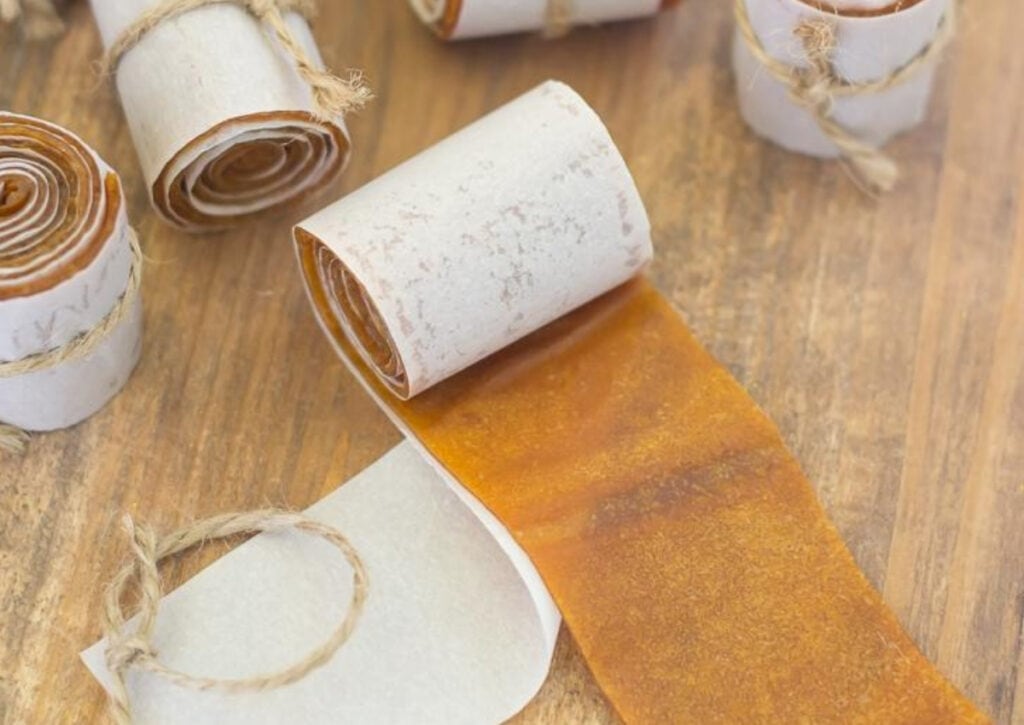 Peach Jalapeno Jam by Flour On My Face
Grilled Pepper & Peach Salad by Take a Bite Out of Bocca
Sweet & Tangy Peach Chicken by The Thrifty Couple
Peach Iced Tea by Flour On My Face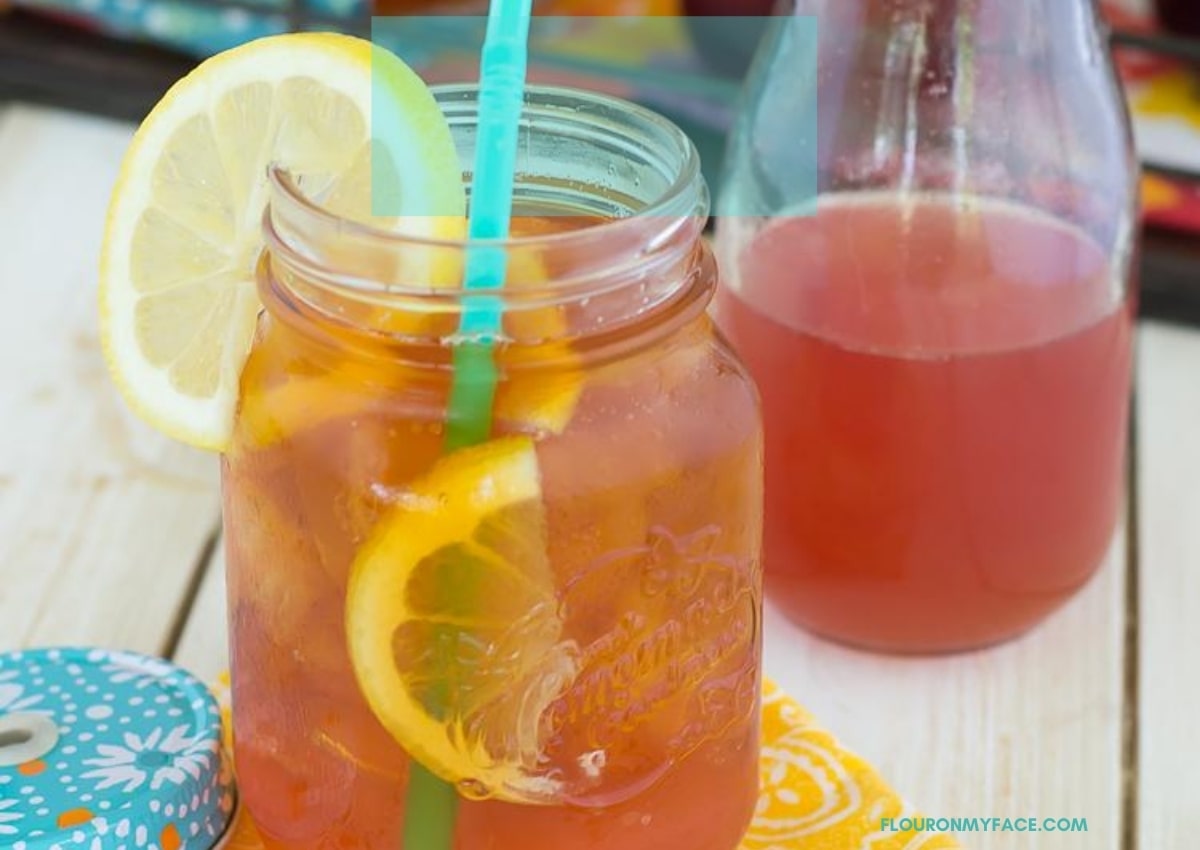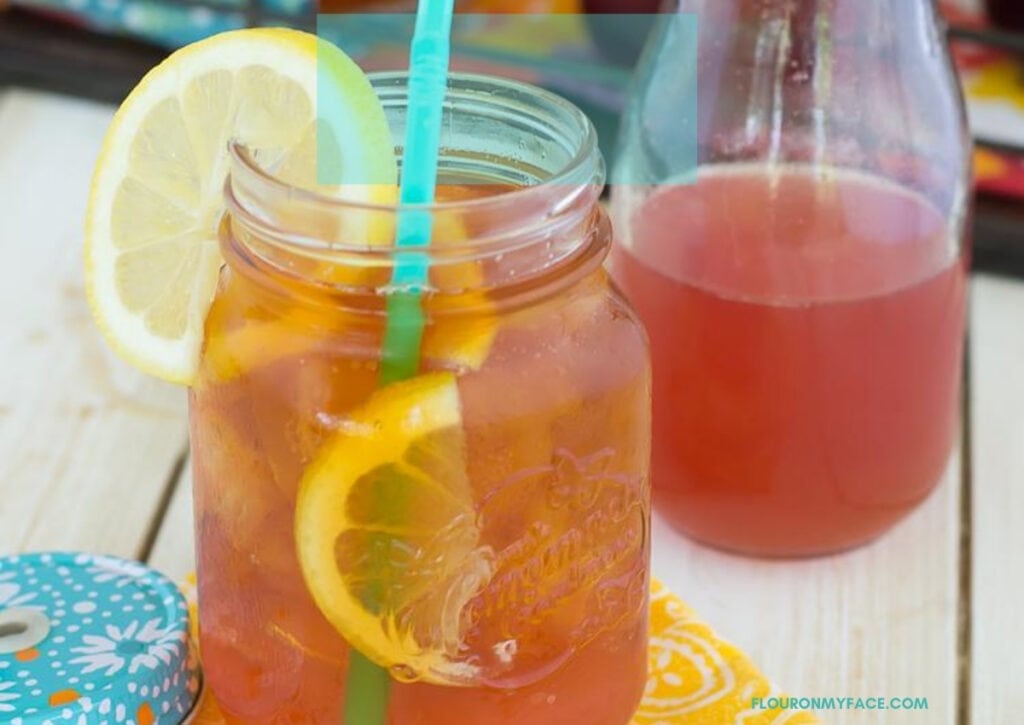 Peach Honey Butter by Flour On My Face
Grilled Balsamic Chicken with Peaches and Onions by I Was Born to Cook
Aunt Bluette's Spicy Peach Shortcake by Miz Helen's Country Cottage
Peach Cantaloupe Butter by Little House Living
Peach Habanero Jam by Flour On My Face
No Bake Peach & Berry Pie by Dear Creatives
How to Can Peaches by Little House Living
Grilled Peaches with Spicy Vanilla Sauce by Miz Helen's Country Cottage
Chipotle Peach Cheese Danish by I Love My Disorganized Life
Honey Spiced Peach by A Life In Balance
Brandied Peach Cobbler by The Kitchen is my Playground
 Peach Lemonade by Cooking with Jax
Peach Pie Bars by Flour On My Face
Individual Peach Pies by My World Simplified
Grilled Peach & Blueberry Tarts by Savvy Saving Couple
Mango Peach Guacamole Cups by Take a Bite Out of Bocca
Peaches & Cream Ice Pops by Bless this Mess Please
Fresh Peach Ice Cream by Bless this Mess Please
Peach Blueberry Trifle by Healthy Seasonal Recipes
Peach Ice Cream by I Was Born to Cook
Rosemary Peach Jam by Flour On My Face
Homemade Peach Gummies by Little House Living
Peach Lemonade Slush by Mom Endeavors