How To Make Peach Honey Butter
Disclosure: The Peach Honey Butter recipe has been sponsored by Washington State Stone Fruit Growers. All opinions are my own.
Grab up the last of fresh peaches and make this Peach Honey Butter. Homemade fruit butter makes an amazing homemade Christmas gift.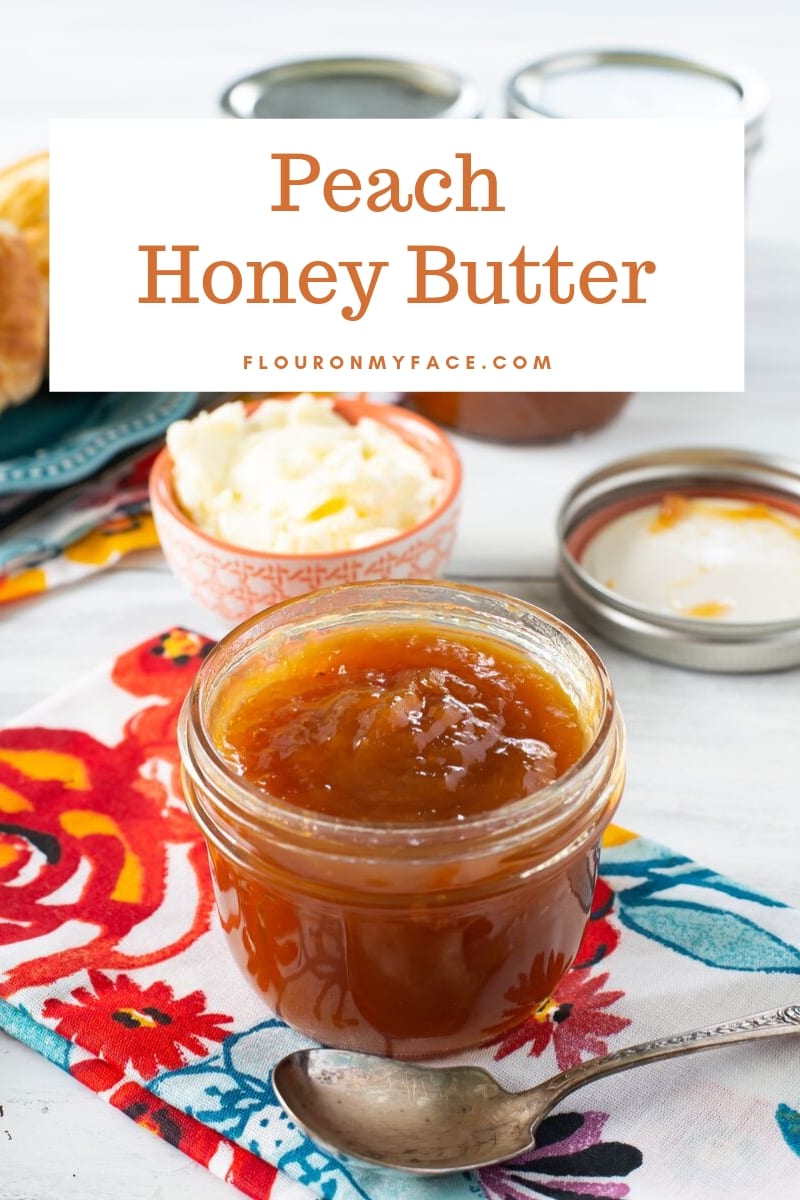 Fresh Peach Season
The end of peach season is here and I am canning some homemade peach butter so I can enjoy the sweet and fragrant flavors of Washington peaches all winter long.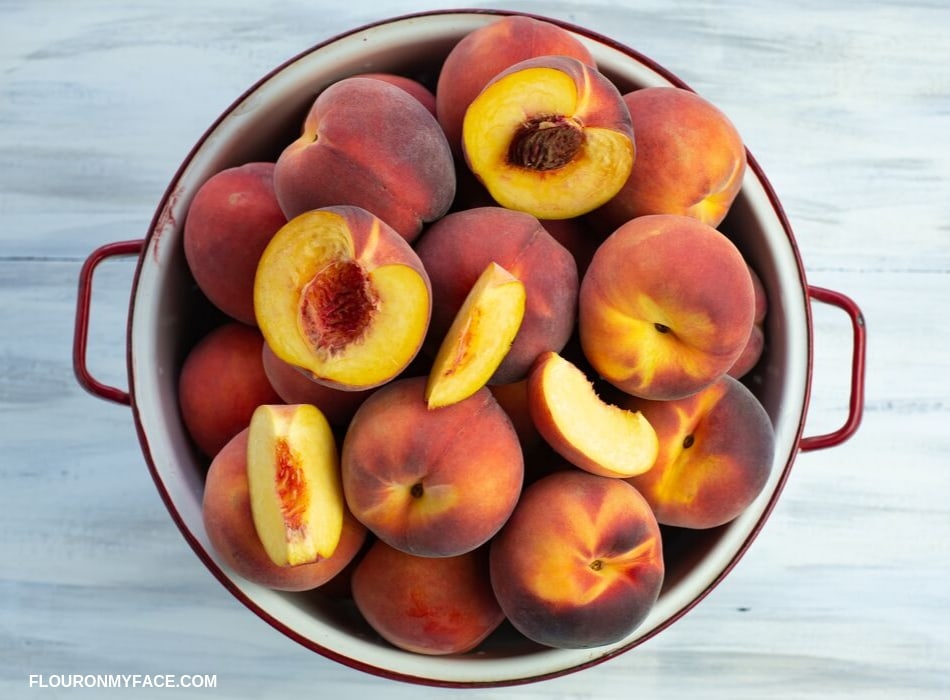 Freestone or Clingstone Peaches
The beautiful fresh peaches from Washington State Stone Fruit Growers are freestone peaches. Freestone peaches are the best and easiest fresh peach variety to use when canning.
As the name suggests the difference between freestone and clingstone peaches is that the flesh of the peach will pull away completely from the pit of a freestone peach.
The flesh of the peach will cling to the pit of a clingstone peach. This makes preparing the fresh peaches for canning recipes more difficult. It is almost impossible to cut perfect sliced peaches when using a clingstone peach.
That is why freestone peaches are the preferred variety of peach to use when canning. It makes the peaches easier to prepare for all of your favorite peach recipes.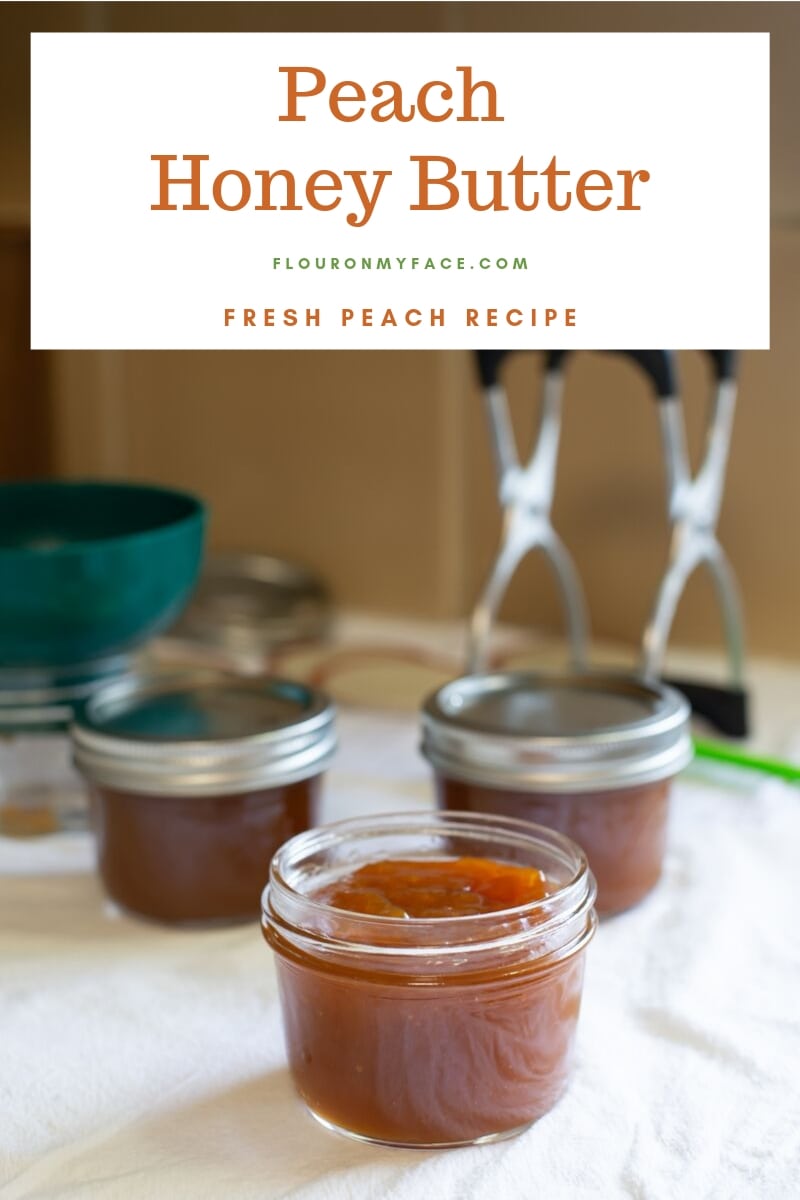 Canbassador
As part of the Canbassador program for Washington State Stone Fruit Growers, I get giddy with excitement as I wait for the end of the summer peaches to arrive.
I am sad that summer is ending but I know my pantry will soon be stocked with enough peach preserves that I will be able to enjoy the flavor of fresh peaches all winter long.
Have you ever hosted a canning party? This is something I have wanted to do for years.
Head over to the Washington State Fruit Commission Sweet Preservation website to find out how you can host a canning party with friends and family. Check out the recipes and free canning label pages when you get there.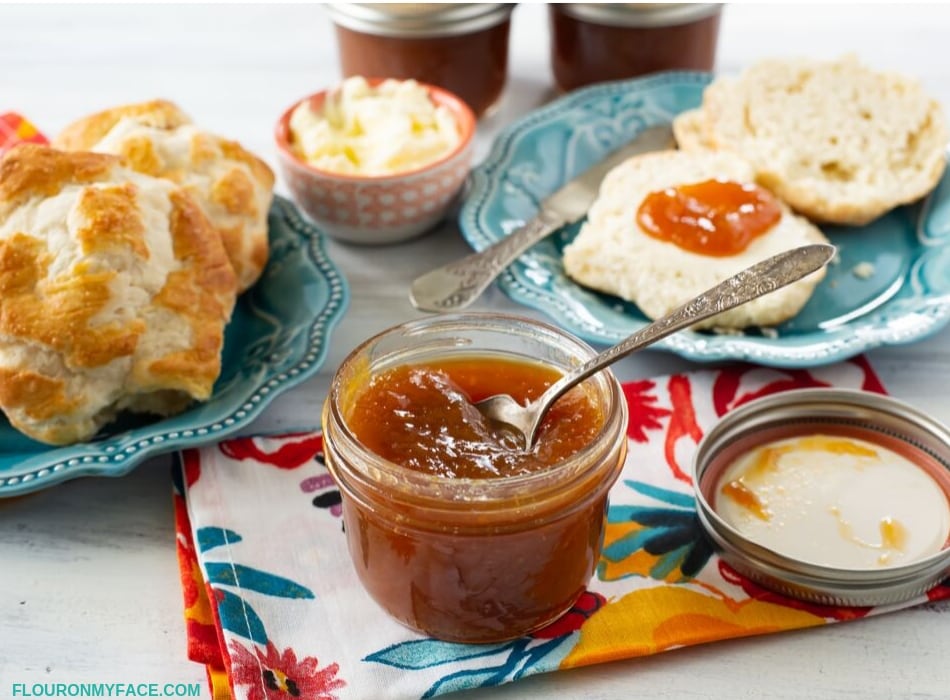 How to serve Peach Butter
Sunday breakfast or brunch is the perfect time to pull a jar of this homemade Peach Honey Butter out of my canning pantry so the family can enjoy a tablespoon or two of this sweet thick fruit spread over a warm biscuit.
Peach Butter can be used as a breakfast fruit spread over cream cheese on a toasted bagel or dolloped on a warm biscuit spread with melted butter.
Or this Peach Honey Butter can be used as a dessert topping spooned over vanilla ice cream, used as a cake filling spread between two or more cake layers.
More Peach Canning Recipes
Check out my Canning Recipes page for all of the canning recipes I have shared.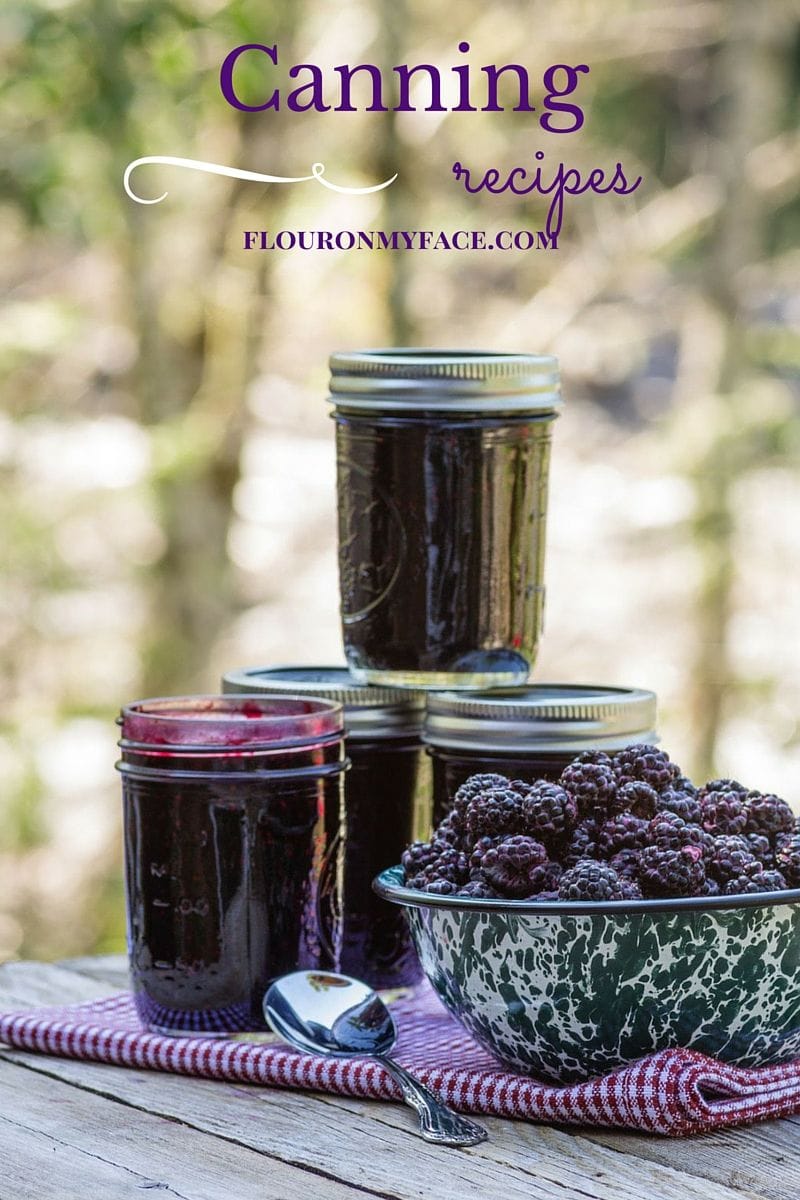 Basic Canning Supplies
You will need some basic canning supplies to make this peach butter recipe. I use the canning supplies below every single time I am canning.
What is the difference between peach butter and peach jam?
Peach butter is a fruit butter that is made by cooking down a fruit such as fresh peaches with a small amount of water until the fruit has softened enough so the fruit can be pureed.
The pureed fruit is then cooked with a sweetener until it is of a thick enough consistency that can be mounded on a spoon and spread with a knife just like softened butter can be spread.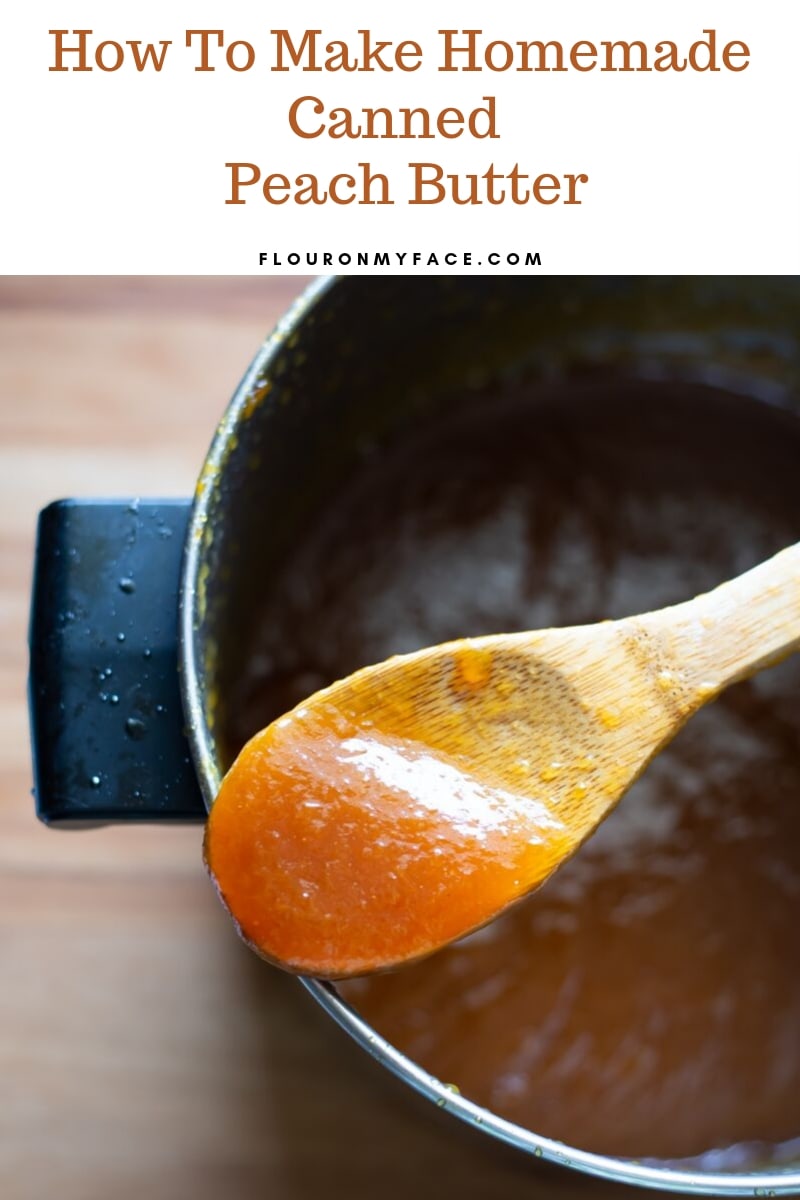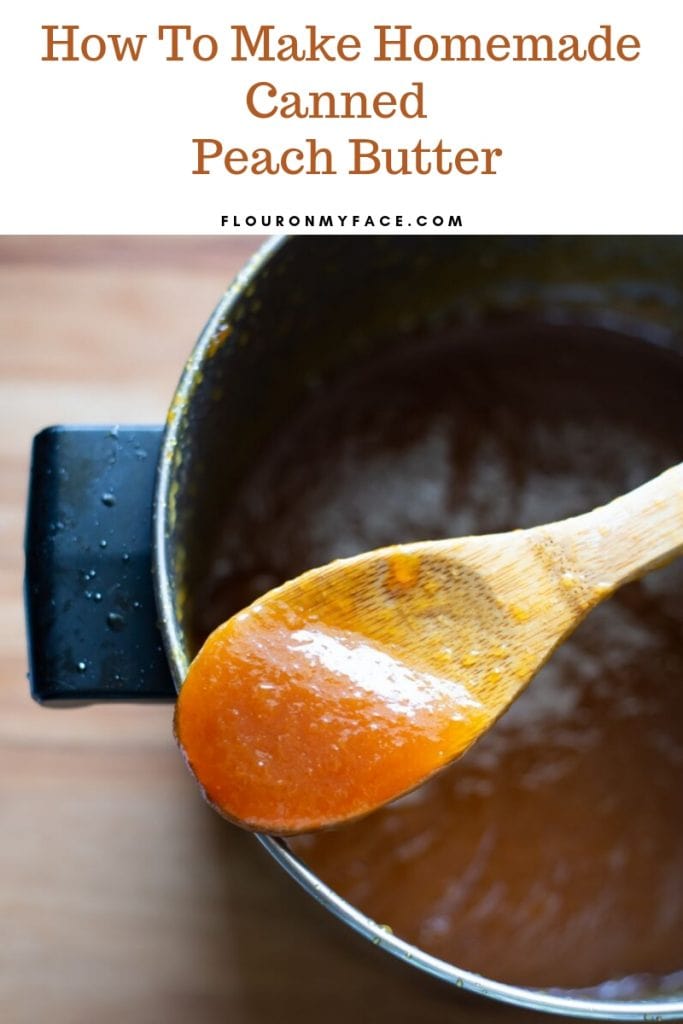 Depending on the fruit used to make fruit butter it can have much the same consistency of applesauce with an intense fruit flavor.
Jam or peach jam is a completely different type of fruit preserves where large pieces of crushed fruit are cooked with sugar until boiling then pectin is added as a thickener and gelling agent.
The gel is clear or takes on the color and flavor of the cooked fruit. Both fruit butter and jam are used the same way as a fruit spread.
Fruit butter is traditionally eaten on toast, biscuits, scones or crackers but can also be used as a dessert topping and cake filling.
No matter which way you decide to eat Peach Honey Butter is is one of the best ways to preserve the last of summer fresh peaches so you and your family can enjoy the flavor of fresh peaches during the winter months when they are not in season.
Print the Peach Honey Butter Recipe Below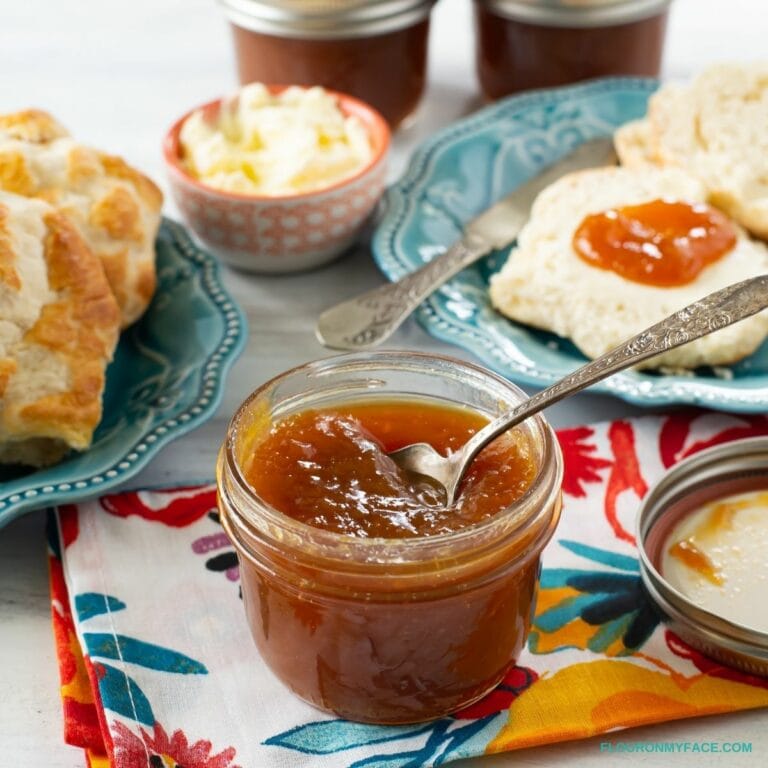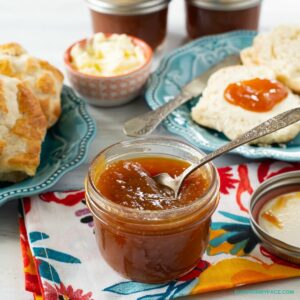 Peach Honey Butter Recipe
This homemade Peach Honey Butter Recipe is a great was to preserve the end of summer peaches. Homemade peach butter is a delicious fruit spread for your breakfast toast or bagel. Fruit butters can also be used as dessert toppings. Canned preserves are also great gifts during the holidays.
Rate this Recipe
Ingredients
18

Medium

ripe peaches

(peeled, pitted and chopped (about 10 to 11 cups of chopped peaches))

2

tablespoons

lemon juice

¼

cup

water

2 ¼

cup

granulated sugar

¾

cup

honey
Follow Flour On My Face on Pinterest
Instructions
Measure the lemon juice into a large 8 cup glass measuring bowl or a large bowl.

Peel, pit and chop the peaches. As you chop the peaches put them into the large glass measuring cup with the lemon juice. Toss the pieces each time you add more chopped peaches. This will prevent the peaches from browning.

Place the chopped peach into at least 8 quart pot and add the water. Heat the peaches over medium heat until boiling. Once boiling reduce the heat, cover the pot and simmer until the peaches are very soft.

Remove the pot from the heat and allow to cool slightly. Puree the softened peaches in batches in a blender or use a stick blender directly in the pot until smooth.

Return the peach puree to the 8 quart pot. Add the sugar and honey to the pot.

Cook at a low boil over medium heat, occasionally stirring to prevent scorching until the pureed peaches have thickened and reduced by about half. The peach butter is done when it will mound on a spoon like applesauce .(see notes)

Remove the pot from the stove and fill prepared half pint or pint size canning jars leaving a ½ inch headspace.

Wipe the jar rims with a damp paper towel. Place a flat lid on the jar. Screw a band on until just finger tight. Place the filled jar into a boiling water canner, Repeat with the remaining jars,

Hot water bath for 10 minutes, adjusting for altitude if needed.

Turn off the heat, remove the lid and let the jars stand in the hot water for 5 minutes. Remove the jars from the canner and place on a soft towel on the counter to cool before storing.

Makes 6 half pints of Peach Honey Butter.
Recipe Expert Tips
Step 6: The amount of time it takes to cook the peach puree down will vary. It took about 1 hour and 30 minutes for me. The size of the pot you use, the amount of juice in the peaches and humidity in the air can effect the length of the cooking time.
Recipe Source: Better Homes & Garden
Makes about 6 half pints.
Nutrition
Serving:
2
Tablespoons
Calories:
37
kcal
Carbohydrates:
10
g
Protein:
1
g
Fat:
1
g
Saturated Fat:
1
g
Polyunsaturated Fat:
1
g
Monounsaturated Fat:
1
g
Sodium:
1
mg
Potassium:
55
mg
Fiber:
1
g
Sugar:
9
g
Vitamin A:
92
IU
Vitamin C:
2
mg
Calcium:
2
mg
Iron:
1
mg
Tried this recipe?
Share a picture on Instagram and tag @flouronmyface2