Peach Almond Jam Bars Recipe
An Old Fashioned Jam Bar Recipe
I love a good jam bar recipe and I found this Peach Almond Jam Bars recipe in a new vintage cookbook I picked up a couple of weeks ago. I love old vintage cook book recipes as you know and it has been a while since I shared a vintage recipe for my Vintage Recipe Project.  Even though this recipe is called Almond Bars in the cookbook I decided to call my version of this old fashioned jam bars recipe Peach Almond Jam Bars because it is filled with peach jam and flavored with finely chopped almonds along with pure almond extract. 
I made a few changes to this Almond Bar recipe. The biggest change I made was I substituted all purpose flour for the rice flour that was called for in the original recipe. I also added finely chopped almonds to the crust and top cake layer. You can omit the nuts if you like but it really adds a nice crunchy texture each Jam Bar.
I was very surprised the see that rice flour was called for in this vintage recipe. This old cook book was written in 1968. How common could rice flour have been back then? 
Vintage Cook book details:
I love to include as much information on these old recipes as I can. One of my passions is reconnecting my readers with old family recipes they may be looking for. How many times have you been reminiscing with a family member about a favorite family recipe that no one thought to write down from a grandmother, aunt or family member that is no longer with us? 
Usually the person's name and location is included in  these old church or community cookbooks. I like to include this information so maybe one day a family member will come across an old recipe they have been trying to find. I am happy to say it has happened a number of times already. It warms my heart when I get a comment from someone who found an old family recipe they have been searching for here in my Vintage Recipe Project. 
Title: Forum Feasts
Place:  Waldwick, New Jersey
Date: 1968
Recipe: Almond Bars
Recipe Submitted by: Mrs. Edward W. Many- Ramsey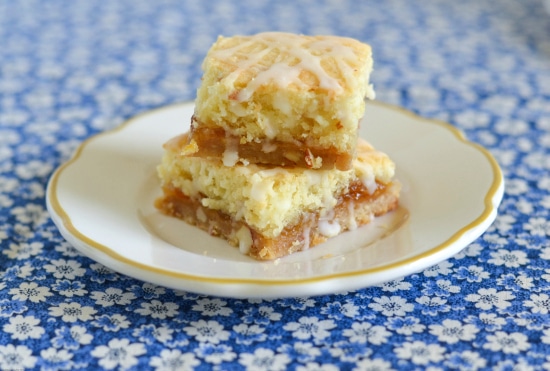 I loved the way this Peach Almond Bars recipe turned out. The bottom layer is soft but firm while the cake/topping layer is light and fluffy. There is just a hint of peach flavor from the jam. Next time I will increase the amount of jam I used to 1 cup make that layer thicker. 
These Peach Almond Jam Bars recipe is perfect for a brunch, tea party, baby shower or as a special afternoon treat with a cup of coffee.
Print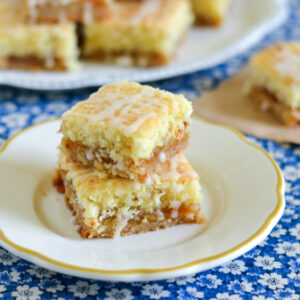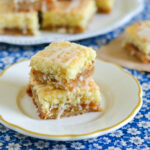 Old Fashioned Jam Bars | Vintage Recipe Project
---
Crust Ingredients
1 cup

flour

½ cup

butter, softened

⅔ cups

packed brown sugar

¼ cup

almond meal or finely chopped almonds

¼ teaspoon

almond extract
Cake Ingredients
½

-

¾

peach preserves or favorite jam

½ cup

of butter, softened

⅔ cups

granulated sugar

2

eggs, beaten well

⅔ cups

of flour

¼ cup

almond meal or finely chopped almonds

½ teaspoon

almond extract
pinch of salt
Glaze Ingredients
½ cup

powdered sugar

1

-

2

teaspoons milk

⅛

th teaspoon almond extract
---
Instructions
Make the Crust/Bottom Layer
Cream butter and sugar.
Add flour, chopped almonds and extract.
Mix well. Batter will be thick and crumbly
Prepare an 8x8 inch baking pan by covering the bottom and sides with 2 pieces of parchment paper cut to fit the width, leaving a slight over hanging over the edges.
Spread crust dough into the bottom of the pan then pat down and into the edges with your fingertips.
Bake crust as 350 F. for 10 minutes.
Remove from oven and immediately spread ½ - ¾ cup of peach preserves or your favorite jam over the hot crust.
Set aside while preparing the topping.
Make the Cake batter
Cream butter and sugar together and beat on medium for 2 minutes.
Add eggs and extract then beat an additional 2 minutes.
Mix in the flour and almond meal, beating on low until light and fluffy, about 3 minutes.
Drop cake batter by the tablespoon over the top of the peach jam.
Using the back of a spoon carefully spread the batter out to the edges of the pan.
Bake at 375 F. for 25-30 minutes or until top is a golden brown.
Remove from oven and allow to cool completely before cutting.
Once cool cut into 16 squares.
Make the Glaze
Mix all the ingredients with a whisk until smooth.
Drizzle over top of cooled bars. Allow glaze to set before serving.
---
Notes
These Old Fashioned Peach and Almond Jam Bars are perfect for brunch or along side of your favorite cup of coffee.
Recipe Card powered by