Spiced Vanilla Peaches
Disclosure: This Spiced Vanilla Peaches recipe has been sponsored by the Washington State Fruit Commission  as part of their Canbassador program. All opinions are my own.
 The folks from the Washington State Fruit Commission recently sent me an email asking if I would like to be a part of the Canbassador program this year. As you  know I love canning. I have been making homemade jams since about 1989 when I lived in Georgia and found out blackberries grew wild along the roads in ditches. Since then I may have missed a few years in my canning adventures but I have canned more years than I have not.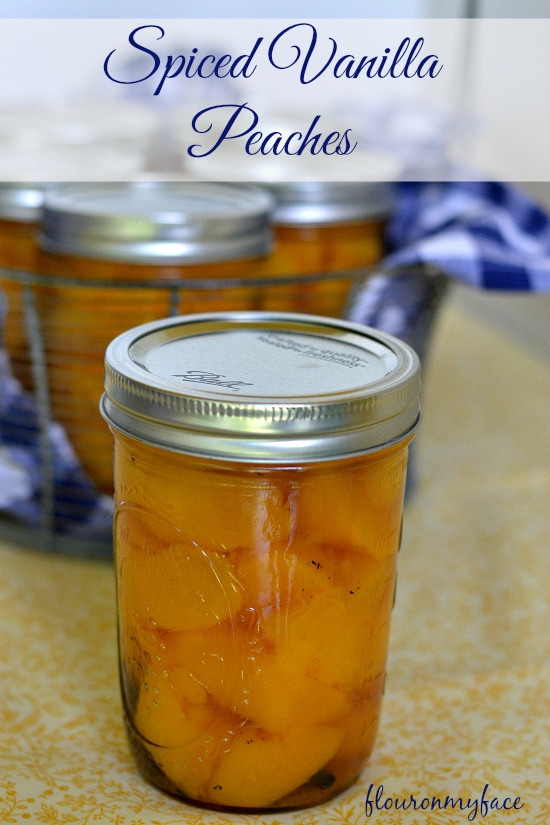 When the Washington State Fruit Commission told me they would be sending me a box of stone fruit I was expecting a box of cherries or maybe even plums. I never expected a huge box of peaches to show up on my doorstep. I honestly don't  know if I knew peaches were grown in Washington. As I mentioned I had lived in Georgia and each canning season I would watch for Georgia peaches to come to town here in Florida because my favorite peach jam recipe is a Peach & Jalapeno Pepper jam I make. Up until now I thought Georgia had some of the best peaches I had ever tasted.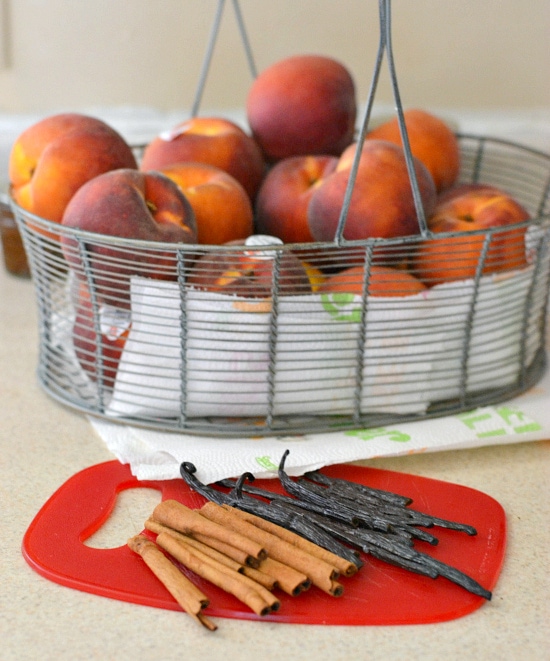 Well was I in for a big surprise. I have never seen prettier peaches then the peaches the Washington State Fruit Commission sent me. They are huge, juicy and sweet. The first thing I did as I unpacked the box was put one up to my nose and inhale the glorious scent only a fresh ripe peach has. I was in peach heaven.
Now I had to decide what I was going to make with all these beautiful Washington State peaches. I wanted to venture out a bit. I wanted to make something new. A new flavor of jam maybe. Or maybe something I had never canned before.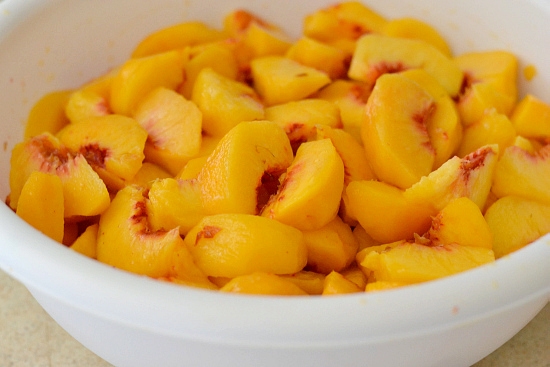 I took a look at some of the recipes on the Washington State Fruit Commission  Sweet Preservation website to see if anything caught my eye. There are lots of great canning recipes there along with all the canning and preserving information you could ever need. SweetPreservation.com is a great resource for canning recipes, downloadable jar labels, preservation party ideas and much more. 
I saw a recipe for Peach Butter that looked interesting. I've never made Peach Butter before. I actually made a batch of Balsamic Roasted Peach & Vanilla Butter that I will be sharing soon but today I am sharing this recipe for Spiced Vanilla Peaches. After I made the  Balsamic Roasted Peach & Vanilla Butter I still had a lot of peaches left.
I finally settled on making canned peaches. In all my years of canning I have never canned peaches before. I had to put my own spin on it and add cinnamon and a vanilla bean to make these Spiced Vanilla Peaches. I love adding vanilla bean to my jams. Peach Vanilla jam has a deep rich flavor thanks to the addition of a vanilla bean pod or two added to the jam as it cooks.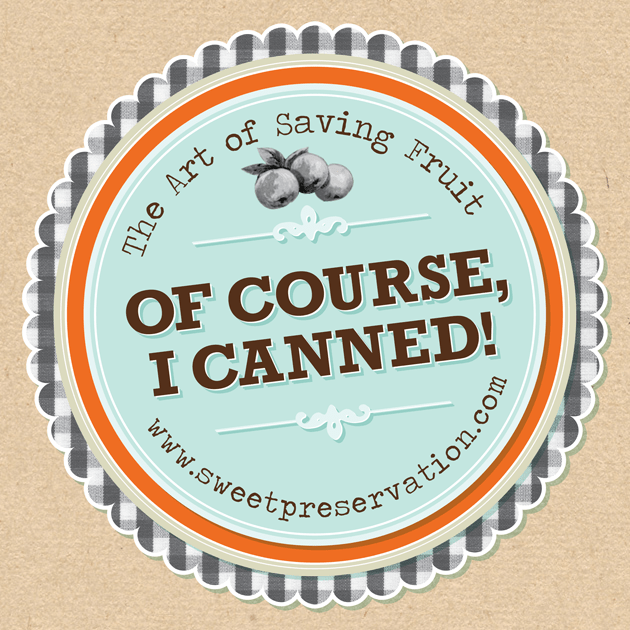 For more canning inspiration be sure to check out the SweetPreservation website. 
Print the Spiced Vanilla Peaches recipe below.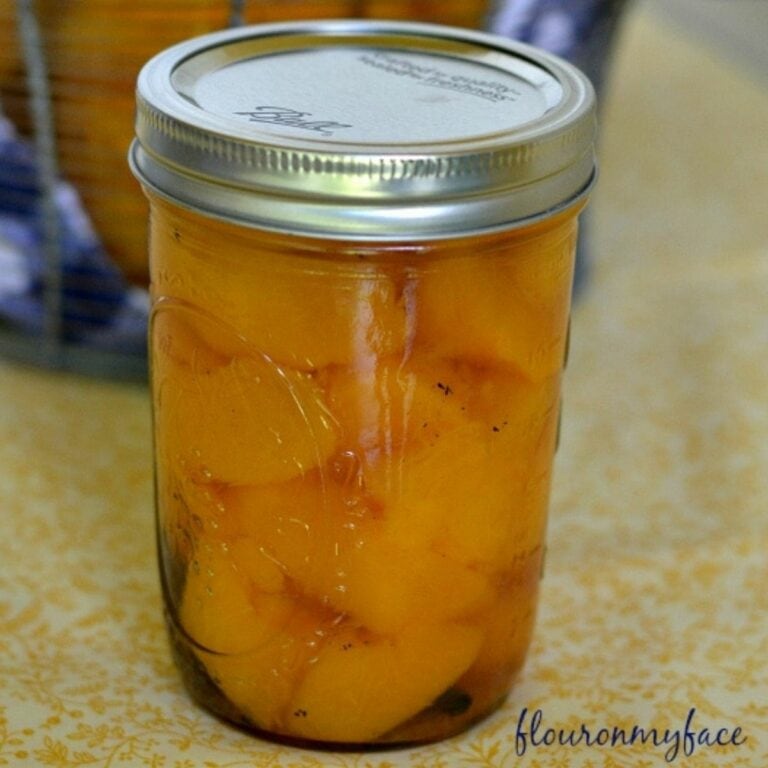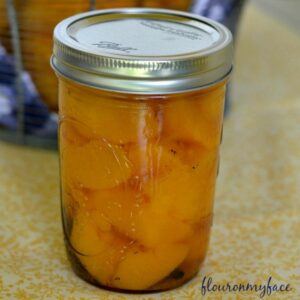 Spiced Vanilla Peaches
Canned peaches are delicious and help stretch fresh peach season beyond the summer month. Make a batch of Spiced Vanilla Peaches this summer and enjoy them all winter long.
Rate this Recipe
Ingredients
10

cups

peaches

(peeled and sliced into ¼th (about 20 large peaches))

13

cups

water

1 ½

cups

sugar

8-12

whole

vanilla beans

6

medium

cinnamon sticks

2-3

whole

fresh lemons
Follow Flour On My Face on Pinterest
Instructions
Prepare jars and lids per USDA canning standards.

Measure the sugar and water into a large pot. Heat on low and allow the sugar to dissolve while slicing the peaches.

Squeeze the juice from ½ a lemon into the bottom of a large bowl.

Peel and slice the peaches into ¼ ths putting the peach slices into the bowl with the lemon juice to prevent browning. Add more lemon juice as needed if peaches begin to darken.

Remove about half of the water & sugar from the pot and reserve.

Bring the remaining sugar water to a boil. Add as many of the peach slices as possible into the pot of boiling sugar water. Stir the peach slices for a couple of minutes until the peaches are heated through.

Remove one pint jar from the hot water at a time. Into each jar place 1 tablespoon lemon juice, ½ a cinnamon stick, 1 vanilla bean cut in half and split.

Carefully ladle peaches into each jar. Fill each jar with the light syrup leaving ½ inch headspace.

Remove all air bubbles by running a chop stick or similar non metal item around the edges of each jar.

Wipe rim of jar with a damp paper towel.

Place a flat lid and band on each jar. Set filled jars aside.

Repeat as needed filling all of your jars until you run out of peaches.

When the light syrup gets low in the large pot replenish with reserved syrup and bring to a boil.

Process filled jars in a hot water bath for 20-30 minutes.

After five minutes remove each jar from the canner and cool on a towel for 24 hours.

Check for a proper seal before storing.
Recipe Expert Tips
Nutritional values per jar.
Nutrition
Serving:
1
Pint
Calories:
229
kcal
Carbohydrates:
58
g
Protein:
2
g
Fat:
1
g
Saturated Fat:
1
g
Polyunsaturated Fat:
1
g
Monounsaturated Fat:
1
g
Sodium:
20
mg
Potassium:
378
mg
Fiber:
4
g
Sugar:
54
g
Vitamin A:
635
IU
Vitamin C:
13
mg
Calcium:
50
mg
Iron:
1
mg
Tried this recipe?
Share a picture on Instagram and tag @flouronmyface2
 Head over to my canning recipes page for more canning recipes.