Today I am going to show you how to make Instant Pot Kabocha Squash, a winter squash also known as Japanese pumpkin.
Kabocha squash is a very easy Instant Pot recipe that makes cooking a whole unpeeled Kabocha squash so simple in the Instant Pot.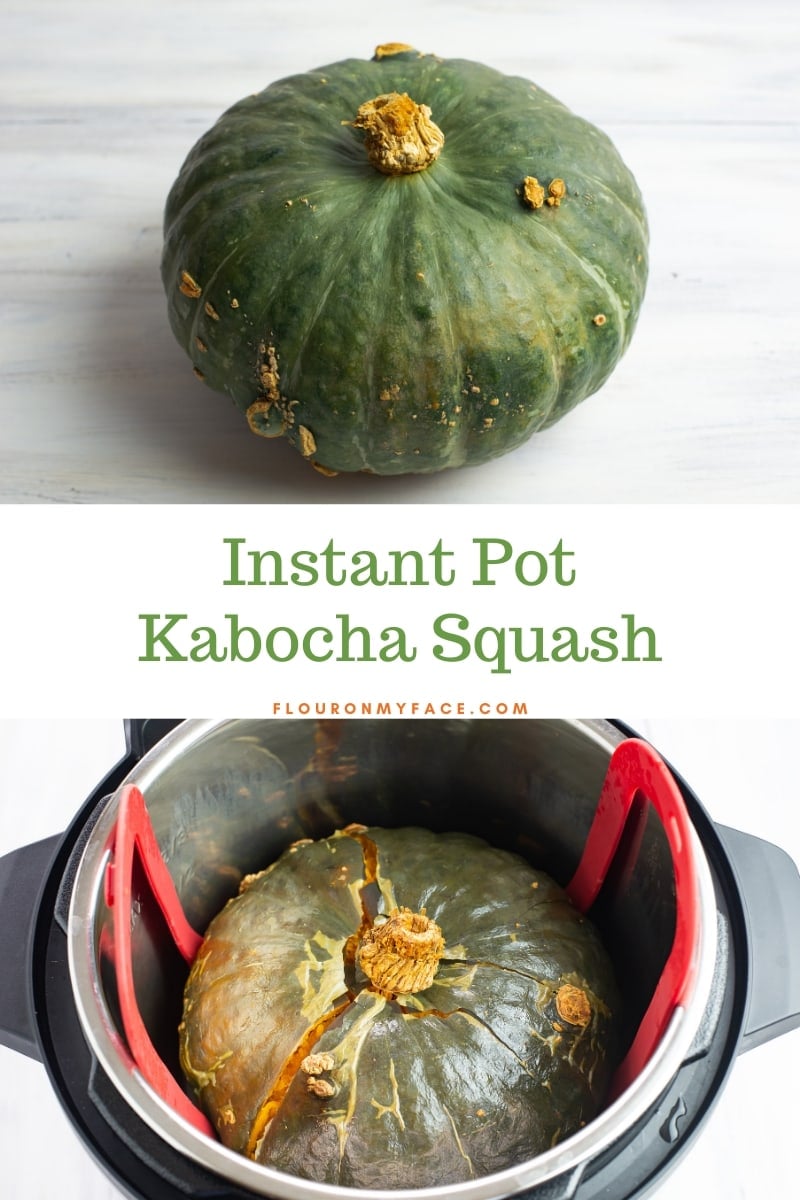 No more worries about struggling to cut through the tough winter squash skin with a knife.
Cooking Whole Kabocha Squash in the Instant Pot
Cooking a whole kabocha squash in the Instant Pot is just as easy as cooking a whole butternut squash or pressure cooking a mini pie pumpkin to make pumpkin puree.
You can even cook a whole spaghetti squash in the Instant Pot without cutting or peeling.
You can find more of my Instant Pot recipes on my Instant Pot recipes page.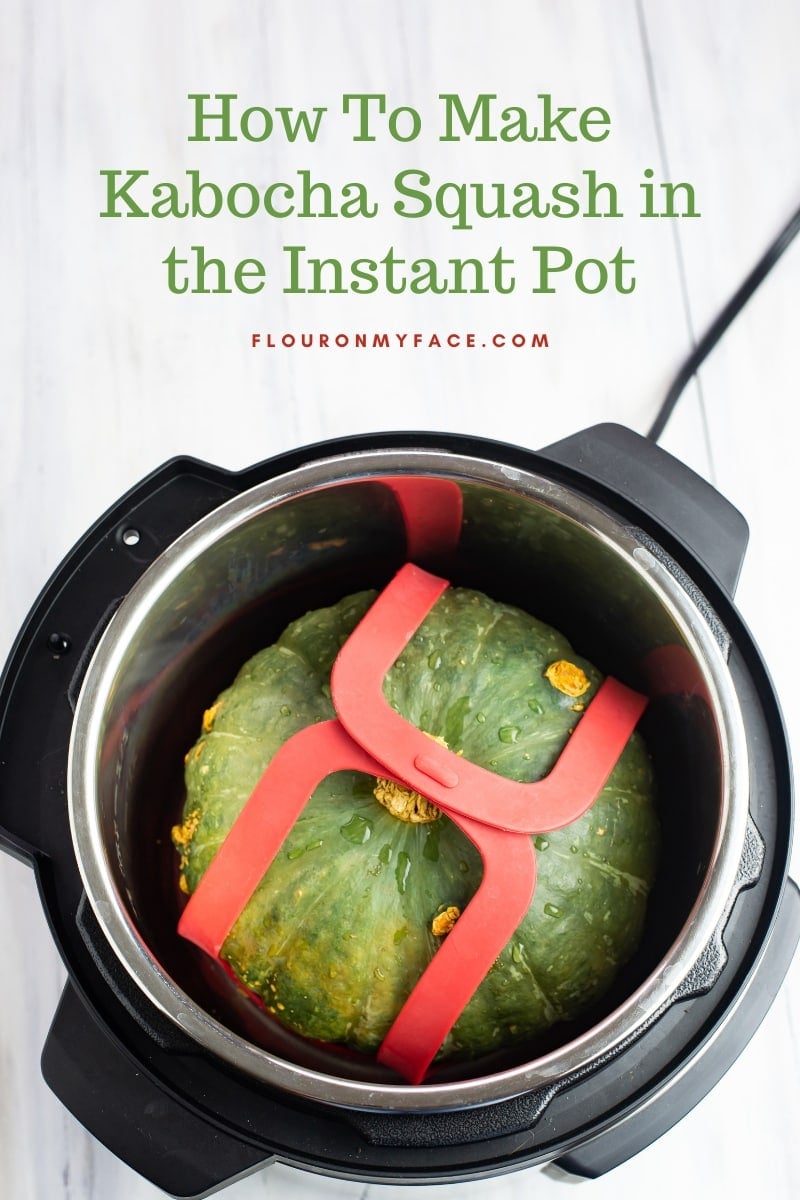 How to safely cut squash with thick skin
For years I struggled with cutting winter squash with a thick skin. The thick skin on many winter squash like kabocha squash, butternut squash, and acorn squash is very difficult to cut through.
I would struggle with a very sharp knife and always worried about cutting myself.
I finally figured out that I didn't need to cut the tough skin of a winter squash if I cooked it first. If you pressure cook whole squash you don't have to struggle cutting the hard skin with a knife.
The thick squash skin is soft and just about peels itself after it has been pressure cooked.
What is Kabocha Squash?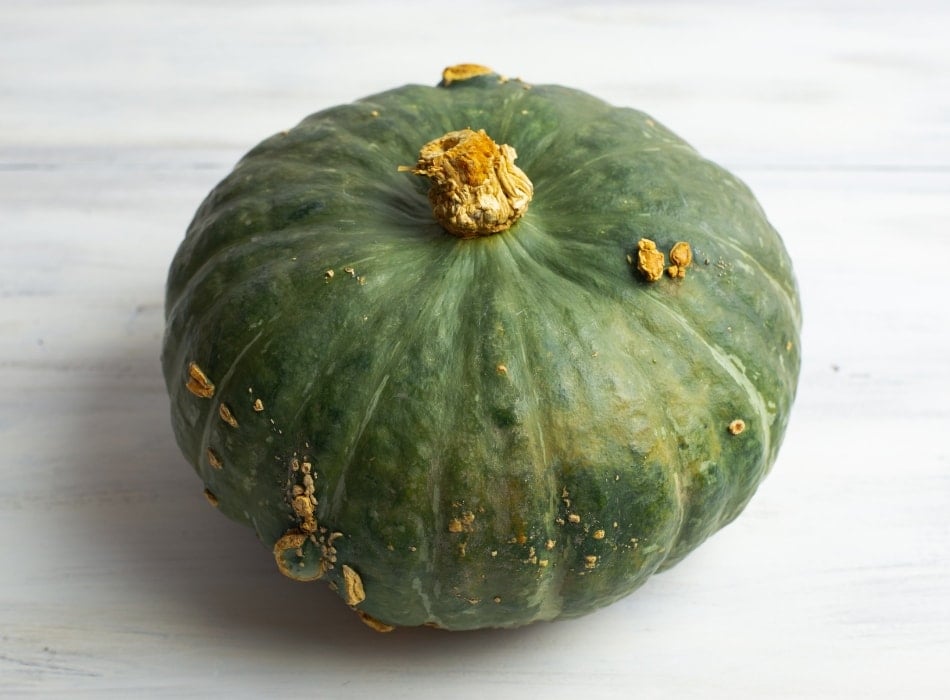 Kabocha squash is a new to me winter squash variety. This year was the first time I had ever eaten this squat green bumpy squash. The delicious flavor is almost indescribable.
Kabocha squash has a buttery nutty sweet rich flavor with a hint of sweet potato and pumpkin. Which makes perfect sense since a kabocha squash is in the pumpkin family.
How To Eat Kabocha Squash
Kabocha squash can be eaten like any other winter squash. You can cook it firm and cut it into cubes or you can cook it until it is so soft and tender that you can mash it with a fork.
You can make mashed Kabocha squash and eat it just like you would any other mashed squash. Or can be used in other mashed squash recipes and make a recipe like Kabocha Squash Casserole with a brown sugar and pecan crumb topping..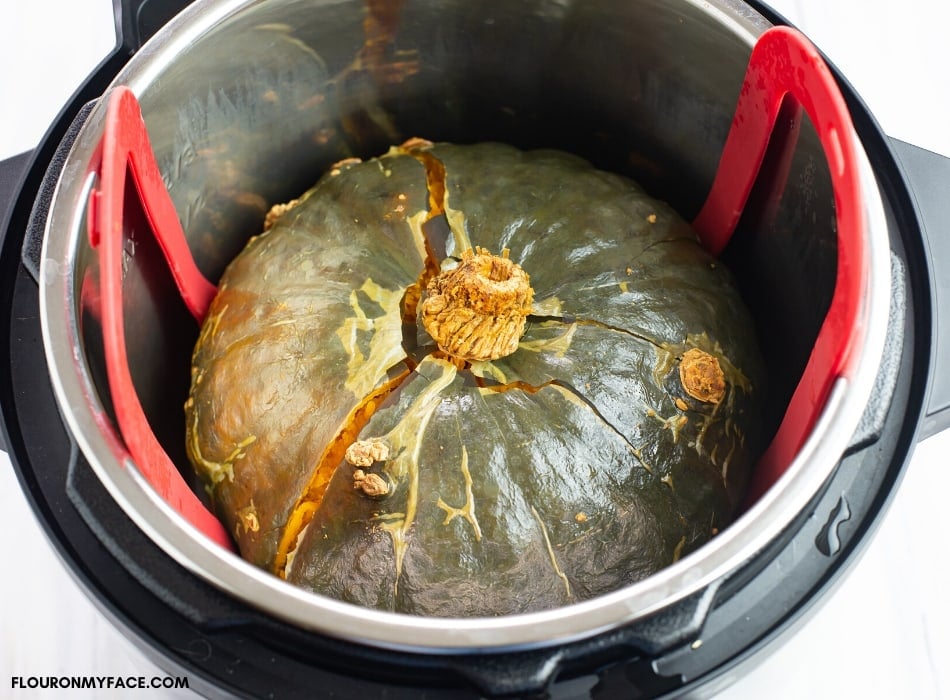 Kabocha Squash Nutritional Info
Kabocha squash is low in calories and carbs with only 49 calories and 12g of carbs per a one cup serving of cooked Kabocha squash. Compared to butternuts squash with 82 calories and over 21g of carbs per one cup serving.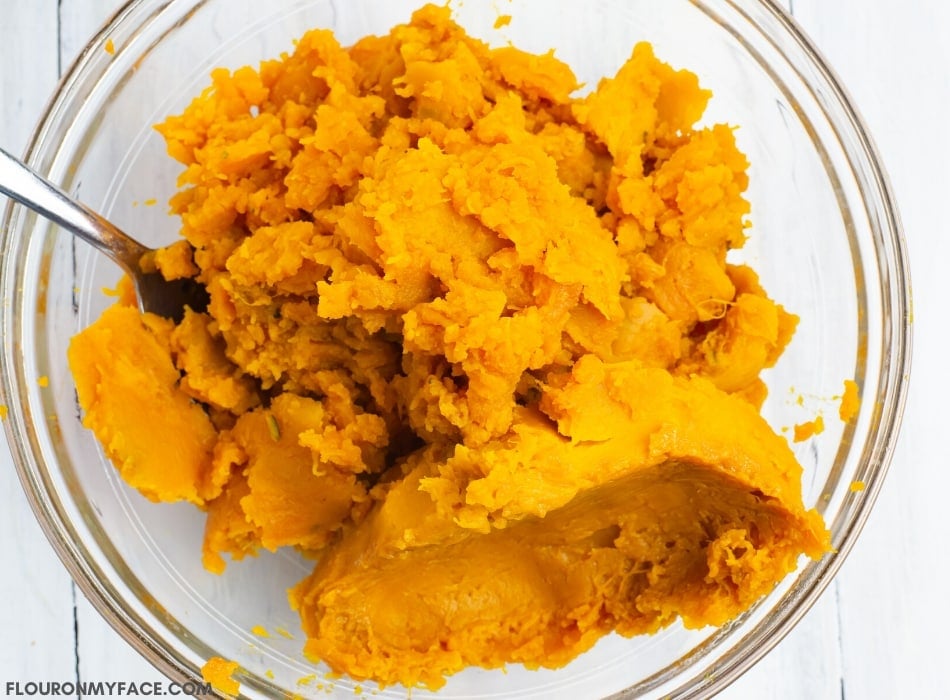 How much mashed squash from a Kabocha squash?
A five pound uncooked kabocha squash will yield 5 cups of cooked mashed kabocha squash. Allow one pound of uncooked Kabocha squash for each cup of cooked squash needed.
More Squash Recipes
Now that you have seen how easy it is to make mashed Kabocha squash in the Instant Pot you need a few recipes to make with your mashed. You can substitute Kabocha squash in a recipe for any other mashed squash.
Print the Instant Pot Kabocha Squash recipe below!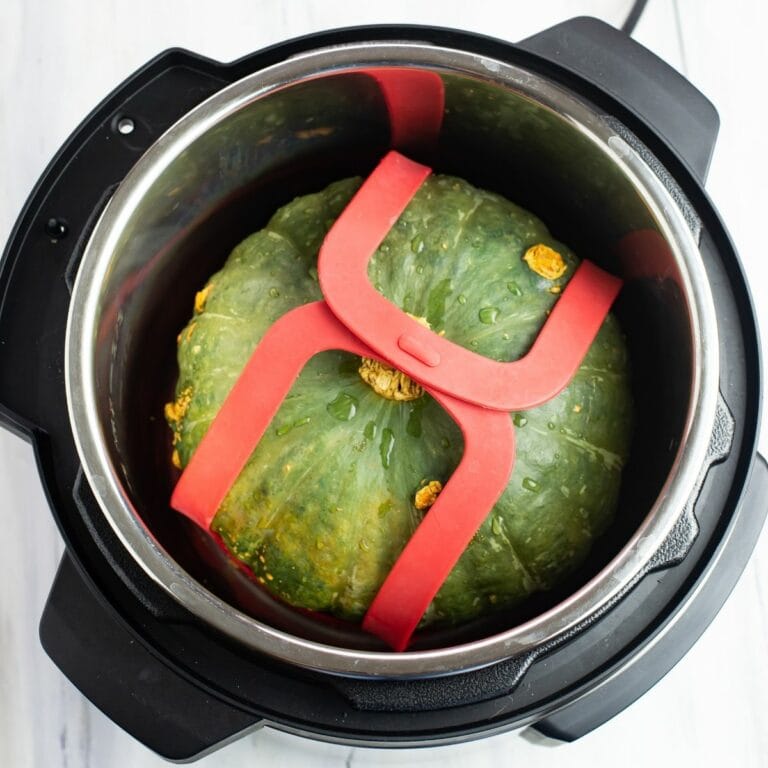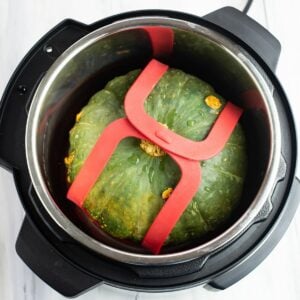 How To Make Instant Pot Kabocha Squash
How To Make Instant Pot Kabocha Squash
Cooking a whole kabocha squash in the Instant Pot is very easy.  This Japanese winter squash is delicious and has a sweet nutty flavor with a hint of pumpkin and sweet potato.  Once cooked you can use mashed Instant Pot Kabocha squash as a side dish or use it in any other recipe that calls for mashed squash.
Rate this Recipe
Ingredients
4

lb

Kabocha Squash

1 ½

cups

water
Follow Flour On My Face on Pinterest
Instructions
Scrub the outside of the kabocha squash well under running water.

Place a silicone rack in the bottom of the IP.Add the water. If using a 6 quart Instant Pot add 1 cup of water. If using a 8 quart Instant Pot add 1 ½ cups of water.

Place the lid on the IP and turn the vent to the sealing position.

Press the manual button and set the timer for 20 minutes for a 5 lb kabocha squash. 

If pressure cooking a smaller squash reduce the pressure cooking time accordingly. For example if cooking a 3-4 pound squash cook for 15 minutes. If cooking a kabocha squash that is 2 lbs. or smaller cook for 10 minutes.

Once the pressure cooking time is done quick release the steam by sliding the pressure valve to the venting position.

Remove the lid venting the steam away from your face.Allow the steam to dissipate.

Lift the kabocha squash up with the silicone handles.

Place the squash on a cookie sheet or in a bowl to cool.

Once the squash has cooled enough for you to handle it safely pull the skin away from the flesh. 

Cut the squash in half and use a spoon to scoop the fibers and seeds from the inside of the squash.

Scoop the cooked flesh of the kabocha squash from the skin and place in a bowl.

Mash the squash and store in the refrigerator until ready to use.
Recipe Expert Tips
Any type of squash can be pressure cooked.
Adjust the pressure cooking time based on the size of the squash.
Freezes well.
Nutrition
Serving:
1
cup
Calories:
123
kcal
Carbohydrates:
31
g
Protein:
3
g
Fat:
1
g
Saturated Fat:
1
g
Sodium:
18
mg
Potassium:
1270
mg
Fiber:
5
g
Sugar:
8
g
Vitamin A:
4960
IU
Vitamin C:
45
mg
Calcium:
104
mg
Iron:
2
mg
Tried this recipe?
Share a picture on Instagram and tag @flouronmyface2