Carambola and Strawberry Jam
I may have mentioned somewhere on line, either on twitter or my facebook page that my husband has been pestering me to make some carambola and strawberry jam. Honestly I can't believe that it left such an impression on him the first time I made it that he wanted it again.  You see it has been more than five years since I made my first batch of carambola and strawberry jam.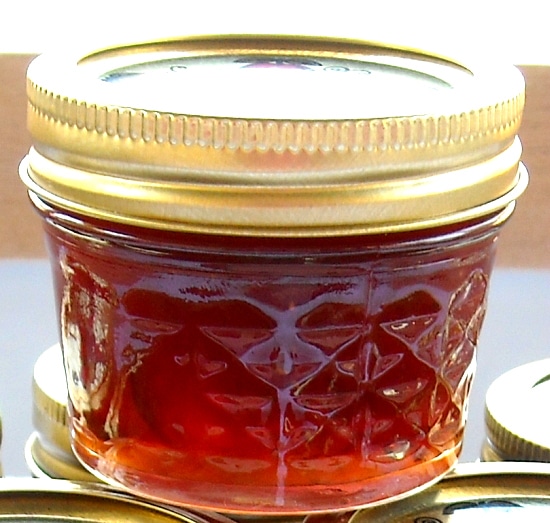 My husband is a

PITA

picky eater. Some of you may be shocked to learn that most of what I cook or bake for my blog doesn't get consumed by him. There are things he will eat and things he absolutely will not eat. Do you have a family member like him? If so you know what I mean. Most of the meals he does eat just aren't pretty enough for my blog. 
The rest of the family enjoys the things I make but he is one of those people who if it is made a different way or I have added an ingredient to change things up he refuses to eat it. Like I said he is a PICKY eater.
The real reason I suspect he was pestering me to make it is 
because
 he had been bragging for months while the carambola were in season ( star fruit is a winter fruit here in Florida ) to a couple of his friends how great the first batch was. 
Even though my husband won't eat some of the things I make he loves to brag to his friends. Because their wives are not cooking and baking the way I do. Their wives have probably never whipped up a couple of loaves of bread, made jams or jellies, baked a cake from scratch or actually cooked a meal that didn't come out of a box or the freezer section of the grocery store for that matter. 
 The grocery stores are all out of 
carambola
 now or at least the one I checked was, after I realized I wasn't sure I had enough on hand for this batch of jelly. Luckily I had just enough fruit to make this batch.
 My son happens to have a very productive carambola tree in the yard of the house he rents. All winter long we picked from that tree and the kids ate fresh 
carambola
. I'm sad to say my son will be moving next month so we won't be able to enjoy the fresh picked carambola next winter. But my husband had picked the last fruit that was left on the tree the other day and I knew I had to make a batch of this jam before the fruit spoiled. So here we are.
Before beginning any jam or jelly making session you should already have your jars, lids and canning tools sterilized and at the ready.

How to prepare jars for canning or making jelly
Sterilize your jars by placing them into a pot of boiling water until 
completely
 submerged. Remove them from the boiling water and place them upside down on top of a dish towel.  Also dip your funnel and ladle into the boiling water and place at the ready on your dish towel.
Place the flat lids into a small pot and bring to a boil. Turn heat off and leave lids in hot water. 
Canning Tip
Always prepare a few extra jars and lids then your recipe calls for. You don't want to be caught with enough jam to fill an extra jar or so and not have a sterilized jar ready.
Print
Florida Fresh: Carambola and Strawberry Jam
Author:

Prep Time:

15 mins

Cook Time:

25 mins

Total Time:

40 minutes

Yield:

6 1/2 pints

Category:

Jam
---
Description
Carambola fruit is widely known as starfruit
---
Ingredients
4 cups sliced carambola
4 cups sliced strawberries
7 cups sugar
2 tbs lemon juice
1 pack liquid pectin
1 tsp butter or margarine
---
Instructions
Wash and remove any blemishes from the carambola fruit.
Slice them and the remove all seeds before putting the fruit in the pot.
Wash hull and slice strawberries.
Add the sugar into the large pot with the fruit and place on the stove on a medium heat.
Stir the fruit and sugar with a wooden spoon to get the fruit juices flowing.
Add the lemon juice and butter or margarine to the pot.
The butter or margarine will help cut down on foam.
Stir the sugar and fruit occasionally.
Allow the sugar to melt completely on the medium heat.
You don't want the sugar crystals to burn from too high a heat at this point.
Once the sugar has melted turn the heat up to medium high, carefully stirring occasionally and bring to a rolling boil.
Add the liquid pectin and bring to a rolling boil once again.
Cook fruit mixture for one full minute using a timer.
Once the minute is up remove from the heat to your countertop.
Wait until the mixture settles down and skim the foam from the top with a large spoon.
Using a ladle and a wide mouth funnel fill your jars leaving 1/4 of head space.
Wipe the rims of the jars with a damp paper towel and put the flat lid on.
Screw your lid bands on.
Continue filling all your jars and process in a boil water bath for 10 minutes.
For more canning recipes like this Carambola and Strawberry Jam recipe check out my canning recipe page.