25 Little Girl Tea Party Ideas
Summer is the perfect time to host a tea party for your little girl. This 25 Little Girl Tea Party Ideas roundup features some of the best little girl tea party ideas out there ranging from how to host a tea party to tea party treats and tea recipes!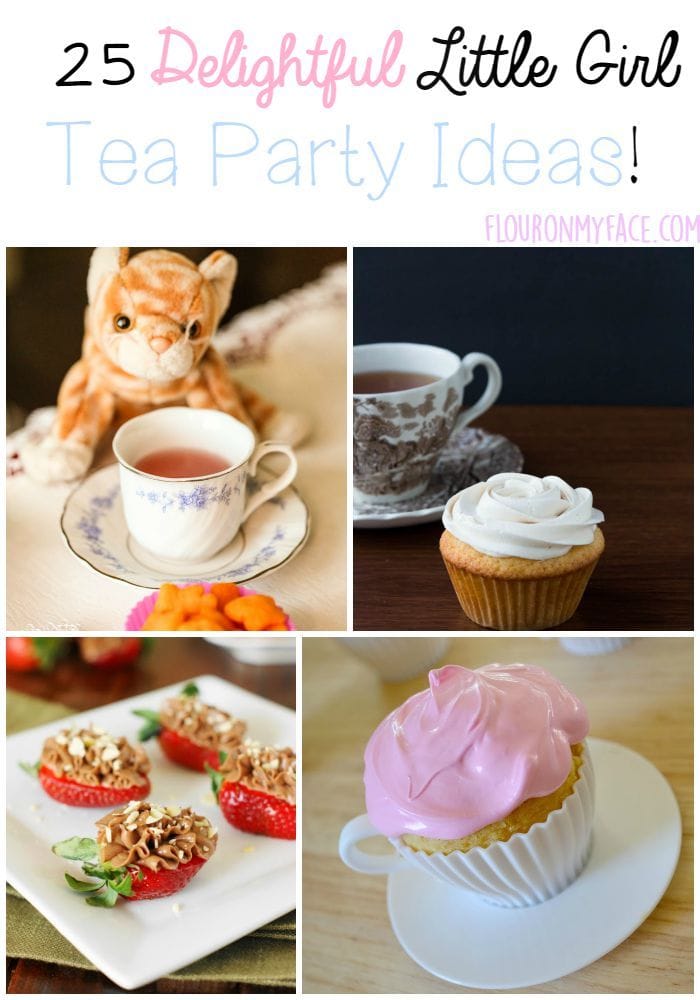 I was just telling my oldest granddaughter Hailey how I have always wanted to host a garden tea party for all the grandchildren. I asked her if she would ever want to have a tea party birthday party  . She wasn't too impressed with the idea. It's a good thing I have two other granddaughters to talk into the idea.
If the granddaughters don't warm up to the idea I may just have to host an adult tea party instead. Tea parties aren't just for the kids you know. But I bet when I ever get around to hosting my adult tea party the granddaughters will be highly insulted when they aren't invited.
Some of the 25 Little Girl Tea Party Ideas would be perfect an adult tea party also.
25 Little Girl Tea Party Ideas
First, read about how to host a simple kid's tea party:
1. How To Host A Simple Kid's Tea Party
Then, get some great iced tea recipes for your party!
Make some delicious tea party treats:
3. Nutella Strawberry Cheesecake Bites
4. M&M Brownie Party Pie
5. Earl Grey Tea Latte Cupcake
6. Adorable Teacup Cupcakes
7. Snowflake Cupcakes
8. Frozen Inspired Cupcakes
9. Healthy Yogurt Parfait Party Snacks
10. Earl Grey & Chocolate Shortbread Tea Bag Cookies
11. Pink Ombre Cake
12. Raspberry Chocolate Cake
13. Oreo Ice Cream Cupcakes
14. No Bake Fruit Pizzas
15. Lemon Currant Cream Scones
16. Birdie Teacup Biscuits
17. No Churn Mint Chocolate Chip Ice Cream
18. Alice's Earl Grey Tea Cakes
19. English Crumpet
Then check out these super cute ideas for your tea party:
20. DIY Cupcake Stands
21. High Tea Party Invitations
22. Peony Centerpiece
23. DIY Heart Tea Bags
24. Tea Party Printables
25. Origami Butterfly Teabags
If you enjoyed the 25 Little Girl Tea Party Ideas head over to my party category to check out some of the other fun party ideas I have shared.