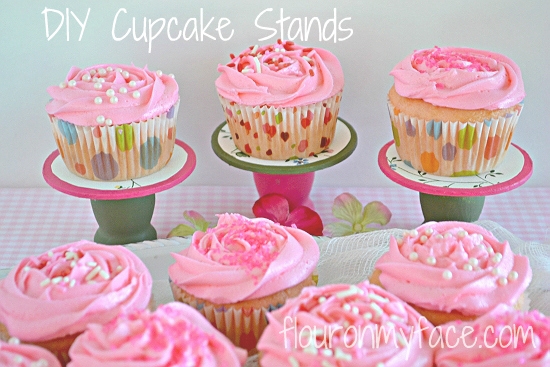 DIY Mini Cupcake Stands
Pinterest is a wonderful thing. And if your like me you are pinning away not a care in the world. There is no way I could  make or create everything  I have been  saving to my virtual pinboards.
I'm a "collector". Back when I first got on the internet I collected favorites or bookmarks. I had thousands of them. Now I just pin things on Pinterest.
Actually I've made a few things I have pinned. On the percentage scale I've made less then one percent of the things I have pinned!
These DIY mini cupcake pedestals where inspired by a pin.
I had to go hunting the original blog post by Modern Moments Designs and repin it because I couldn't find my original pin.
I could not find the exact mini candle sticks she used. I searched and search all the stores here in town.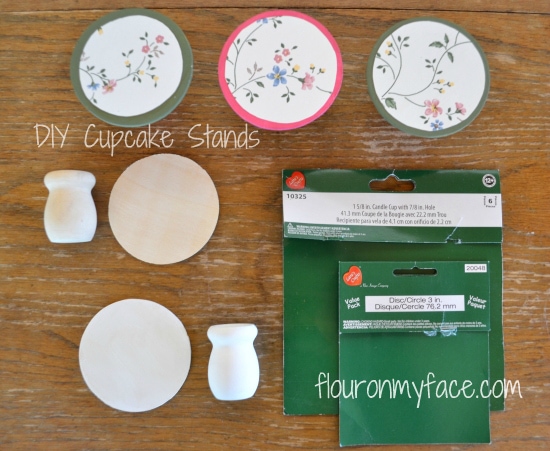 Finally I found these mini little 1 ⅝ inch candle cups made by the same company at Michael's craft store.
Since I had been looking for so long and hadn't found the candelabra sticks I decided to go with the candle cups instead. Plus they would work well for a garden tea party I wanted to have for my granddaughters. The shorter candle cup made me think of a mushroom. It was more playful and would be perfect for a little girls tea party. These would also work great for a little girls garden party, butterfly themed party or a fairy themed party.
I never did get a chance to have the tea party and now it is too hot and raining almost everyday. Maybe I'll have a chance to do it in the fall when it cools down and it isn't the rainy season here in Florida.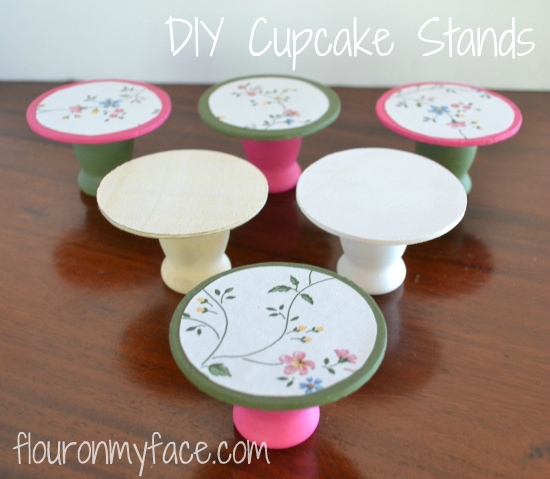 To make these mini cupcake stands or cupckae pedestals you will need:
1 package unfinished mini candle sticks or candle cups
1 package of unfinished 3 inch wooden circles/disks
gesso, white acrylic paint or spray paint
acrylic paint in your choice of colors
wallpaper or scrapbook paper in pattern of choice
wood glue
paper glue
a paint brush
scissors or a circle cutter
wax paper or parchment paper
optional: clear varnish
I did things a little differently then the original instructions from the pin. I happen to have lots of acrylic paint on hand because I was very involved in mixed media art before I started my food blog. If you would like to see some of my artwork you can check it out at Altered By Me.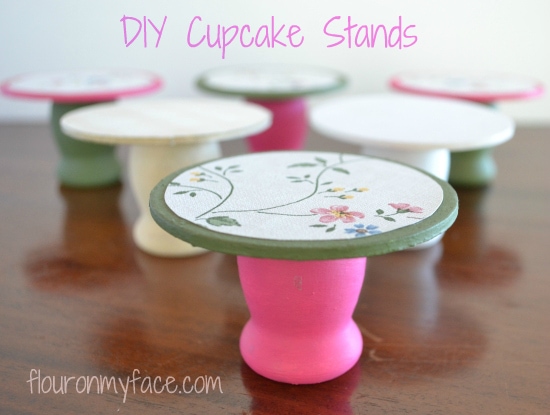 Using spray paint would make the process move along much quicker and cut out the drying time of the acrylic paints but I didn't want to spend the money on spray paint when I literally have buckets full of acrylic paints in many different colors on hand. Acrylic paint is so much cheaper then a can of good spray paint so if you don't have any laying around the house like I do and you want to cut costs go with the acrylic paint.
It's cheaper,  safer and less messy to use then spray paint.
Step One:  Sand the rough edges off the wooden circles and wipe the dust off with a soft cloth. No sandpaper on hand? Use an emory board.
Step Two:  Using the gesso or white acrylic paint give all your wooden pieces a couple of base coats. This is what gives you a nice smooth and even surface when you use acrylic paints. It covers all of the wood grain and gives you a nice smooth surface to paint on. Set the wet pieces on a piece of wax paper or parchment paper to dry. Let air dry completely between coats or use a heat gun if you happen to have one. The wax or parchment paper will not stick to the paint as it dries and when the pieces are completely dry just pull the wax/parchment paper off the pieces. It won't pull any of the paint off and damage your pieces.
Step Three: Once the base coats are dry paint the candle cups and wooden circles the colors you have decided on. I decided to go with two different colors, one for the bottom and a different color for the top. Depending on the brand of paint your using you may have to paint two or more coats. I love Americana brand of acrylic paints. This brand is a tiny bit more expensive but worth it because it is so thick and creamy that one coat will do it in most cases. Place the wet pieces on the wax or parchment paper to dry.
Step Four: Cut a circle out of a piece of recycled  wallpaper or a pretty piece of scrapbook paper. I had some old wallpaper books on hand so I used wallpaper but you could also use scrapbook paper. If you decide to go with the scrapbook paper I suggest you use a clear varnish coat on top to protect the paper from any cupcake crumbs or frosting that might fall on the paper. That's why I went with the wallpaper I had on hand. Wallpaper will make clean up easier since it is safe to wipe it off with a damp sponge without damaging it. Glue the wallpaper or scrapbook paper to the center of the wooden circle with a good all purpose white glue. Let the glue dry.
Step Five: Center the wooden candle cup on the bottom of the painted wooden circle. I eyeballed it. Run a thin bead of glue around the edge of the candle cup. Join the two pieces. Wipe off any excess glue from around the edges with a damp cloth, paper towel or baby wipe. Set the top side of the cupcake stand upside down  on a level surface to dry. Allow the wood glue to dry for 24-48 hours.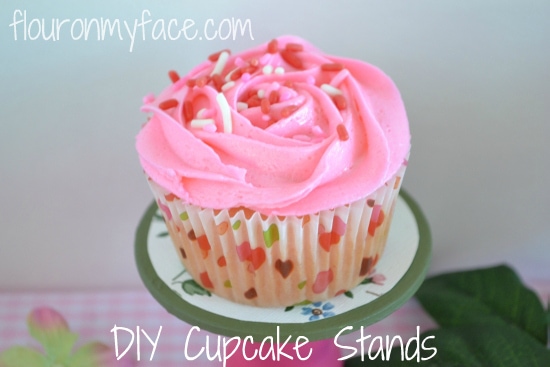 Have you made or created something you have pinned on Pinterest and posted it to your blog?
Happy Pinning!