I have been making jams for a very long time. I say jams and not jellies because I don't think I have ever actually made a batch of jelly. I love nice thick and chunky jam so that is what I make. Nothing in the world can compare to smearing a big dollop of homemade jam on a fresh baked biscuit for breakfast.
This lovely Pear Vanilla Jam recipe from Food in Jars has become my new favorite jam!
Scroll down to get the FREE Printable Pear Vanilla Jam canning labels!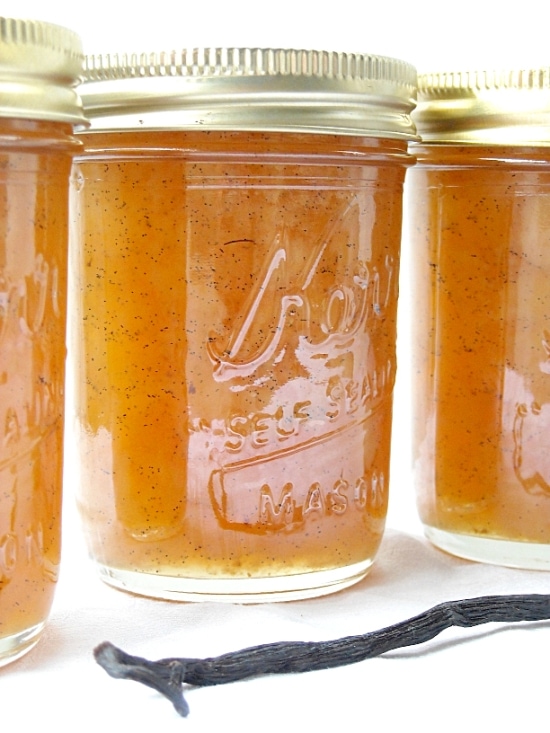 I have my favorite recipes that I usually make each year. Well, not really each year because sometimes a year goes by that I don't make any jam.
During the years that I am jamming I always make strawberry. The one recipe that might come close to a jelly is a jalapeno jelly I make.
I call it jelly but I like it hot so it does have chunks of jalapenos in it.
It just sounds funny when I call it jalapeno jam. What used to be my most favorite jam that I make is a strawberry and blueberry blend. Notice I said used to be
Let me introduce you to Pear Vanilla Jam by Marisa the author of Food In Jars.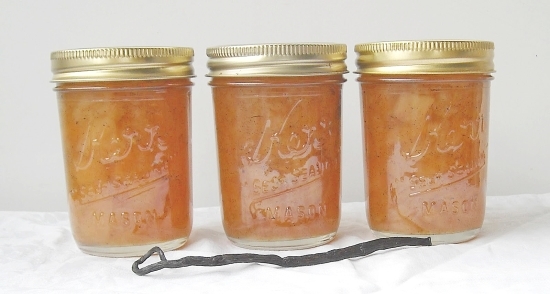 I came upon this lovely pear canning recipe back in February on this lovely canning blog that I found a few years ago.
Food In Jars is the ultimate in canning information and yummy canning recipes. I was so excited when I saw the recipe on the blog that I forwarded it to one of my other email addresses so I wouldn't forget about it.
A few weeks ago pears went on sale! Woo Hoo. I have to be honest with you. I didn't know what to expect. I had never made any kind of jam recipe with pears before.
And I also have never flavored a jam with vanilla beans. As a baker I of course love vanilla. I use it in almost every dessert recipe I bake.
This recipe turned out so lip smacking good that the next day I went out and bought more pears and made another batch.
I think I am obsessed with this stuff. I'll be posting a recipe where I used this melt in your mouth jam as a filling.
I've hidden all my jars of Pear Vanilla Jam. I don't want to share it! Normally I am very generous with my homemade goods but not this time. No siree it's all mine! Sorry but I am not sharing!
Free Printable Pear Vanilla Jam Canning Labels
This year (2016) I had CanningCrafts.com design some custom printable canning labels for the Lovely Delicious Pear Vanilla Jam recipe.
It is my gift to you! This Pear Vanilla Jam post is one the most popular canning posts on my site.
Free Canning Labels
You can download and print the Free Printable Pear Vanilla Jam canning labels.
Print them on (affiliate link) Avery Template 5294 round labels or Avery full label sheet and cut them out.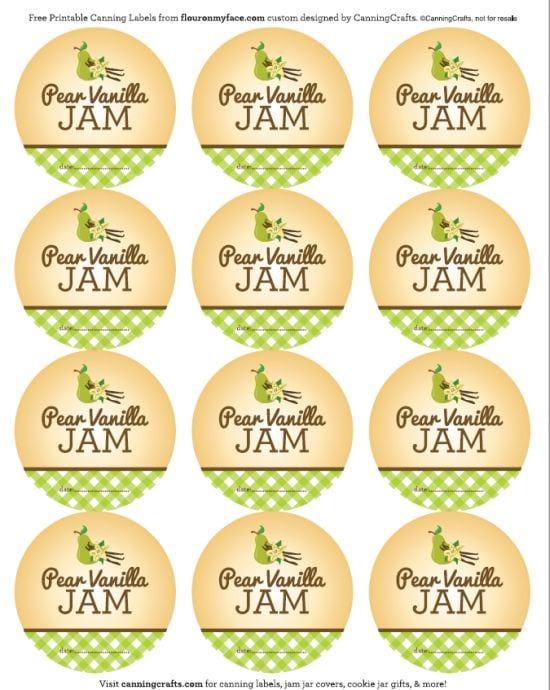 More Vanilla Canning Recipes
Looking for more Canning Recipes?
Check out my page packed full of canning recipes for you to try.