Balsamic Roasted Peach Vanilla Butter
This Balsamic Roasted Peach Vanilla Butter recipe came to be in part because I have found that I love roasting fruit with balsamic vinegar and I had a bunch of peaches left over from the Spiced Vanilla Peaches I canned for the Washington State Fruit Commission as a Canambassador.
In the past few months I have been obsessed with roasting fruits and vegetables in Balsamic vinegar. With an over abundance of peaches this summer I had to come up with a way to use them up before they went bad.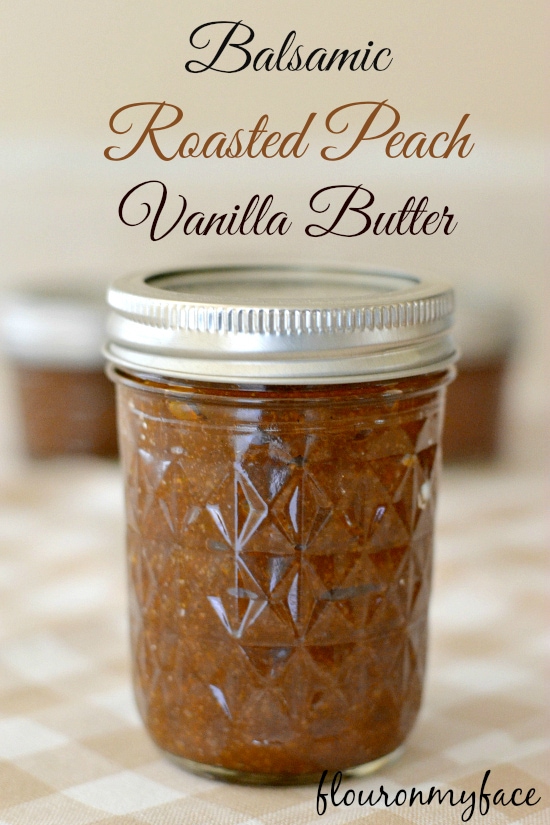 Well I made balsamic roasted peaches, I made a quick 2 ingredient homemade ice cream with Balsamic Roasted Peaches and now I have made this Balsamic Roasted Peach Vanilla Butter. The ice cream was to die for! The balsamic roasted peaches I ate straight out of the roasting pan.
I tasted some of the Balsamic Roasted Peach Butter straight from the pot before I canned it and all I can say it yes! It is going to be wonderful spread on a fresh hot biscuit.
This was my first time making a fruit butter and I can't wait to make some apple butter when the apples are in seasons. Cooking fresh fruit down really intensifies the flavors. I can't believe I waited this long to make a batch of fruit butter.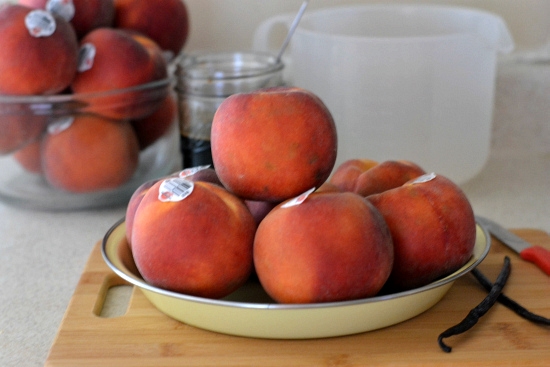 How to make Peach Butter
Making any fruit butter is a bit time intensive. Cooking the fruit down until it gets thick enough to spread takes a few hours. It is so worth it.
I've seen fruit butter recipes made in a crock pot and if you don't want to spend a couple of hours watching a pot on the stove you could cook this Balsamic Roasted Peach Butter recipe in a crock pot instead of on the stove. Just be sure to set the crock pot on low and occasionally stir the fruit so it does not scorch on the bottom.
To get started you will need to peel and slice the peaches. Everyone seems to have their own prefered method to peeling peaches. For this recipe I peeled the peaches with a sharp paring knife. Ripe fresh peaches can be peeled very easily this way. Or you could score the peaches and dip them in boiling water and then plunge them in an ice bath. I've never used this method myself. Do whatever works for you.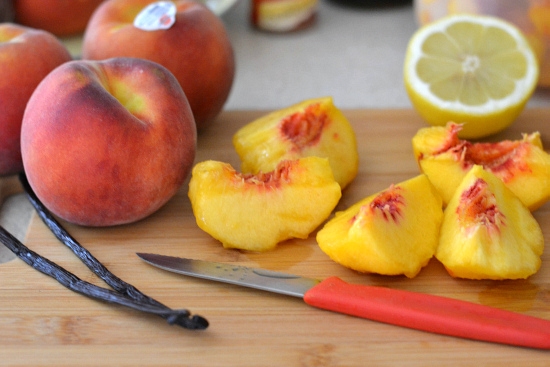 Once the peaches are peeled and sliced you will roast them with some balsamic vinegar and brown sugar.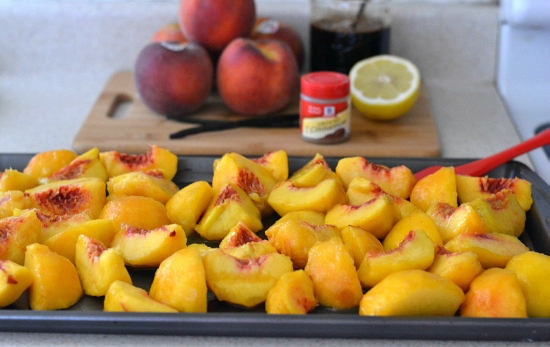 When the balsamic peaches are done roasting transfer them along with all the liquid from the roasting pan to a large non reactive pot. Add some vanilla bean, lemon juice and cinnamon to the pot. If you are using a crock pot you would add all the ingredients to the crock pot instead of a large pot.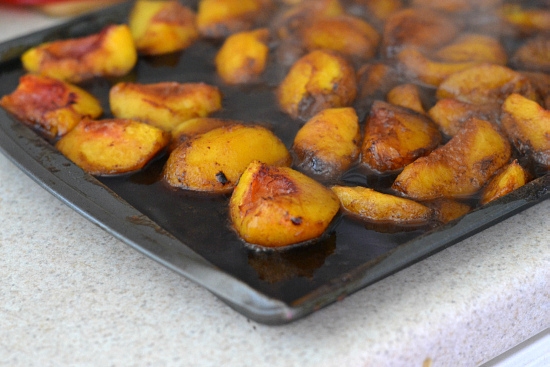 Cook the peaches from 1 ½ hours to 2 ½ hours until they have reduced and have thickened. Allow the peaches to cool slightly and pulse in a blender until smooth. Return to the cooking pot and heat until almost boiling. Fill the jars with the hot balsamic roasted peach butter and process in a hot water bath for 20-25 minutes.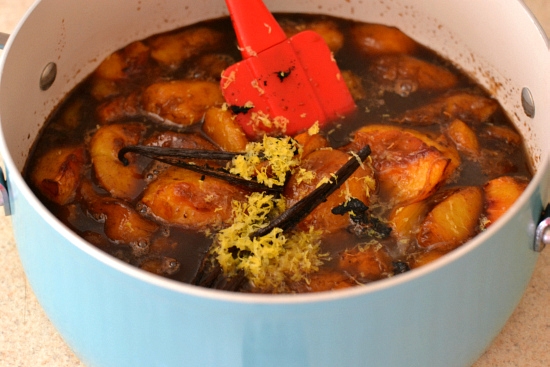 You can find the full Balsamic Roasted Peach Butter ingredient list and step by step instructions below.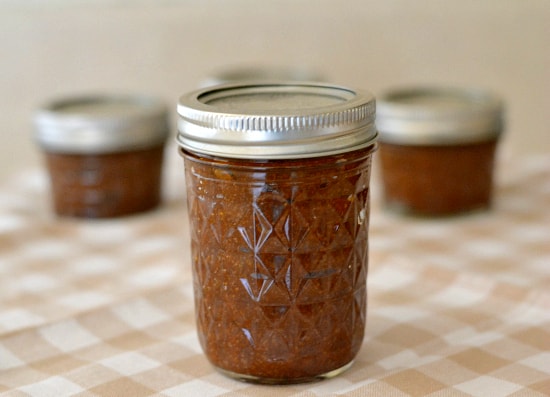 How To Make Balsamic Roasted Peach Vanilla Butter
8 cups of fresh peaches,peeled and cut into ¼th

¾ cup balsamic vinegar

¼ cup dark brown sugar

juice and zest of one lemon, divided

2 vanilla beans

1 teaspoon cinnamon
In a jar or bowl put the balsamic vinegar and brown sugar.

Stir to dissolve and set a side.

In a 8 cup measuring bowl or a large bowl squeeze the juice from one half of the lemon.

Peel the peaches using which ever method you prefer.

Cut each peach in half and remove the pit.

Cut each peach half in half.

Place the peach pieces as you peel and cut them in the bowl with the lemon juice to prevent browning.

Preheat the oven to 375"F

Pour the peeled and cut peach pieces onto a large baking sheet.

Mix and pour the balsamic vinegar and brown sugar over the peaches and toss to cover all sides.

Place the baking sheet into the preheated oven and roast for 20 minutes, occasionally tossing.

Increase the oven temperature to 400 degrees and roast for an additional 10 minutes, again tossing occasionally.

Carefully remove the baking sheet from the oven being careful not to spill the juices.

Allow to cool slightly.

Using a thong place the peach pieces into a large non reactive sauce pan and carefully pour the liquid from the baking sheet into the pot with the roasted peach slices.

Add the juice from the remaining lemon half, the zest from both halves of the lemon, and the cinnamon to the pot.

Cut 2 vanilla bean in half and scrape the vanilla seeds into the pot.

Add both vanilla bean pods to the pot.

Cook over medium heat until boiling.

Reduce temperature to a low simmer.

Simmer for 1½ - 2½ hours until thickened and peach butter mounds on a spoon.

Allow to cool slightly.

Place peach butter into a blender and pulse until smooth.

Return peach butter to the sauce pan and keep hot while you prepare your jars.

Fill jars leaving ¼ head space.

Process in a hot water bath for 20 minutes.

PREP TIME 15 mins TOTAL TIME 2 hours 35 mins