The Unexpected Hazards of Jalapeno Jelly
What you see in the picture below is the whole entire reason that I made jalapeno jelly this year. And to be honest my jelly was not as hot I would have liked it.  But there is a very legitimate reason why.
Let me tell you a little story about the first time I made jalapeno jelly and a very big lesson I learned the hard way.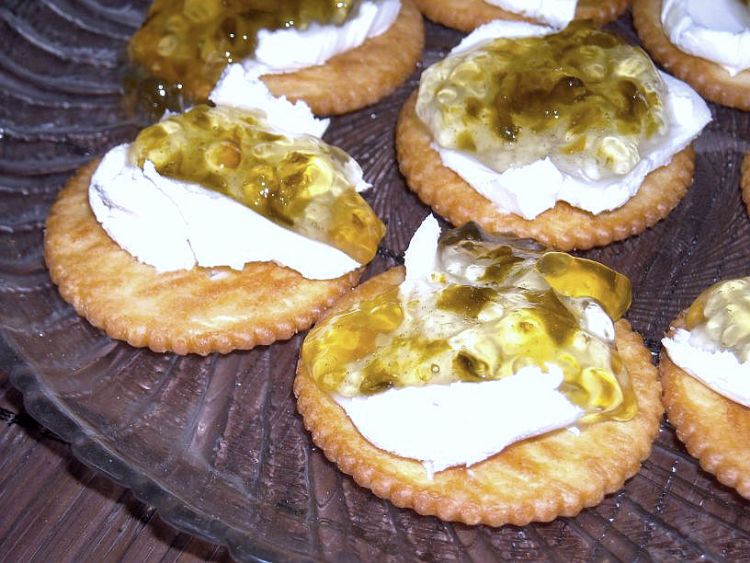 Now some of you may be cringing just from that innocent little sentence. You probably have your own little story about an adventure with Mr. Jalapeno.
Some of you may be thinking...... what? What is she talking about?
This story is for you.
It is to save you from the hell and misery that an encounter with a small green pepper can cause to the unsuspecting.
Flashback about five years ago. I was making jam all summer long. I had made mixed berry, blackberry jam, strawberry, peach, carambola and strawberry jam and jalapeno jelly.
I go through phases in my jam and jelly making. One year I will make a bunch of different kinds. Always my families favorites, strawberry, and peach.
My favorite happens to be the mixed berry which is strawberry and blueberry. Then a couple of years will go by.
The jam is long gone from the pantry and I start dreaming about the wonderful sweet taste of homemade jam on a piping hot biscuit, dripping with butter.
Once I start dreaming about homemade jam on a biscuit I know it is time to make some more.
I hit that point once again about a month ago.
And each time when that craze of jam making hits me and I make the families favorites I still have the urge to make more.
It's an addiction I know. But what can I say? There isn't a friend, family member or neighbor that will complain about my addiction because they all reap the benefits of my jam making. I am safe.
So after those two batches of favorite jams are made and I still have the fever I start thinking of something new and unusual to try like the starfruit and strawberry jam. If your wondering yes it was great.
So that year five years ago I decide I want to make some jalapeno jelly. I love hot and spicy food so I figure jalapeno jelly has got to be great.
I had never eaten it before in my life but for a couple of years, I had been enjoying my peach jam with some jalapeno poppers and one day I thought to myself....... I wonder how these poppers would taste with jalapeno jelly instead of the peach.
My taste buds would be in heaven from the double whammy of hot peppers with the sweet hot flavor of the jelly.
So I go buy a bag full of jalapeno peppers at the grocery store.
I get my jars all ready and start to prepare the peppers.
I use the liquid pectin when I make jam. Inside the box is a little leaflet with recipes for some of the most common jams and jellies.
I read over the jalapeno pepper jam recipe a few times before I started and the recipe calls for red and green peppers along with the jalapenos but I just can't wrap my head around the flavor of bell peppers with jalapenos so I decided I am just going to combine the measurements called for all the peppers and just use jalapenos.
I am standing at my sink slicing open the jalapeno peppers one after another, removing most of the seeds and most of the membranes where most of the heat is in any kind of hot pepper.
I had one of those little food processors for small jobs and I am pulsing the peppers until they are chopped up pretty good then measuring and dumping the peppers into the pot I planned to make the pepper jelly in.
By the way, do not stand with your nose right over the top of your food processor when processing hot peppers, then open the cover.
A big whiff of hot pepper vapor in your face is no fun! Ask me how I know : )
I must have been working at it for a good twenty to thirty minutes before I knew something was wrong.
Something was terribly wrong!!
My hands felt like they were on fire!! They felt like I had jammed them down into a pot of boiling water. I immediately stop cutting up the peppers, drop my knife into the sink and wash my hands with soap and water two hundred times.
Well, not really but I washed and washed and washed and it still didn't stop the burn.
What the heck am I suppose to do? I go to the internet of course.
Trusty Google and I have been friends for a long time. I am hoping and praying my friend won't fail me now.
The only answers I can find is to eat dairy products.
Well, I am pretty sure not even a gallon of sour cream is going to help me. My mouth isn't on fire anyway my hands are so I go back out to the kitchen and pour some milk over my steadily burning and throbbing hands.
Ah..... relief for just a couple of seconds but guess what? I still have to finish cutting up peppers, make the jelly and process the jam in the hot water bath.
After all of this, I decide there is no way I am giving up on this pepper jelly now. All I can think to myself is it better turn out to be the best jelly I have ever made!
I still have the remaining jalapeno peppers that need to be cleaned and chopped so I pull two plastic grocery bags out of the cabinet under the sink where I shove them, stick my hands inside and continue cutting up the peppers until I have the amount I need for the recipe.
For some relief, I shove my hands in a bowl of ice water for a few minutes and measure out the sugar and dump it into my pot.
Now if you haven't made any kind of jelly or jam yet you probably don't know this but it takes a good 20 to 30 minutes just to get your sugar and fruit or peppers from hell to the rolling boiling stage.
Thankfully the sink and stove are just a few feet apart and I can replenish my bowl of ice water as needed while I suffer wait for the sugar and peppers to come to a full boil so I can add the pectin, put the jelly in the jars and get done with this batch of jelly from hell.
Well, I wish I could end this story and tell you I made my jelly and my hands were fine after a few hours but that's not what happened.
I made the jalapeno pepper jelly and it turned out great alright. Even better than I expected but my hands burned and throbbed for at least 48 hours.
No matter what I tried, ice water, milk, yogurt, even sour cream it only soothed the pain briefly.
I went to bed that night with hands slathered in sour cream and plastic bags wrapped around them.
The next day the pain wasn't as unbearable but my hands still throbbed.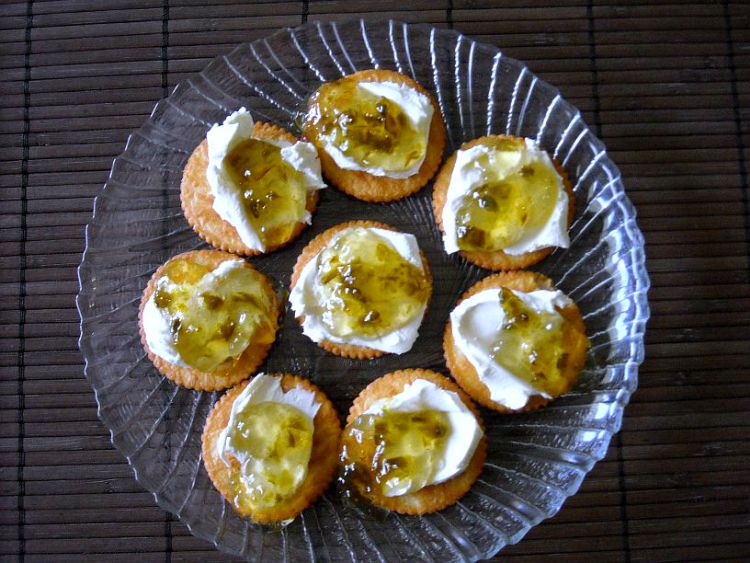 It took me five years to get over the traumatic pepper jelly experience but this year I faced the demons and made a batch of jalapeno jelly again.
Did I wear gloves? No.  I didn't have any. What I did do was wrap my hands in plastic grocery bags again.
I had such a hard time working with the slippery plastic that I didn't cut and chop as many peppers as I should have.
My jelly turned out great as you can see from the photo above. I just couldn't wait to smother a Ritz cracker with cream cheese and put a healthy dollop of jalapeno jelly on top. Crunch Crunch Yum Yum.
Next time I will get some gloves because the next flavor I want to make is cranberry and jalapeno jam.
I know it will be wonderful. I just have to wait for the cranberries to come back into season!