Disclosure: This is a sponsored post for Jarden Home Brands Can It Forward Day 2015 Live Event. All opinions are my own.
UPDATE: Unfortunately, because of unforeseen technical difficulties the Live Can It Forward Event was not live yesterday. I am so sorry. I know I was very disappointed myself. The taped version will be available soon. I will update this post and let you know when it is available!
This Saturday, August 1st is the 5th annual International Can It Forward Day Live event. This year I am hosting the Can It Forward Live Event widget right here on Flour On My Face. I want to invite you to an exciting afternoon packed full of canning fun.
I've tracked down some of the recipes that were supposed to be shared during the live event for you.
Marisa from Food in Jars shared: Gingery Pickled Blueberries
Liz from Hoosier Homemade shared: Spicy Corn Salsa
Christy from A Southern Plate shared: Green Tomato Relish
Malia from Yesterday on Tuesday shared: Apple Blueberry Jam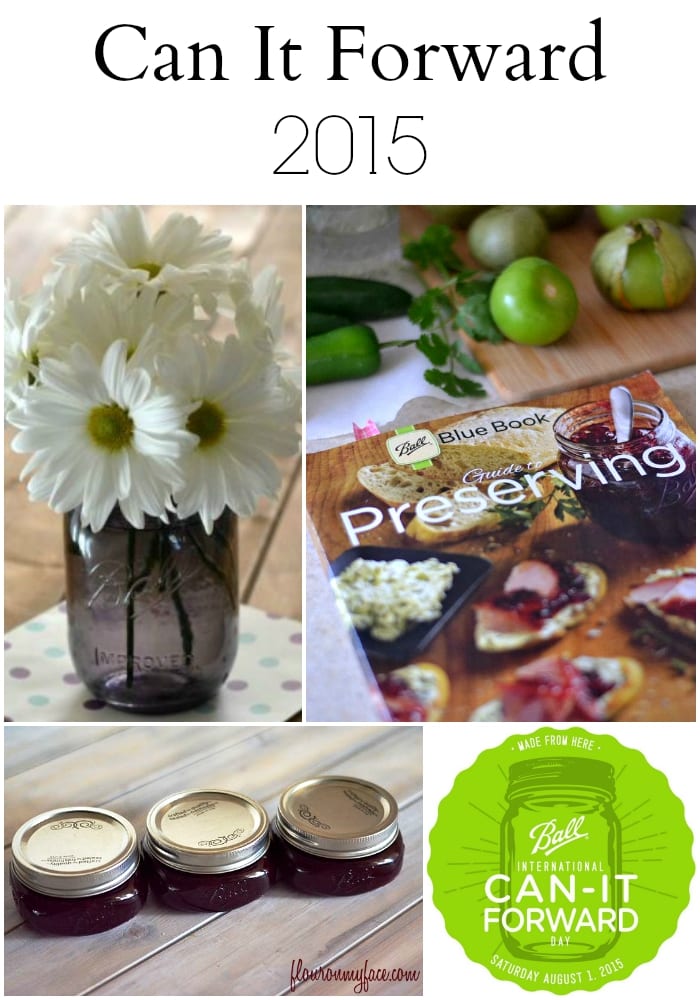 The Can It Forward Day 2015 Live event with start at 11 am EST (8a PST) on Saturday, August 1st. You can view it on the Can It Forward webpage or you can come back here to this post and watch it in the widget below.
What is International Can It Forward Day?
International Can It Forward Day is a live canning event held by Ball Canning. The theme this year is "Made From Here" which means locally and across the country.
During the live broadcast, you can ask questions, learn about new Ball Canning products, watch as canning recipes are made and learn more about canning and preserving.
Special guests broadcasting during the live Can It Forward Day event are:
Be sure to enter the Can It Forward Prize pack giveaway. You can find the entry form in my CAN IT FORWARD DAY 2015 post from last week.
Good luck and I can't wait to join you on Saturday, August 1st, as we watch the International Can It Forward Day 2015 Live Event together.