Sweet Cherry Preserves Recipe
This homemade Sweet Cherry Preserves recipe has been sponsored by Northwest Cherry Growers. All opinions are my own.
How to make small batch homemade Sweet Cherry Preserves without pectin. Sweet Cherry Preserves is a delicious dessert topping you don't want to live without.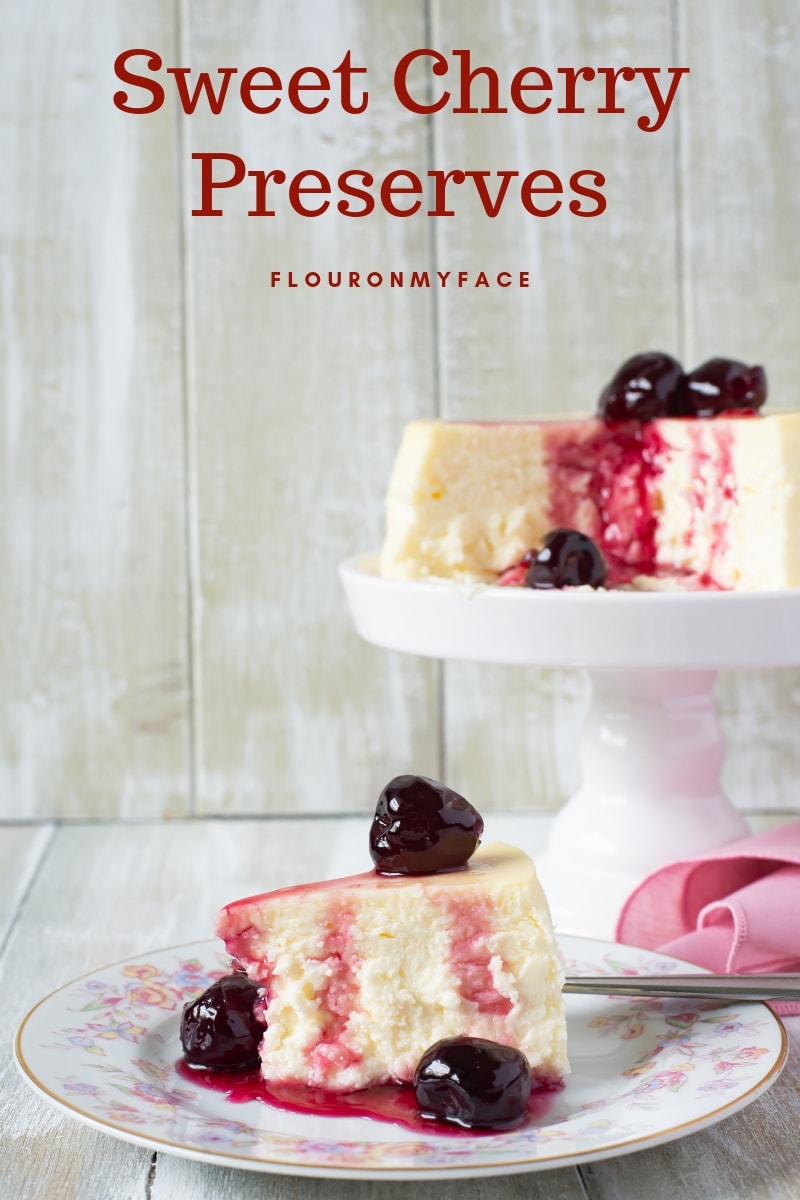 Fresh Cherry Season
It's fresh cherry season and the good folks at Northwest Cherry Growers have sent me some of the sweetest fresh sweet cherries you can buy.
Head over to the Sweet Preservation website to learn about fresh cherries, print some canning labels and find more delicious fresh cherry recipes so you can preserve the summer's bounty of the Northwest Cherry Growers harvest.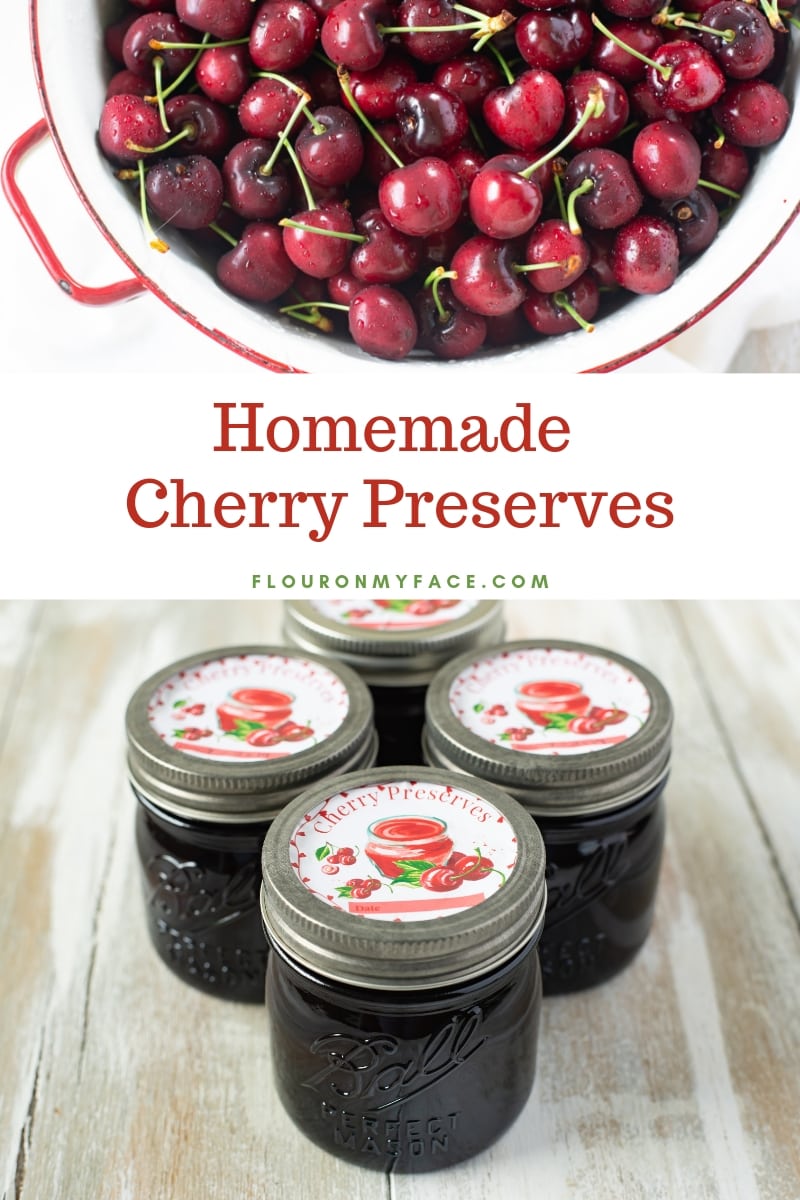 Cherry Preserves Recipe
If you are like me and you love sweet cherries you are going to want to make this easy sweet cherry preserves recipe.
This easy homemade cherry preserves recipe is one of the easiest ways to preserve all of the sweet Northwest Cherry Growers fresh cherries you're going to be buying this summer.
Once you have a few jars of sweet cherry preserves you will be able to enjoy them all year long.
No Pectin Preserves Recipes
Did you know you can make homemade cherry preserves without pectin?
Homemade fruit preserves can be made with only fresh fruit and sugar as long as you boil it long enough for the fruit juice and sugar to thicken into a heavy syrup.
Fresh small batch fruit preserves like this old fashioned Sweet Cherry Preserves recipe is one of the easiest canning recipes you can make because all you need are fresh sweet cherries and sugar.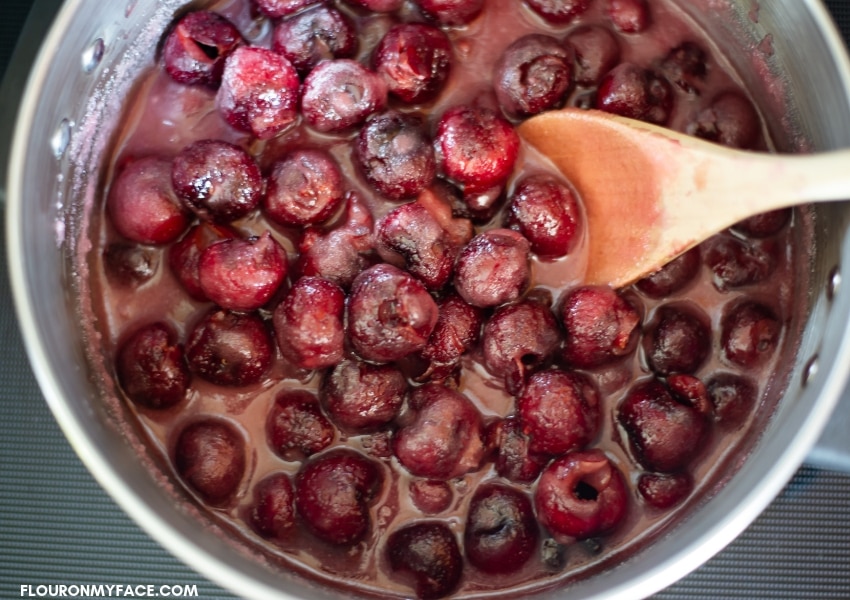 How long to boil cherries until they are glossy?
This no pectin cherry preserves recipe requires you to cook the cherries in two steps. In the first step, you will bring the sugar and fresh cherries to a boil until the cherries are glossy. It only takes about 5 to 10 minutes to boil fresh sweet cherries with the sugar until they become glossy.
What is a fruit preserve?
A fruit preserve is large or whole pieces of fruit processed in a thick syrup.
What is the difference between a jelly, jam or a fruit preserve?
What is the difference between a jelly, jam or a fruit preserve?
Jelly is made using fruit juice.
Jam is made using crushed fruit.
Preserves are made with large pieces or whole pieces of fruit that is cooked in a heavy syrup that is meant to retain their shape.
Best Cherry Pitter
One of the most important tools you can have on hand when you have a large number of fresh cherries to pit is the best cherry pitter for the job.
Check out my post about how I finally found the best Cherry Pitter.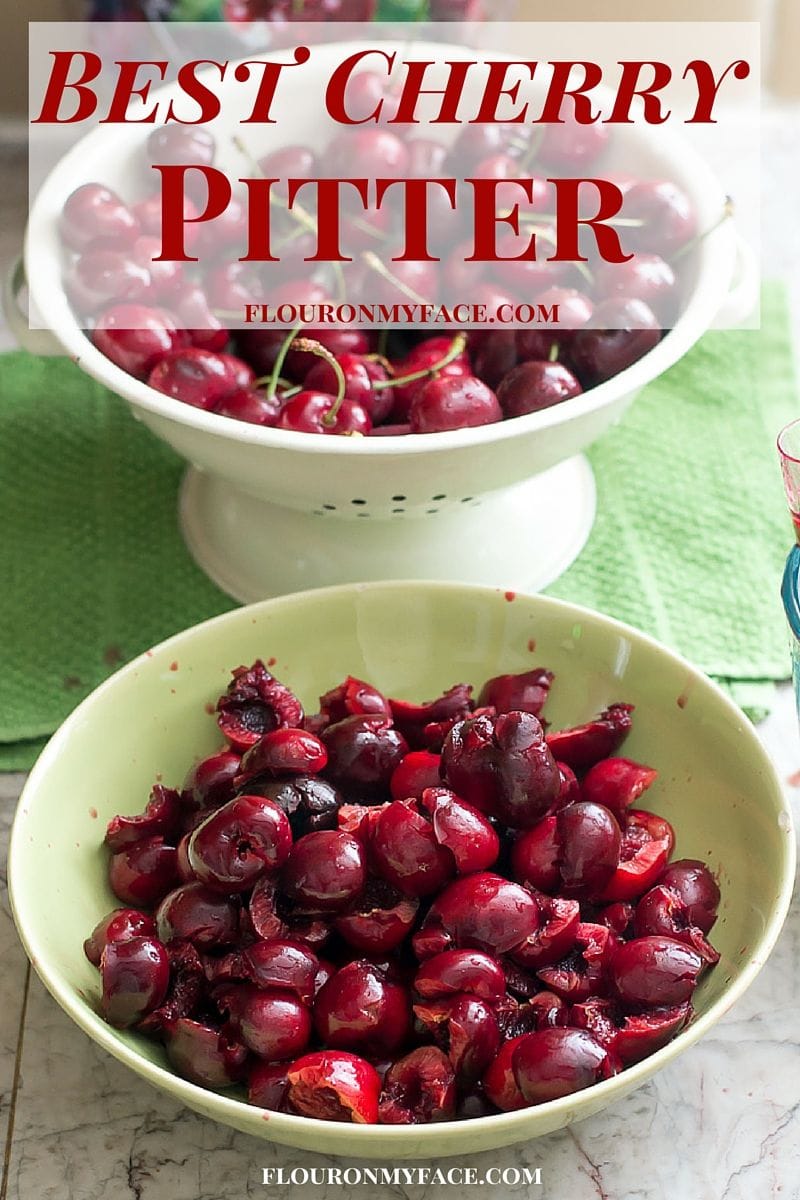 How to use homemade Sweet Cherry Preserves
Cherry Preserves with its heavy syrup and pieces of whole sweet cherries makes a perfect dessert topping.
Sweet Cherry Preserves are delicious served over ice cream, as a cheesecake topping or drizzled over a piece of homemade Pound Cake.
When you stock your pantry with no pectin small batch Sweet Cherry Preserves you will be able to enjoy the sweet flavors of summer all winter long.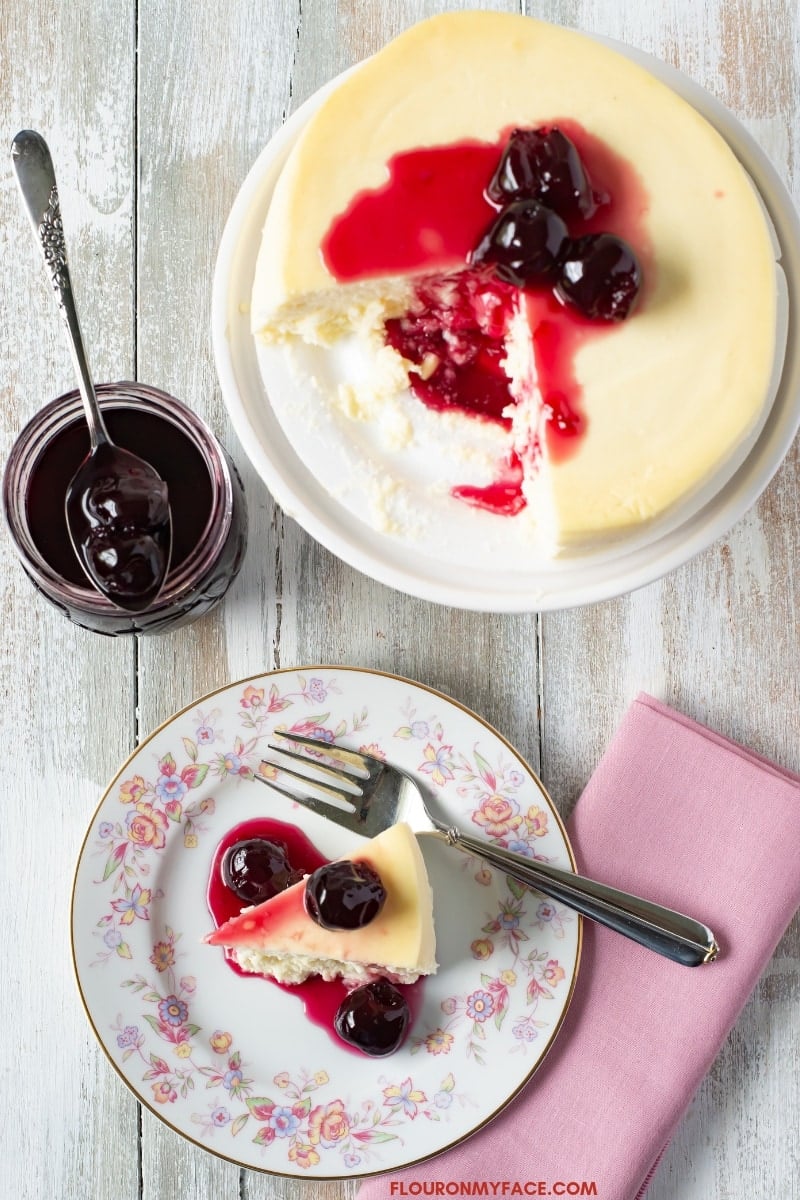 Special Equipment Needed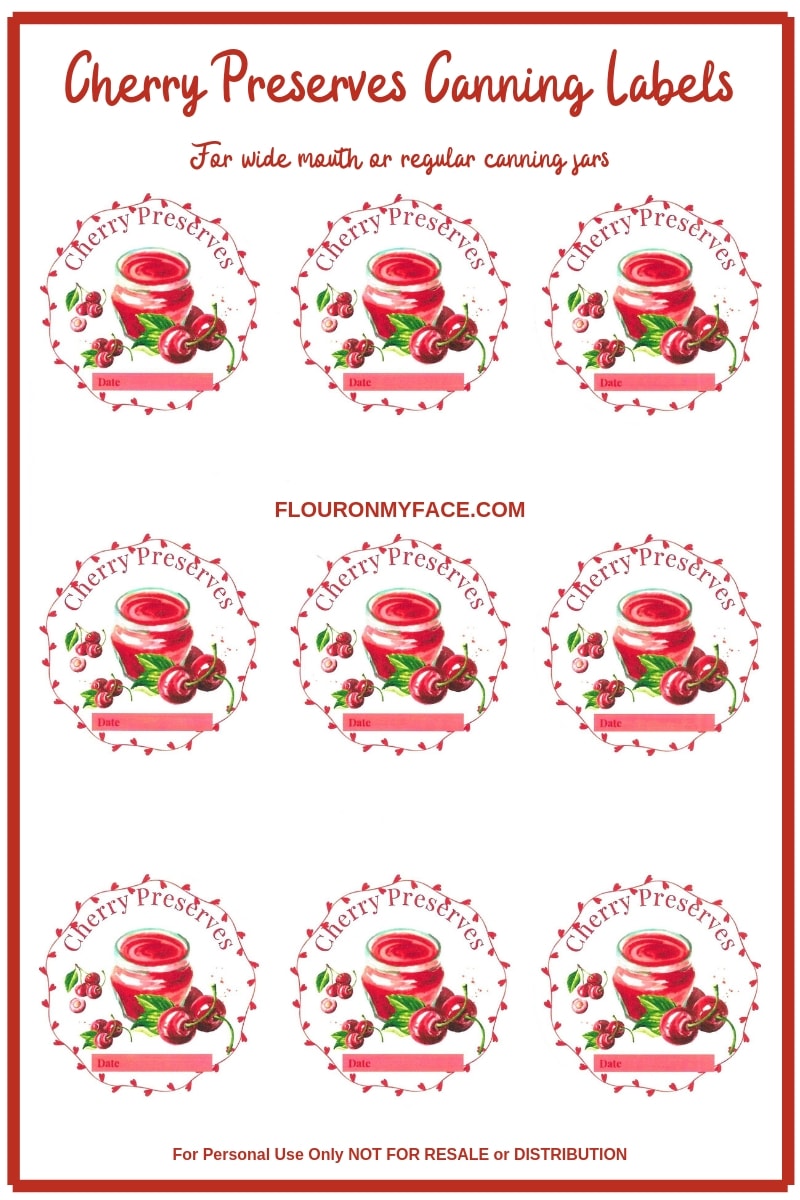 There are a few pieces of special equipment you need when you are making this canning recipe.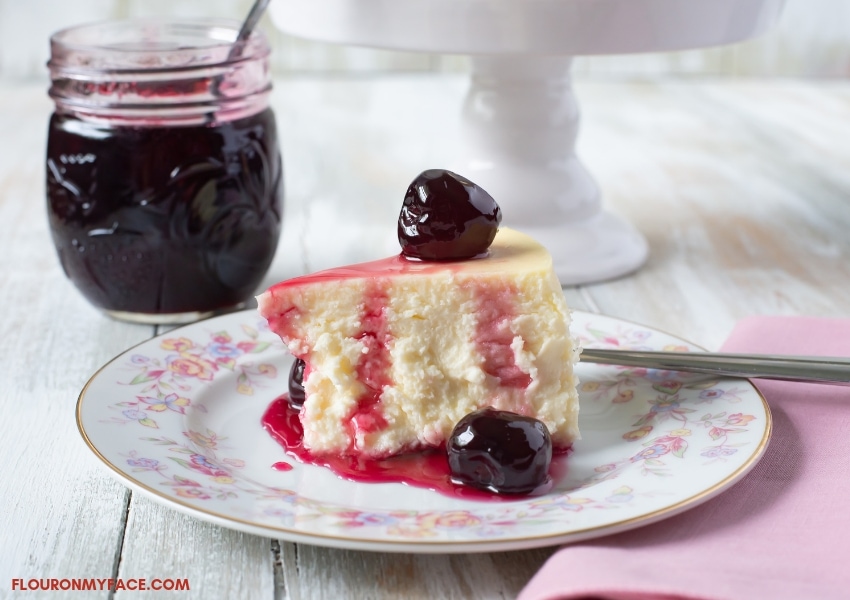 Print the Sweet Cherry Preserves recipe below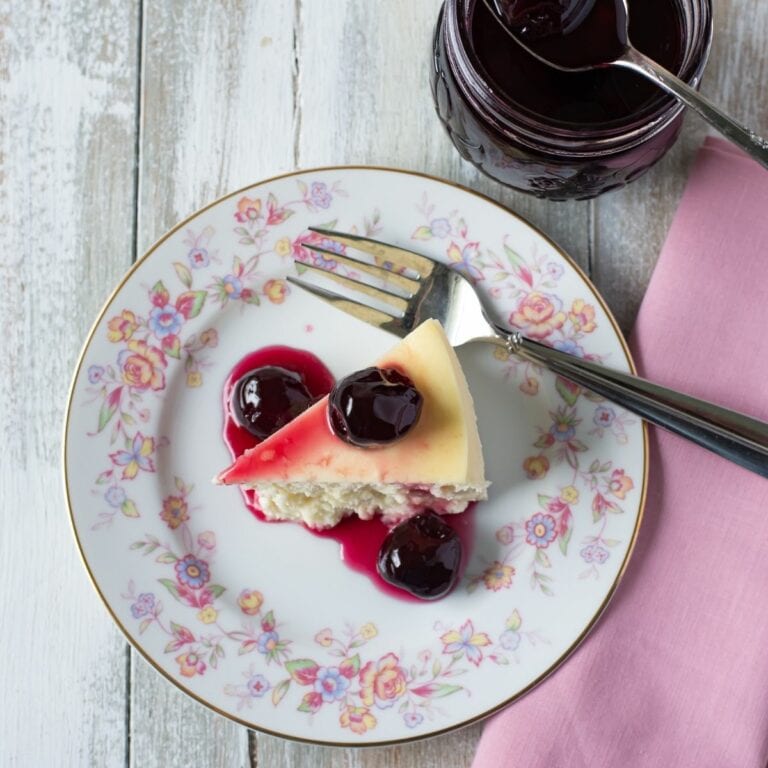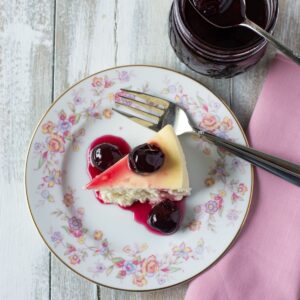 Sweet Cherry Preserves
This homemade old fashioned Sweet Cherry Preserves is made with no pectin in small batches.  Homemade Sweet Cherry Preserves is so easy to make. If you are looking for an easy summer canning recipe to try this sweet cherry preserves recipe is just the one.
Rate this Recipe
Ingredients
2

pounds

fresh sweet cherries

4

cups

granulated sugar

1

teaspoon

lemon or lime juice
Follow Flour On My Face on Pinterest
Instructions
Prep the cherries
Rinse the fresh sweet cherries under cool running water.

Stem and pit the cherries using a cherry pitter. Sprinkle the lemon or lime just over the pitted cherries and toss. This helps keep the pitted cherries from browning. While pitting the cherries catch any cherry juice in a bowl.
Make the Cherry Preserves
Put the sugar and cherry juice in a 5 quart or larger nonreactive pot.

Heat the sugar and cherry juice over medium heat to dissolve the sugar. (add a small amount of water if needed, just to help dissolve the sugar).

Add the pitted sweet cherries to the pot and gently stir to combine.

Increase the heat to medium-high and bring the cherries and sugar to a hard boil.

Cook until the cherries are glossy (5 to 8 minutes).

Remove the pot of cherries from the heat and allow to cool. Once cool cover the pot and place it in the refrigerator for 12 to 18 hours or overnight.

Prepare your canning jars and lids by washing them in hot soapy water. Check for nicks on the jar rims at this time and discard any jars that are damaged.

Place a canning rack (I used my Silicone rack) in the bottom of a large canning pot. Fill the pot with water (or the Ball Electric Canner if using) and submerge 4 or 5 half-pint canning jars in the pot of water. The water needs to completely cover the jars.

 Bring the pot of jars to a hard boil, reduce the heat to low. Keep the jars hot as you cook the cherry preserves.

Place the pot of cherries on the stove and heat over high heat until a full rolling boil.

Boil the cherry preserves constantly stirring until it has almost reached the gelling point of 220 F. Use a candy thermometer to check the temperature.

Remove the pot from the heat and skim any foam.

Fill each half-pint canning jar using a ladle to prevent spills. Leave a ¼ inch headspace. Use an air bubbler remover to remove air bubbles. Add more preserves to the jar if needed to bring the headspace up to ¼ inch.

Wipe the jar rims with a dampened paper towel and center a flat lid on the jar. Twist on a band until just fingertip tight. Place the filled jar into the pot of hot water and continue to fill the remaining jars placing each jar into the pot of hot water once filled.

Once all of the jars are filled and in the pot of hot water, check to make sure the water is covering all jars with at least an inch of water over the tops. Bring the pot to a boil over high heat. Once boiling place a lid on the pot. Hot water bath process the jars for 10 minutes, adjusting for altitude if needed.

Turn off the heat and remove the lid from the pot. Allow jars to stand in the water for five minutes. Use a jar lifter to remove each jar from the pot and place the hot jar on a towel on the counter. Allow the jars to cool overnight before storing.
Recipe Expert Tips
Recipe Source: The All New Ball Book Of Canning And Preserving: Over 350 of the Best Canned, Jammed, Pickled, and Preserved Recipes
Time is the approximate cooking time. You will need to factor in the time the cherry preserves have been in the refrigerator for 12 to 18 hours.
Nutrition
Serving:
2
Tablespoons
Calories:
97
kcal
Carbohydrates:
25
g
Protein:
1
g
Fat:
1
g
Saturated Fat:
1
g
Polyunsaturated Fat:
1
g
Monounsaturated Fat:
1
g
Sodium:
1
mg
Potassium:
54
mg
Fiber:
1
g
Sugar:
24
g
Vitamin A:
15
IU
Vitamin C:
2
mg
Calcium:
3
mg
Iron:
1
mg
Tried this recipe?
Share a picture on Instagram and tag @flouronmyface2