New Ball Green Heritage Canning Jar Giveaway
Disclosure: This is a sponsored post on behalf of Jarden Home Brands
Have you seen the new Ball Green Heritage limited edition canning jars yet? No I bet you haven't because they are not even available to the public yet. But because you are a Flour On My Face reader you get to get a sneak peek and a chance to win a case of the new limited edition GREEN! Heritage  quart canning jars.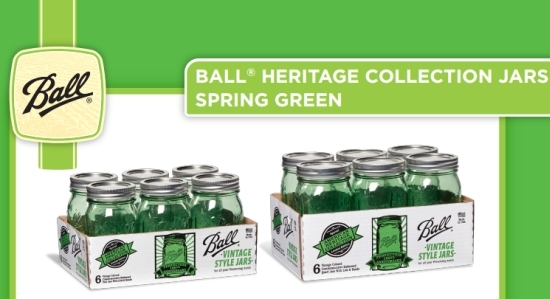 The new Spring Green Heritage Collection Jars will only be available for one year! I didn't realize the Heritage collection jars would be so limited edition so the next time I see some of those pretty blue Heritage jars from last year I will be snapping them up.
The new Spring Green Heritage Collection Jars are available for pre-order online and will be available at retailers in March. 
If you are a hardcore Ball canning jar collector like I am listen up! 5 winners will win a case of the new Ball Spring Green Heritage Collections quart jars and each case will come with a certificate verifying they were among the first Ball Spring Green jars off the production line.
Enter the Ball Spring Green Limited Edition Jar Giveaway below in the Rafflecopter form.
If reading this in your email click through to the post to find the giveaway form.
Giveaway has ended.