25 Recipes Using Fresh Herbs
This week I am sharing 25 Recipes Using Fresh Herbs. Do you love using fresh herbs in your recipes? I do. I have a lovely container herb garden in my backyard.
When I need some fresh rosemary, oregano, thyme or mint all I have to do is walk out the back door and snip a few stems.
My backyard herb garden is one of my biggest pleasures in life.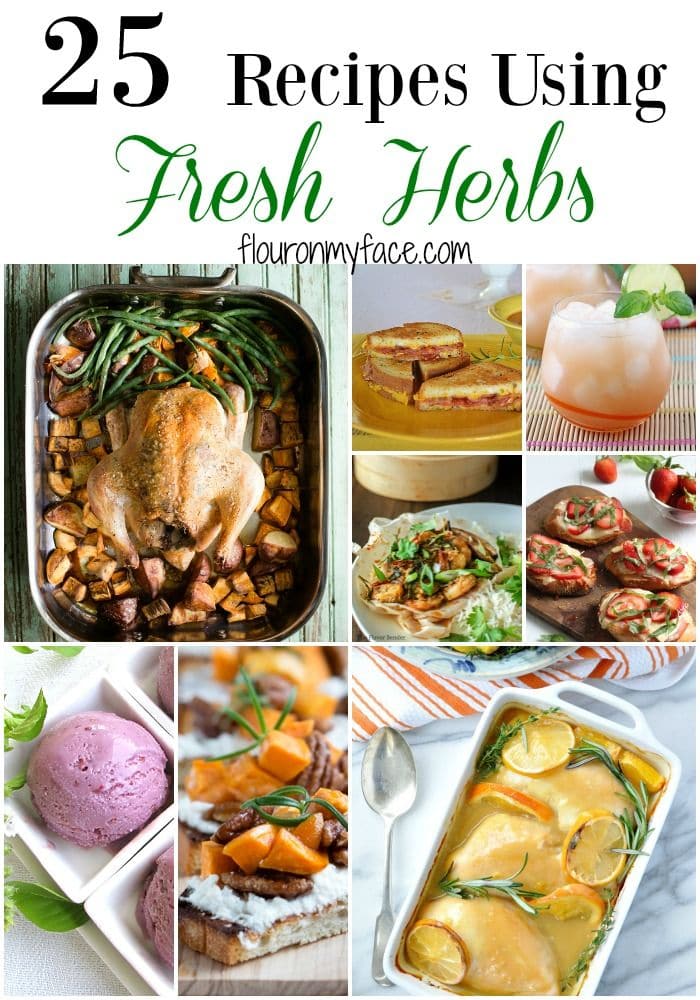 What is your favorite herb to grow? I have so many favorite herb plants I'm not sure if I could pick one.
Rosemary is the one herb that I grow that tastes so much better fresh than dried. The flavor and scent of fresh rosemary can't compare to what you buy in a bottle at the grocery store.
If you have an overabundance of fresh herbs here are 25 Recipes Using Fresh Herbs. I know you will find a few that you can try.
25 Recipes Using Fresh Herbs
1. Strawberry Basil Brie Crostini
2. Rosemary Bacon Tomato Grilled Cheese
3. Grapefruit Lime Basil Cocktail
4. Citrus and Herb Baked Chicken
5. Blackberry & Lemon Basil Gelato
6. Strawberry Basil Lemonade
7. Minty Green Protein Smoothie
8. Brunch Bruschetta with Sweet Potatoes and Candied Pecans
9. Thyme Roasted Chicken with Potatoes
10. Garden Fresh Dill Dip
11. Asian Steamed Shrimp Mushroom Parcels
12. Garlic Mushroom Risotto
13. Garlic & Herb Baked Salmon
14. Lemon Basil Herbal Soda
15. Shrimp Ceviche
16. Zesty Black Bean Burgers
17. Herb Crusted Rack of Lamb
18. Smooth & Smoky Pinto Bean Soup
19. Mediterranean Power Rice
20. Tomato Rosemary Bacon Tart
21. Vegetarian Pho
22. Broccoli Spinach and Artichoke Frittata
23. Mint Chocolate Chip Smoothie
24. Garlic Herb Focaccia Bread
25. Ham & Halloumi Frittata
Would you like to start your own Backyard Herb Garden? Imagine being able to step out the door and pick your own fresh herbs whenever you wanted?
I am pleased to announce the released of The Backyard Herb Gardening -  Simple Tips to Help You Grow a Successful Herb Garden eBook I recently published. Packed full of tips to help you grow your own fresh herbs this eBook will get you on the right track to growing and harvesting all your favorite fresh herbs.