Rosemary Bacon Tomato Grilled Cheese
Nothing says comfort food to me like a grilled cheese sandwich and a piping hot bowl of tomato soup. This Rosemary Bacon Tomato Grilled Cheese sandwich is delicious and a perfect way to celebrate National Grilled Cheese Day!
My mom made this for my siblings and me when I was a child and we lived in New York.  I'm sure she made it all year long but I remember eating it the most in the freezing winter.
Coming in from playing out in the snow, my fingers, toes and nose feeling like they were about to fall off nothing warmed me up as well as mom's grilled cheese sandwich and tomato soup for lunch.
Grilled cheese sandwiches have come a long way from when I was a kid, back then a couple of slices of white bread and some cheese were good enough. These days a grilled cheese sandwich can include so much more.
This year for National Grilled Cheese month I am celebrating it with Udi's gluten free bread and Horizons organic milk.
I have to tell you this was a first for me. I love using herbs in my cooking but never before have I used herbs on a grilled cheese sandwich. After eating it I have to ask myself what was I thinking not experimenting before now!
Rosemary is the star of this show. I swear I heard trumpets playing when I tasted my first bite. Just kidding but after that first bite I couldn't stop until the entire sandwich was gone.
The golden crisp bread and savory rosemary butter tasted like my sandwich was made from a loaf of artisan bread. You can go ahead and try making this with regular bread if you're not eating gluten free. It will probably taste pretty good but I'm pretty sure the high quality ingredients of the Udi's gluten free white bread have something to do with it tasting so good.
You don't have to be totally gluten free to enjoy Udi's gluten free breads.  I eat them all the time and love them.
Print the Rosemary Bacon Tomato Grilled Cheese recipe below.
Print
Rosemary Bacon Tomato Grilled Cheese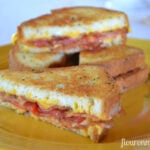 Celebrate National Grilled Cheese day with a Rosemary Bacon Tomato Grilled Cheese Sandwich
Author:

Arlene Mobley

Prep Time:

8 Minutes

Cook Time:

8 Minutes

Total Time:

16 minutes

Yield:

1

Category:

Sandwiches

Method:

Skillet

Cuisine:

American
Ingredients
For one sandwich you will need.
For Rosemary Butter:
4 tablespoons butter, softened
1 scant teaspoon fresh rosemary, chopped finely
Instructions
Make the herbed butter before you start cooking your bacon and set aside.
1 small sprig of fresh rosemary or a scant teaspoon of dried rosemary
4 tablespoons butter, softened
To make the herbed butter: strip the leaves from a sprig of fresh rosemary and chop finely.
Stir into the softened butter and set aside while making the bacon.
Fry your bacon and drain on a paper towel.
Slice your tomato
Assembling and grilling the sandwich:
Place one piece of cheese on the bottom piece of bread. Break the three slices of bacon in half and arrange 3 of the half slices on top of the cheese. Layer the two slices of tomato on top of the bacon.
Arrange the remaining three halves of bacon on top of the tomato and layer the last piece of cheese on top of the bacon. Cover with another piece of Udi's white bread. Do not smash your stack down.
Warm a skillet on medium high heat.
Butter the top piece of bread with as much herbed butter as you need to cover the piece of bread completely.
Lightly butter the edges of the bread.
Place a small dollop of the herbed butter into the skillet. Once it begins to sputter your skillet is hot enough.
Carefully flip the sandwich over into the pan and butter the other side of the bread.
Allow to cook until the bottom piece of bread is golden brown.
Flip over and cook the other side until golden brown and your cheese is melted.
You can apply a little bit of pressure at this point to the top piece of bread so the cheese melts into the bacon.
Remove from pan when done.
Slice in half and enjoy with a bowl of tomato soup if you like.
If you don't like tomato soup then just chow down on the best grilled cheese sandwich I have ever eaten!
Enjoy!
Nutrition
Serving Size:

1 Sandwich

Calories:

820
Disclosure: I am a community leader in the Udi's Gluten Free Living Community on The BlogFrog. This post is Sponsored by Udi's Gluten Free and Horizons Organic Milk. As a community leader I may receive compensation and or product samples for sharing information about the Udi's Gluten Free Living Community. All opinions expressed are my own!