Homemade Pecan Pie Recipe
A classic homemade Pecan Pie Recipe is a delightful favorite holiday pie recipe everyone loves.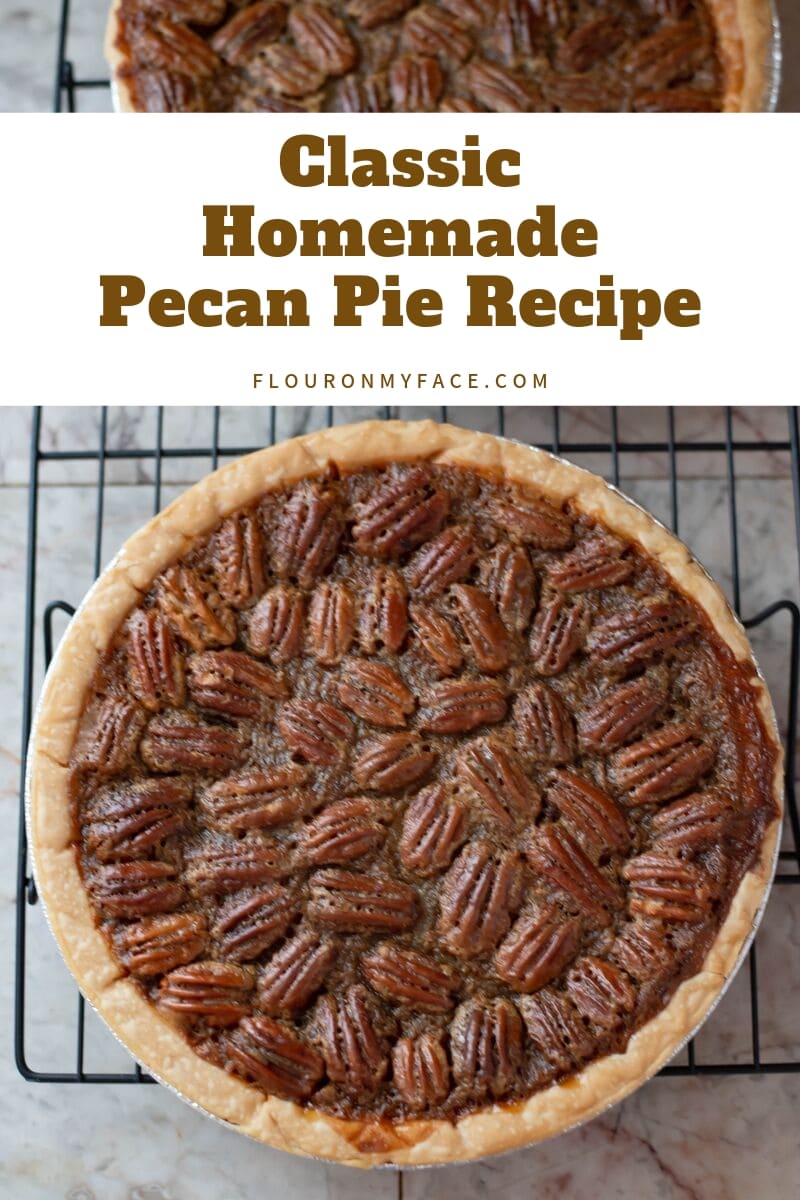 How To Make Pecan Pie
A homemade pecan pie recipe made from scratch is the perfect way to end the Thanksgiving or Christmas meal. As far as homemade pies go pecan pie is one of the easiest holiday pie recipes to make.
Fresh Pecans
This year I'll be using fresh Georgia pecans to make our holiday pecan pie. Back when we lived in Vidalia, Georgia I had the pleasure of picking fresh Georgia pecans every year we lived there.
My husbands boss owned a farm and he had a few pecan trees. Every year he would have a truck go out to the farm and shake the ripe pecans from the tree. It has been years since I had any fresh Georgia pecans to bake a homemade pecan pie with.
If you love easy & amazing recipes join the Flour On My Face Newsletter and get each of my new recipes delivered right to your inbox.
Back in September one of my daughters took a trip up to Atlanta, Georgia. While she was on the trip I realize it was pecan season. Perfect timing! I had her pick me up a couple of 3 lb bags of fresh Georgia pecans.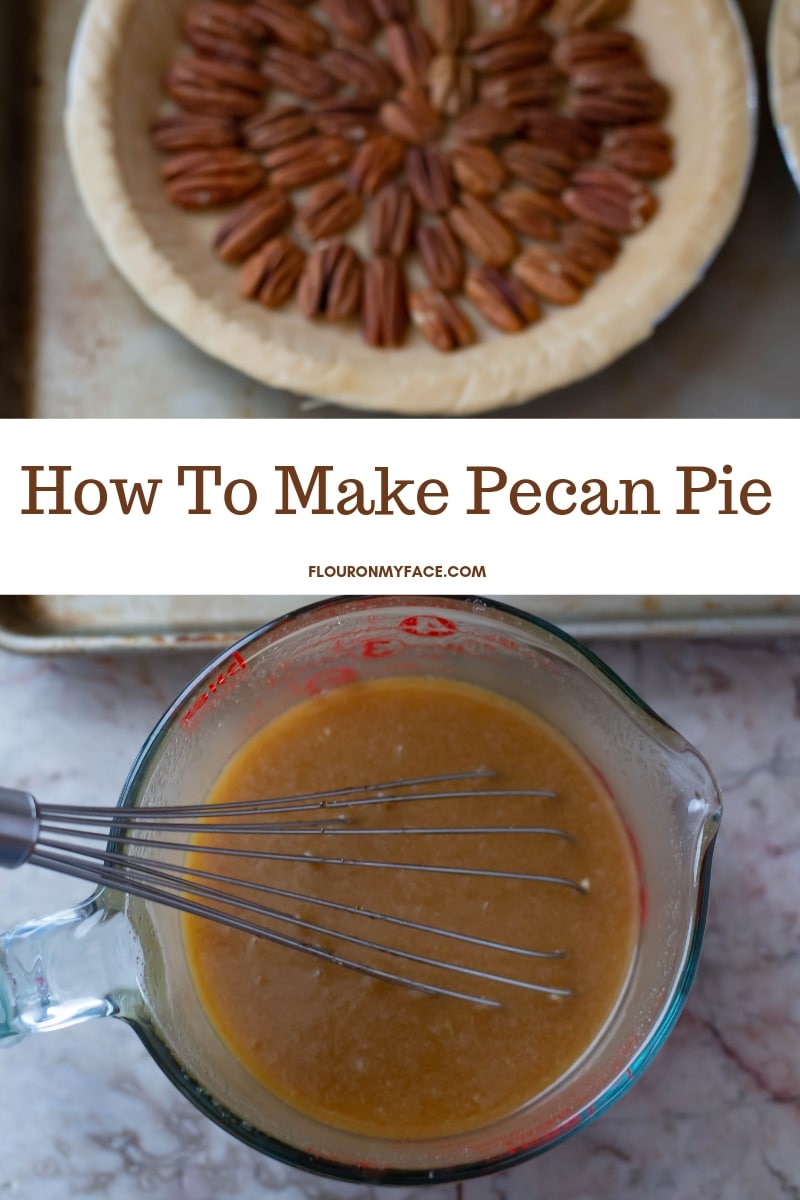 Pecan Pie Ingredients
The ingredients to make pecan pie are pretty basic. You will need an unbaked pie shell. You can make your own homemade pie crust or you can buy a premade pie crust at the grocery store.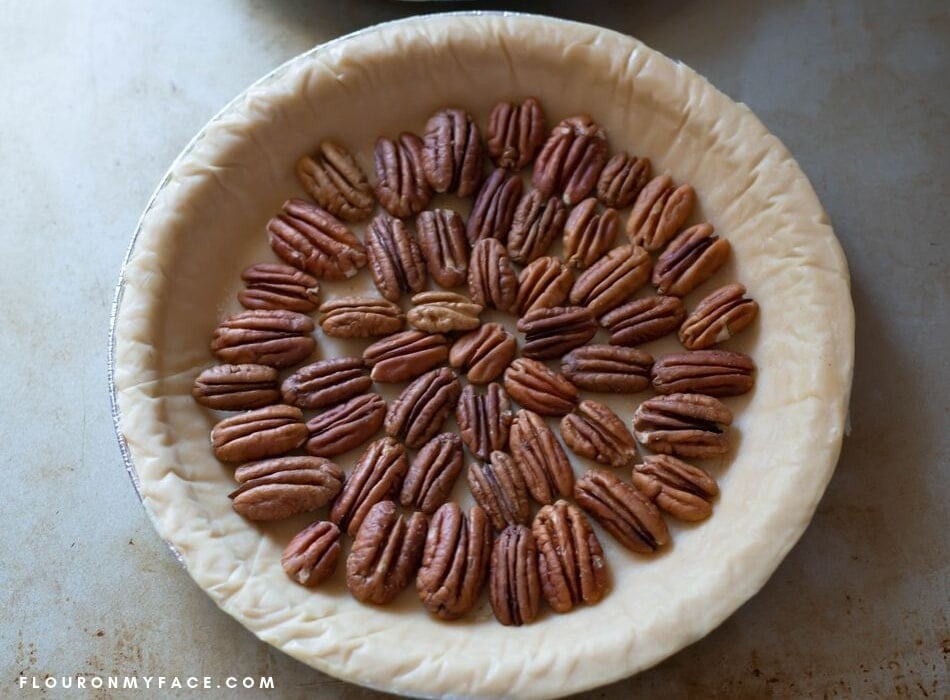 You will need about one cup of whole pecan halves. I used Georgia Pecans but you can pick up a bag of whole pecan halves at any grocery store.
If you are cracking pecans with the shells on and you are having a hard time cracking them and keeping the pecan halves intact don't worry.
You can still use the pecan pieces to make a pecan pie. Using whole pecan halves will make a prettier pie top but if all you have on hand is pecan pieces you can use them instead.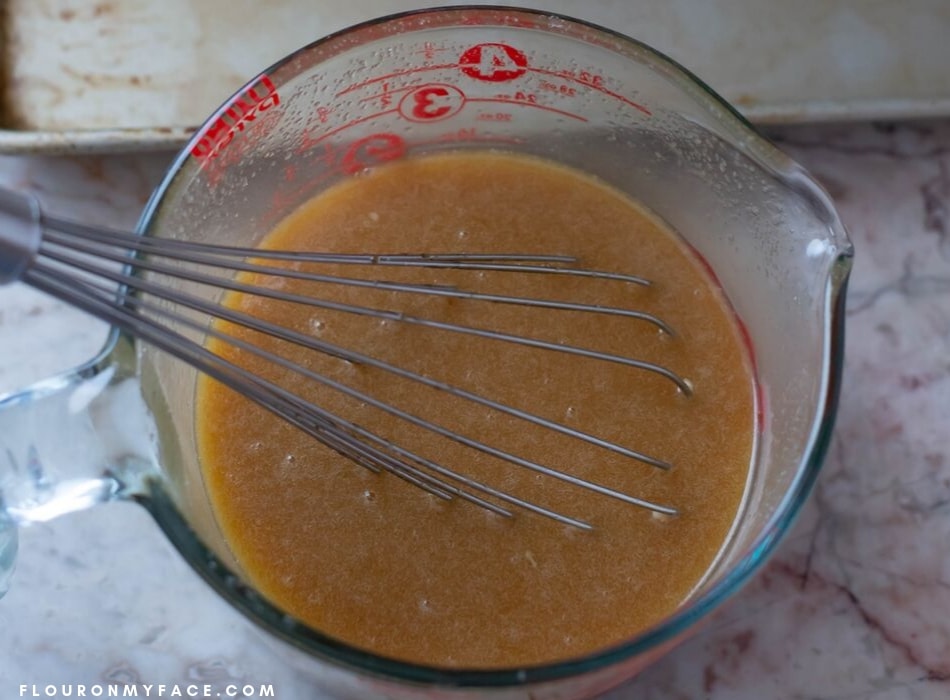 Arrange the pecan halves in a single layer in the bottom of the unbaked pie crust and make the pecan pie filling.
Pecan pie filling ingredients are 3 large eggs, 1 cup dark Karo corn syrup, ½ cup granulated sugar, ¼ cup butter, melted, 1 teaspoon vanilla extract (I used my homemade vanilla extract).
Blend the pecan pie filling ingredients together with a metal whisk until completely combined. The homemade pecan pie filling with be a pretty golden color from the dark Karo corn syrup.
How To Bake Pecan Pie?
Once you have assembled the homemade pecan pie by pouring the pecan pie filling over the nuts in the bottom of an unbaked pie shell. Wait until the nuts rise to the top of the pie filling. If there are any gaps between the pecans fill them in with more nuts.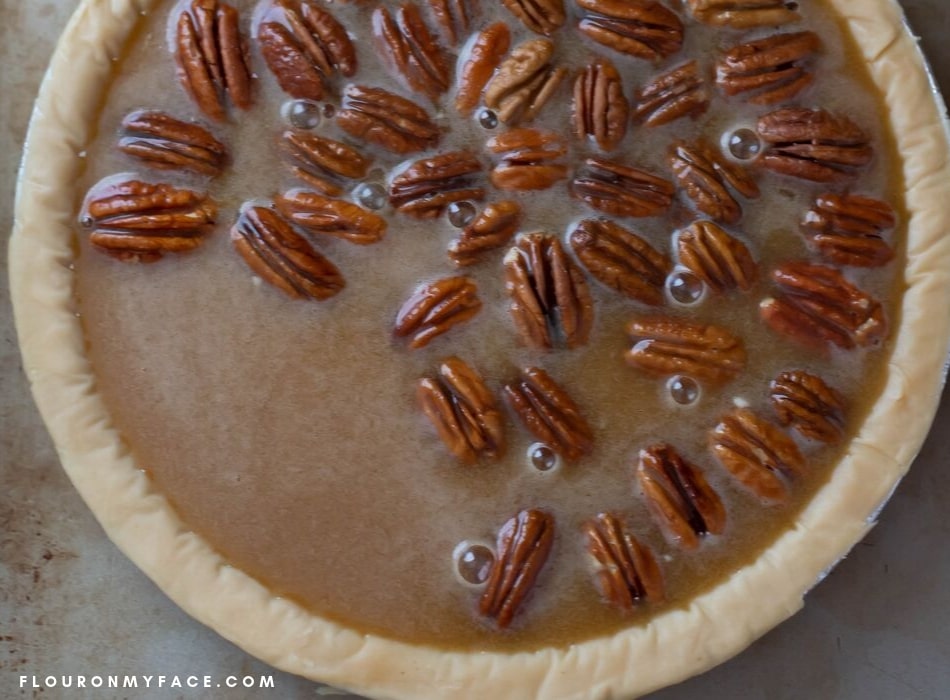 Carefully lift the baking sheet the filled pie crust is on and place the pecan pie in the preheated oven.
Bake the pecan pie at 350 F. for one hour or until a knife that has been inserted in the center of the pie filling comes out clean.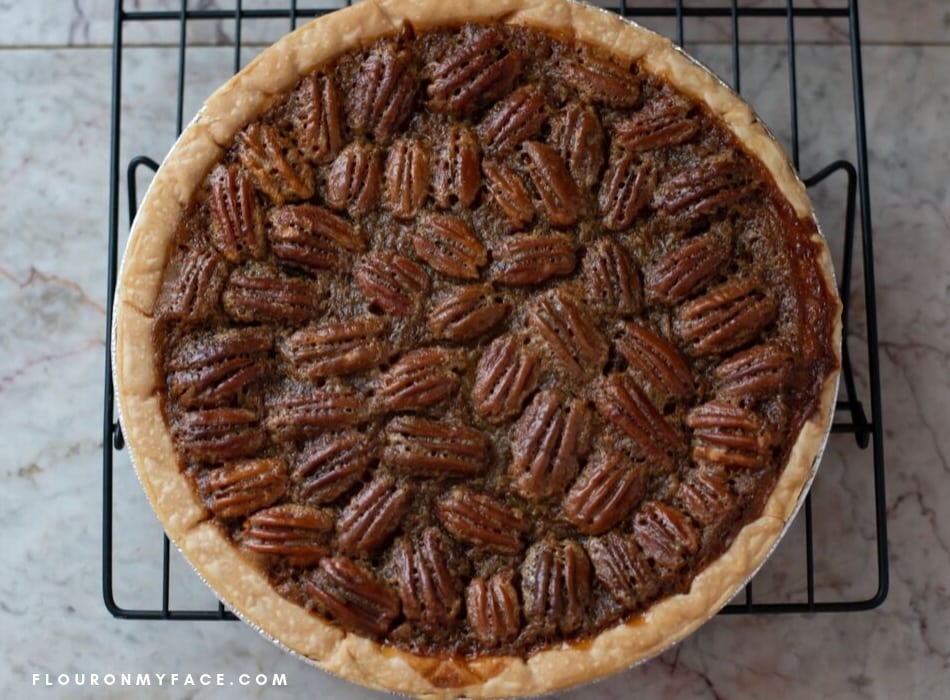 Cool the Pecan Pie completely on a cooling rack and refrigerate if not serving immediately.
Helpful tips to making a homemade Pecan Pie
I used fresh Georgia pecans to make this pecan pie recipe. You can buy pecan halves at most grocery stores.
Placing the pie crust on a cookie sheet makes it easier to move the filled pie crust to the oven, keeps the pie filling from spilling, will help the pie to bake evenly, and prevent oven spills.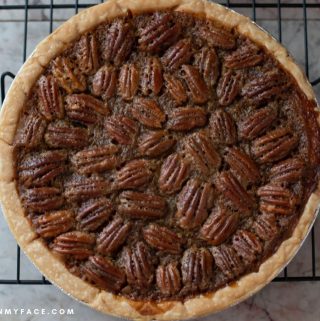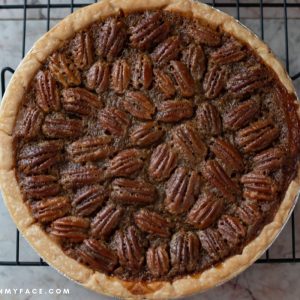 Homemade Pecan Pie Recipe
Homemade Pecan Pie is a classic holiday dessert recipe traditionally served for Thanksgiving or Christmas dessert.
Rate this Recipe
Ingredients
3

large

eggs

1

cup

dark corn syrup

½

cup

granulated sugar

¼

cup

butter

melted

1

teaspoon

vanilla extract

I used my homemade vanilla extract

1

cup

whole pecan halves

1

regular unbaked pie crust

not deep dish
Follow Flour On My Face on Pinterest
Instructions
If using fresh un-shelled pecans crack and clean the pecans before starting the recipe.

Preheat oven to 350 F. degrees.

Arrange the pecan halves in the bottom of the unbaked pie shell in a pleasing pattern. Place the pie pan on a cookie sheet.

In a bowl whisk the eggs well.

Add the sugar, corn syrup, melted butter, and vanilla to the bowl. Whisk until well blended.

Slowly pour the filling over the pecans in the pie crust. If any of the pecan shift around rearrange them.

Bake in the preheated oven for one hour or until a knife inserted in the center comes out clean.

Cool on a cooling rack.
Notes
Prep time does not include the time it takes to crack and clean fresh pecans.
Nutrition
Serving:
1
slice
|
Calories:
432
kcal
|
Carbohydrates:
58
g
|
Protein:
5
g
|
Fat:
22
g
|
Saturated Fat:
7
g
|
Polyunsaturated Fat:
4
g
|
Monounsaturated Fat:
10
g
|
Trans Fat:
1
g
|
Cholesterol:
85
mg
|
Sodium:
230
mg
|
Potassium:
119
mg
|
Fiber:
2
g
|
Sugar:
46
g
|
Vitamin A:
286
IU
|
Vitamin C:
1
mg
|
Calcium:
33
mg
|
Iron:
1
mg
Tried this recipe?
Share a picture on Instagram and tag @flouronmyface2