This post contains affiliate links. As an Amazon Associate, I earn from qualifying purchases.
Instant Pot Blueberry Muffin Bites
Moist and tender Instant Pot Blueberry Muffin Bites are perfect for breakfast or a snack.
Check out some of the other Instant Pot recipes I've made that the entire family will love!
The kids will love these kid-friendly Instant Pot blueberry muffins that are easy for them to hold and eat.
They are so easy to make with the Silicone Egg Bites Mold.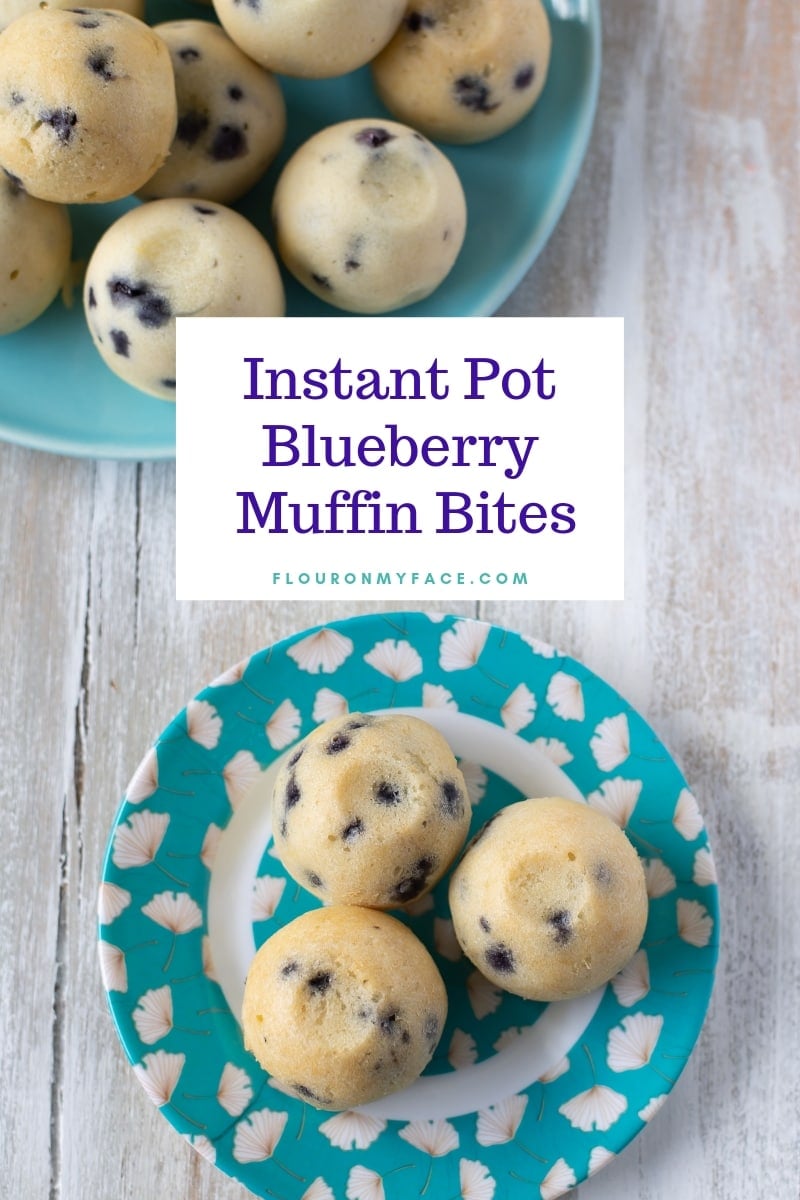 Best Instant Pot Recipes For Kids
These little bite size blueberry muffins make the best kid-friendly breakfast or snack ideas.
Instant Pot Bites are so easy to make when you start with a box of blueberry muffin mix.
If you are an (affiliate links ahead) Amazon Prime Pantry Member you can buy a box of Krusteaz Wild Blueberry Muffin Mix for less than $2! That's an amazing deal!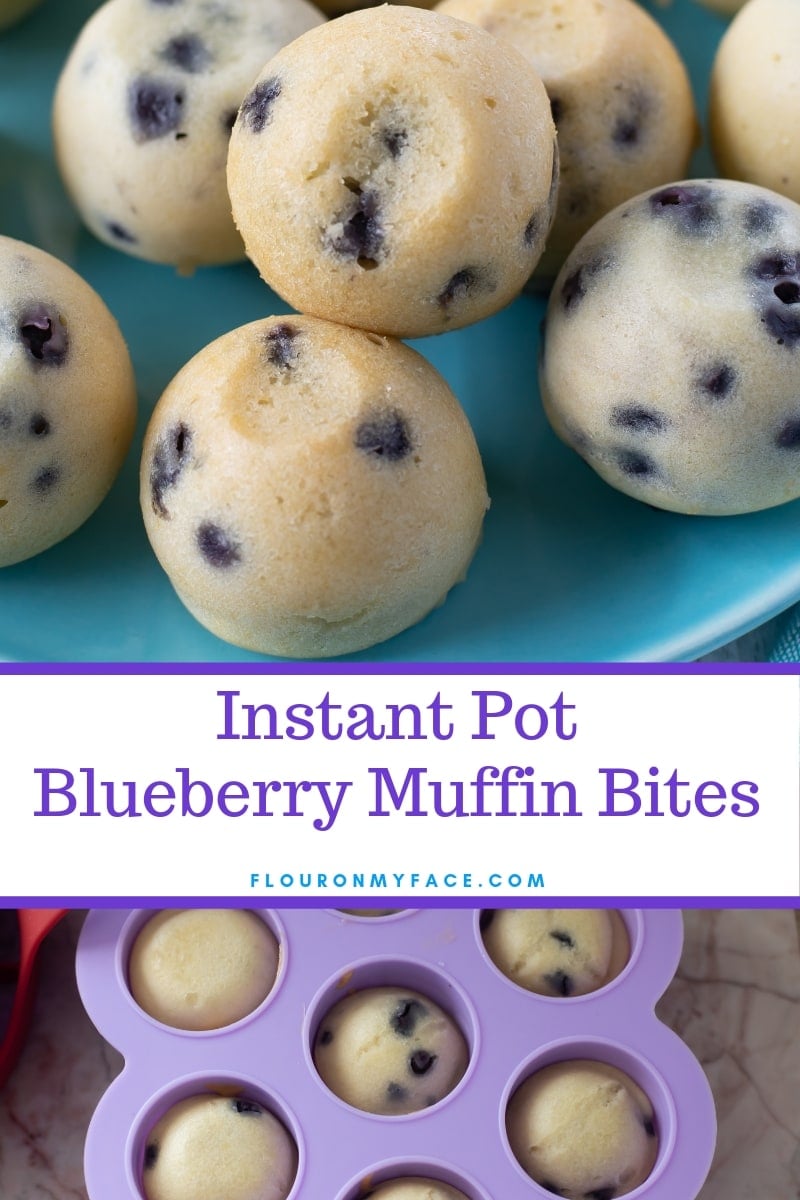 Instant Pot Silicone Mold Recipes
If you bought an Instant Pot Egg Bites mold and are looking for Instant Pot silicone mold recipes this blueberry muffin bites recipe is for you.
If you don't have an egg bites mold yet and want to make bite-size Instant Pot recipes for the kids you can pick up an (affiliate link)  two-pack of  Silicone Egg Bites Molds on Amazon for under $20.
I searched high and low locally for an egg bites mold and never found one so I bought mine on Amazon.
While you're there go ahead and pick up the (affiliate link) OXO Good Grips Pressure Cooker Bakeware Sling that replaces the metal rack that came with the Instant Pot.
This silicone sling makes it so much easier to load and unload the silicone eggs bites mold from the (affiliate link) Instant Pot. I love mine!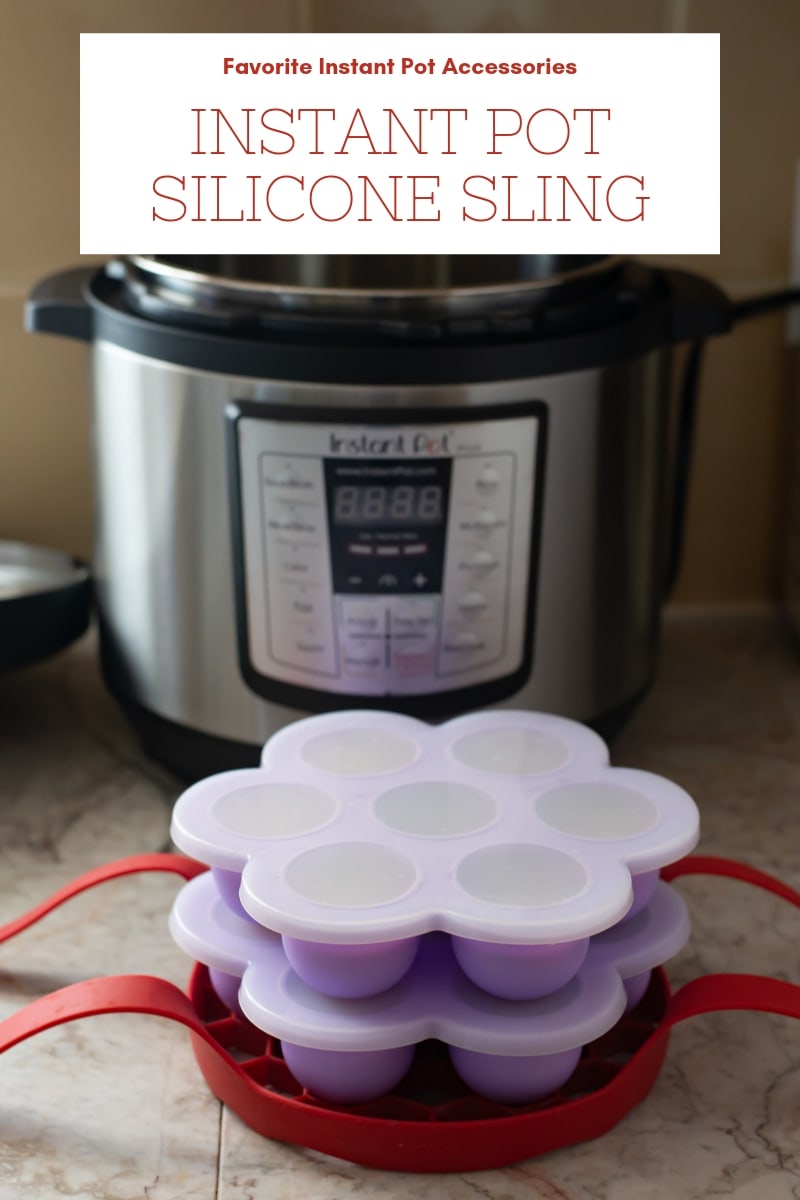 How To Make Instant Pot Blueberry Muffin Bites
Making blueberry muffin bites in the Instant Pot pressure cooker is very easy to do.
You will need a silicone egg bites mold and the ingredients to make blueberry muffins.
You will mix the blueberry muffin batter following the directions on the box.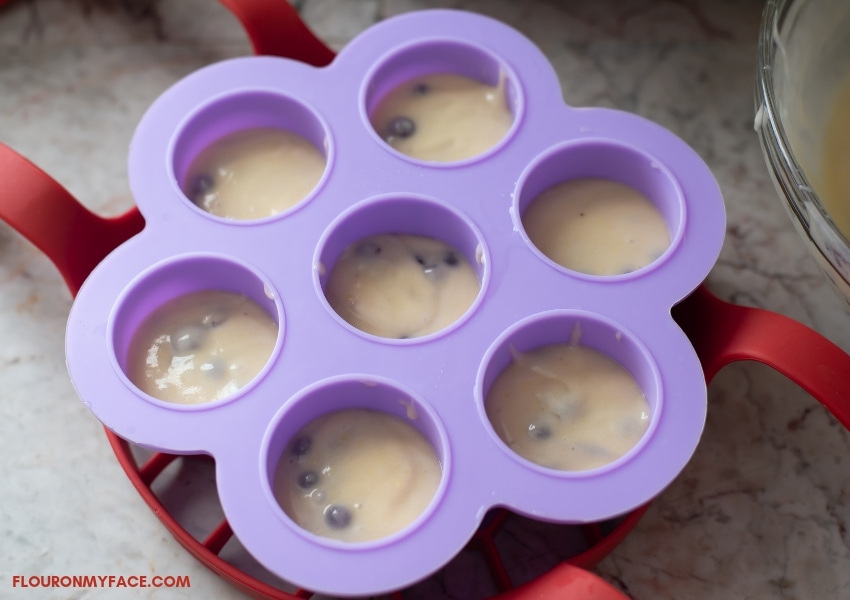 You will fill each of the cups of the egg bites mold 3/4 full of blueberry muffin batter.
You can use whatever type of muffin mix you have on hand.
I made blueberry because we love blueberry muffins around here.
But any flavor boxed muffin mix will also work with this recipe.
One box of blueberry muffin mix will make 14 mini blueberry muffin bites.
You will need two silicone egg bites molds or you will need to pressure cook one mold at a time.
Once you fill each of the silicone egg bites molds with blueberry muffin batter you will place the silicone lid on it and secure it tightly.
Place each filled mold on the Instant Pot Silicone Sling and secure the handles together.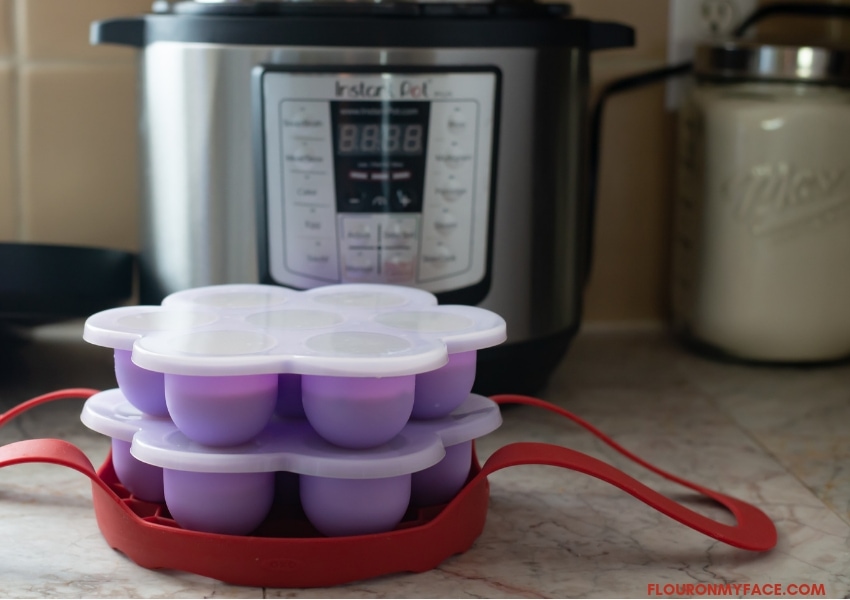 If you don't have a silicone sling pour one cup of water into the Instant Pot and place the metal rack that came with the Instant Pot into the bottom of the insert pot.
You can stack the filled Silicon Egg Bites Mold onto the rack.
It will be a bit awkward and difficult to remove the pressure cooked blueberry muffin bites from the Instant Pot this way.
Be careful to avoid touching the hot metal. You can also make a sling out of aluminum foil like I did when I made an Instant Pot Cheesecake before I found the silicone sling.
If you can afford an (affiliate link)  silicone sling and you plan on making lots of Instant Pot Bites recipes it is worth buying one.
Add the water to the Instant Pot Insert and load the filled silicone egg bites mold into the Instant Pot and cook following the directions below.
Once the pressure cooking time has finished and you have carefully released the steam from the pressure cooker remove the cooked Blueberry Muffin Bites from the Instant Pot.
Immediately remove the lids from the molds to allow the moisture to escape and to allow the Blueberry Muffin Bites to cool.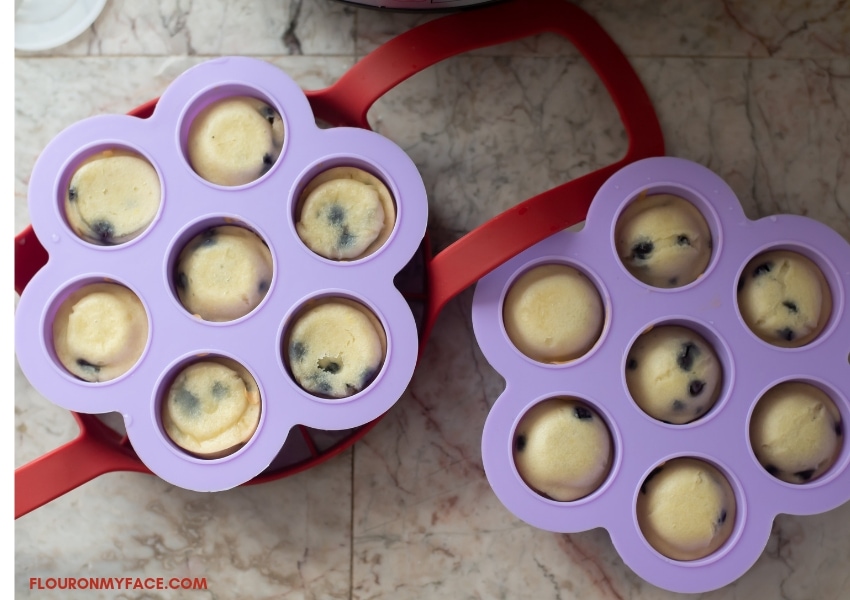 Unmolding the Silicone Egg Bites Mold
Unmolding the silicone egg bites mold is very easy.
Once the blueberry muffin bites have cooled about 5 minutes flip the mold over onto a plate.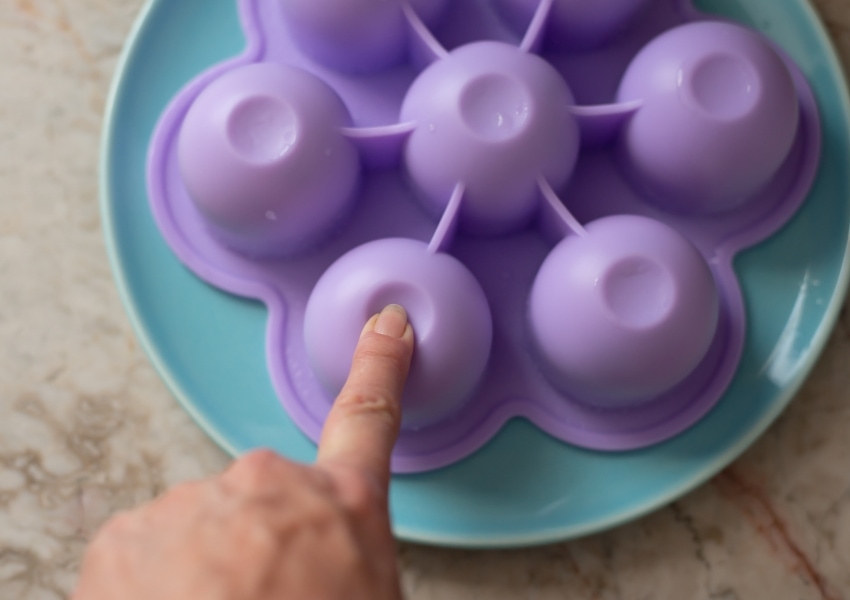 Apply gentle and even pressure to the back of each of the cups in the egg bites mold.
You will be able to feel when the blueberry muffin bites releases from the mold.
Carefully pick up the egg bites mold and you should see all the little sweet and delicious blueberry muffin bites there on the plate.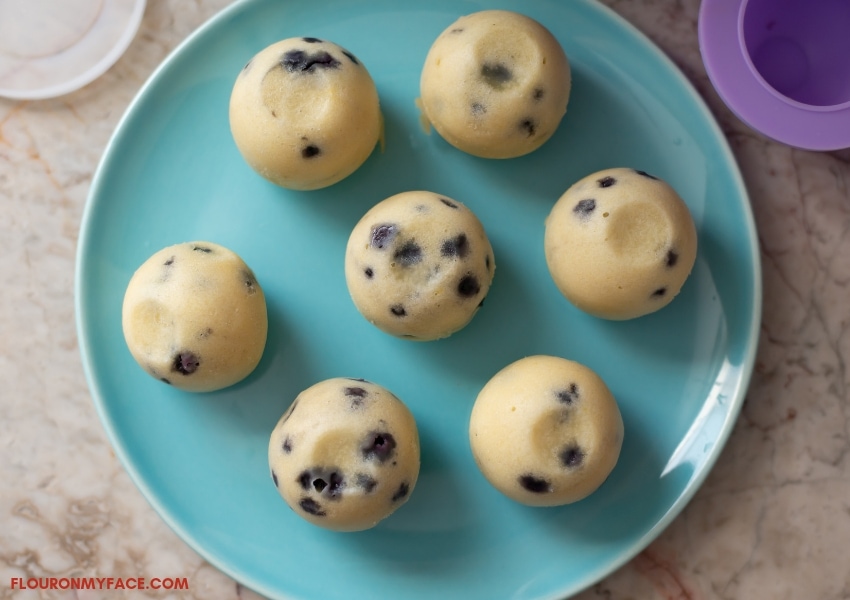 No need to use a cooking spray when using the Silicone Egg bites molds.
To easily get exact measurements to fill each blueberry muffin bites cup with batter use a cookie dough scoop.
Instant Pot Corn Dog Bites
Instant Pot Corn Dog Bites is another kid-friendly Instant Pot recipe perfect for summer lunch.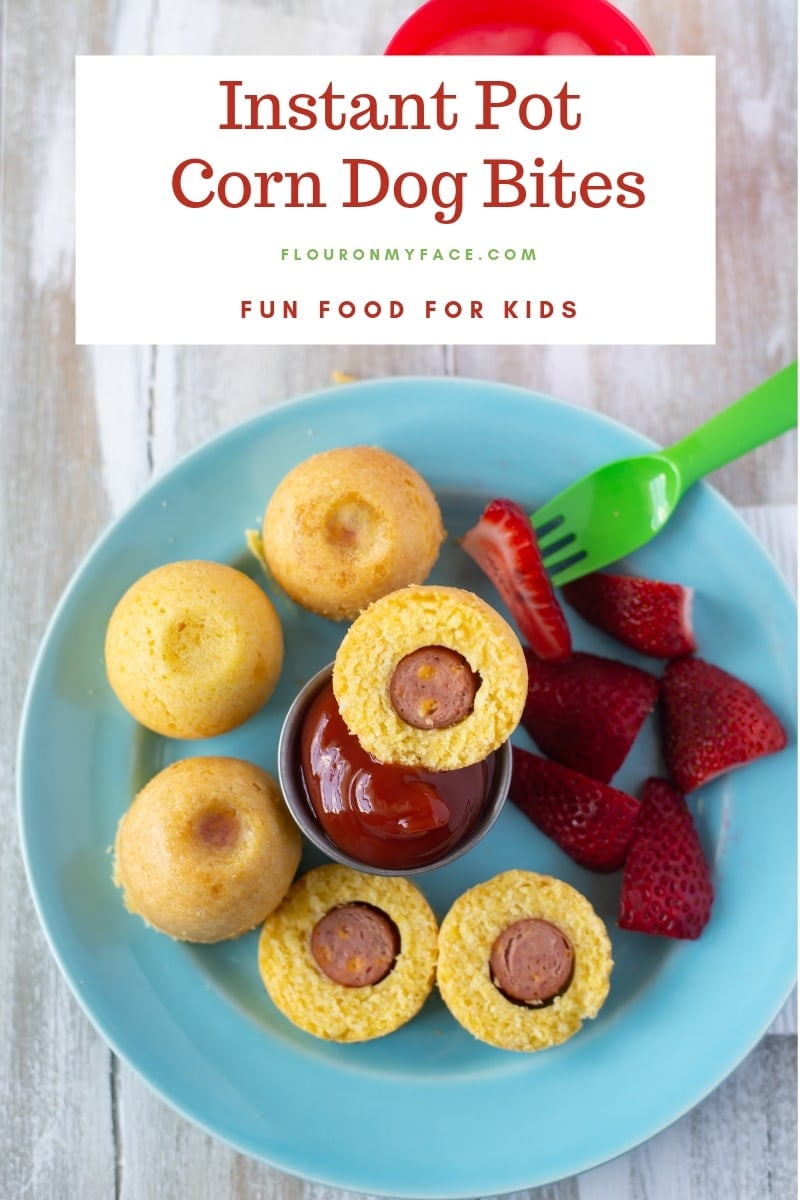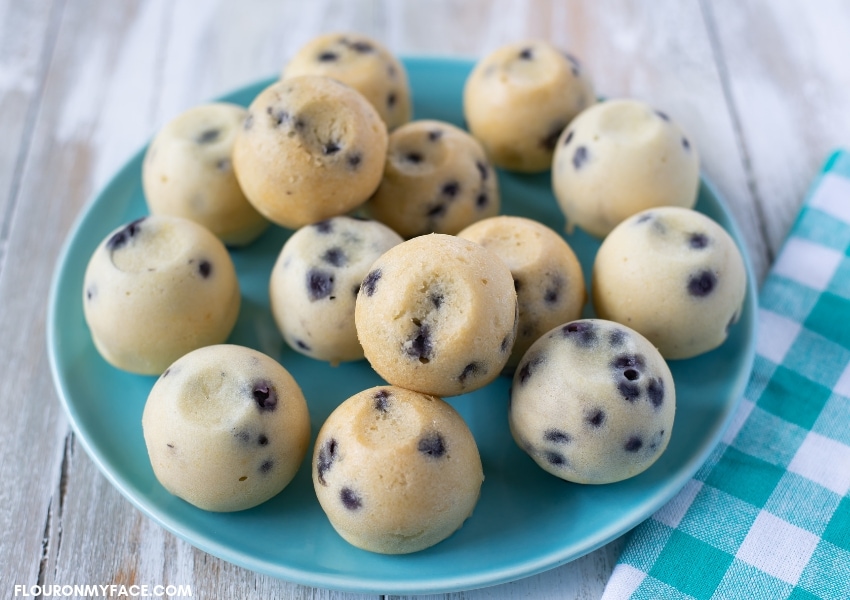 Print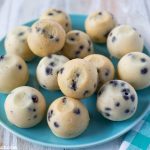 Instant Pot Blueberry Muffin Bites
Author:

Arlene Mobley - Flour On My Face

Prep Time:

5 Minutes

Cook Time:

10 Minutes

Total Time:

15 minutes

Yield:

14

Muffin Bites

1

x

Category:

Instant Pot Recipes

Method:

Pressure Cooker

Cuisine:

American
---
Description
Moist and delicious Instant Pot Blueberry Muffin Bites for breakfast or a snack. Blueberry Muffin Bites are bite-size kid-friendly treats.
---
Scale
Ingredients
box blueberry muffin mix (I used Betty Crock Blueberry Muffin Mix)

3/4 cup

of water

2

eggs

1/4 cup

vegetable oil
Plus water for the Instant Pot
---
Instructions
Mix the blueberry muffin mix following the directions on the box.
Fill each cup of a silicone bites mold cups 3/4 full with blueberry muffin batter. Place the egg bites mold on top of a silicone Instant Pot sling with handles.
Put 1 1/2 cups of water into the bottom of the Instant Pot Insert when using an 8-quart pressure cooker. If using a 6 quart Instant Pot place 1 cup of water into the bottom.
Press the manual button and set high pressure for 10 minutes.
Once done pressure cooking allow to naturally release steam for 5 minutes.
Push the sealing valve to the releasing position and allow steam to release from the pressure cooker.
Remove the lid and carefully lift the bites mold up with the silicone sling handles.
Remove the plastic lid to stop the cooking. Allow the bites molds to cool for about 5 minutes.
Flip each Instant Pot silicone bites mold over on a plate and apply gentle pressure to each of the blueberry muffin bites to release the blueberry bites from the silicone mold.
Makes 14 Blueberry Muffin Bites
---
---
Nutrition
Serving Size:

2 Muffin Bites

Calories:

95
Keywords: Blueberry Muffin Bites, Instant Pot Muffin Bites, Silicone Egg Bites Mold Recipes, Kid Friendly Instant Pot Recipes
Recipe Card powered by