Steamy Kitchen's
healthy asian favorites
Cookbook Giveaway
Update: The giveaway has ended and my winner has been picked!
I'm not sure how I came across Jaden Hair's Steamy Kitchen website. It may have been on twitter or I may have run across her on the now defunct FoodBuzz site a few years ago.  Her site and story is so inspiring. It gives the rest of us Food Bloggers something to aspire to. 
When the opportunity came up to help spread the word about her new cook book I jumped on it.
This weeks Sunday Supper is a little different.
20 bloggers from the #SundaySupper crew will be hosting a giveaway of a copy of Jaden's new cookbook Healthy Asian Favorites.
The book is full of great healthy Asian recipes with beautiful photography.  A cook book has got to have beautiful photography as far as I am concerned and Jaden has some mad cooking and photography skills.
I also had the honor to make one of the recipes out of the cookbook.
I chose to make Mango Brulee because I am a Florida gal and we have plenty of mangoes available all year-long. I chose the recipe site unseen. What a surprise I had when I had a copy of the book in my hand and saw how easy this recipe is. I had an even bigger surprise when I made the recipe and tasted it. It is so good and so easy to make.
You can find the recipe below the details.
Giveaway Details:
Here is how to enter to win. You must do both, #1 and #2, to have an eligible entry:
1. Tell me what your favorite Asian dish is in a comment below – AND – with your twitter handle in the comment. Comment must be posted by 8pm Eastern time today (Sunday, March 10, 2013).
2. Join in the conversation during the live #SundaySupper chat on twitter from 7 to 8pm Eastern Time today (Sunday, March 10, 2013). Your tweet(s) must contain the #SundaySupper hashtag. 
The winner will be chosen randomly from the eligible entries. The winner will be notified via email. Note: Giveaway open for United States residents only. Contest ends on Sunday, March 10, 2013 at 8pm Eastern Time.
Join the Sunday Supper Team along with Jaden Hair this Sunday at 7pm Eastern Time on twitter, just follow the #SundaySupper hashtag. We are giving away 20 copies of Steamy Kitchen's Healthy Asian Favorites Cookbook.   You don't want to miss this week's #SundaySupper Event!
I'm giving away a copy of the Healthy Asian Favorites cookbook. Guess what? 19 other Sunday Supper bloggers are too. That's 20 total chances to win. Plus we are sharing recipes from the book. Giveaway details are below. Read them carefully and be sure to follow the rules for a valid entry. Time is limited! Don't wait, enter below then click to enter on the other 19 blogs:
Tofu-Mushroom Miso Soup 
Crispy Rice Patties
Thai Larb Lettuce Chicken Cups

Miso Cod
Sake Steamed Mussels
Salmon Honey Teriyaki
Korean Beef Bites
Mapo Tofu
Mango Brulee
We are sharing more Steamy Kitchen inspired recipes. The following Sunday Supper Contributors are joining us with some of their favorite recipes from the Steamy Kitchen website:
Follow Steamy Kitchen: Facebook | Twitter | Pinterest
Purchase Steamy Kitchen's Healthy Asian Favorites Cookbook
Spices, sugar and fresh mangoes are all you need for this simple but delicious dessert recipe.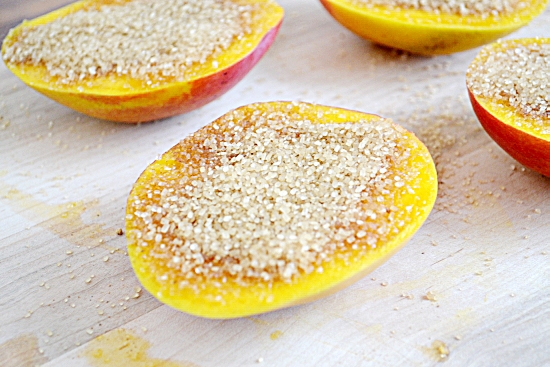 Steamy Kitchen's "healthy asian favorites" Giveaway | Mango Brulee Recipe #SundaySupper
Reprinted with permission from Steamy Kitchen's Healthy Asian Favorites by Jaden Hair, copyright © 2013. Published by Ten Speed Press, a division of Random House, Inc.
Ingredients
2 mangoes
¼ cup turbinado sugar
⅛ teaspoon ground ginger
¼ teaspoon ground cinnamon
pinch of ground nutmeg
Directions
Turn on the broiler. Position rack 6 inches below the heat source. Line a baking sheet with foil.
Cut through the mangoes on either side of the pit as evenly as possible. In a small bowl, combine the remaining ingredients and sprinkle on top of each mango slice.
Place the mango slices on the prepared baking sheet. Make sure the mango halves are level so the sugar does not spill out.
If you need to, use crumpled tin foil to steady the mango.
Broil for 3 minutes, or until the sugar has caramelized. Alternately you can use a creme brulee torch to caramelize the sugar.
Disclosure: I was provided with a copy of Steamy Kitchen's healthy asian favorites for my review.  All opinions are my own.