Mojito Ice Pops
I have been entertaining the thought of making a non alcoholic Mojito ice pop since I made my Tropical Ice Pops. 
You might think this is a strange flavor for an ice pop but I have been coveting
Mojito's
for a few years now. You see I 
don't
 drink much except for a glass of wine once in awhile and I have been drooling over all the Mojito recipes that seem to come to light at this time of the year. Hot weather = Mojito
If you'd like to make mojito ice pop recipe with real rum use double the amount of rum extract called for in this recipe and replace it with your choice of white rum.
Knowing that I would probably never have the chance to taste one of these minty 
lime flavored
 drinks I had to come up with a way to check out what I knew would be an awesome flavor combo minus the alcohol.
I spent a few

hours

weeks

months

years checking out all the Mojito recipes I could find on the internet so I could familiarize myself with the ingredients.
Mojito  ingredients are really simple and in a great abundance here in Florida all year round.
Mint check: I have three types growing in containers in my backyard
Sugar or sugarcane juice: check
Rum check: in the form of imitation Rum extract
Water check: come on ya know I have water
The traditional Mojito is made of only the 5 ingredients.
For those that do not have access to sugarcane juice, which happens to be sold in the Hispanic area of most grocery stores for about 2 cans for a $1, you can substitute white sugar either in granule form or you can use some more of the mint simple syrup that you may be making if you follow my recipe to a tee. 
I made the simple syrup in prep for making my Mojito ice pops and then I found the sugarcane juice at the grocery store. 
I still used a bit of the mint simple syrup in my recipe because it added another layer of sweet and minty flavors to the recipe. 
You can of course make any adjustments you may like to my recipe if you decide to make it. Be creative and go with it. Use what you have on hand, don't freak out and think you have to make it exactly like I did.
 If you are inspired by me and come up with your own recipe I think that's great! That's how new recipe creations come to be!
To begin with you will need to make the mint simple syrup if you decide you want to add that extra layer of flavor. You should make this the day before or early in the day so it has a chance to cool down before you make your ice pops.
To make a simple syrup place 1 cup of water and 1 cup of sugar into a small pan and heat on medium until the sugar is dissolved. Every few minutes carefully swirl the pot so the sugar and water mix together. 
It takes about 5 to 10 minutes for the sugar to dissolve completely, depending on the temp of your stove. Once the sugar has dissolved turn the heat off and remove the pot from the hot burner. Add 2 or 3 large sprigs of mint to the pot and swirl it again so the mint is covered by the syrup. Leave the mint in the pot until the syrup cools. Once it is cool remove the mint and pour through a mini mesh strainer to remove any bits of the mint that may have settled to the bottom of the pot.
Store your mint simple syrup in a glass container in the fridge. It will last 2 to 3 weeks.
Mojito Ice Pop Ingredients
½ cup sugarcane juice or water
2 tsp imitation rum extract or the real thing
Zest one lime and chop fine. Chop the mint leaves fine. Add the lime zest and chopped mint leaves to a spouted bowl.
Add all of the liquid ingredients to the bowl. If you're not using the sugarcane juice add a teaspoon of sugar and taste. Make adjustments for sweetness.
You can use real rum if you'd like but as I mentioned earlier I don't drink so I am not sure how much rum you would use and how it might affect the freezing of the pops. 
You'll have to experiment. You could start with the 2 tsp's and then taste it.  If you over do it with the liquor and the pops don't freeze all the way you could always just dump it in a bowl and mix it up like you would a granita. I'm sure it would probably taste excellent that way also.
Mix everything together and pour into ice pop molds. Put the ice pop handles on and put in the freezer. 
Freeze for one hour. Pull the handles out of the semi frozen ice pop and using a chop stick or a skewer to gently mix from the bottom so the lime zest and mint leaves that have sunk to the bottom of the mold are evenly distributed. Put the handles back in and freeze completely.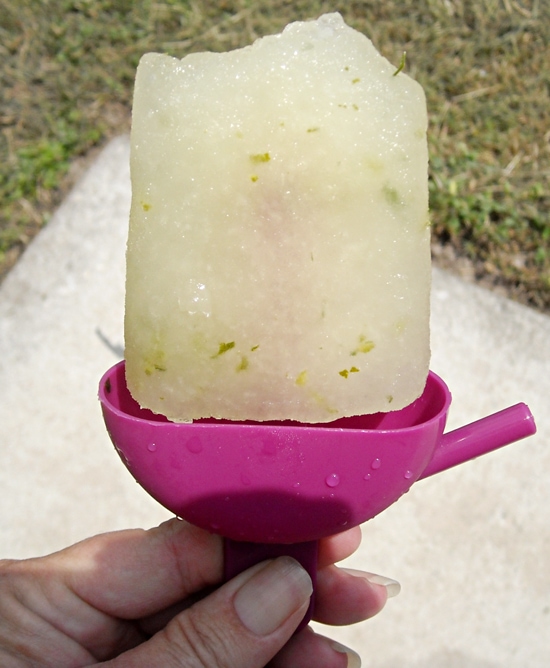 Keeping in mind that I don't actually know what a real mojito tastes like I have to say that even if I got it wrong (which is impossible because I used an actual mojito recipe) these ice pops taste awesome. I have to tell you I think the sugarcane just probably makes a huge difference. I've had sugarcane before and the flavor really comes out and mellows out the sour of the lime juice.