This is a sponsored post written by me on behalf of Fresh From Florida for IZEA. All opinions are 100% mine.
No Bake Strawberry Cheesecake Pie
The month of February may be most associated with red hearts for Valentines Day but to me it is the month of sweet luscious strawberries. During February Florida Strawberries are in the peak of the Florida strawberry growing season. This easy no bake Strawberry Cheesecake Pie has two layers that include sweet Florida strawberries.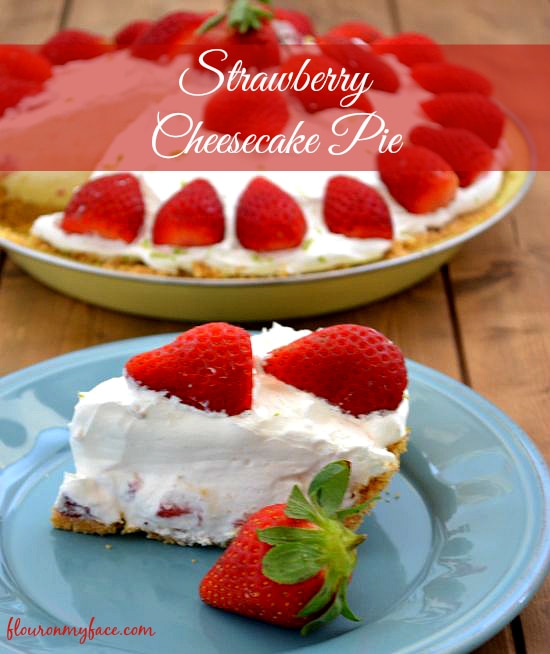 We love strawberries and enjoy them all year long but during the winter months when there is an over abundance of fresh Florida strawberries I buy them at almost every visit to the store. We eat them straight from the container or I include them in a recipe.
I stock up when the prices are low and freeze them to enjoy after the strawberry season is over.   
One of my favorite things to do with fresh Florida strawberries is to take a plain vanilla cupcake and fill them with a homemade strawberry sauce. If you've never tasted a vanilla cupcake filled with a fresh homemade strawberry filling you need to try it asap! It is delicious.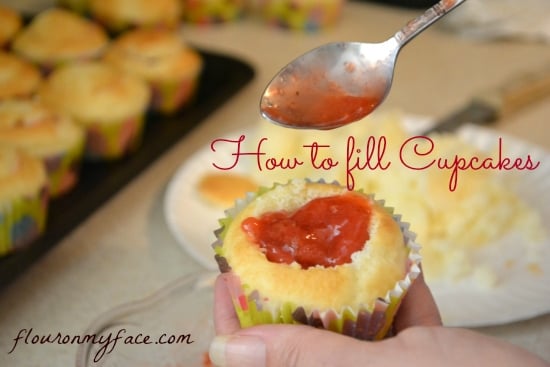 This months featured produce on the Fresh from Florida site are strawberries of course.  #FreshfromFlorida is featuring a delicious Stuffed Florida Strawberry recipe made with Florida Strawberries
I have been dying to try stuffed strawberries and plan to try the featured recipe soon but I decided to make this easy No Bake Strawberry Cheesecake Pie instead.
I love no bake pies. They are easy to make, taste delicious and you don't have to worry about heating up the kitchen to make one.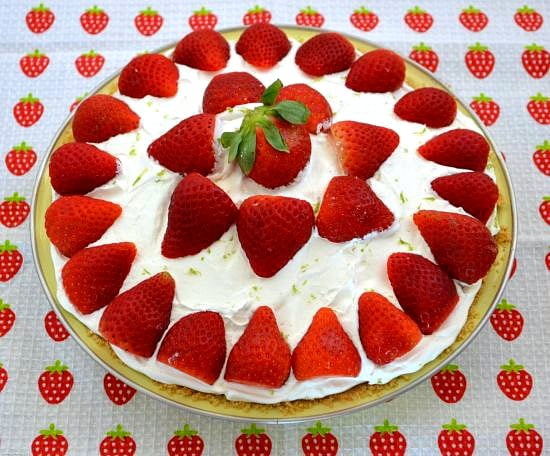 Be sure to check out the Fresh from Florida website for more delicious recipes using in season Fresh from Florida produce. Each month there are two new featured recipes and you can find a large archive of recipes featuring Florida produce.  
 How to make a No Bake Strawberry Cheesecake Pie
This No Bake Strawberry Cheesecake Pie starts out with a graham cracker crust. I made mine from scratch but you could also use a premade graham cracker crust from the store.
This No Bake Strawberry Cheesecake Pie has three delectable creamy layers.  All you need to make this No Bake Strawberry Cheesecake Pie is a graham cracker crust, cream cheese, sweetened condensed milk, cool whip, a fresh lime, a small amount of sugar and some sweet Florida strawberries. Full recipe instructions are below and can be printed.
First you'll beat the ingredients together to make a cheesecake filling.

You will then divide the cheesecake filling and spread some in the bottom of the crust.

Next you'll fold in some cool whip to the remaining cheesecake filling.

Then fold in some chopped strawberries.

Spread that layer over the cheesecake layer in the pie pan.

Now spread and mound more cool whip over the first two layers.

Chill, garnish with sliced strawberries and serve.
You can't get much easier then that when it comes to making a pie. All the mixing and beating is done in one bowl so cleanup is easy.
Buy Fresh from Florida Strawberries
To be sure that you are buying the freshest Florida strawberries look for the Fresh from Florida sign in your grocer's produce department. You can't miss it. It's the sign with a big sun on it.   
If you are in Florida and shopping at a local Farmers Market be sure to keep an eye out for strawberries grown in Plant City. They are the best strawberries you will ever taste. I found these gorgeous Plant City Strawberries at the Lakes Park Farmers Market in Lee County, Florida.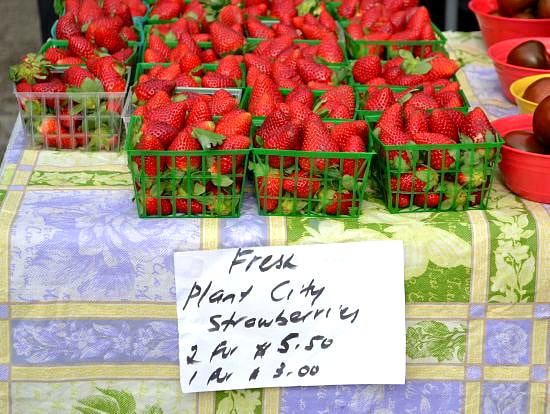 Head over and follow Fresh From Florida on Facebook  or follow Fresh From Florida on Twitter for more #FreshfromFlorida information and recipes.
Check out my other #FreshfromFlorida recipes below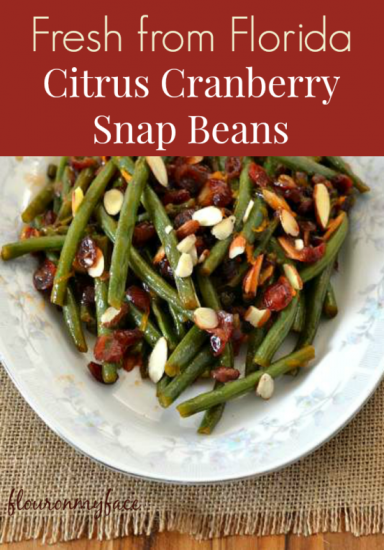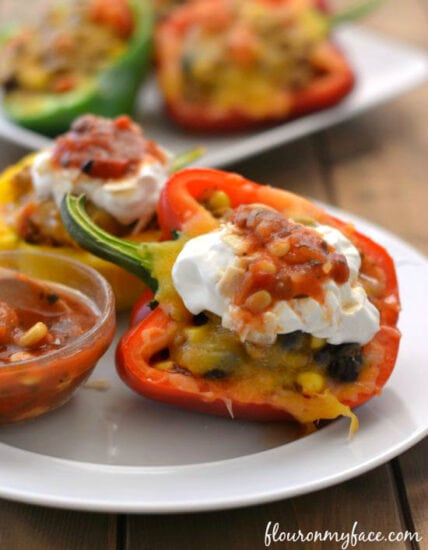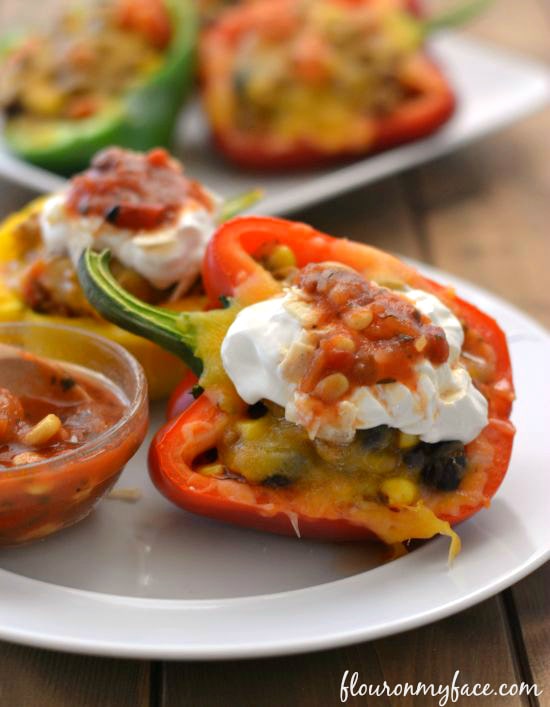 Print
No Bake Strawberry Cheesecake Pie #FreshfromFlorida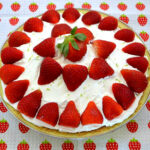 Author:

Arlene Mobley

Prep Time:

10 mins

Total Time:

10 mins

Yield:

8

Category:

No Bake Pie
Ingredients
8 oz cream cheese, softened
3 1/2 cups Cool Whip, divided
1/2-3/4 cups diced strawberries
zest from 1 lime
juice from 1/2 lime
1/4 cup sugar
1/2 cup sweetened condensed milk
1 tsp vanilla extract
strawberries for garnish
Instructions
Make the crust by mixing all the ingredients and pressing into the bottom of a 9 inch pie pan or use a store bought crust.
Beat the softened cream cheese with the sugar, zest and lime juice until smooth and creamy.
Add condensed milk and beat until thickened, about 2 minutes.
Remove one cup of filling and spread into the bottom of the pie plate.
Fold 1 cup of Cool Whip into the filling.
Fold until the Cool Whip is combined with the filling mix completely.
Fold diced strawberries in.
Spread over the first layer in the pie pan.
Spread the remaining 2 1/2 cups of Cool Whip over the filling, mounding in the center.
Refrigerate over night.
Garnish with strawberries before serving.
 Check out all my other Fresh from Florida recipes below.
 Do you love No-Bake Dessert recipes as much as I do? Check out the other No-Bake Dessert recipes I have shared.