How to Fill Cupcakes with a Strawberry Filling
I've had the pictures for this post sitting in a folder for a few months now. I planned to write this post back before the holidays but then well the holidays happened and I never got around to it.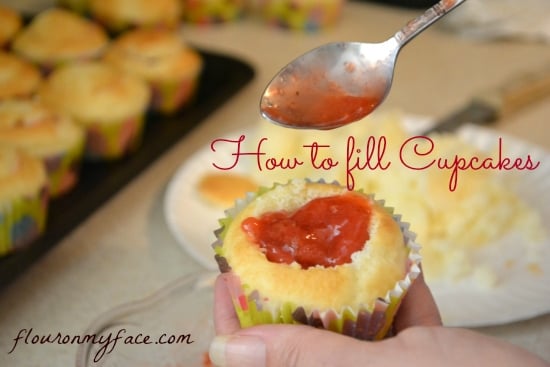 I also realized that now was the perfect time because the height of strawberry season in Florida is almost upon us. The Plant City, Florida area is the mecca of strawberry growing in Florida. There are over 10,000 acres planted with strawberries. From what I have been reading the Florida strawberry crop this year is going to be great. So far the stores have had them for good prices but as soon as they start selling flats for a great price I plan on going to town.
The first thing I will be making will be strawberry jam. Next I'm not sure. I found a great cook book filled with nothing but strawberry recipes. So I am not sure what recipes I will be sharing yet. Until then you can check out Strawberry Sue for some great strawberry recipes. Strawberry Sue is with the Florida Strawberry Association and is the expert on all things strawberry.
The filling I am using for these cupcakes is a very easy to make strawberry sauce that I have made and used for many things. I have used it as an ice cream topping, topping for a Vanilla Bean Blanc Mange, a cake filling and as you see here, a cupcake filling. This same recipe can be used to turn any fresh fruit or berry into a topping.
You can find the directions for making a strawberry filling at the end of the Vanilla Bean Blanc Mange post.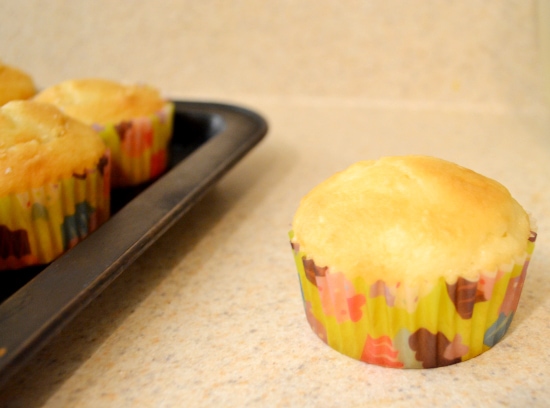 Remove the center of the cupcake.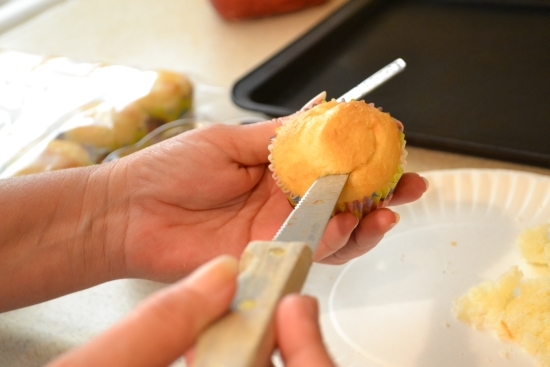 As you can see I am using a regular old steak knife to remove the center of my cupcakes for the filling. I tried one of those new plunger type gizmos that are suppose to make removing the center of a cupcake a breeze. Well, I found it to be too awkward to use. It took way more time to plunge it in twist it and carefully remove the cupcake center. I could do two cupcakes with a knife in the time it took me to use that plunger.
I was doing this for 24 cupcakes for a party and the plunger took way too long.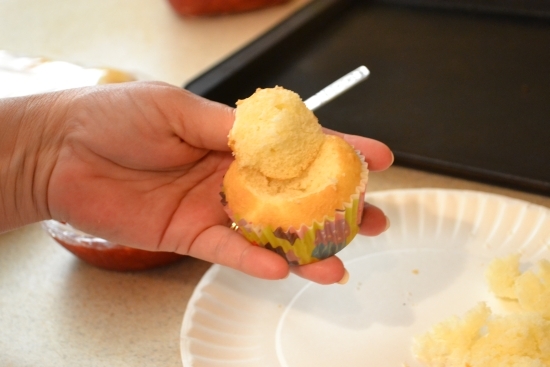 Hold the knife at an angle and cut in a circular motion.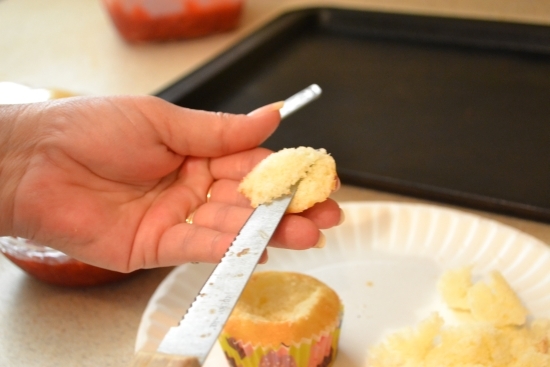 Cut the bottom portion of the piece of cupcake that you have just removed so it is flat and level. Set it aside.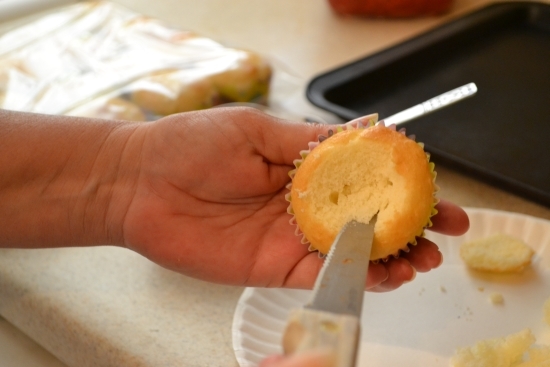 This is what your hollowed out cupcake will look like.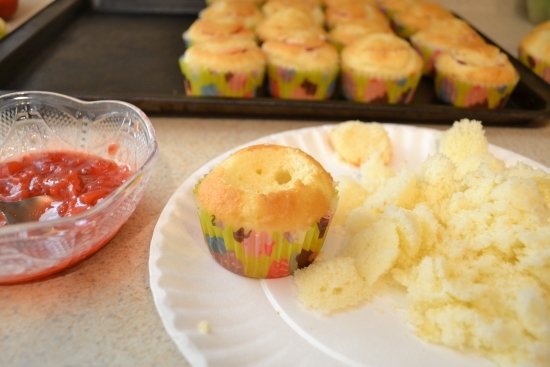 Use a spoon to fill the center. Be sure to leave enough space so the top sits level with the rest of the top of the cupcake.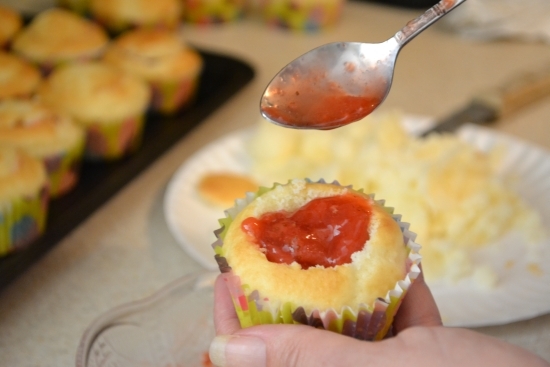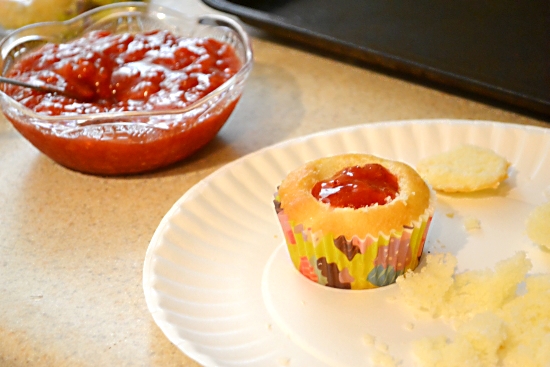 Now fit the top piece back into the top of the cupcake and push it down gently but firmly.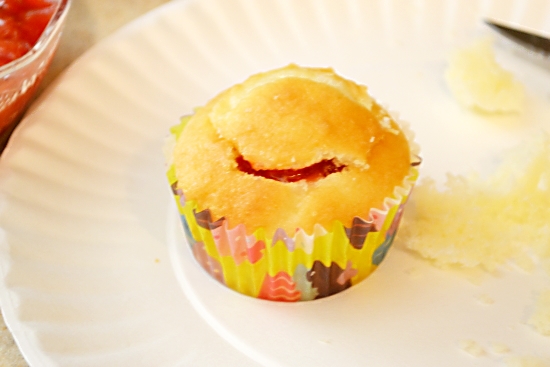 Fill all of your cupcakes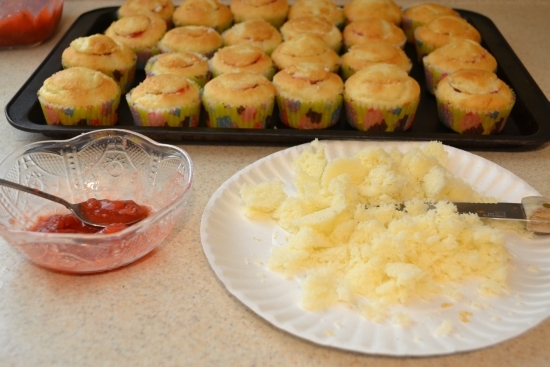 Frost your cupcakes with your favorite frosting.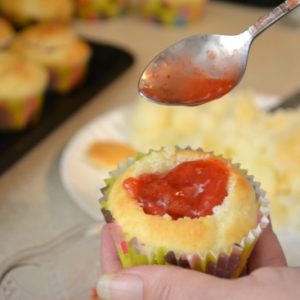 How to Fill Cupcakes
The filling I am using for these cupcakes is a very easy to make strawberry sauce that I have made and used for many things. This method works for any type of filling.
Rate this Recipe
Ingredients
12

prepared cupcakes

¼

cup

jam or other filling

(1 tsp per cupcake)

Steak knife
Follow Flour On My Face on Pinterest
Instructions
Slice the center out of your cupcake (like hulling a strawberry) with a steak knife. Shave some off to make it flat.

Hollow out more from the cupcake if needed.

Add 1 teaspoon jam to the cupcake, making sure to leave enough room to place the top back on and be level.

Replace tops and press down gently.

Frost as normal.
Nutrition
Calories:
173
kcal
Carbohydrates:
29
g
Protein:
2
g
Fat:
5
g
Saturated Fat:
1
g
Polyunsaturated Fat:
1
g
Monounsaturated Fat:
2
g
Cholesterol:
1
mg
Sodium:
143
mg
Potassium:
46
mg
Fiber:
1
g
Sugar:
19
g
Vitamin A:
22
IU
Vitamin C:
1
mg
Calcium:
57
mg
Iron:
1
mg
Tried this recipe?
Share a picture on Instagram and tag @flouronmyface2