Gardening Tips and Helpful Hints To Keep Your Garden Green
I love gardening. I don't have a large plot of land to plant a large garden so I have to satisfy my need to grow plants my vegetable, herbs and fruit trees in containers.
I also take advantage of the small landscaped areas and a raised bed I have in my Florida yard.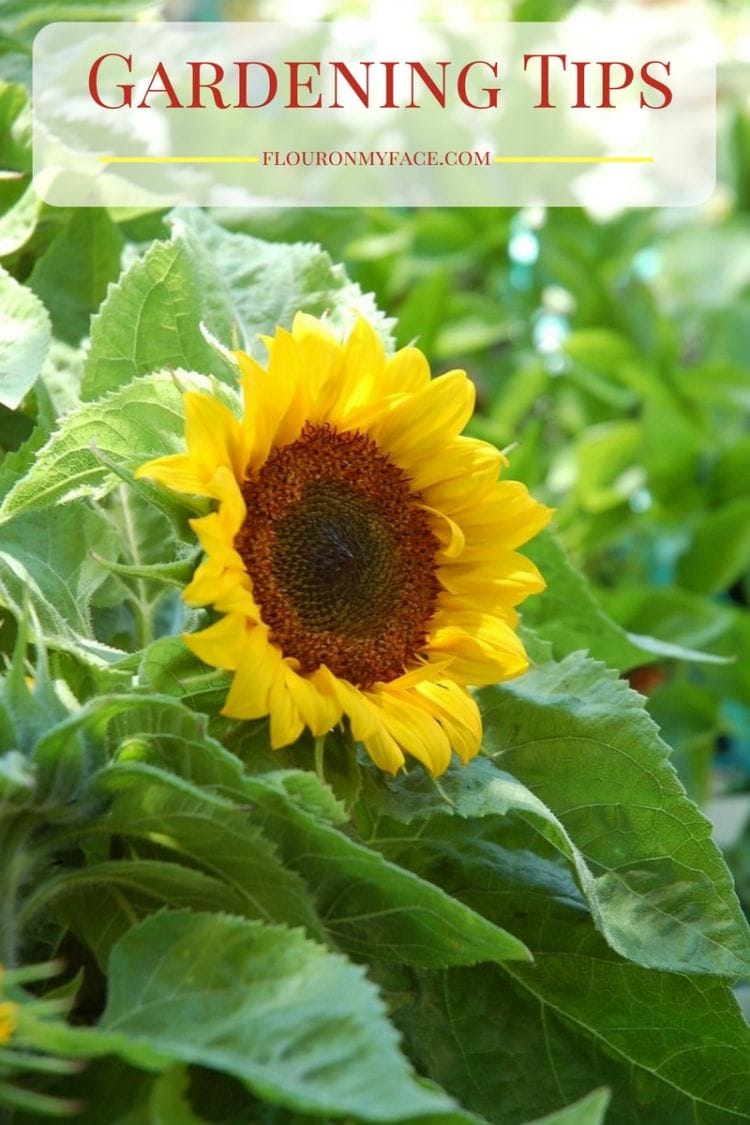 Gardening Tips from Flour On My Face
12 Easy Herbs to Grow from Seeds: I can't live without growing a few pots of fresh herbs every Spring.
Since I live in Florida I get to grow and use my fresh herbs all year long.
Check out which are the easiest herbs to grow from seeds so you too can enjoy cooking with the fresh herb you harvest from your own garden.
How To Grow a Cocktail Garden: Want to make your own herbal infused cocktails? See how easy it is to grow your own herbs to make your favorite herbal cocktails like mojitos.
How To Make a Simple Fairy Garden: Coming Soon!
How To Plant a Florida Friendly Landscape: Living and planting landscape plants in Florida has a few challenges.
I share my tips on how to plant and grow landscape plants in Florida.
8 Summer Gardening Hack: Do these easy gardening hacks to keep your garden green during the scorching summer months.
How To Take Care of Garden Tools: Tool maintenance is just as important as picking out the right plants to plant in your garden.
7 Fastest Growing Vegetables: Want to grow your own food to save money? Here are a few of the fastest growing vegetables you can grow in your garden this summer.
Best Culinary Herbs to Grow: Grow your own fresh herbs to use in your cooking.
Herb plants are some of the easiest plants to grow for the beginning gardener.
You can grow herbs in containers if you don't have a garden to plant them in.
How to Grow a Raised Garden Bed: Want t to plant a raised garden bed?
Here are some tips to help you plan your raised garden bed.
4 Signs Your Garden Soil is Unhealthy: Wondering if your garden soil is healthy enough to grow fruits and vegetables? Here are 4 signs your garden soil will need to be amended before you can plant your garden.
How to Know What will Grow Best in Your Yard: Planting the right plants in your landscape will guarantee garden success.
10 Tips to Become a Successful Organic Gardener: Check out these 10 tips that will help you start an organic garden
How to Keep Your Herb Garden Hydrated During Winter: The winter months are just as important when taking care of your garden.
Tips for Growing a Healthy Butterfly Bush: Want to attract butterflies to your garden? Plant a healthy Butterfly Bush.
How to Grow a Salsa Garden and Can Salsa for Winter: I love salsa almost as much as I love gardening.
Find out how you can grow a salsa garden and enjoy your homemade salsa all winter long.
How to Create a Hydroponic Window Farm : Want to try your hand at growing a hydroponic garden?
5 Factors That Can Affect Sun Sensitive Plants: Shade plants need a special garden. Learn 5 things you should know when planting shade plants.
Get your copy of the Backyard Herb
Gardening ebook: Simple Tips to Help You Grow a Successful Herb Garden