I have the perfect Fall apple recipe for you today. Crock Pot Applesauce is one of my favorite ways to use crisp sweet fall apples.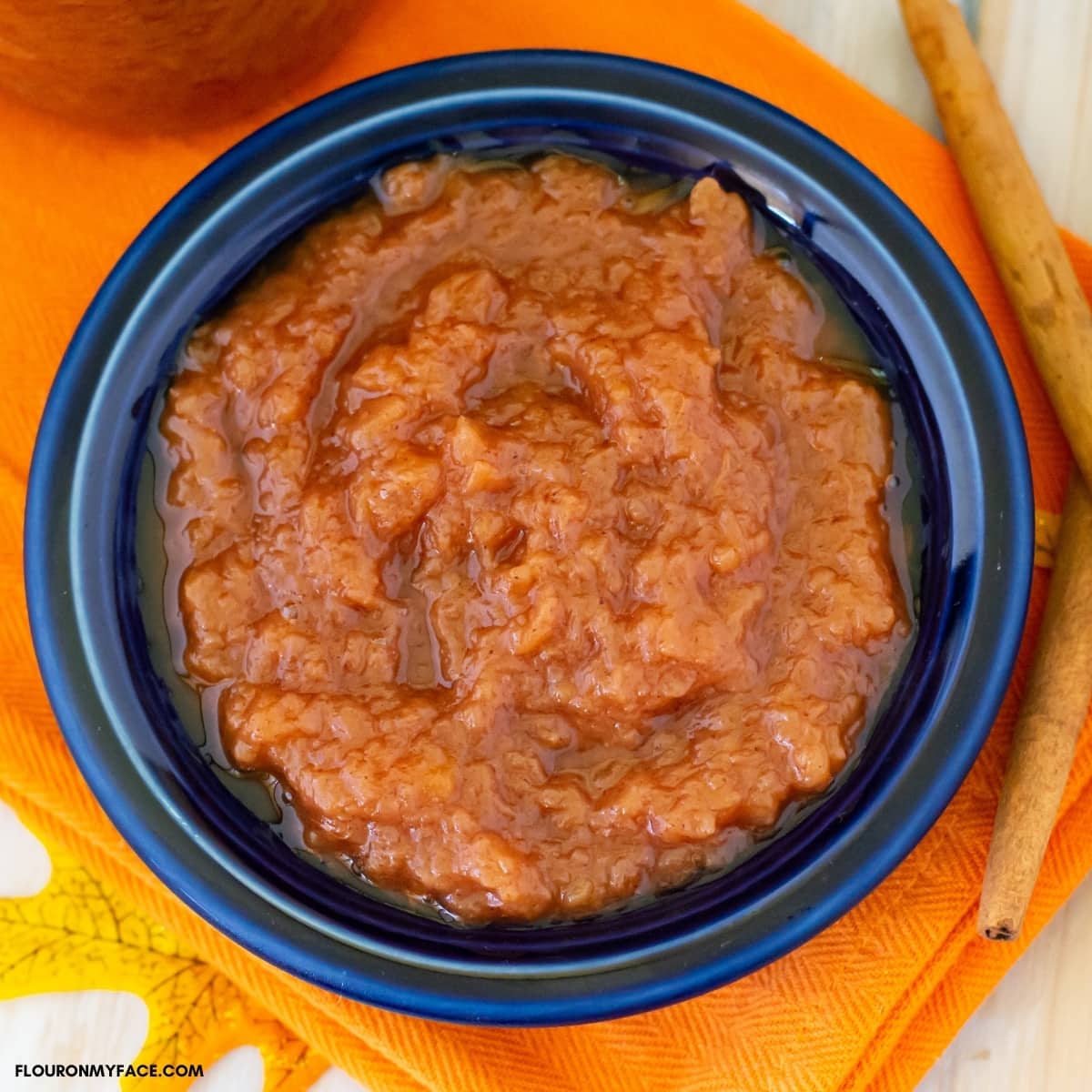 Homemade applesauce is easy to make. If you can slice apples you can make it.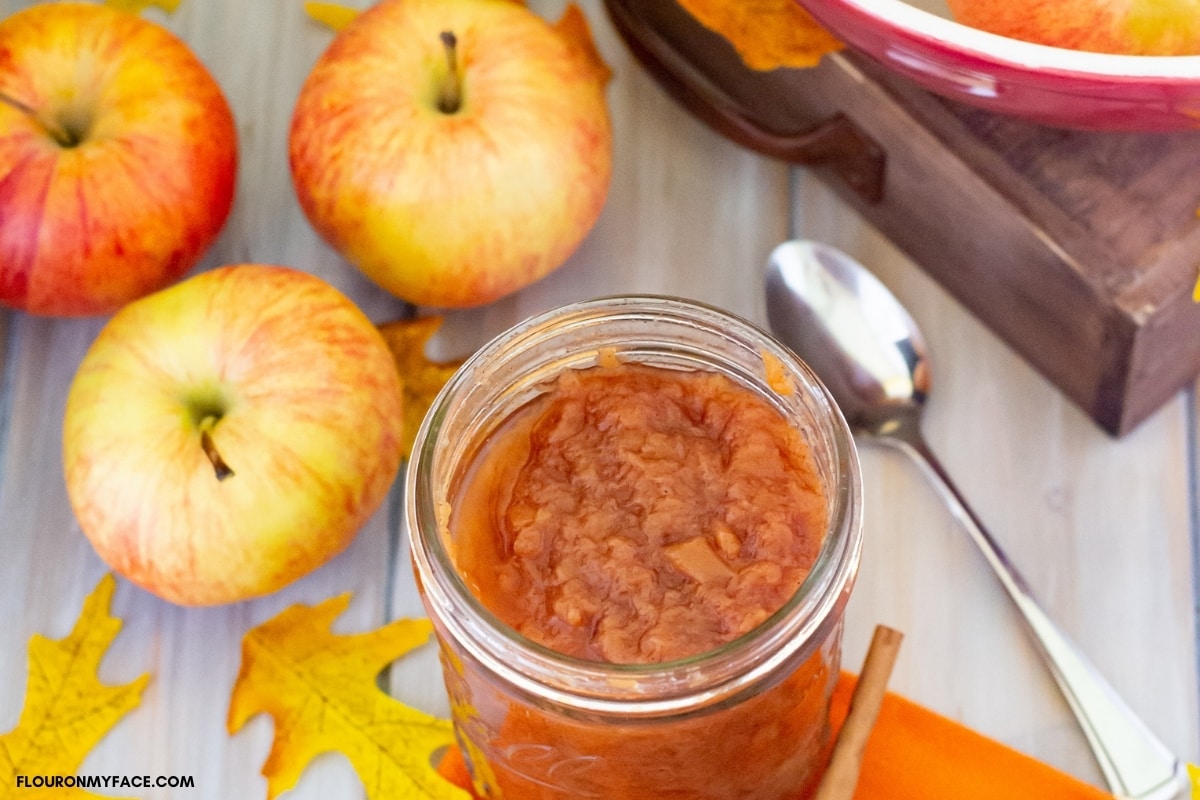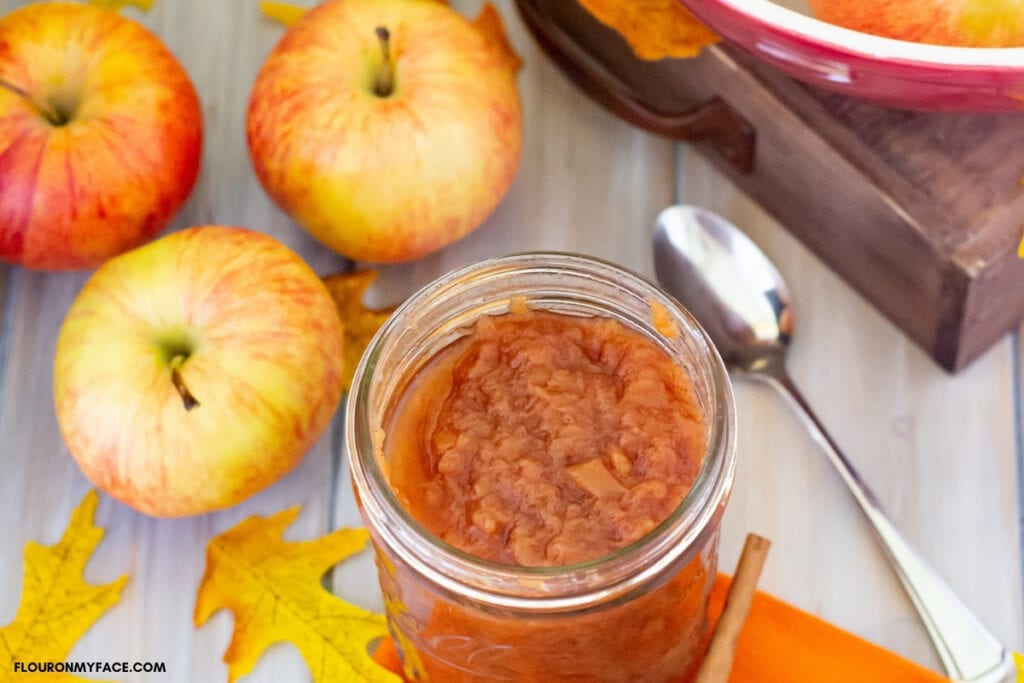 I can't think of a better way to enjoy the tart, sweet and crisp flavor of fresh apples when it is so easy to turn them into homemade Crock Pot Applesauce.
Homemade applesauce is seriously the easiest crock pot recipe you will ever make!
Which is your favorite fall flavor? Pumpkin Spice or fresh apples?
Are you crazy for the flavor of pumpkin spice or apples during the fall?
I can't live without my Pumpkin Spice iced coffee during the Fall but I love, love! the flavor of Extra Fancy Gala apples.
I used to love Granny Smith Apples the best but I have since fallen in love with the sweet tart flavor of Extra Fancy Gala Apples.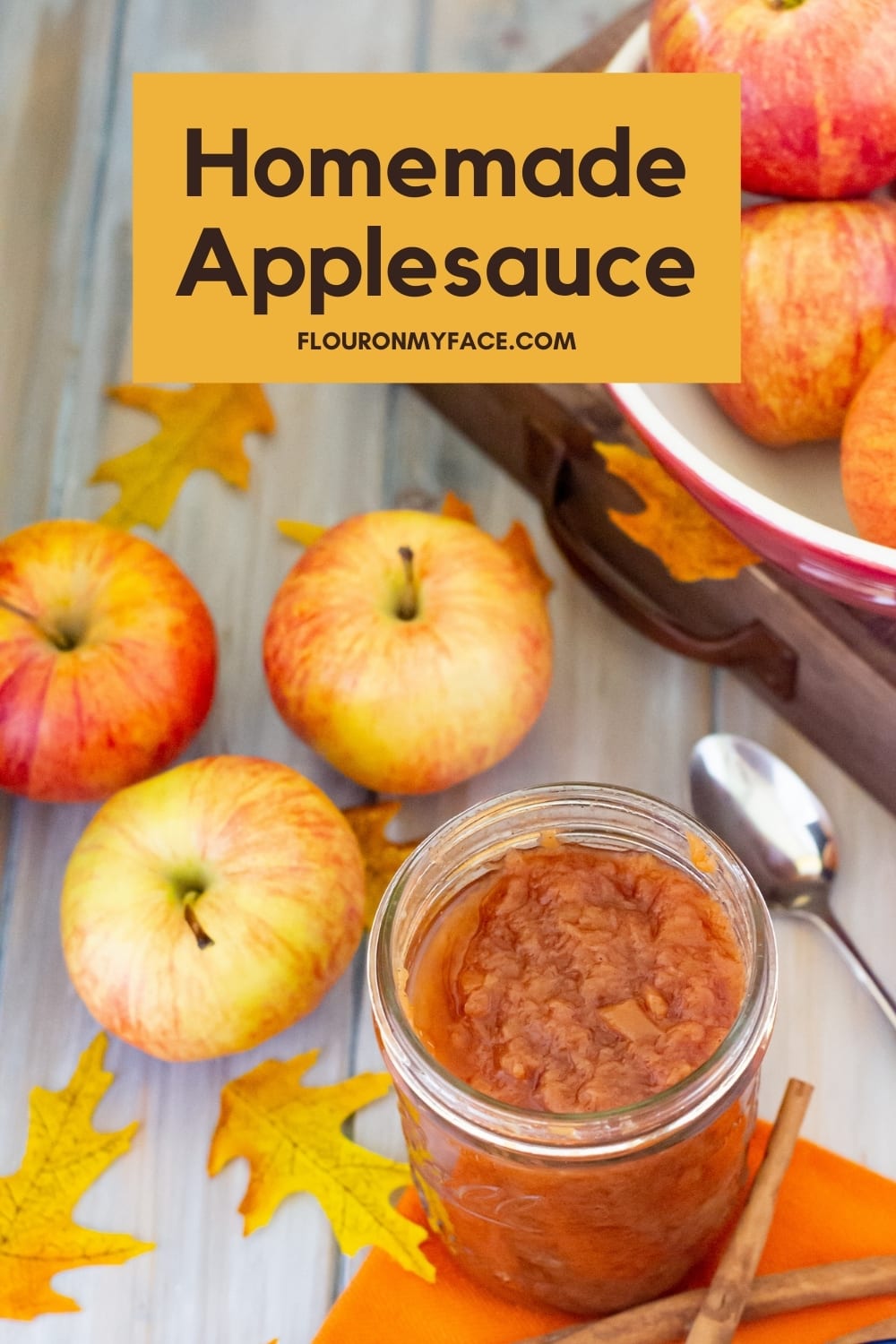 Fall Apple Season
I am so jealous of everyone who lives in apple country. I would love to be able to go out picking apples and bring them home to enjoy. I know you all have a bunch of local and heirloom apple varieties that I will never see down here in Florida.
Those of you who are lucky enough to live in apple country will be able to make this crock pot applesauce recipe with the different varieties of apples that are available to you.
You'll be able to experience flavors of apple sauce I will never have the chance to taste. So make this homemade recipe a couple of times with a different variety of apple until you find your favorite.
I'm happy with my homemade Gala applesauce and will probably make it a few more time this fall.
I also made some homemade apple cinnamon fruit rollsups. The kids love them. You can check out the Cinnamon Apple Fruit Rollup recipe here.
Recipe Prep
Prepare the apples: Peel, core and slice the apples.
Pretreat the apples: To prevent the apples from browning you will need to pretreat them with lemon juice or a citric acid fruit browning product like Fruit Fresh.
Equipment
Fruit peeler or Apple peeler
4 or 6-quart crock pot
large mixing bowl
potato masher or stick blender
Ingredients
10 cups very thinly sliced apple pieces
¼ cup water
Ball Fresh Fruit or lemon juice
2 tablespoons granulated sugar (optional)
1 teaspoon ground cinnamon
How to make Crock Pot Applesauce
Crock Pot Applesauce is very easy to make. If you have a bunch of apples that need to be used up homemade applesauce is a delicious apple recipe to make.
Peel, core, slice or chop the apples up. Make sure you use something to keep the peeled apples from browning while you prepare them.
Keep the apple pieces from browning. I like to add a couple of tablespoon of lemon juice to a bowl and as I peel and slice the apples I toss the pieces into the bowl and swish the pieces around to cover them with the lemon juice. You can do the same thing with fruit fresh.
Cook the apples until they are soft. Put the sliced apples, a bit of sugar, ground cinnamon and about ¼ cup of water into a crock pot. Cook the apples until they are soft enough to mash.
Process the cooked apples into applesauce. Use a metal potato masher to crush the cooked apple pieces and make a chunky applesauce or pulsed the cooked apples in a blender to make smooth applesauce.
How to stop apples from browning?
Any citrus juice will stop apples from browning when you peel and cut them. Some apple varieties brown much faster than others.
When cutting apples for this Crock Pot Applesauce recipe or any other apple recipe add some lemon, lime or even pineapple juice to the bowl.
As you add more sliced or apple chunks to the bowl give the apples a stir so all sides of the apple pieces are covered in the citrus juice.
Fruit Fresh Produce Protector
As I mentioned above citrus juice will prevent apples from browning but if you want to avoid adding the lemon flavor to your recipe I recommend using Ball Fruit Fresh Produce Protector.
I love this stuff! It does not add any flavor to the fruit but it will keep apples from browning like magic.
Use it when making a fruit salad and the beautiful bright colors of the fruit will stay vibrant.
You will find it near the canning supplies in most grocery and big box stores. Or you can order it on Amazon.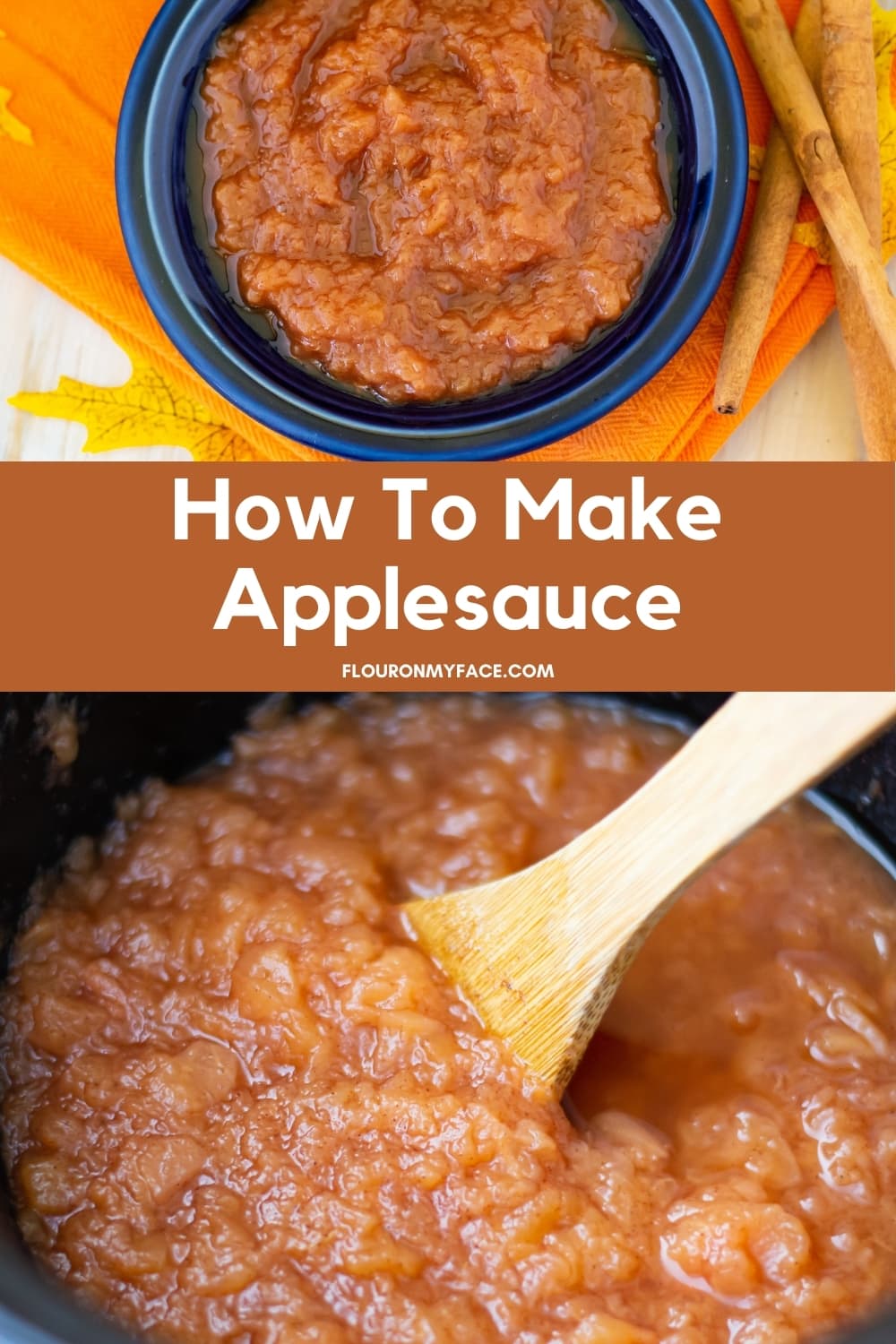 FAQ
What size crock pot to make applesauce?
I used my tall and round 4 quart Crock Pot to make this Crock Pot Applesauce. 10 cups of sliced apples fit perfectly and cooked down perfectly.
How long does it take to make applesauce in the crock pot?
When cooking crock pot applesauce on low it will take 8 to 10 hours to make applesauce.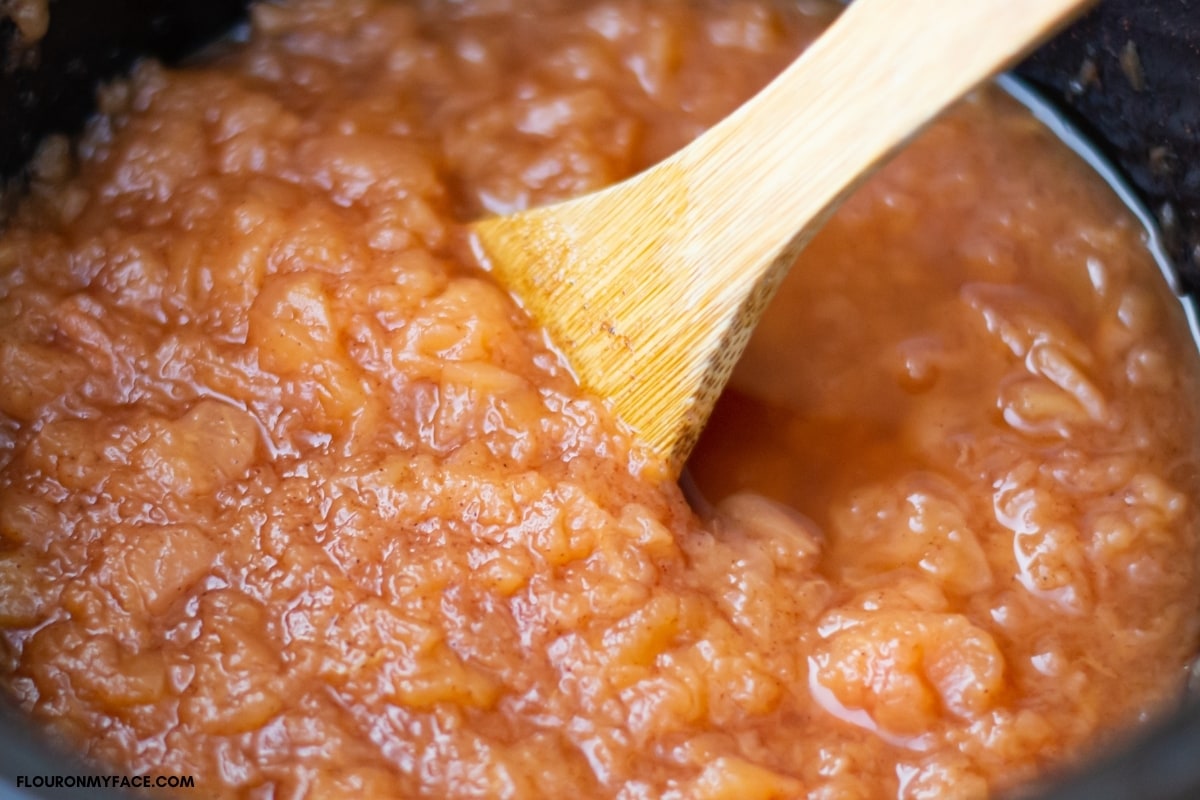 How to store homemade applesauce?
Place the homemade applesauce in an airtight container and refrigerate.
How long does homemade applesauce last?
Properly stored and refrigerated homemade applesauce will last one week in the refrigerator.
Recipe Expert Tips
I turned the crock pot on low before I went to bed and when I woke up in the morning I had 2 quarts of the prettiest apple sauce you could ever imagine.
The Extra Fancy Gala Apples turned the applesauce into a beautiful reddish color.
The color of your applesauce will depend on the variety of apples you use.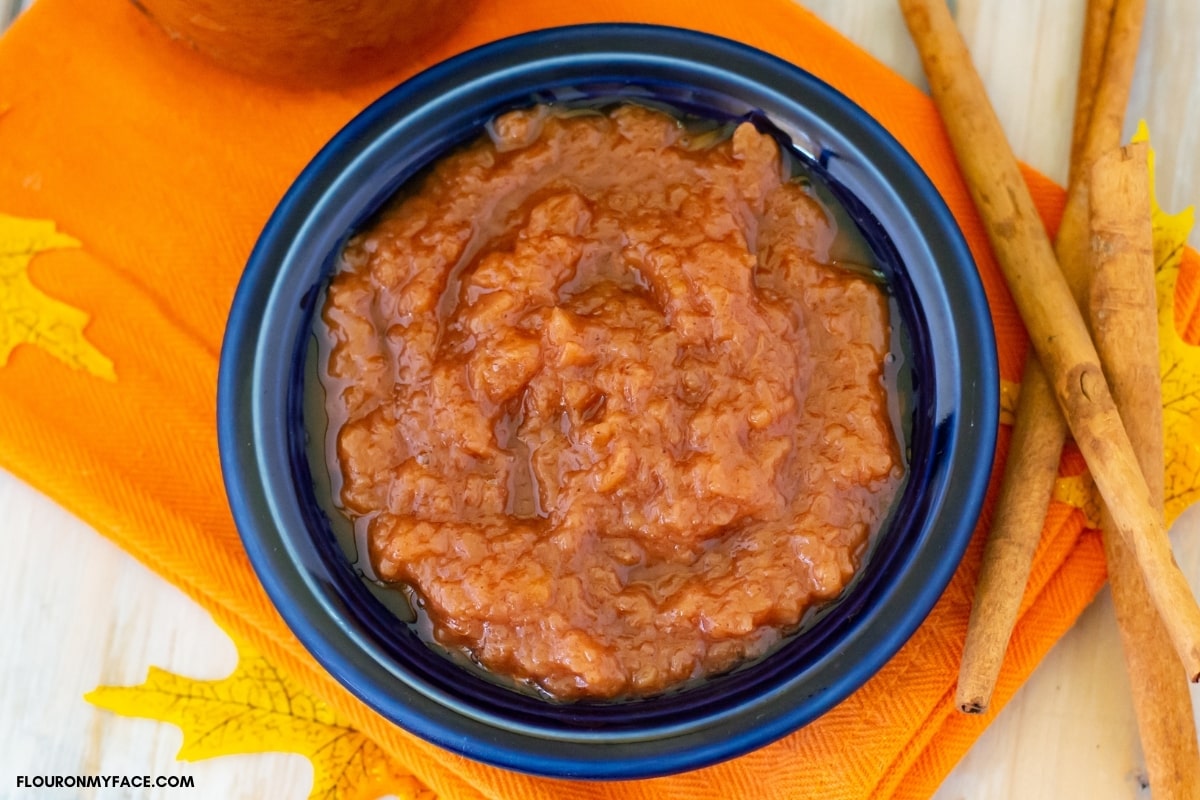 More Apple Recipes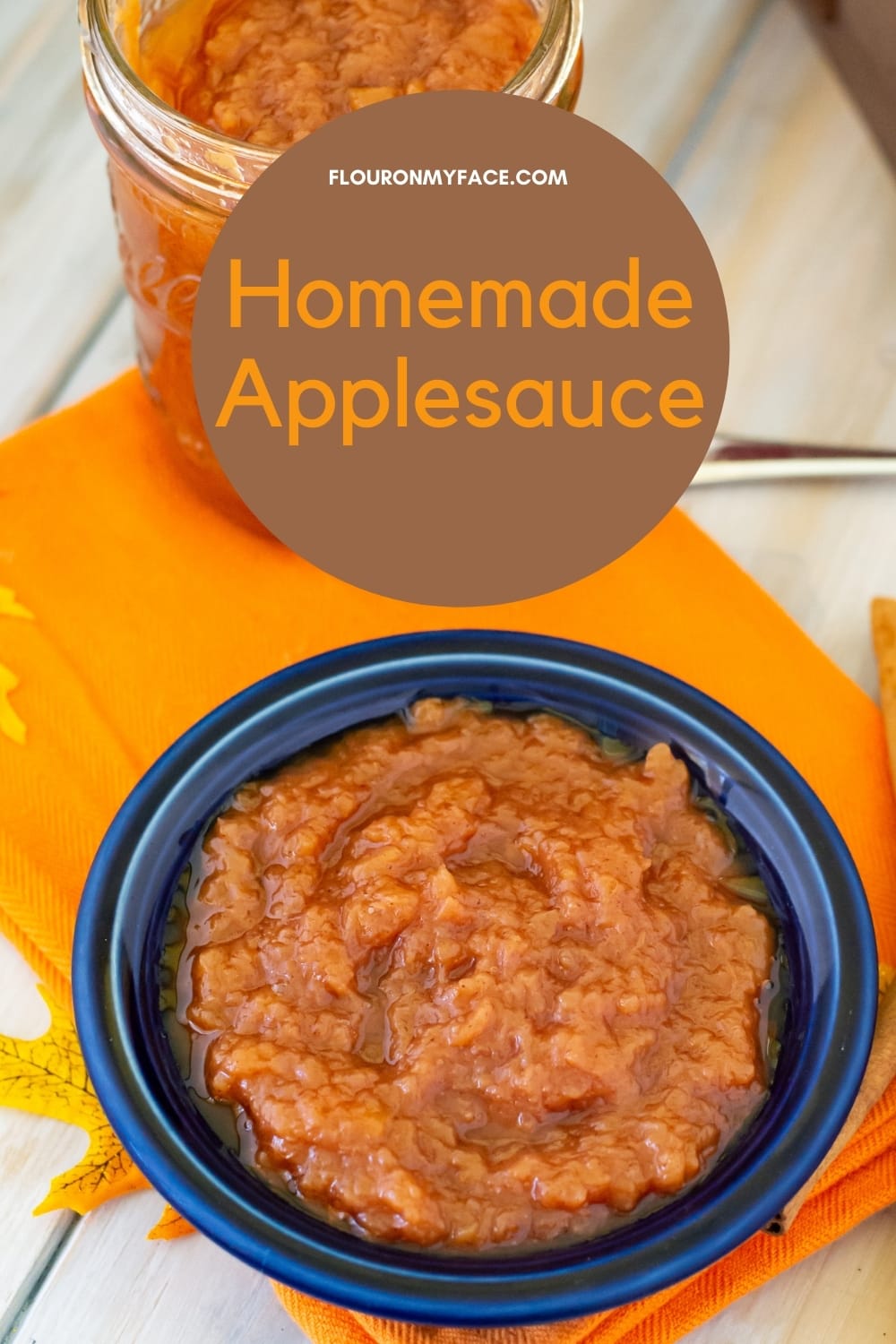 Email questions or recipe requests to flouronmyface@gmail.com. Follow me on Pinterest, YouTube, Instagram and Facebook.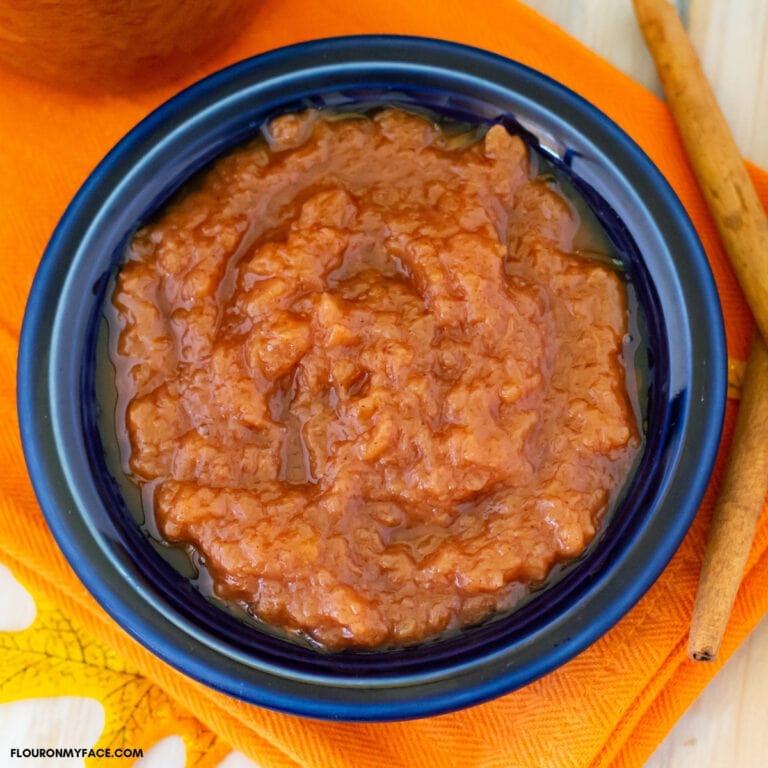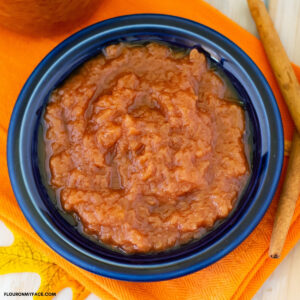 Crock Pot Applesauce
The easiest homemade applesauce is made in a crock pot slow cooker. Crock Pot Cinnamon Applesauce is made with fresh Gala apples, ground cinnamon and a small amount of sugar. Homemade applesauce is a delicious sidedish for pork. Making applesauce is a great way to use sweet fall apples.
Rate this Recipe
Ingredients
10

cups

very thinly sliced apple pieces

¼

cup

water

Ball Fresh Fruit or lemon juice

2

tablespoons

sugar

(optional)

1

teaspoon

ground cinnamon
Follow Flour On My Face on Pinterest
Instructions
Prepare a large bowl by combining 2 teaspoons Ball Fruit Fresh with 3 tablespoons of cool water. Mix well and pour into the bowl.

Core, peel and slice the apples thinly. Place the apple slices from each apple as you slice it into the bowl and toss with the Fruit Fresh and water to prevent browning.

Once all the apples are sliced measure them into a 4 quart crock pot.

Add the water, cinnamon and sugar if using.

Cook on low for 8 hours or until the apples are very soft.

Mash with a potato masher to breakup any large pieces of cooked apple for chunky applesauce. Process in a blender or use a stick blender to make smooth applesauce.
Nutrition
Serving:
0.5
cup
Calories:
47
kcal
Carbohydrates:
12
g
Protein:
1
g
Fat:
1
g
Saturated Fat:
1
g
Polyunsaturated Fat:
1
g
Monounsaturated Fat:
1
g
Sodium:
1
mg
Potassium:
84
mg
Fiber:
2
g
Sugar:
10
g
Vitamin A:
43
IU
Vitamin C:
4
mg
Calcium:
6
mg
Iron:
1
mg
Tried this recipe?
Share a picture on Instagram and tag @flouronmyface2