Crock Pot Apple Spice Cake
The best way to finish off a good meal is with a delicious dessert recipe. A big piece of this Crock Pot Apple Spice Cake on a cold winter day is the best way to end a meal. I've been testing out a few new crock pot recipes and this slow cooker apple spice cake recipe is the first of many new crock pot recipes to come in the new year.
Back in December, I mentioned that I got a new crock pot. You can never have too many crock pots I say!
I bought the (affiliate links)  crock pot casserole crock pot. What I love about it is that it is long and shallow. It is meant to cook casseroles in but I knew the minute I saw it that it was going to do wonderful things for all the crock pot dessert recipes that are knocking around in my head.
Apple pie filling meets spice cake and comes together for a delicious dump cake recipe that is warm and gooey. Serve it warm with a scoop of vanilla ice cream and you have a perfect dessert recipe that doesn't take hardly any work to make.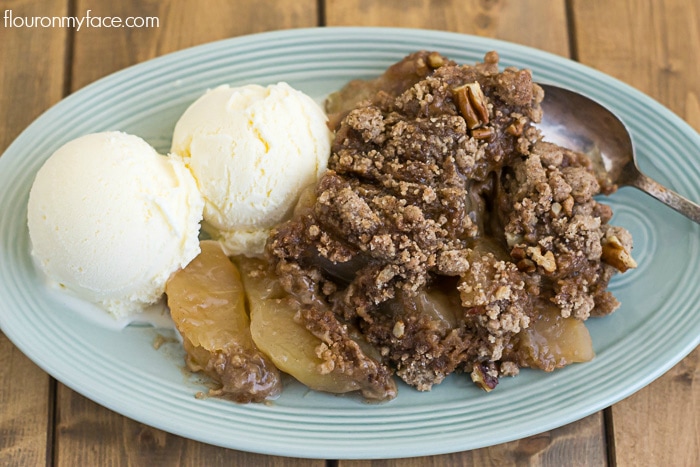 How to make Crock Pot Apple Spice Cake
Ingredients
Directions
Pour the apple pie filling into the bottom of a large crock pot.
In a bowl with a pastry cutter cut the softened butter into the spice cake mix until crumbles form.
Remove one cup of the cake mixture from the bowl and set aside for the topping.
Sprinkle the remaining cake mixture over the top of the apple pie filling.
Mix the chopped pecans with the reserved cup of cake mixture.
Sprinkle the pecan mixture over the top of the cake mixture.
Lay a triple layer of paper towels over the top of the crock pot and place the lid over the paper towels.
Cook for 2 hours on low.
Serve with vanilla ice cream
Print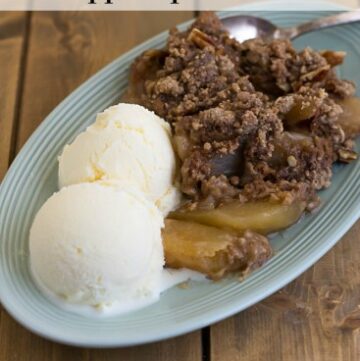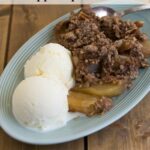 Crock Pot Apple Spice Cake
---
1

box Spice Cake Mix

2

cans apple pie filling

½ cup

softened butter

½ cup

chopped pecans
---
Instructions
Pour the apple pie filling into the bottom of a large crock pot.
In a bowl with a pastry cutter cut the softened butter into the spice cake mix until crumbles form.
Remove one cup of the cake mixture from the bowl and set aside for the topping.
Sprinkle the remaining cake mixture over the top of the apple pie filling.
Mix the chopped pecans with the reserved cup of cake mixture.
Sprinkle the pecan mixture over the top of the cake mixture.
Lay a triple layer of paper towels over the top of the crock pot and place the lid over the paper towels.
Cook for 2 hours on low.
Serve with vanilla ice cream
---
Recipe Card powered by
Love Crock Pot Dessert Recipes? Check these other Flour On My Face Crock Pot Dessert Recipes
Crock Pot Peach Cobbler recipe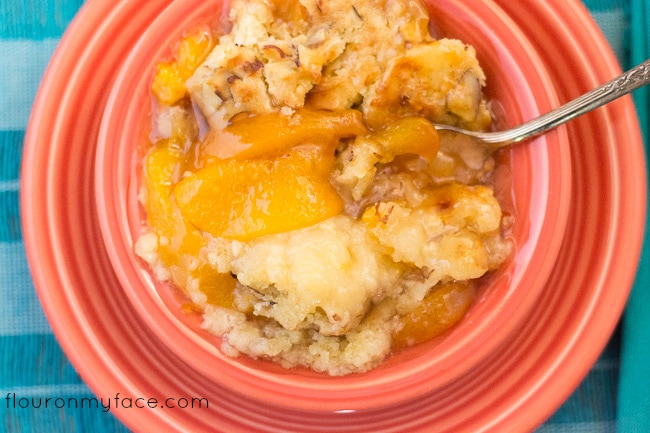 Crock Pot Cherry Cobbler recipe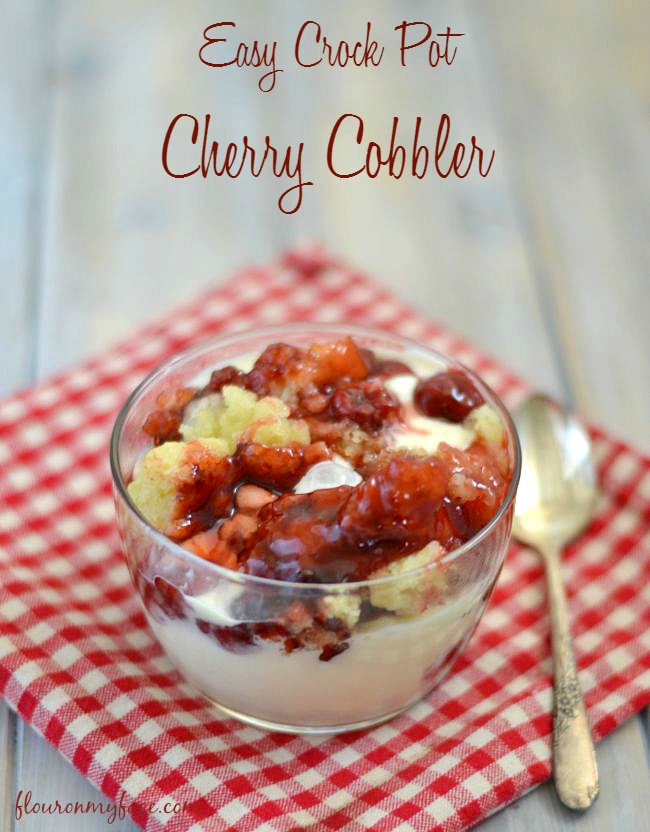 Crock Pot Triple Chocolate Cherry Cake recipe