How to make Instant Pot Applesauce
Fall is apple season and one of the best things about crisp sweet apples is making homemade applesauce with this Instant Pot Applesauce recipe.
This easy apple Instant Pot recipe makes quick work of making a perfect batch of homemade applesauce for your family.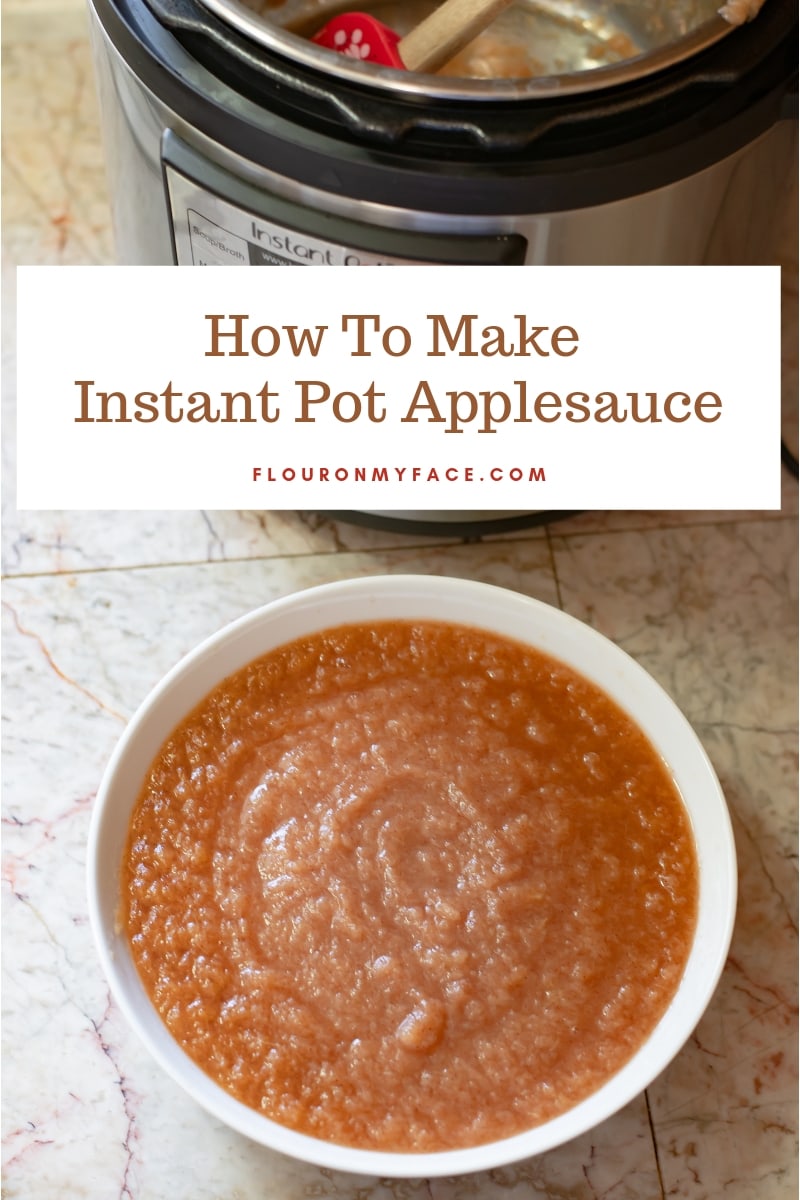 If you love easy & amazing recipes join the Flour On My Face Newsletter and get each of my new recipes delivered right to your inbox.
I have fallen madly in love with my Instant Pot. On those days that I have forgotten to plan ahead for dinner the Instant Pot comes to my rescue.
But the Instant Pot isn't just for cooking dinner. You can make so many other amazing recipes in the Instant Pot electric pressure cooker like this homemade applesauce recipe.

Instant Pot Applesauce is the perfect fall recipe for all those ripe crisp apples you may have picked at an apple orchard or bought at the grocery store. 
Need a few more Instant Pot recipes to make your life easier? Head over to the Flour On My Face Instant Pot Recipes page for more easy Instant Pot recipes.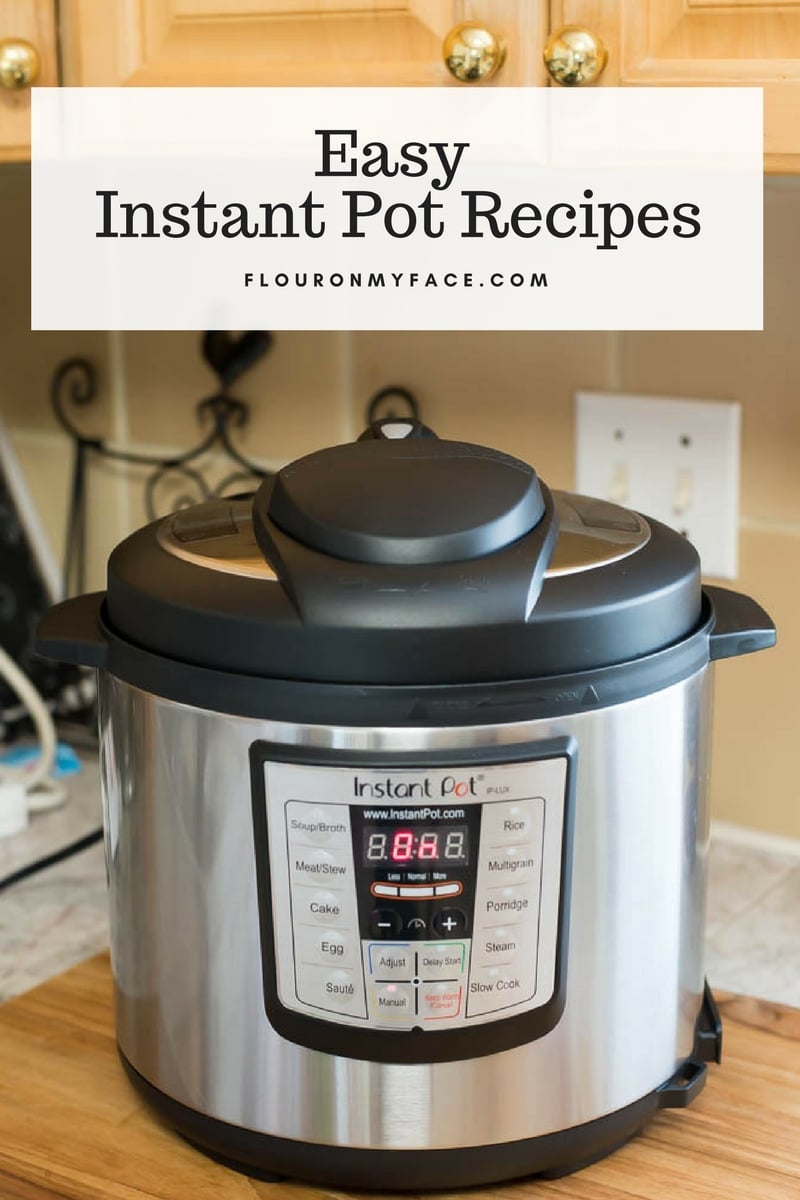 Instant Pot Apple Recipes
Instant Pot apple recipes are very easy to make and it only takes a few minutes to turn a bowl of apples into a delicious and sweet treat.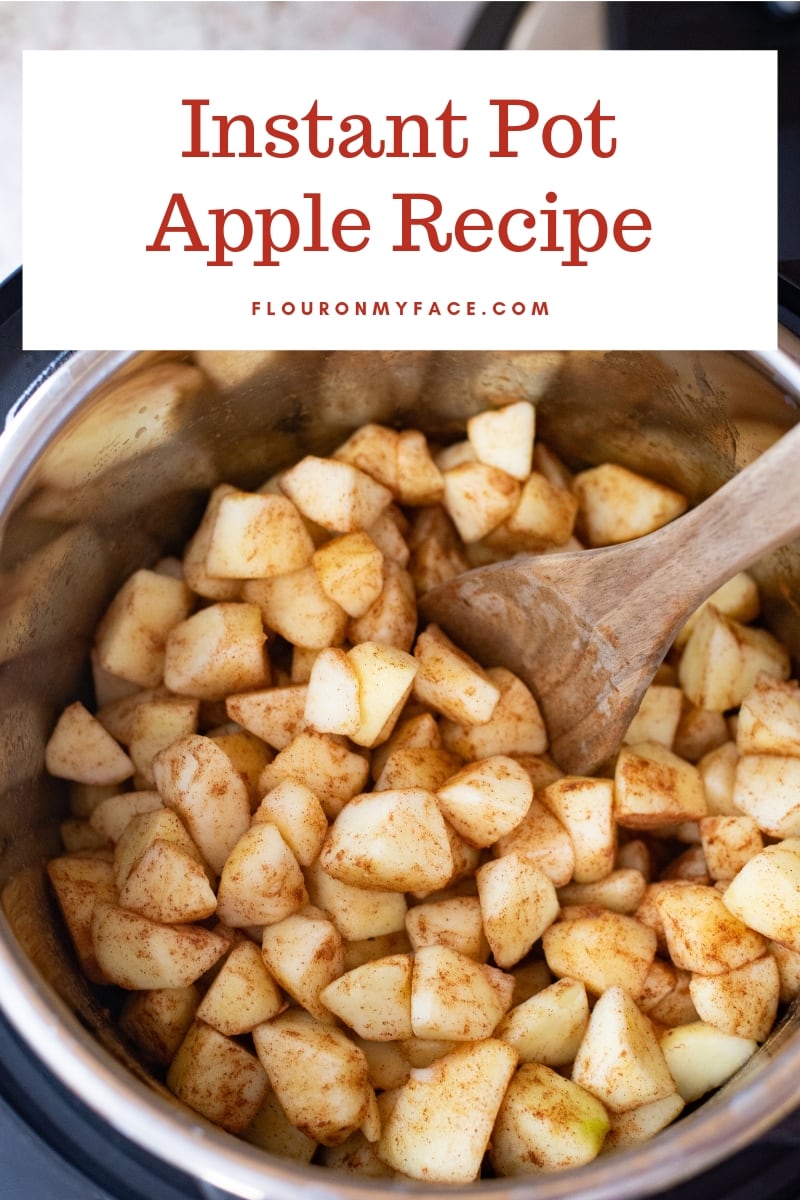 Besides making homemade applesauce in the instant pot you can make Instant Pot Cinnamon Apples.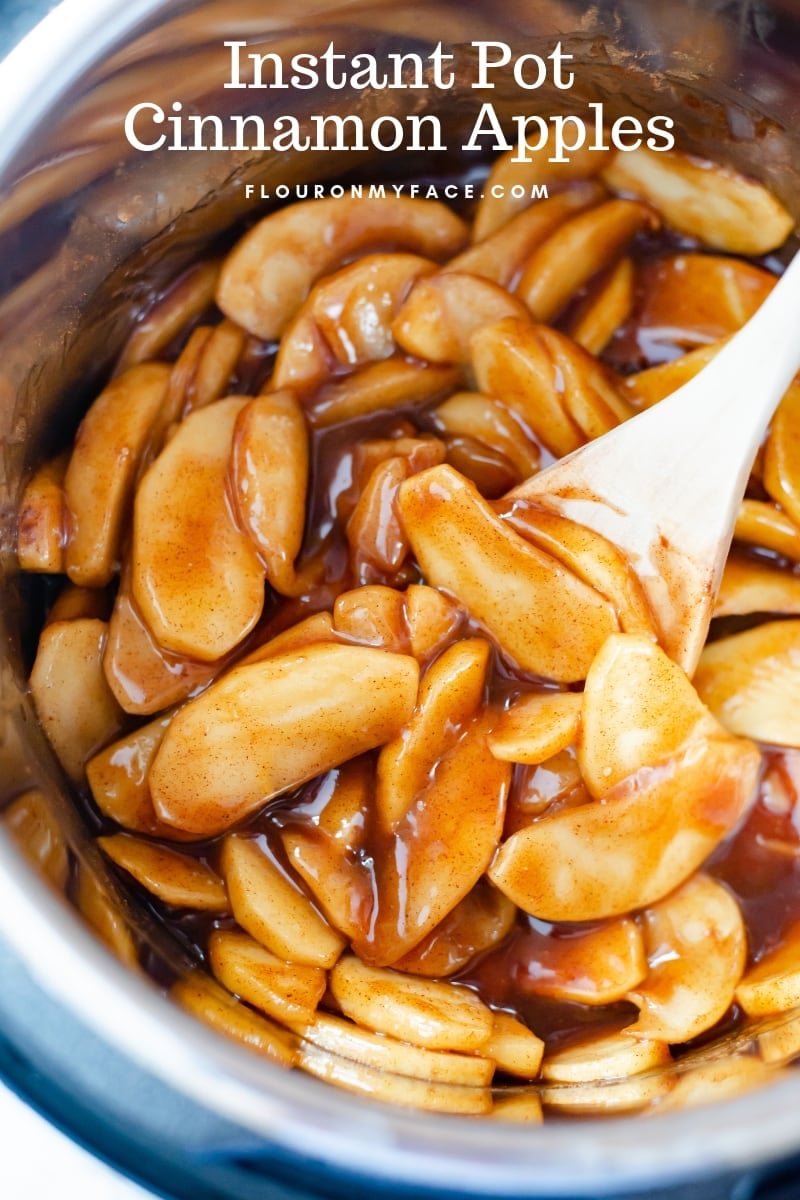 Instant Pot Cinnamon Apples is a rich, thick and gooey apple dessert recipe that can be eaten in a bowl as a dessert, used as a dessert topping for pound cake or vanilla ice cream or it makes a fabulous apple pie filling.
This is one Instant Pot Apple Recipe you are going to love!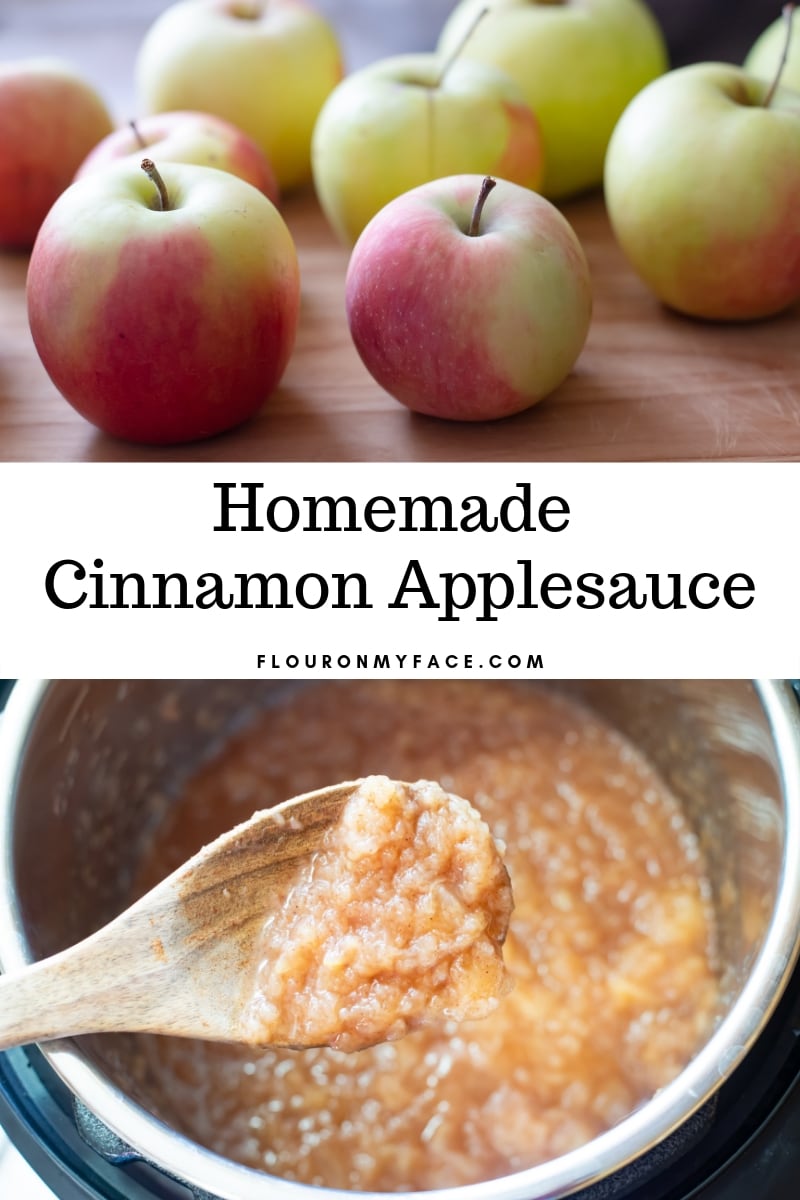 Instant Pot Applesauce Recipe
Instant Pot Applesauce is going to be your second favorite fall instant pot apple recipe. Instant Pot Applesauce is even easier to make than Crock Pot Applesauce.
While, both homemade applesauce recipes are easy to make. The Instant Pot Applesauce has the major advantage of only taking a few minutes to make compared to the hours it takes to make it in the crock pot.
It only takes about 20 minutes from start to finish in the Instant Pot to make applesauce.
You will of course have to peel and chop the apples before you can start the cooking process and that amount of time will vary from person to person. It takes me about 20 minutes.
Naturally Sweetened Homemade Applesauce recipe
One the the best things about making homemade applesauce is that you control the ingredients.
You can make unsweetened homemade applesauce like I did. This homemade applesauce recipe is naturally sweetened by the sugars in the apples.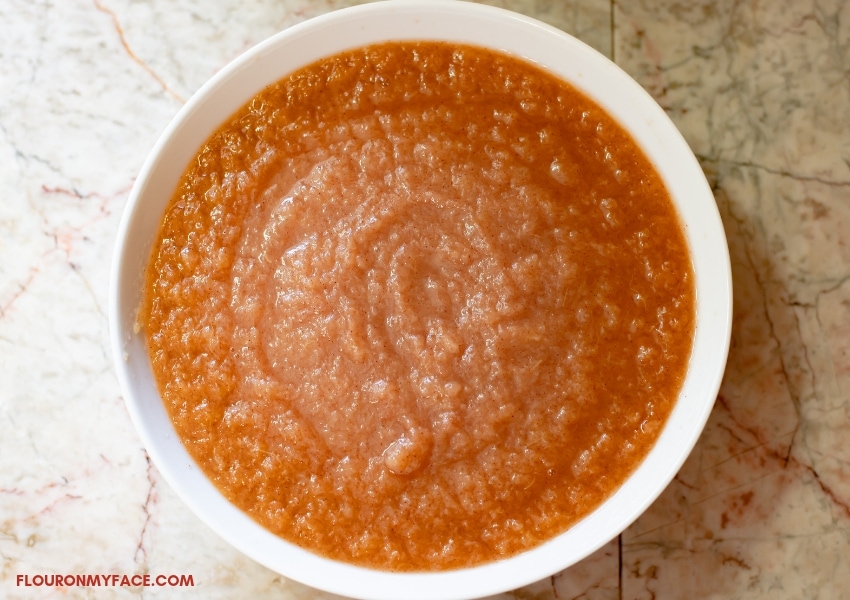 What kind of apples are best for making applesauce?
What kind of apples are the best apples to make homemade applesauce?
As you probably know different varieties of apples have a slightly different apple flavor.
Some apples are sweeter than others. Some apples are crisper than others.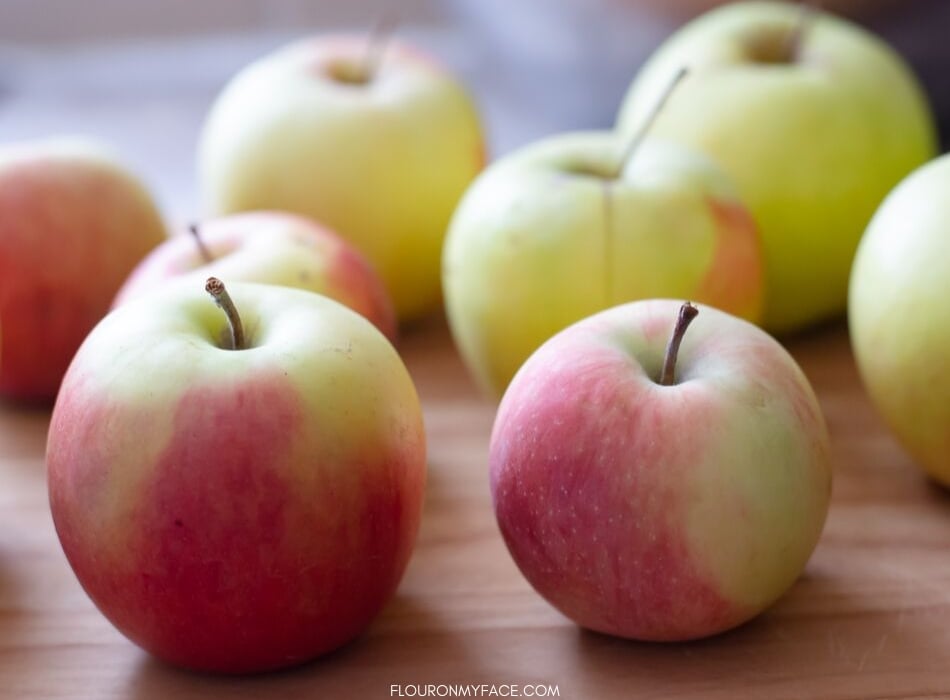 If this is your first time making homemade applesauce I suggest you start with an apple that you love to eat.
I have a couple of favorite apple varieties. Two of my favorite apple variety that I love to make applesauce with is Gala Apples and Honey Crisp Apples.
Homemade applesauce is so easy and delicious to make that you will be making it every chance you get so experiment with the variety of apples used until you find the perfect apple for your homemade applesauce.
You can also use a combination of apple varieties and come up with your own flavor combination for homemade applesauce.
Helpful Tips for making Instant Pot Apple Sauce
I used 10 fresh New York State apples that were small to large in size and two different varieties of apples.
Start with 2 tablespoons of lemon juice and add the remaining tablespoon if the apples start turning brown. Different varieties of apples may brown faster or even not at all as you peel them.
This is a no sugar added applesauce recipe. I find that most apples are sweet enough on their own and don't need any added sugar when making homemade apple sauce. 
If you like a sweeter applesauce then add 1 or two tablespoons after the apple sauce has finished pressure cooking.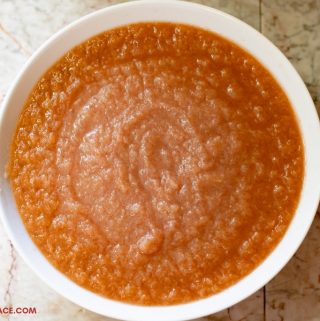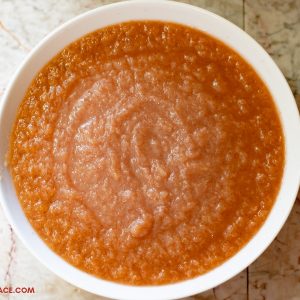 Instant Pot Applesauce Recipe
Instant Pot Applesauce pressure cooks in just 20 minutes.  You can use just about any variety of apple you have on hand. Each apple variety will yield a slightly sweeter or tarter applesauce flavor.
Save this Instant Pot apple recipe for when you are craving the sweet tart flavors of homemade applesauce. It is especially delicious serve it as a side dish with a favorite pork dinner. 
Rate this Recipe
Ingredients
10

large

Apples

peeled, cored and chopped (about 9 cups chopped diced apple)

3

tablespoons

lemon juice

⅓

cup

water

2

teaspoons

ground cinnamon
Follow Flour On My Face on Pinterest
Instructions
Prepare the apples by scrubbing them under cold running water. Peel, core and chop 2 to three apples at a time.

Add the chopped apple pieces to a large bowl and add the lemon juice. Toss the apple pieces to coat with lemon juice to prevent them from browning.

As you peel, core and chop the apples and add the chopped apple pieces to the bowl and toss the apple pieces to coat all sides of the apple pieces with the lemon juice.

Once all of the apples are chopped and added to the bowl of lemon juice pour the apple pieces into the Instant Pot.

Add the water and ground cinnamon to the Instant Pot. Use a large wooden spoon to toss the apples pieces and coat with the cinnamon.

Place the lid on the Instant Pot. Lock it into the sealed position. Make sure the pressure valve is turned to the sealing position.

Press the manual button and set the timer to 5 minutes. 

When the Instant Pot beeps notifying you that it has finished the pressure cooking cycle allow the steam to naturally release for 15 minutes.

After fifteen minutes open the Instant Pot. Use a potato masher or immersion blender to break up the cooked apples. If you like a chunky apple sauce only mash or blend a few times. For a smoother baby food like apple sauce you can use a blender or a stick blender to get the smoothest applesauce consistency.

Makes about 2 quarts of apple sauce.

Refrigerate the Instant Pot Applesauce and use within a week.
Notes
IMPORTANT NOTE: Different models of electric pressure cookers may have a more sensitive BURN notification. If your IP is sensitive you may need to increase the amount of water used in this recipe. You may have to increase the amount of water slowly by adding about ¼ of a cup or less until you find the right water ratio. This will yield a thinner applesauce.
Apples: Different apple varieties will also play a hand in this. A juicier apple will release more liquids while cooking. It is best to start with a smaller amount of water and add more as needed.
Nutrition
Serving:
0.05
cup
|
Calories:
74
kcal
|
Carbohydrates:
20
g
|
Protein:
1
g
|
Fat:
1
g
|
Saturated Fat:
1
g
|
Sodium:
2
mg
|
Potassium:
152
mg
|
Fiber:
3
g
|
Sugar:
15
g
|
Vitamin A:
75
IU
|
Vitamin C:
8
mg
|
Calcium:
11
mg
|
Iron:
1
mg
Tried this recipe?
Share a picture on Instagram and tag @flouronmyface2