25 Summer Activities for Kids
We are almost half way through summer vacation and by now the kids are bored. Finding fun kid activities that can entertain all the kids can be a chore. This week's roundup is packed full of fun summer activities for all the kids.
From fun summer craft activities to nature crafts and outdoor fun. Here are 25 Summer Activities for Kids that are sure to keep them busy and entertained for the rest of summer vacation.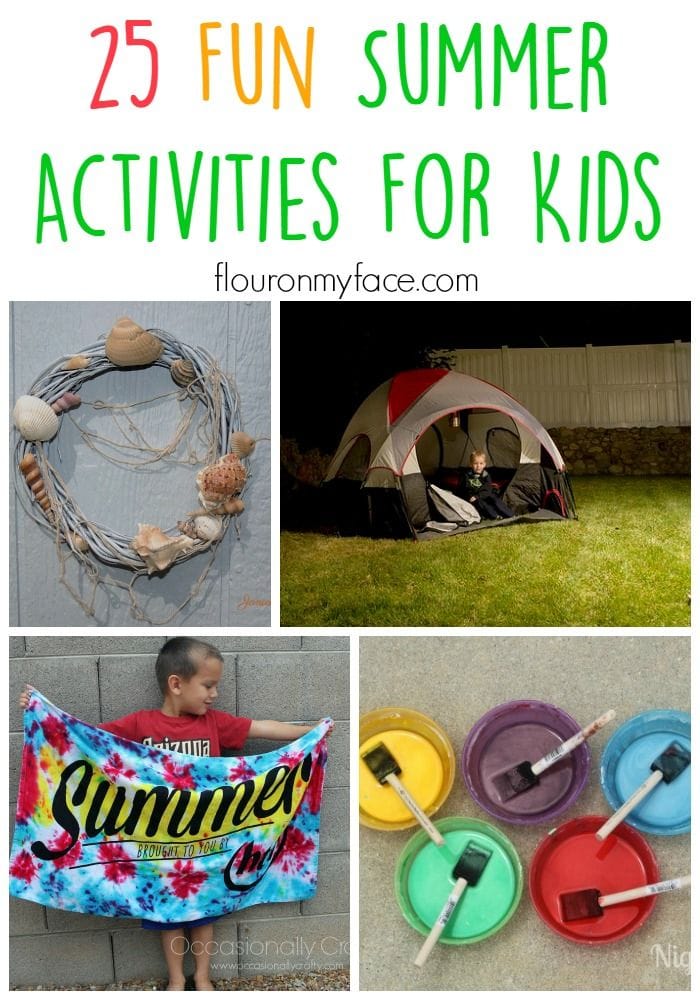 This Glow in the Dark Party is perfect for when the grandkids are spending the night. They would have a blast. Tie Dye Pool Towels look like so much fun, but we don't have a pool! We do live close to the beach though so these Tie Dyed Towels would be perfect for a day at the beach!
Which one of these 25 Summer Activities for kids do you want to try? They all look like so much fun. It's going to be hard to pick just a few to do with the kids.
1. Make Your Own Sidewalk Paint
2. Make Tie-Dye Pool Towels
3. Go On A Nature Scavenger Hunt
4. DIY Ribbon Flyers
5. Collage Flag Craft
6. Make A Pool Noodle Lightsaber
7. Make Fabric Flip Flops
8. Make A Beach Towel Bag
9. Create A Summer Bucket List
10. Make A DIY Water Spray Table
11. Seashell Wreath
12. Camp In The Backyard
13. Minion Spoon Puppets
14. Fizzy Dough Pre-Cursive Handwriting
15. DIY Cardboard Rocket Ship
16. Have A Glow In The Dark Party
17. Make Crayon Play Dough
18. Colorful And Easy Flower Suncatcher
19. Hello Kitty Toilet Paper Roll Craft
20. Make Crazy Pasta Sculptures
21. Toilet Roll Dinosaurs
22. Duct Tape Totem Banks
23. Popsicle Stick American Flags
24. DIY Hedgehog
25. DIY Candy Necklaces