12 Valentines Day Kids Activities
12 Valentines Day Kids Activities to entertain them before Valentines Day.
Valentine's Day is fast approaching and it is always a good idea to have a list of easy and fun activities on hand to help keep the kids busy.
Here is a list of 12 Valentine's Day Kids Activities to help keep the kids entertained.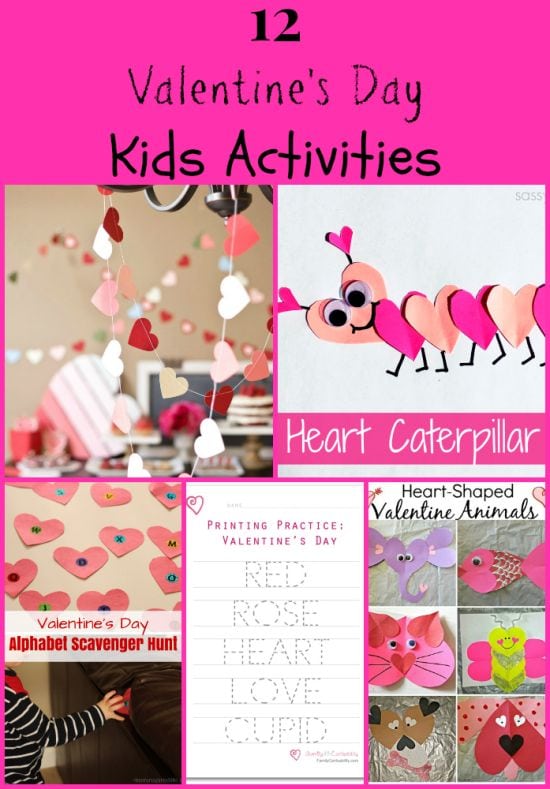 Valentine's Day Fun for Kids
Even though the title says 12 Valentines Day Kids Activities some of these links have multiple activities for you to do with your child.
Some are Valentines Day educational activities and some are just fun Valentine's Day crafts.
No matter what age child you are trying to entertain I am sure you will be able to find many craft project to do between now and Valentine's Day.
Valentine's Day Heart Craft This cute little Valentine's Day craft has the kids creating a cute caterpillar made out of paper hearts. A very easy craft for almost any age.
DIY Valentines Day Heart Crayons: Recycle broken crayons and make new heart shaped crayons. Free printable tag so you can package these cute Valentine's Day kid craft up and hand out as teacher gifts or classroom gifts.
Valentine's Day Alphabet Scavenger Hunt: Keep the kids entertained and hunting all day long as they try to find the prize in the Valentine's Day Scavenger Hunt.
Valentine's Day Conversation Hearts Printable Bingo Cards: Print these free conversation hearts bingo cards and grab a bag of the candy and the kids will have a blast screaming BINGO!
 Valentine's Day Heart Shaped Animal: Cut some paper hearts and let the kids go wild creating over 30 different heart animals.
Valentine's Day Love Bug Play Dough Craft: Create this fun Lady Bug out of play dough and craft supplies.
 Valentine's Day Books for Kids: 10 adorable Valentine's Books for PreSchoolers
Valentine's Day Printable Spelling Practice Sheet: Practice printing with these Valentine's Day words.
Owl Homemade Valentines Cards: Owl Be Yours Valentines Day cards the kids can make.
Valentine's Day Montessori Inspired Free Printable Learning Activities
Valentines Day Foot Print Crafts: The kids will really get a kick out of making crafts with their own foot prints.
Pre K Pages Valentine's Day Activities: Valentine's Day learning ideas for your Pre K student. Be sure and check out the video!