25 Incredible Easter Dessert Recipes
These 25 Incredible Easter Dessert Recipes are going to keep you busy over the up coming Easter holiday. I love the holidays and Easter is no exception. One of my favorite things about Easter is all the colorful Easter Dessert recipes. They are so beautiful and fun.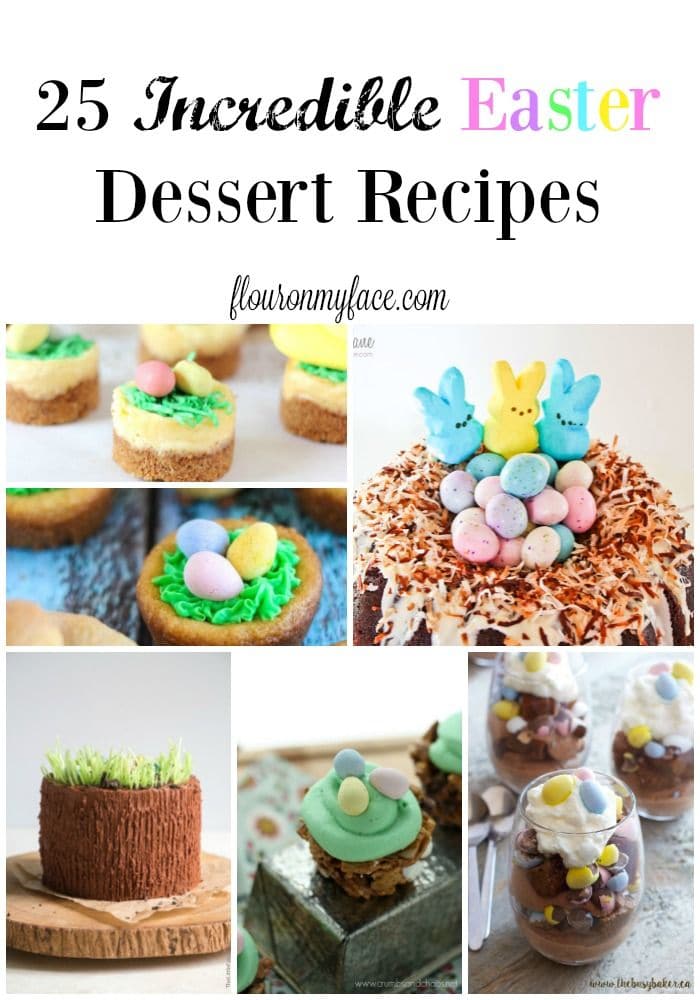 One of my favorite Easter Cake recipes is #17 on the list - my Purple Funfetti Cake recipe. It is so pretty and you could make it in any color you like just by changing the color of the Funfetti cake mix you use.
Another Easter dessert recipe I love is Carrot Cake. You can make carrot cake so many different ways. Like a Vintage Carrot Cake Bread recipe, or Carrot Cake Cupcakes with the best cream cheese frosting ever. Or you could make a carrot sheet cake like I did last year when I made this Old Fashioned Carrot Cake sheet cake.
What is your favorite easter candy? Do you love jelly beans the best? Or do you go crazy for all the chocolate? I never much liked the chocolate easter bunny chocolate myself. When my kids were little I would hoard the marshmallow eggs that come in styrofoam egg cartons. My kids hated them but I would put them in their Easter baskets every year so I had an excuse to buy them and eat them myself.
25 Incredible Easter Dessert Recipes
1. Lemon Crumb Cake
2. Easter Egg Chocolate Cake
3. Sugar Cookie Nests
4. Easter Jello Poke Cake
5. Cream Cheese Funfetti Bars
6. Easter Muddy Buddies
7. S'mores Easter Treats
8. Mini Easter Cheesecakes
9. Sugar Cookie Birds Nests
10. Easter Funfetti Surprise Cupcakes
11. Coconut Peeps S'more Creme Brulee
12. Malt Easter Bark Candy
13. Easter Chocolate Bundt Cake
14. Vegan Chocolate Easter Cupcakes
15. Mini Eggs Brownie Parfait
16. Creme Egg Brownies
17. Purple Funfetti Cake
18. Easter Lemon Pie Cups
19. Easter Blossom Sugar Cookies
20. Homemade Peeps
21. Bunny Peeps Lemon Layer Cake
22. Peeps Cookie Cake
23. Cadbury Crack
24. Polka Dot Cake
25. Malted Milk Cookies
Love Easter Dessert Recipe Roundups? Here are a few more you might enjoy.